The Edmonton Oilers have riches untold and can't buy a win—lack of balance and an addled defense for a decade running is not the way to go. Who knew? Everyone. The Oilers 2006-16 will be a monster cautionary tale for the rest of the century. How will this era of endless el's turn out? I am hoping Peter Chiarelli can write a few quick chapters here in order to get to the good parts.
Taylor Hall and Connor McDavid are roommates. They don't play Xbox or PlayStation. Hall says they play Crazy 8s. #Oilers

— Greg Wyshynski (@wyshynski) February 9, 2016
FOREVER MIDNIGHT, YEAR OVER YEAR
Oilers in October 2014: 4-5-1
Oilers in October 2015: 4-8-0
Oilers in November 2014: 2-9-3
Oilers in November 2015: 4-7-2
Oilers in December 2014: 2-8-4
Oilers in December 2015: 7-6-1

Oilers in January 2015: 5-7-1
Oilers in January 2016: 4-5-2
Oilers in February 2015: 5-6-1
Oilers in February 2016: 2-3-0
Oilers after 55 in 2014-15: 15-31-9, 39 points (-57 GD)
Oilers after 55 in 2015-16: 21-29-5, 47 points (-30 GD)
G55 last season was a 5-4 OT win over the Montreal Canadiens, so if the Oilers lose tonight, last year's team will be within six points. I have to admit to getting some kind of sick enjoyment out of this, and have begun cheering (just a little) for last year's club. I am, officially, an ass. Still, I think the failure to address the defense should be punished, and that is what we are seeing.
DEFENSE, 2015-16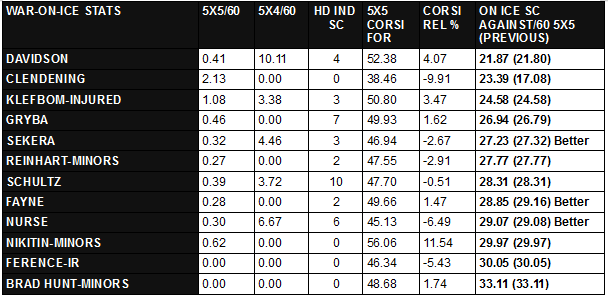 Brandon Davidson has a terrific line, I keep reading about his being unable to play top 4D next season, but am wondering why not? Folks, he is Fernando Pisani—procured from the bowels of the draft, too smart to fail, a hard worker and a good man. Smart, has speed, can be physical, good passer—what exactly are you looking for in a top 4D that I have not listed? Experience? Watch him tonight. Cool, calm and collected. Pray to the God who listens that the Oilers don't get duped and send him to the Kings for a Coke machine.
Oscar Klefbom may be back in two weeks or so according to the news of the twitter—once again, lighting candles works and we should continue to do so until he actually makes it back.
Eric Gryba doesn't get any love, but I am wondering why. His numbers look fine from here, not exactly sure why people are critical of him. Defensive defensemen are going to be extinct by Christmas if his line is considered poor.
Mark Fayne is in the same part of the library, and apparently not many go there. Still can't believe he cleared waivers and for me a team looking for defensive depth at the deadline would be wise to check him out. If the Oilers were willing to retain some salary, Fayne would be a nice pickup. I hope they keep him.
Andrej Sekera is a rock, Andrej Sekera is an i-i-i-i-i-i-i-i-i-i-island. If they had left him with Fayne all year, his possession number would be at or near 50 (I bet)and we could be lathering him with praise. As it is, I like him a lot anyway.
Darnell Nurse continues to impress with his combination of physical skills while also being a worry about the actual performance of the defense. He is 45 games into this NHL season and is part of what might end up being the best Oilers rookie class since 1980.
CENTERS THIS SEASON
Leon Draisaitl and Connor McDavid need a nickname. Twin Terrors? Pinky and the Brain? Don't know. They need one though. Between the two men, the 5×5 scoring is an absolute wonder. Wait til McDavid shaves! Leon is 2-1-3 in his last five, I would say he is due for a big game but do wonder if he is completely healthy.
Ryan Nugent-Hopkins is badly missed, you can see it in every game the team plays now. Posts like 'Nuge has been horrible this season!' seem to have faded since Leon has been climbing Everest every night. Funny how that works, isn't it? I remember when people would shit on Shawn Horcoff just like they did the Nuge this season, it shows to go that even though we agree with the idea of context, it is easily forgotten when winning a battle on the internet is first priority.
Mark Letestu.
WINGERS, 2015-16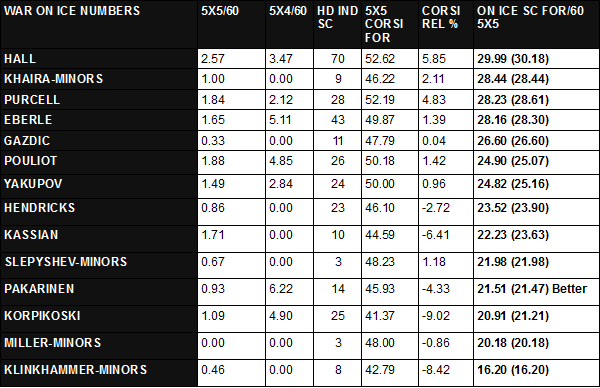 Taylor Hall is a monster, suspect he will be flying around the ice tonight and putting on a show. I love his work ethic without the puck this year, really is adding elements to his game. Just 0-2-2 in his last five games, he has also taken three penalties, needs to get that under control.
Jordan Eberle is up to 1.65/60 at 5×5 and I think he will get to 2.00 by the end of the season. I saw someone mention the other day that he should be taken off McDavid's line because he is slumping. Since McDavid returned, Eberle is 5gp, 4-2-6. Stupid facts. In the same period, McDavid is 5gp, 2-5-7. Absolutely horrible performances, evidently.
Benoit Pouliot is 5gp, 2-4-6 in the same time period, oh the humanity. Someone mentioned the stupid penalties he takes, and the games he costs. In those five games, 2pims against Ottawa—a win. If you get a chance tonight, watch Pouliot and the subtle things he does to help his team and hinder the other. I think he is a pretty smart hockey player.
Teddy Purcell is playing his final games as an Oiler, I will cheer for him in the playoffs unless he is traded to Calgary, Dallas, Montreal or Vancouver.
Zack Kassian s went quiet, and cold during the road trip. He is still bringing the physical and that is good, but would like to see him playing with a more substantial center at some point. 1-1-2 in his last five games, played only 8:17 against the Devils. He needs to get back to the performances delivered in his first seven games.
Nail Yakupov is having the same issue—no center—and in his case I do worry. Unlike Kassian, Nail doesn't really fit the Chiarelli style and that means he has to be scoring. I am heartened by Todd McLellan's handling of him, really wish this team had a center for Nail and Kassian right now. 0-0-0 in his last five games, Nail is always the winger who gets hurt by the lack of depth, it is unerring and a tell. Seriously. A big damn tell.
THREE DAYS AT THE CONDOR
It never fails to amaze me. Every AHL season, there is a spike in performance for some of the prospects after New Year's Eve. Here are the top scorers (among prospects) for the Condors since January 1:
C Andrew Miller 14, 4-9-13
LD Joey Laleggia 12, 4-7-11
F Jujhar Khaira 11, 3-7-10
R Tyler Pitlick 12, 3-7-10
LD Jordan Oesterle 16, 2-8-10
I think we could see any of these players get a cup of coffee after the trade deadline, and with Laurent Brossoit being recalled yesterday, the flights from California should come more often as we head to February 29.
Selon Martin McGuire les Oilers seraient interessés à Lars Eller.

— Derek Arcand (@Derekarcand) February 6, 2016
Lars Eller to the Oilers has some charm (he was the gent who said nice things about the team awhile back), but he is not a fantastic option. 5×5/60 number is 1.28, that is behind Hall, Pouliot and Kassian among LWs—although I would prefer him to Korpikoski. He does fit the Chiarelli model in that he can play all three forward positions, has two-way ability and some size. I would not call him rugged (another Chiarelli arrow) but he isn't shy, either. Oilers fans will suggest Justin Schultz, Habs fans will counter with Nail Yakupov. I sincerely believe Peter Chiarelli will trade both at some point.
NHL reviewing the Kadri throat slash gesture. MORE: https://t.co/PjlCU8vDfq pic.twitter.com/QIV3ZzsUGC

— TSN (@TSN_Sports) February 10, 2016
Nazem Kadri: "It's just so hard for players to know what they're going to become, what their potential is. At the end of the day, (drafting a player is) taking a chance. That's why they call it a lottery draft pick. You don't know if things are going to pan out or not. It's just like rolling the dice." Source
He is a terrific player, and a thoughtful one too based on the items I read about him. His take on the draft is a direct hit, I would add that the organization you land on, and how they handle you, has a great deal of impact on your progress and future. I would love to have him play for the Oilers, he plays a splendid game.
https://t.co/5TL9KDj3il if you're interested. Someone will pick him up, IMO. https://t.co/2fgdU1kkqt

— 2nd Tier Thinkers (@2ndTierThinkers) February 10, 2016
I imagine someone (aside from the Oilers) picks him up, but for me this is a good bet and nice cover should Peter Chiarelli find homes for Justin Schultz, Eric Gryba and Mark Fayne at the deadline.
Still waiting for the Justin Schultz trade…. -jm pic.twitter.com/mdWwHztV1K

— The Oilers Rig (@TheOilersRig) February 11, 2016
It sounded imminent the other day, but did not come to pass. Todd McLellan mentioned earlier on Tuesday they wanted him to reflect on his role and perhaps we will see a player who brings more clarity to his game tonight. If he is not in the lineup this evening, one wonders if PC is waiting for another team to make room. In an unrelated story, Los Angeles will have room at 10 this morning. If they called me, I would tell them to trade for Mark Fayne.
LOWDOWN WITH LOWETIDE
A busy, fluid day on the show and I will once again he filling in for Dave Jamieson noon to 2pm. We start at 10, TSN 1260 and scheduled to appear:
Darcy McLeod, Because Oilers. Is Brandon Davidson a potential top 4D solution? Are the Oilers the worst team in the NHL? Should PC pursue Jacob Trouba, knowing about the impending contract issue?
Frank Seravalli, TSN. Leafs in Edmonton, that is always a fun time. We will discuss the rebuild in Toronto and some things they can learn from the Oilers failure to get the party started.
Fluid guest list for the rest, depends on CFL signings and Ehrhoff's destination.
10-1260 text, @Lowetide on twitter. Chat soon!