Every year for many, we are waiting to say goodbye. The deadline exits since 2007 are basically endless: Ryan Smyth, Marc-Andre Bergeron, Erik Cole, Denis Grebeshkov, Lubomir Visnovsky, Steve Staios, Dustin Penner, Tom Gilbert, Ales Hemsky, David Perron and Jeff Petry. Six defensemen, five wingers, and an enormous number of productive future games. All sent away in the name of a brighter day that never arrived. Read 'em and weep, ladies. There is your last decade, lost and gone forever.
According to "Le Journal de Montreal", Stan Bowman has been keeping his eye on Oilers' left winger, Teddy Purcell. #Blackhawks

— Chicago Sports News (@ChiSportUpdates) February 16, 2016
NO SUGAR TONIGHT, YEAR OVER YEAR
Oilers in October 2014: 4-5-1
Oilers in October 2015: 4-8-0
Oilers in November 2014: 2-9-3
Oilers in November 2015: 4-7-2
Oilers in December 2014: 2-8-4
Oilers in December 2015: 7-6-1

Oilers in January 2015: 5-7-1
Oilers in January 2016: 4-5-2
Oilers in February 2015: 5-6-1
Oilers in February 2016: 3-5-1
Oilers after 59 in 2014-15: 17-32-10, 44 points (-61 GD)
Oilers after 59 in 2015-16: 22-31-6, 50 points (-32 GD)
Last year's Oilers (coached, at times, by Dallas Eakins, Craig MacTavish and Todd Nelson) are catching up to this year's model (coached by Todd McLellan, who is in his first season as Oilers boss). G60 last year was a miserable 4-0 loss to the Minnesota Wild (one day, maybe the tables will be turned) that was reminiscent of the other night.
DEFENSE, 2015-16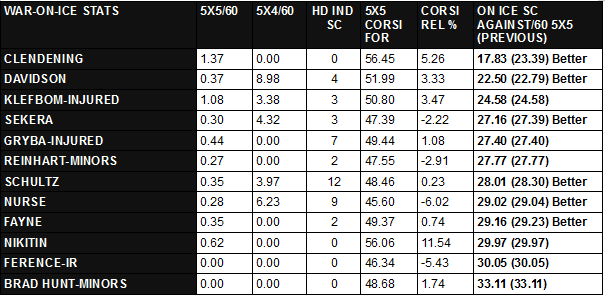 Brandon Davidson would be an ideal third-pairing guy for next season—dependable, range of skills, doesn't cost a lot—but I believe he will play higher on the depth chart in 2016-17. Why? The Oilers are very likely to go into the fall with a LH depth chart of Oscar Klefbom, Darnell Nurse and Davidson, but at this point Davidson is the better defender and will likely end up playing ahead of Nurse. I do not think the Oilers will add a lefty, although there is a chance Andrej Sekera plays LH side as the season rolls.
Andrej Sekera is likely to be RH side top pairing next year as I see it, with (possibly) Mark Fayne as third pair. It is that second pairing RH man that Peter Chiarelli has to add, more if he can—but let's start there. Sami Vatanen is an attractive choice, he can play defense, has a great shot from the point and is a creative player with the puck. No idea what the return might be, Ducks look set. Maybe something involving the first-round pick? For our purposes, let's assume that gets done.
Klefbom—Sekera
Davidson—Vatanen
Nurse—Fayne
IF the Oilers can offload Fayne—and I think they may be able to do it, possibly at the deadline—it opens up some different possibilities. Trading Fayne allows Edmonton to use that money (he will cost more) on Jason Demers if he comes available. If the Oilers could also pry Travis Hamonic away from the Islanders (we will use Eberle here, just to rile up the locals), that means Edmonton has enough for a bona fide two-way defense on three pairings:
Sekera—Travis Hamonic
Klefbom—Jason Demers
Nurse—Davidson
Demers even has a good shot from the point. Fair? In order to get here, Edmonton has to offload Fayne, trade Eberle or similar, keep Reinhart in the minors (that bonus issue will gum up the works) and have a reasonable RH option as 7D (probably higher than Gryba, but he would be an inexpensive option). Fair?
CENTERS, 2015-16

If the Oilers can keep all three C's, that gives them several options, and really the team would resemble Todd McLellan's Sharks. He always had four scoring wingers, three centers who could deliver offense, and then filled in as required with checkers, unproven scorers or rookies off unknown quality. The Oilers could run Hall with both Leon and Nuge on one line and then McDavid with Pouliot and the new hire.
WINGERS, 2015-16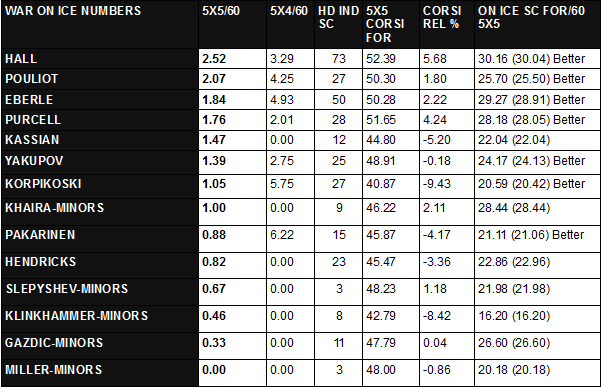 My suspicion is that we see a lot of movement at these positions over the summer. I was on with Dean Millard on Sports Night last night, and we discussed Milan Lucic. For me, he is a player Peter Chiarelli pursues if he comes available. If the Oilers land him, I think the lines could end up like this:
Hall—Nuge—Draisaitl
Milan Lucic—McDavid—Patrik Laine
Pouliot—

Lars Eller

—Kassian
Hendricks—Letestu—Korpikoski
Oilers offload Yakupov for Eller (this is not my idea originally, someone mentioned it a long time ago), Eberle for Hamonic, sign Lucic and draft Laine. A lot of work, terrific skill and a punch of centers. Expensive third line though, can they afford it? Below are numbers (and estimates) trying to get in at a cap of $71.4 million.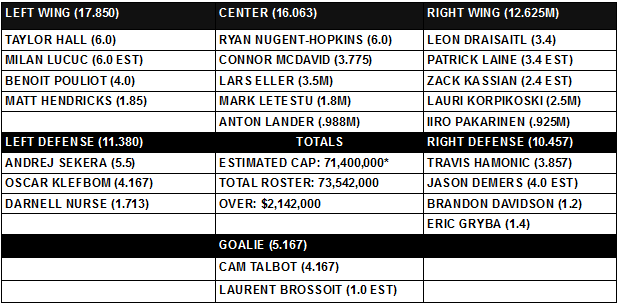 A few things:
The cap could go down, mightily. Between estimates in December 2015 putting the cap at $74.5 million and a recent one suggesting it could go down $4 million, things could get dicey. I have estimated salary cap hits above, your mileage may vary. It is important to keep in mind that a lower cap means less money for all. A $67.4 million dollar cap will be incredibly difficult for many NHL teams, and could benefit the Oilers.
Even with a cap of 71.4 million, this roster is over by a lot. The Oilers should be very aggressive at the deadline, but if they cannot offload Mark Fayne, I don't see a way the club can add two substantial defenders.
I think the player from the list above who probably goes is Benoit Pouliot. Chiarelli—this is my opinion—will move heaven and earth to sign Lucic, and the idea of offloading Pouliot to make room is probably going to be most attractive to him. It is a damn shame, Pouliot is a fine player and could help this team win. I don't think they keep him. If the Oilers can't move Fayne and Pouliot, they can try to cut Hendricks and Letestu loose, buy out Korpikoski and run with 22 players. It is going to be very difficult to make this happen.
The issue comes in adding two veteran defenders and Lucic, along with the Laine bonus dollars. If PC has to give up one of Lucic, Hamonic or Demers (or whoever he chooses in those slots), my bet is that he sacrifices the second defenseman.
The LAK can do the Oilers an enormous favor by signing Milan Lucic. Chiarelli will be buying a player with a lot of miles on him.
If he is available, my bet is Chiarelli lands Lucic. I have estimated $6 million, but it is likely to be a long deal, front loaded.
Chiarelli needs to be incredibly aggressive at the deadline if he wants to make over the roster as above. Trading Schultz and Purcell would just be the start, with Fayne, Hendricks, Korpikoski, Letestu, Lander and others all in play—if he choses to go in the Lucic direction.
WHAT SHOULD CHIARELLI DO?
I think the Oilers have several priorities this summer, and it is important to take care of the most important needs first, while allowing for the fact not every hole can be filled. Here are the order of the needs as I see them:
A top-pairing blue to stabilize the defense and set the depth chart in a reasonable order (Hamonic).
A second-pairing blue who can play in all situations but is especially adept on the power play (Demers).
A two-way center who can lead a third line, while also being versatile enough to play up or on the wing as required (Eller).
A power forward who can play a complementary role offensively while also providing an enforcer's thrust to the McDavid line (Lucic).
I sincerely believe that is the correct order. If the Oilers enter 2016-17 with Benoit Pouliot alongside McDavid, that is a fine place to be. If they have solved the defense with two additions, and added a capable 3C, Peter Chiarelli will have done a splendid job. I think he is about to go whale hunting in California, but he needs to set his defense first. We wait.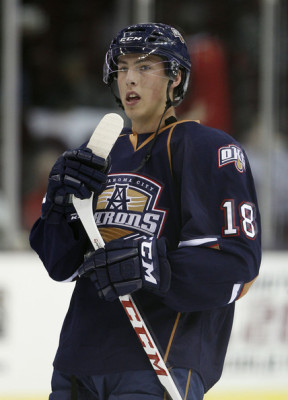 C-C-C-HANGES
Since the day Peter Chiarelli took over (I posted the 50 man list on that day, here), the Oilers have gone through a tremendous amount of turnover, with trunks of memories still to come. From last May when I made that list, through this one, there are 36 names left out of 48. This spring will see even more changes from that original list. Below is the current 50-man and what I think could happen for each player: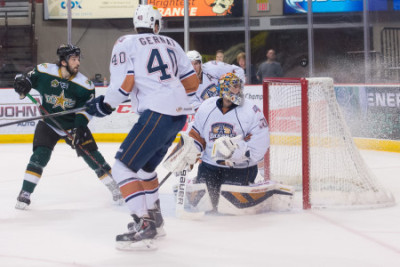 OILERS 50-MAN LIST (CURRENTLY 49)
G Cam Talbot, NHL starter for the next several seasons.

G Anders Nilsson, uncertain about his future in Edmonton. He is RFA.

G Laurent Brossoit, AHL starter or NHL backup, a lock to be signed, RFA.
G Eetu Laurikainen, AHL backup, he is signed for next year.
D Andrej Sekera, top 4D all year, important part of the team.
D Oscar Klefbom, likely top pairing, needs to stay healthy.

D Mark Fayne, suspect he will be dealt if opportunity arises.

D Brandon Davidson, top 6D and a new contract on the way. RFA.
D Darnell Nurse, top 6D, another season of intense learning on the job.

D Justin Schultz, gone soon if there is a buyer.

D Eric Gryba, I believe they will sign him as 6-7D.

D Adam Clendening, no feel for him so far, jury is still out. RFA

D Griffin Reinhart, another AHL year, or traded. Potential bonus $ force issue. 

D Brad Hunt, no reason to bring him back, his skills are duplicated.

D Andrew Ference, they will buy him out. That Stanley in Boston was beautiful.

D Nikita Nikitin, he is gone.

D David Musil, AHL D or traded. He is blocked by so many now.

D Jordan Oesterle, AHL D. Speed gets him another deal, RFA.
D Joey Laleggia, AHL D matriculating.
D Dillon Simpson, AHL D, matriculating.

D Martin Gernat, he will be the first one off the books. No interest.

D Ben Betker, AHL D, matriculating.
C Connor McDavid, Giant.

C Ryan Nugent-Hopkins, quality NHL center, could be in play for trade.

C Leon Draisaitl, emerging NHL talent.
C Mark Letestu, checking NHL C.

C Anton Lander, they may find a buyer.

C Jujhar Khaira, he is a good bet to make the roster in the fall.

C Andrew Miller, fine AHL player, less than 50 percent to return. UFA.

C Bogdan Yakimov, a chance he comes back. Has NHL tools, speed concern.
C Kyle Platzer, AHL C matriculating.
L Taylor Hall, impact NHL player.

L Benoit Pouliot, a reasonable chance he is dealt.

R Zack Kassian, part of the future in a top 9F role.

L Lauri Korpikoski, buyout candidate imo.

L Matt Hendricks, checking NHL W, he could be dealt for cap relief.

L Luke Gazdic, enforcer could be retained but it is not certain.

L Ryan Hamilton, AHL winger, suspect they move on from him.

L Kale Kessy, AHL winger/enforcer could return, not a lock.

L Mitch Moroz, AHL winger/enforcer, matriculating.
L Braden Christoffer, rugged winger, matriculating.

R Jordan Eberle, scoring winger. I believe he will be in play.

R Nail Yakupov, currently pulling in to the last chance Texaco.

R Teddy Purcell, sail on Notre Dame Hound.

R Iiro Pakarinen, Todd McLellan loves him. RFA.

R Rob Klinkhammer, sail on Lethbridge Hurricane.

R Anton Slepyshev, talented winger should push for NHL time.

R Tyler Pitlick, Sail on, Centennial Cougar.

R Greg Chase, minor league winger, matriculating.
Basically half the list in some danger of sailing on. It is going to be a sensational summer in Edmonton, the question that remains is this: Will they be any better in October?