The Edmonton Oilers dropped another game in their annual race to the lottery, and are now stone alone in last place. Over the last several years, other teams have leased the space, but Edmonton owns it outright on aggregate. It is not a title to be proud of, but it does come with some benefits.
TABERNAC SATURDAY
Oilers in October 2014: 4-5-1
Oilers in October 2015: 4-8-0
Oilers in November 2014: 2-9-3
Oilers in November 2015: 4-7-2
Oilers in December 2014: 2-8-4
Oilers in December 2015: 7-6-1

Oilers in January 2015: 5-7-1
Oilers in January 2016: 4-5-2
Oilers in February 2015: 5-6-1
Oilers in February 2016: 3-6-1
Oilers after 60 in 2014-15: 17-33-10, 44 points (-65 GD)
Oilers after 60 in 2015-16: 22-32-6, 50 points (-33 GD)
February is now approaching the worst month of the McLellan era, we could see the club reach eight losses next week before the deadline. The goal differential—once something of a beacon for the current group—is now in free fall and it is probably smarter to bet we see -50 over getting to -25. This team is not good, and Oscar Klefbom is not Bobby Orr, Ryan Nugent-Hopkins is not Bryan Trottier.
"(Our record) is disappointing for all of us, for the whole organization. It's not where we thought we would be." Coach McLellan

— Edmonton Oilers (@EdmontonOilers) February 21, 2016
Back in the fall, I mentioned that not buying out Nikita Nikitin in the Justin Schultz arbitration window was a mistake. It telegraphed what we now know to be true: Peter Chiarelli believed he had enough quality and depth at the position. This speaks to competence. When I bring this up, the response from posters is often this: WHY buy out Nikitin when there was no free agent available. However, if Chiarelli had enjoyed more cap freedom, he may have been able to find solutions during the year. This of course also applies to the lack of transaction after the Nuge injury. Todd McLellan is the coach, he takes the heat. However, on a morning where the Oilers lost while also asking Nikita Nikitin to win the day, I would like to point out this roster lacked balance from the beginning. We can torch management for wasting a year of McDavid, fair play to you. We cannot pretend Todd McLellan entered the season with 23-men who represented quality, depth and balance. No sir.
DEFENSE, LAST NIGHT

Sekera—Schultz had a good night, although they did chase on the cycle and appeared out of position at times. It looked (to me) as though Schultz was making better decisions in his end, but not recognizing attractive lanes in the offensive zone. That is exactly the opposite from his entire Oilers career. Sekera can help his partner, that is a lesson learned this season.
Nurse—Fayne were an interesting pair, McLellan moved away from his original pairings as the evening rolled. I see differing views about culprits online and in the comments section, for me the rookie was the issue (and often is the problem). His read and reaction to plays in real time appears to be regressing, and that should tell Todd McLellan to reduce his playing time and Peter Chiarelli that a trip to the farm may be in order. Neither has happened, and that speaks to competence.
Davidson—Nikitin was an interesting pairing. Davidson's statistical worst evening (at 5×5) in some time may have been his finest overall. Brilliant during a 3×5 in a way I will remember for a long time, he remains (along with Sekera, to my eye) a shining light in the middle of a massive garbage dump of ridiculous sorties defended. Intelligent player, maturing by the minute. Nikita Nikitin isn't fast enough to be effective, but did use his veteran guile to stay away from disaster several times.
Despite the numbers above, I think we can say with some authority that the Oilers badly need to reduce the minutes for Darnell Nurse. I am not one of those who is questioning his future, and it is clear he is a confident young man, but the results are clear and he needs to bat lower in the order for the rest of this season. It's possible to have good numbers and get noticed for negative things—single moments and events can have super importance while being exactly single moments and events. It is also possible to reach a wall as a rookie, and Darnell is there. Give him Fayne and the third pair when Oscar returns, or send him to Bakersfield. That's the play here.
CENTERS, LAST NIGHT

Connor McDavid had some nice looks, added an assist (now at 27 points in 23 games, age 19). He also had two individual high-danger scoring chances on the night. My only question this morning surrounds playing time. The young man should have played more, although the Avalanche played him pretty well to my eye.
Leon Draisaitl and his line got the push last night, and for me they executed well. The Hall goal featured a nice pursuit and shot by Draisaitl, last night saw less loping and more authority in his skating. I think the ribs (no confirm, but I think he had a rib issue or similar) are healing.
Mark Letestu and his trio sawed off the competition, not much to say at this point beyond one would hope the third line could cash more in a season.
Matt Hendricks and his crew had one third period shift that was fantastic, hitting everything in sight. Beyond that, their 5×5 work was fairly pedestrian to my eye—that's no sin, your 4line isn't going to save you often.
INDIVIDUAL HIGH-DANGER SCORING CHANCES
Two: Connor McDavid, Taylor Hall, Mark Fayne
One: Andrej Sekera, Benoit Pouliot, Leon Draisaitl
WINGERS, LAST NIGHT

Taylor Hall executed a perfect place and chase in the minutes before he scored goal No. 20 on the season. Nuge is excellent at it, Hall is learning, small victories are big steps. I know we know Hall is a brilliant player in terms of gaining the zone, but McLellan's style is to send that puck deep and get it in a good spot. He would be wise to relax the rule to allow for the patented Hall carry in entry, or inform his player he could use it more. Opposition defensemen surely don't expect it at this point. On pace for the second 70-point season of his career, so someone is doing something right.
Teddy Purcell now has 32 points on the season and is on track to finish with 44. Solid work by the veteran, I assume he could be traded at any time.
Pouliot—Eberle looked fine with McDavid to my eye, as mentioned above it would have been nice to see them more at 5×5. Pouliot is charging toward his first 50-point season while also wildly disappointing the local media. The man is a magician. Eberle is also on pace for 50 points, and 25 goals, impressive considering he lost a dozen or so games from the start.
GARRIOCH
The Oilers wouldn't mind moving out a few contracts. The club is shopping winger Lauri Korpikoski ($2.5 million in 2016-17) along with defenceman Justin Schultz (RFA) and winger Teddy Purcell (UFA). Source

Korpikoski has been a poor fit from the start, doubt Peter Chiarelli can get something done but that would be a fantastic result (assuming he doesn't bring back another stray cat with two more years on his deal). Here is my trade deadline list:
RW Teddy Purcell—He is gone, suspect we will see a second-round pick (or a legit prospect).
F Matt Hendricks—Chiarelli is unlikely to trade Hendricks, but there is always a chance an offer changes his mind. I recall someone mentioning there was significant interest last deadline. Second-round pick.
D Mark Fayne—A bit tricky, for two reasons. He is helping now, so the Oilers could use him for the first 60 games next year and shop him at the deadline. Call it righty blue insurance. Return? Second-round pick if the Oilers retain salary (defensemen are always worth more at the deadline).
D Justin Schultz—He is gone if they can find a taker, I think they will. Third-round pick.
L Lauri Korpikoski—Perhaps Chiarelli can save Todd McLellan from himself. If he can trade Korpikoski, Chiarelli is a mad genius. Fifth-round pick obo.
C Anton Lander—New addition because I refuse to let Gryba ruin trade deadlinemas. A team needing a very inexpensive forward as insurance might have the time. Sixth-round pick.
D Eric Gryba—I think they will sign him unless a team offers up full value (and remember this is the deadline). I have no idea what he would fetch in trade, only that Mark Fayne would be a better addition for a contending team. I believe that.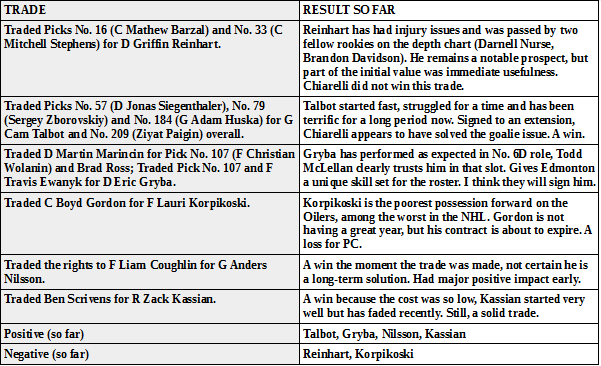 CHIARELLI
Peter Chiarelli's first trade deadline was active and definitely changed the look of the team. Here is a brief look at what he did:
Traded F Wayne Primeau and Brad Stuart to the Calgary Flames for Andrew Ference and Chuck Kobasew. Bruins received two productive players (Ference played a long time in Boston, winning a Stanley, Kobasew scored 20 two times) for a productive defender and a checker.
Traded D Paul Mara to the NY Rangers for D Aaron Ward. Traded Mara (a big, physical defender with a howitzer point shot) for a similar player in Ward (a better skater, didn't have the shot, a little better passer, right-handed).
Traded R Brad Boyes to the St. Louis Blues for D Dennis Wideman. Boyes was a pretty good scorer back then (would score 43 and 33 goals in his first two seasons with the Blues). Wideman was an effective puck-moving defenseman who also had some strong seasons with Boston. He was a big part of the Nathan Horton trade in 2010.
I think there are a few things we can learn from that deadline. First, Chiarelli isn't afraid to trade bigger pieces at the deadline, and at least that year he wanted players in return (perhaps giving us an indication about this week to come). Second, he gave value in each case, but also changed the look of his team—and in doing things like adding Kobasew and subtracting Boyes, created and then covered up spots in the roster. So, when I look at the RW position as an example, perhaps he trades away a piece, leaving a hole that is replaced quickly by another deal.
I followed Chiarelli closely back then, the Bruins stripped their team down before the lockout and had a lot of work to do. Looking back, some of these trades were forced by contracts and free agency, and the actual return (when taking all three deals as a whole) involved re-setting the cap and filling holes with better contracts. Perhaps we will see similar from PC at the deadline.
I can tell you he was effective as GM in Boston, and even though I thought he should have bought out Nikitin last offseason, he may have had a plan that will come to fruition this deadline (or summer). PC has not impressed as Oilers GM in year one, no one can argue it. One thing he has done? Put himself in an interesting position for the coming summer:
Trade everyone at the deadline
Buy out Andrew Ference
Buy out Lauri Korpikoski
Add a top-pairing blue to stabilize the defense and set the depth chart in a reasonable order (Hamonic).
Add a second-pairing blue who can play in all situations but is especially adept on the power play (Demers).
Add a two-way center who can lead a third line, while also being versatile enough to play up or on the wing as required (Eller).
Add a power forward who can play a complementary role offensively while also providing an enforcer's thrust to the McDavid line (Lucic).
For me, the last item is optional and comes at the price of Benoit Pouliot. I wouldn't make that deal, but am fairly certain Chiarelli would do it with extreme prejudice.