I think most of us believe Peter Chiarelli will have some sense of urgency at the deadline and this summer. Is this certain? With the new arena coming, surely there will be a sense of urgency, to construct a competitive roster for the 2016-17 season? Is that reasonable to assume? And even if it is, does Peter Chiarelli feel pressure to make it happen? Or will we see another Griffin Reinhart style transaction, building up the future but not quite addressing the present? Chiarelli's first Bruins team finished with 76 points, took Zach Hamil in the draft, then finished with 94, 116, 91, 103 and 102 points (and won the Stanley in the year they posted 103 points).
Sunday night around the web, people talked about what Oiler gem Peter Chiarelli should trade for the magic defenseman. I read many things—you cannot trade a center, and that Darnell Nurse won't post a big offensive season, all kinds of thought provoking  ideas. I love exchanges like that, it triggers my mind and gets the juices flowing. Now, there are 500 things I should be doing aside from thinking about who should be traded for Travis Hamonic, but most are tedious.
I come at the problem from a different angle. For me, the right idea is for Peter Chiarelli to make his list, say, 1-10, and then go after the top guy. If his No. 1 guy is Travis Hamonic, and Garth Snow wants Darnell Nurse and Leon Draisaitl for him—and that is too much—you move on to No. 2. Right? The key isn't (imo) to get the best defenseman you can for Jordan Eberle, the key is to get the best defenseman available for a cost you can stomach. Fair?
Dallas has scouted last few Edm games. They have lots of young D. Oleksiak?

— Jim Matheson (@NHLbyMatty) February 22, 2016
Jamie Oleksiak is a lefty D giant, higher than a mission bell. I don't think the NHL will allow Chiarelli to trade for another lefthander without a sanity hearing, so will go ahead and disagree with Mr. Matheson on this one. I wrote about the Stars (and all of the NHL teams) over at ON, have three interesting players from the Dallas side.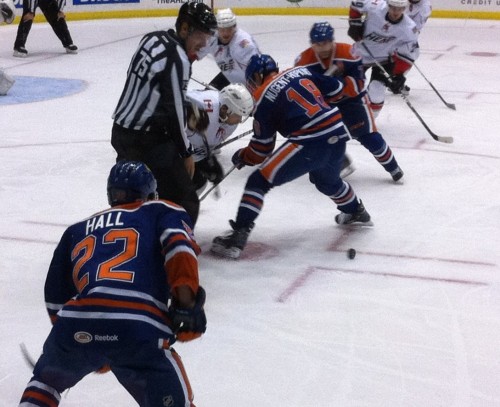 CORSI REL
I like CorsiRel. It makes sense to me. Oh sure, there are all kinds of new fangled items on the marketplace now, but when it comes to things like evaluating who should stay and who should go, CorsiRel speaks to me. Not like poetry, more like a sledgehammer.
CORSI REL DYNAMOS

This is the good stuff, right here. If you told me Edmonton will have these men opening night 2016, that would be just fine with me. We have two centers (Draisaitl, McDavid), two LWs (Hall, Pouliot), two RWs (Eberle, Purcell) and two defensemen (Klefbom, Davidson). If you added Travis Hamonic and Dustin Byfuglien to this crew of eight—and you can't—we could talk about good days and sunshine. Teddy Purcell is gone, doubt he is coming back, but I would welcome him.
CORSI RELS, GOOD NOT GREAT

We are now into the grey area (mostly), where Eric Gryba and Mark Fayne show their value, but can't help you in the power columns. Its like they have great gloves and a BA that looks good in the paper, but their OBP and SP cannot help you. Then we have Justin Schultz, who has a great bat rep from college, but can't hit and the manager cannot find a way to hide him in the field.
Then we reach three fascinating names: Nail Yakupov, Ryan Nugent-Hopkins and Andrej Sekera. Nail has performed pretty well this season, really across the board (his scoring at 5×5 is pretty good compared to the rest of the league). Nuge and Sekera play the tougher competition, I would add them to next year's team. For the team next season, I think it wise to choose between the stay-at-homes, and have chosen Fayne:
Hall—Nuge—Draisaitl
Pouliot—McDavid—Eberle
Yakupov
Klefbom—Sekera
Davidson—Fayne
CORSI WELL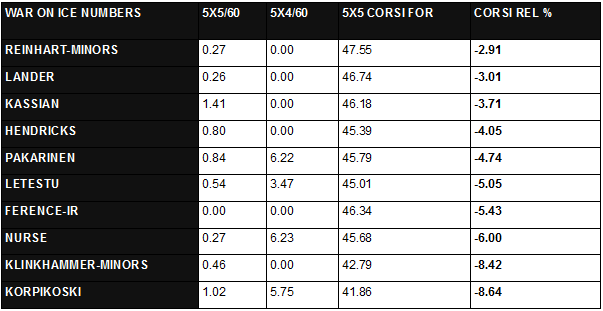 This is the area of the CorsiRel where we are looking at people who should (all things being equal) be replaced—or have their roles produced. How many players on this list, the one that starts with Reinhart and ends with Korpikoski, would you argue for as being absolutely vital to next season for the Edmonton Oilers?
Hall—Nuge—Draisaitl
Pouliot—McDavid—Eberle
xxx-xxx-Yakupov
xxx-xxx-xxx
xxx-xxx
Klefbom—Sekera
xxx-xxx
Davidson—Fayne
That is what CorsiRel is telling me 60 games into the season. Fire all but four defensemen into the sun, keep as much of the top 6F as you can. Question: What is your method telling you? Is it giving you better advice? I want to know, because this season, as always, brought a lot of new information and ways of measuring these things. CorsiRel matches my eye, close enough for jazz, and maybe that is a crutch of mine but I will keep it. Do you have a better plan? How does your plan differ from mine? Do you come up with a different list? Thanks, looking forward to reading your thoughts.
SCHULTZ!
McKenzie: "He's got no future w/ the #Oilers, it's as simple as that." https://t.co/3pEou48E0S

— Chris Nichols (@NicholsOnHockey) February 22, 2016
Schultz is heading out of town if someone wants him, suspect that is the situation as it stands. My guess  is that he will be a Monday near deadline deal, as more attractive options slip away from NHL contenders. That said, this is probably his last week as an Oiler. Per 82gp: 9-25-34.
TRADING FOR DOUGIE HAMILTON
The Edmonton Oilers and the Calgary Flames rarely hook up via trade (Staios, Smid), but I look at that Calgary roster and wonder if a deal could be worked out for the former Bruin. He is not having a monster season (58, 9-17-26) and the Flames are spending a giant sum on their blue—plus, big contracts are coming for Sean Monahan and Johnny Gaudreau. Probably nothing, just a thought.
Photo by Mark Williams
CULLING THE LEFT-HERD
Poor Dillon Simpson (above) is about No. 12 on the Leftorium depth chart for the Oilers, and this cannot stand, man. Peter Chiarelli needs to fix the lefty-righty thing, at least a little, because it is as unkempt as matted hair at Woodstock on Sunday morning.
Andrej Sekera
Oscar Klefbom
Brandon Davidson
Darnell Nurse
Jordan Oesterle
Griffin Reinhart
David Musil
Dillon Simpson
Joey Laleggia
Ben Betker
This doesn't even bother to include certain exits like Nikita Nikitin, Andrew Ference and Brad Hunt. The righties (Fayne, Gryba, Clendening) who may be staying don't even have enough for a quorum.
SHAKEUP???
Friedman: "I think Edmonton's got a lot of balls in the air" on the trade front. #Oilers

— Chris Nichols (@NicholsOnHockey) February 22, 2016
TSN quotes Jim Matheson of the EJ this morning, as Matty has suggested the untouchables are probably Connor McDavid plus maybe Leon Draisaitl and Darnell Nurse. I don't believe that, but do believe the Oilers (as Friedman suggests above) have a lot of balls in the air. Makes sense. If Chiarelli feels a deal can be had now, that sets up summer in a far better way. Get your defender here, and then try to get another, plus your checking center. I continue to believe the big transaction of summer will be hiring Milan Lucic through the end of the decade and beyond.
The big questions of course, are who is coming and who is going? As I mentioned above, we spend so much time worrying about who is leaving, when really the team trading the defenseman will have an enormous impact via their ask. We don't know what we don't know.
Friedman: "This is what I heard last week. Watch Edmonton. I think there's a lot of people that could end up going there." #Oilers

— Chris Nichols (@NicholsOnHockey) February 22, 2016
Friedman: "Schultz, I've talked about the connection w/ Tampa Bay." #TBLightning #Oilers

— Chris Nichols (@NicholsOnHockey) February 22, 2016
Friedman: "I think even guys like Korpikoski and possibly even Matt Hendricks could end up going there." #Oilers

— Chris Nichols (@NicholsOnHockey) February 22, 2016
Here is my trade list:
RW Teddy Purcell—He is gone, suspect we will see a second-round pick (or a legit prospect).
F Matt Hendricks—Chiarelli is unlikely to trade Hendricks, but there is always a chance an offer changes his mind. I recall someone mentioning there was significant interest last deadline. Second-round pick.
D Mark Fayne—A bit tricky, for two reasons. He is helping now, so the Oilers could use him for the first 60 games next year and shop him at the deadline. Call it righty blue insurance. Return? Second-round pick if the Oilers retain salary (defensemen are always worth more at the deadline).
D Justin Schultz—He is gone if they can find a taker, I think they will. Third-round pick.
L Lauri Korpikoski—Perhaps Chiarelli can save Todd McLellan from himself. If he can trade Korpikoski, Chiarelli is a mad genius. Fifth-round pick obo.
C Anton Lander—New addition because I refuse to let Gryba ruin trade deadlinemas. A team needing a very inexpensive forward as insurance might have the time. Sixth-round pick.
D Eric Gryba—I think they will sign him unless a team offers up full value (and remember this is the deadline). I have no idea what he would fetch in trade, only that Mark Fayne would be a better addition for a contending team. I believe that.
If Chiarelli trades for a 2nd round draft pick in 2017, it replaces the 2nd round pick Oilers lost when hiring him. He's trading for himself

— Rascal Gas (@rascalgas) February 22, 2016

LOWDOWN WITH LOWETIDE
A fun show today, as we drive toward the trade deadline with only fear and good judgement holding us back. TSN1260, 10 this morning:
Scott Burnside, ESPN. Trade deadline, Leafs-Sharks deal, outdoor game.
Andrew Stoetson, Jays Nation. A brand new blog you will want to know about.
Sunil Agnihotri, Copper and Blue, The SuperFan. We will talk deadline and Chiarelli, of predictions most foul.
10-1260 text, @Lowetide on twitter. See you at 10!