In the final days of the Justin Schultz era, we are talking about what went wrong. I think we all agree 19 was thrust into the deep end—too much minutes—too soon, and he never did develop because of it. Schultz was a workhorse rookie, but the Oilers learned from it:
ROOKIE D, ICE TIME PER GAME (RANK)
2012-13 Justin Schultz 21:26 per game (No. 3)
2014-15 Oscar Klefbom 21:59 per game (No. 1)
2015-16 Darnell Nurse 20:45 per game (No. 1)
In putting Schultz (and now Nurse) into a major role out of the box, it forces development (or regression). Klefbom is a different case, as Craig MacTavish (correctly) kept him in the minors for most of his 20-year old season (Oscar was 21 in 2014-15).
@corduroy828 Maybe summer, maybe never. Maybe Edmonton. Winnipeg seems unlikely.

— Arthur Staple (@StapeAthletic) February 22, 2016
WHEATFIELD SOUL, YEAR OVER YEAR
Oilers in October 2014: 4-5-1
Oilers in October 2015: 4-8-0
Oilers in November 2014: 2-9-3
Oilers in November 2015: 4-7-2
Oilers in December 2014: 2-8-4
Oilers in December 2015: 7-6-1

Oilers in January 2015: 5-7-1
Oilers in January 2016: 4-5-2
Oilers in February 2015: 5-6-1
Oilers in February 2016: 3-6-1
Oilers after 60 in 2014-15: 17-33-10, 44 points (-65 GD)
Oilers after 60 in 2015-16: 22-32-6, 50 points (-33 GD)
The one thing fans had to hold on to this season was the Goddams, but the Oilers have been flagging badly in that area in the last few weeks. Last year's Oilers lost a 2-1 game to the Anaheim Ducks, Iiro Pakarinen had five shots in that game.
DEFENSE, 2015-16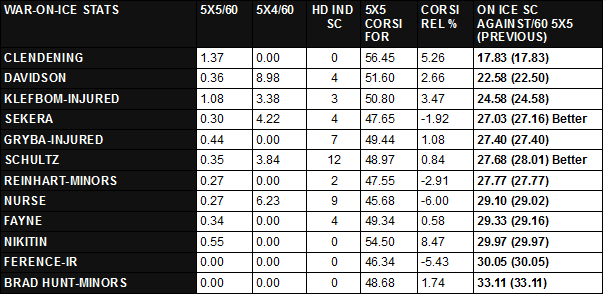 Brandon Davidson is one of three (Klefbom-Davidson-Nurse) lefties drafted by the Oilers who I can see playing a massive amount next season. You never know, prospects don't develop in a straight line, but I have a feeling Brandon Davidson is going to play a bigger role than Nurse (or Griffin Reinhart, who will probably be the first recall—if the bonus worry doesn't scare management away).
Andrej Sekera and Mark Fayne would appear to be the incumbents RH side, although I still think we could see Eric Gryba signed. A lot of what happens this week (Fayne trade, Gryba signing?) will inform the summer.
We do know Justin Schultz will not return.
Darnell Nurse has gone from being the golden boy to trade bait in his time in the NHL. I think he will be just fine, but honestly wonder if the Oilers have any idea about the history of running these guys ragged as rookies. In case anyone wonders, this is NOT the way Montreal handled Larry Robinson (he was in the AHL for year one and part of year two pro). If you are losing faith in Darnell Nurse, perhaps a quick look through NHL history will help. Playing NHL defense at 20 is a very difficult thing to do, and it is doubly difficult when your coach runs you out there for 20:45 a game.
Griffin Reinhart next to Nurse in the graph above is interesting. What is the gap? Where is Nurse clearly better? Interestingly, high-danger scoring chances seems to be a strength for Nurse. I don't think Darnell is going to be a major point-producer in the NHL (say, 25-35 points a year), but he is a much better bet than Reinhart in that area based on NHLEs. A lot of the value from both men is going to be defensive (should they develop into useful NHL players).
You may chase me down with pitchforks by noon, but sending down Nurse and recalling Reinhart might do both men a world of good. Oilers are not chasing anything important now, and getting Nurse back on track as a prospect is very important.
CENTERS, 2015-16

Connor McDavid's On-Ice scoring chance per 60 is spiking in a maniacal fashion. He was 27.21 on the night of his return Feb 2, 2016. He was also 2.72/60 5×5; 5.00/60 5×4; had 10 high-danger scoring chances and was 51.59 Corsi for 5×5, 4.85 CorsiRel. Up in all areas since he returned. Lordy.
Leon Draisaitl has changed the way we think about next season and beyond, with a stunning 50-game run through the heart of the season. IF the Oilers move Nuge, they sure as hell better find a veteran 3C who can lift heavy things.
Ryan Nugent-Hopkins may or may not be in play. The rumors have been going on for some time now, suspect if anything happens it will be summer. Still, there seem to be hints dropping everywhere, and Nuge isn't going to be 3C. IF they trade him? A lot of teams would value him highly, including Anaheim, Carolina, Columbus, Montreal, New Jersey, Ottawa, St. Louis, Tampa Bay, Vancouver, Winnipeg. He would fetch a nice defenseman, but I will miss modern Keon a lot if he goes.
Can PC run McDavid—Draisaitl—Eller—Letestu—Khaira? Yes. It costs $13,369,000 in cap for those five men. I would keep Nuge, run Leon on RW and trade the pick.
WINGERS, 2015-16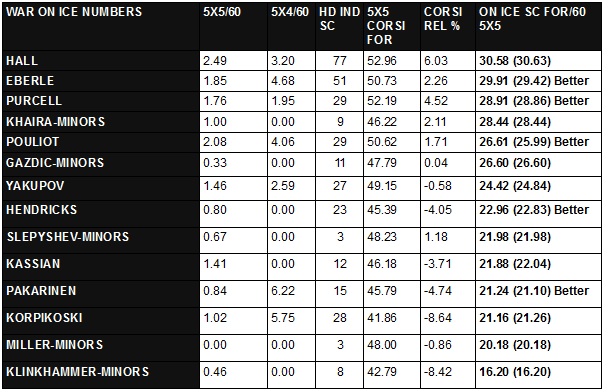 Hall—Eberle look to have made it through the rumors, Hall with his incredible ability to push the river and Eberle with those magic hands. They could be the only remnants of their cluster soon, should PC trade Nuge and keep Leon, Darnell, etc from the McDavid cluster.
Benoit Pouliot is a quality NHL winger, Teddy Purcell is too. I don't know that either is going to be here in the fall.
"I think there's a possibility Nail Yakupov gets moved at the deadline" – Rishaug

— SHoKTee (@akaRCN) February 22, 2016
GOAT'S HEAD SOUP
The greatest rock and roll band ever is the Rolling Stones, and they were at their peak from 1968 (Beggar's Banquet) through Goats Head Soup in 1973 (Jimmy Miller was in on all of them). The key to the golden age of the Stones is a guy named Mick Taylor who I won't bore you with, but he was brilliant and his touch is all over their best music.
Anyway, the Stones were rolling through so much great music in the early 1970s it seemed it would never end. The men who recorded those albums had a special sound, it is glorious. After Taylor left, it was pretty obvious (by Black & Blue for sure) something was missing. They were still the Stones, but no longer THE Stones.
Along about 1981, a Stones song hit my radio and blew me away. It was called 'Waiting on a Friend' and it was the best song they had put out in a long damned time. I loved it, from the simple guitar line launch to the fat saxophone that sends the song away. Beautiful. The song had its origins with the Mick Taylor Stones back in the Goat's Head Soup era. The band loved the song, but couldn't find the lyrics, so they could not unlock the song until years later. I never knew that (seriously) until recently, but I always kind of knew it. You know? It was too good to be Ron Wood Stones, had to be from the mainline.
I think Nail Yakupov is 'Waiting on a Friend' in that he and the Oilers cannot find the words. I don't think Nail's story ends with him playing 15 seasons in the KHL, but rather in another NHL city where he finds success. If the trade comes this week, I think we are all ready for it, probably better than waiting for summer.
FRIEDMAN ON THE REDDIT
@Lowetide Trades!!! pic.twitter.com/3FTBEaSyHu

— Coty (@JaysandOil) February 23, 2016
I don't go on Reddit (my daughter has been there, she likes it, so maybe it is for the young folks?) but Friedman is a helluva get for the company (is it a company? or a band of gypsies?). Anyway, the line about Edmonton having one major move? I will guess Nuge to somewhere for a good, expensive defenseman.
Who might be coming to Edmonton, for Nuge or another? I will guess Sami Vatanen (ANA), Dougie Hamilton (CGY), Brent Seabrook (CHI), Travis Hamonic (NYI), Jacob Trouba (WPG—would have to be a bigger, multi-player deal). I doubt it happens, but if Friedman is saying it, I trust there is something out there.
TRADE VALUES
Frank Seravalli of TSN set trade values for various rentals, has Purcell (2nd) and Schultz (3rd) covered in this article. Those assessments match mine, here is my list (I put Gryba back on the list, but he is injured and his being dealt seems doubtful):
RW Teddy Purcell—He is gone, suspect we will see a second-round pick (or a legit prospect).
F Matt Hendricks—Chiarelli is unlikely to trade Hendricks, but there is always a chance an offer changes his mind. I recall someone mentioning there was significant interest last deadline. Second-round pick.
D Mark Fayne—A bit tricky, for two reasons. He is helping now, so the Oilers could use him for the first 60 games next year and shop him at the deadline. Call it righty blue insurance. Return? Second-round pick if the Oilers retain salary (defensemen are always worth more at the deadline).
D Justin Schultz—He is gone if they can find a taker, I think they will. Third-round pick.
D Eric Gryba—I think they will sign him unless a team offers up full value (and his being injured is a major development). He should fetch a fourth-round selection, about what he cost the Oilers.
L Lauri Korpikoski—Perhaps Chiarelli can save Todd McLellan from himself. If he can trade Korpikoski, Chiarelli is a mad genius. Fifth-round pick obo.
C Anton Lander—New addition because I refuse to let Gryba ruin trade deadlinemas. A team needing a very inexpensive forward as insurance might have the time. Sixth-round pick.
TOP 10 OILERS TRADE TARGETS
Aside from the draft picks, there are some nice players who could be available, either AHL prospects or NHL role players who could help in the coming seasons. Here is my top 10:
D Travis Hamonic, New York Islanders. I cannot create a scenario where Garth Snow makes him available at the deadline, but will list him because he is a perfect fit for Edmonton.

D Sami Vatanen, Anaheim Ducks. Similar to Hamonic in that this would probably be a summer deal, but if the Ducks need a scoring forward for their SC run, this could happen soon.
D Dougie Hamilton, Calgary Flames. Last year's big trade between the Bruins and Flames reportedly curtailed an offer sheet, but Chiarelli may still be interested. Edmonton has the assets to get this trade done if it is there—including cap relief.
D Brandon Montour, Anaheim Ducks. Enjoying a fantastic AHL season, he is a puck-moving defender and a power-play wizard.
C Mark McNeill, Chicago Blackhawks. Righty two-way center who has toiled in the minors for three seasons, Edmonton might like him as the new Anton Lander.
R Jiri Sekac, Chicago Blackhawks. Young enough (23) to grow with this group, he has impressive skills and enough experience to be a sure plug and play.
L Austin Wagner, Regina Pats. Edmonton's skill forward list below the NHL level is very poor, adding a junior scorer like Wagner makes tremendous sense.
R Henrik Samuelsson, Arizona Coyotes. Former Edmonton Oil Kings star has struggled in pro hockey, but has a pretty substantial skill set.
R Beau Starrett, Chicago Blackhawks. A big (6.05, 205) forward with quick hands (via Red Line Report) and that is what Chiarelli is chasing.
R Justin Auger, Los Angeles Kings. A giant (6.07, 229) on skates, this 21-year old would be exactly the kind of player Peter Chiarelli is looking to add (48, 11-10-21 in the AHL this season).
FARM WORKERS
The Oesterle recall further empties the bench for the Oilers, what is left? I always find the best way to track these minor league chaps is to post what they have been doing since January 1. Here is the list:
C Andrew Miller 18, 6-12-18
C Jujhar Khaira 15, 5-9-14
L Rob Klinkhammer 11, 9-4-13
D Jordan Oesterle 20, 2-11-13 (recalled)
R Tyler Pitlick 16, 4-8-12
L Ryan Hamilton 20, 7-5-12
L Josh Winquist 10, 5-6-11
LD Joey Laleggia 15, 4-7-11
LD Brad Hunt 11, 2-5-7
LD Dillon Simpson 19, 1-5-6
L Anton Slepyshev 9, 3-1-4
D David Musil 20, 0-4-4
L Luke Gazdic 8, 1-2-3
D Griffin Reinhart 15, 1-2-3
G Laurent Brossoit 27, 2.72 .920 (over the season)
Who would I like to see? Jujhar Khaira looks like he could be a useful role player, I would like Todd McLellan to see Tyler Pitlick before they cut him loose, David Musil needs a look before the waiver issue in the fall. I am curious about Anton Slepyshev, so wouldn't mind seeing him here for the final 20 games. As mentioned above, if Reinhart and Nurse trade places, that is probably a positive long term for the organization.
GARRIOCH
Bruce Garrioch has a column up about Ottawa possibly trading Shane Prince and Patrick Wiercioch, plus Tampa Bay shopping Erik Condra. I like all three at some level, but Condra ($1.25M, two years left) is an excellent penalty killer and possession player. Article is here.
LOWDOWN WITH LOWETIDE
As the deadline nears, more trade talk on the Lowdown, 10 this morning on TSN1260. Scheduled to appear:
Jonathan Willis, Cult of Hockey. Oilers at the deadline, do they make that big trade?
Don Landry, CFL.ca. CFL free agency was a whirlwind, are the lesser teams any closer to the powerhouse clubs?
Lyle Richardson, Spector's Hockey. Trade deadline rumors, and is the activity this year (based on rumors) heavier?
10-1260 text, @Lowetide on twitter. Talk soon!