The Edmonton Oilers have had a busy week: Awful home game, GM pulling the chute, coach doing a scene from Network, and with the recall of Jujhar Khaira last night, the swallows are ready to return to Capistrano.
I DON'T WANT TO SET THE WORLD ON FIRE, YEAR OVER YEAR
Oilers in October 2014: 4-5-1
Oilers in October 2015: 4-8-0
Oilers in November 2014: 2-9-3
Oilers in November 2015: 4-7-2
Oilers in December 2014: 2-8-4
Oilers in December 2015: 7-6-1

Oilers in January 2015: 5-7-1
Oilers in January 2016: 4-5-2
Oilers in February 2015: 5-6-1
Oilers in February 2016: 3-7-1
Oilers after 61 in 2014-15: 17-34-10, 44 points (-66 GD)
Oilers after 61 in 2015-16: 22-33-6, 50 points (-36 GD)
The goddams are crashing as the Oilers do their annual fire drill, basically the 'six-inch valley through the middle of my skull' portion of the Springsteen songbook. No Thunder Road, no highway to freedom, no last chance power drive. At least one of the Oilers who got on the plane to LA, is likely to go out for a ride and never come back. Question: Will this Oilers team beat Dallas Eakins 2013-14 club in points? It could be close. Oilers won a year ago, 2-1 over the Wild. Last year's team will climb within four points of this bunch with a win tonight.
McKenzie: Nail Yakupov's "name has been out there much, much more lately than it has been in the past." #Oilers

— Chris Nichols (@NicholsOnHockey) February 24, 2016
This hasn't been in the news much at all, so much, much more might not be warp speed, but we will see. I assume the Oilers kicked the tires on Jonathan Drouin, and maybe Yak was part of that conversation. After that? Playoff teams looking for goals may include Anaheim, Carolina, Detroit, Florida, Los Angeles, Pittsburgh, St. Louis. Also, Oakland.
LeBrun: #Oilers' Teddy Purcell could be on the radar for the #LAKings. https://t.co/1IHBJbyOzT

— Chris Nichols (@NicholsOnHockey) February 24, 2016
Teddy Purcell seems a good fit with most teams, certainly the eastern clubs where speed isn't quite as important (fast trains in the west). I think Purcell is both the most likely to be dealt and the most likely to get premium value. The question I have? Does Edmonton get a pick, or an AHL role player, or a prospect out of the CHL? They can use all three.
Edmonton trades the rights of Philip Larsen to Vancouver for a 5th round pick in 2017. Larsen is in the KHL. #TradeCentre

— Darren Dreger (@DarrenDreger) February 25, 2016
It can turn into a fourth-round selection if Larsen is productive (Bob McKenzie had that portion of the deal, he used the phrase 'specified production thresholds'). It is a fascinating deal, one that the Canucks may win if Larsen can deliver enough offense to outrun what we perceive to be his negatives without the puck. From an Oilers point of view, this is an asset acquired for a player they were unlikely to employ in the future. Fun times.
I also think the Oilers would rather get back a young player or prospect rather than a pick for Schultz. A few teams have shown interest

— Pierre LeBrun (@Real_ESPNLeBrun) February 24, 2016
I have written at length about this very subject leading up to the deadline, and have it covered in many areas:
The AHL looks are here:
 The NHL look is here:
Part one of the hinterlands is here
There are 120 or so names on those lists, and I am confident none of them are heading to Edmonton. Still, it was a fun trip, hope you enjoyed it. IF by chance the Oilers do acquire one of the names, expect several weeks of ridiculous posts informing you over and over again. Al Gore made me do it!
The Oilers would be interested in Beaulieu. McGuire just said NB should be untouchable. 3C Eller what Oil need too. https://t.co/V9FGoDRYpc

— BrianWilde (@BWildeCTV) February 23, 2016
I like Beaulieau and Eller, but the Nuge has far more value than this implies. One of the really heartening things to come out of this current dive? The Nuge's value is obvious. I am not certain Peter Chiarelli was unaware of that, but if he is watching the games now then point made.
DEFENSE, 2015-16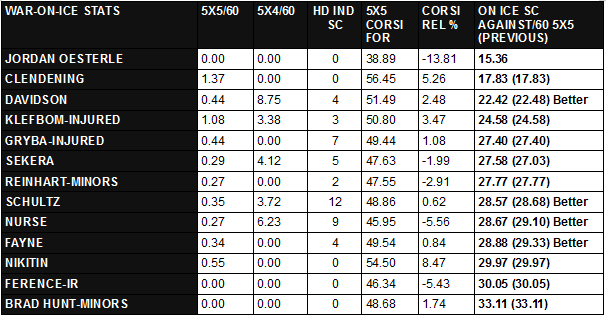 In my mind, anything lower than 25.00/60 SC against is a good number, meaning Brandon Davidson deserves his own planet and Oscar Klefbom is bona fide. Those two men should be front and center when we talk about next year's Oilers blue—ideally manning the lefty side of the second and third pairings. Not a chance in hell that happens, but dare to dream.
If you are trying to create a playoff defense, who do you add to those two (Klefbom, Davidson) and Andrej Sekera? If you aren't including Mark Fayne, then a way to dump him has to be devised and that may take an extra asset—Oilers don't have a full cupboard of prospects and emerging role players.
Do you run Nurse? Or do you start him in 2016-17 in Bakersfield?
Klefbom—(Hamonic)
Sekera—(Demers)
Davidson—Fayne
I don't think the Oilers get both of those players, and wonder if they even try. Where are the Oilers on Darnell Nurse? I think he is in that photo, folks.
Klefbom—Sekera
Nurse—(Hamonic)
Davidson—Fayne
I know most who pop in and post would like to see two additions (me too!), but the Oilers seem pretty devoted to Nurse and Klefbom. If a second is added, my guess is that Brandon Davidson hits the exit.
CENTERS, 2015-16

Connor McDavid's line is crazy, he should win the Calder but may run out of time. Leon Draisaitl is slowly fading, but those numbers—over much of the season—are outstanding. Ryan Nugent-Hopkins was getting dragged routinely in the comments section of this blog before he was injured, I hope those who want to see him gone consider life without the Nuge. Not. good. Mark Letestu is not delivering on the contract, and there are two more years to come—that is not going to be a fun deal to unload, and may lead to trading Matt Hendricks (in an effort to get costs under control for the 4line). Anton Lander is probably a two-year stint in the SHL away from his next NHL chance, hope I am wrong.
OILERS WINGERS, 2015-16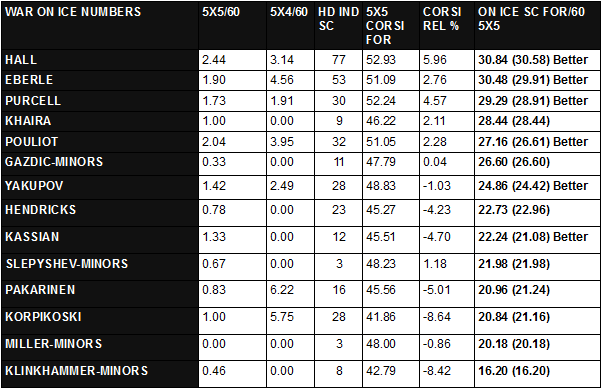 Taylor Hall and Jordan Eberle are posting strong numbers, 4 is struggling and 14 is surging, when it all comes down we should see quality totals. Benoit Pouliot and Teddy Purcell really are a solid second set of wingers, there is good work in those numbers. If we took all the names away and just looked at the numbers, the next man is up Nail Yakupov. I don't see it any other way, your mileage may vary. I hope a smart teams gets him.
At least 5 NHL clubs interested in signing 20 yr old Moose Jaw Warriors forward, Dryden Hunt. Decision as early as next wk. @huntsy22

— Darren Dreger (@DarrenDreger) February 24, 2016
We first talked about Hunt back in June 2015 (here) and that was before he exploded this season. As of this writing, Hunt is 61, 49-50-99 with the Medicine Hat Tigers and is a terrific prospect.
Before someone asks, Paigin is under contract for one more season with HC Sochi, imagine he'll be ready to compete for NHL time in 17-18.

— Corey Pronman (@coreypronman) February 24, 2016
The best scouting report I have read on Paigin is from our own Swedish Poster:
Swedish Poster: He sticks out right away with how tall and lanky. Looked real skinny though part of it might be Sochi's gear they were wearing an all black gear and every player looked pretty slim. However despite his size he's surprisingly agile, I had a similar reaction as I had when getting my first real viewing of Nurse where you marvel over how agile he is at that size, he's not nearly as explosive as Nurse but a real smooth skater.
More Swedish Poster: He showed off some serious hands as well, something I didn't expect at all considering his junior numbers. Could ofc be Andy Sutton moments as well and not a regular thing but he pulled off the Mats Sundin style extralong dangle with his giant reach. He also has a solid shot. A couple of dodgy moments when trying too much with the first pass but generally moved the puck well.
Final Swedish Poster: Defensively he was in good position and showed off a good stick. Crazy reach. Not very physical, still very much a teenage body, has that uncoordinated flimsiness you see in lanky teenage boys, but he seems unafraid at least.
OILERS DRAFTING RUSSIANS: A HISTORY
Igor Vyazmikin, 252nd overall in 1987 (4 NHL games)
D Vladimir Zubkov, 208nd overall in 1988
C Anatoli Semenov, 120th overall in 1989 (362 NHL games, he was a real player)
C Sergei Yashin, 141st overall in 1989
G Evgeny Belosheiken, 232nd overall in 1991
L Alexander Kerch, 60th overall in 1993 (5 NHL games)
F Oleg Maltsev, 241st overall in 1993
D Ilya Byakin, 267th overall in 1993 (57 NHL games, talented)
R Dimitrius Shulga, 162nd in 1994
D Sergei Yerkovich, 68th overall in 1997
G Alex Fomitchev, 231st overall in 1997
L Oleg Smirnov, 144th overall in 1998
R Maxim Spiridonov, 241st overall in 1998
D Alexei Semenov, 36th overall in 1999 (211 NHL games)
L Alexei Mikhnov, 17th overall in 2000 (2 NHL games, first-round pick)
D Alexander Ljubimov, 83rd overall in 2000
F Evgeny Muratov, 274th overall in 2000
D Ivan Koltsov, 106th overall in 2002
F Mikhail Youkov, 72nd overall in 2003
D Roman Tesliuk, 44th overall in 2004
L Slava Trukhno, 120th overall in 2005
F Alex Bumagin, 170th overall in 2006
R Nail Yakupov, 1st overall in 2012 (231 NHL games, No. 1 overall)
L Daniil Zharkov, 91st overall in 2012
C Bogdan Yakimov, 83rd overall in 2013 (1 NHL game)
L Anton Slepyshev, 88th overall in 2013 (11 NHL games)
D Ziyat Paigin, 209th overall in 2015
Since 1979, Edmonton has chosen 27 Russian men out of  358 total selections (7.5%), but they didn't start the process until 1987 and this century has seen 13 picks (major uptick). Since Nail Yakupov was taken No. 1 overall in 2012, Edmonton is averaging over one Russian per draft, and that's good news since the NHL has decided to undervalue them in recent years. Paigin seems like a nice get, but we are early days and have to remember the five year rule.
LET'S CHAT
These GDTs are too long. Yeah, this one seems to be a bit much.
It's funny, because most of your posts are the opposite—very little in them. Let's move on.
Even the Goddams are mocking you. That is toughest of all, through luck or hard work or some progress in structure, they at least had a pretty good goal differential. Now, it is sliding into the ocean, like the mystics and statistics said it would.
Boy, Chiarelli is garbage, eh? It has been a very frustrating season, and if the Oilers go 5-15-1 from now to the end, they will have made zero progress. Disheartening.
Heh. I thought you would use injuries as an excuse. Injuries are a part of the season, sure. However, we talked about lack of balance back last July, and most of the reasonable bets have been poor. That is on the GM.
What moves did you like last summer, that also turned out? The obvious ones, Sekera, Talbot, no credit for McDavid but he is insane. The only secondary bet that has worked out (imo) was Eric Gryba. Mark Letestu has not been able to fill the role asked, Lauri Korpikoski is not an NHL player at this time. Those are rather large misses, especially considering role players are more plentiful than the impact talents. You can't make an error on a $1.8M checking center and sign him for three seasons.
What does Chiarelli need to do? He needs to go back, figure out who advised him on the Sekera and Talbot additions—and keep them. He then needs to make a list of people who advised him to acquire (or trade, or retain) any or all of Nikita Nikitin, Justin Schultz, Lauri Korpikoski, Mark Letestu, Martin Marincin. And he needs to fire them. If Daryl Katz refuses, Peter Chiarelli needs to resign.
Or? Or he must resign himself to failure. Look, either Peter Chiarelli made some wrong calls all on his own, or he took the advice of the previous admin. I don't know the answer, but have my suspicions. Oilers fans badly need Peter Chiarelli to have the stones to get his own people, ones he can trust. And if he did make those decisions, then the Oilers are going to have a tough five years ahead and we will be seeing McDavid then, as we see Taylor Hall now. This is important stuff.
How long does he have? This summer, I expect. The Oilers are broken, Peter Chiarelli is the man charged with fixing them. If we reach the draft and free agency, and Edmonton's additions are men like Travis Hamonic and Jason Demers, Lars Eller or Frans Nielsen,  then we can assume Chiarelli is both in charge and getting reasonable advice. At the first sign of  Ryan Murray or Jack Johnson, we will know it is business as usual. Dear Peter Chiarelli: The calls are coming from inside the house. Get an untraceable cell phone, make the calls from your car with the radio on loud. Seriously.
Hamonic's agent says deadline deal is unlikely. @frank_seravalli has MORE: https://t.co/l7L90Cpvlf #TradeCentre pic.twitter.com/X2oQQ5t8mm

— TSN (@TSN_Sports) February 25, 2016
As we expected, the trade (and I do believe Edmonton will be in there swinging. The two big gets for Chiarelli this summer would be Hamonic and Lucic—you should be prepared for 6×6 on Lucic and that isn't something you can blame on MacT, that will be a Chiarelli move) will go down in summer, if at all. Can you take another overpay to the Islanders during the Friday draft broadcast?
LOWDOWN WITH LOWETIDE
A fun morning, maybe we will get a trade! 10 this morning, TSN 1260, scheduled to appear:
Scott Cullen, TSN. We will discuss the trades so far, and what we might expect from the next few days.
Darcy McLeod, Because Oilers. Chiarelli and McLellan, fixing the defense, bad music.
Frank Seravalli, TSN. The Hamonic article will be front and center.
10-1260 text, @Lowetide on twitter. See you on the radio!