The Oilers trade deadline 2016 is taking on an epic feel. Peter Chiarelli appears to be using this 72-hour period as a combination of roster clarity and 'cleanup on aisle three' with fans hoping he can avoid overpaying for Gilles Marotte in an effort to add rugged players. The first three trades this deadline were fine by my eye, it is that next one—the one that sends a big name packing—that could be a memorable item, good or bad.
TUMBLING DICE, YEAR OVER YEAR
Oilers in October 2014: 4-5-1
Oilers in October 2015: 4-8-0
Oilers in November 2014: 2-9-3
Oilers in November 2015: 4-7-2
Oilers in December 2014: 2-8-4
Oilers in December 2015: 7-6-1

Oilers in January 2015: 5-7-1
Oilers in January 2016: 4-5-2
Oilers in February 2015: 5-6-1
Oilers in February 2016: 3-8-2
Oilers after 63 in 2014-15: 18-35-10, 46 points (-66 GD)
Oilers after 63 in 2015-16: 22-34-7, 51 points (-38 GD)
In G64 a year ago, Edmonton got fed by LAK 5-2, Ben Scrivens' save percentage crashed. The current Oilers are going to be minus Anders Nilsson, Justin Schultz and Teddy Purcell—is that a good thing? This Oilers bunch may pack it in and post miserable performances from now until April Fools, but I hope they find some success and end on a good note. A strong finish this year, with a healthy lineup (for the first time) may give management the idea that keeping most of these characters around makes sense. The problem here is defense, the only question left is how to pay for it.
DEFENSE, 2015-16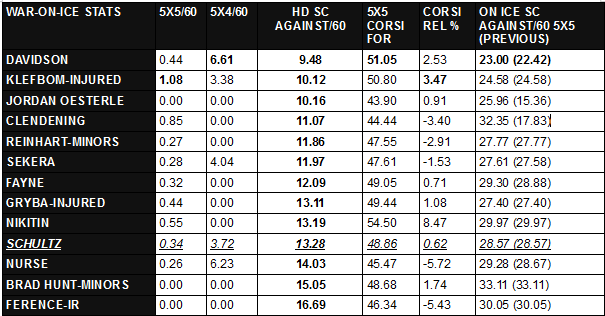 I have added a new item today, called High-Danger scoring chances against per 60. The wordy metric tells us who is performing well against opponents. The mean is 10.76 (my thanks to Darcy McLeod—Woodguy in the post office photos). That means that Brandon Davidson and Oscar Klefbom are young and fabulous—keepers. It also means Andrej Sekera is bona fide, when you take into account the quality of the opposition and the men he faces them with every night. If you get stuck in an elevator with Peter Chiarelli between now and June, and he asks you what three defensemen he should keep from this season, for God sakes tell him Klefbom, Davidson and Sekera.
Peter Chiarelli:  "I thought we'd get 82 points. We're going to fall short and for a number of reasons. But, believe it or not, despite having 51 points at this juncture, I do believe we've instilled a good belief system, level of expectation and a good system. I think that was a real good first step and I'm happy with that."  Source
It is difficult to put aside the last 10 seasons—impossible—and to accept this is the first year of Chiarelli/McLellan. It is even more difficult to see progress, despite the additions of Connor McDavid, Andrej Sekera and Cam Talbot. When entering this deadline, Edmonton fans are right to be undecided about the work of their new GM. Trades that brought in Griffin Reinhart, Lauri Korpikoski and Eric Gryba weren't enough, and Mark Letestu did not bring what was needed to the pivot position. The deadline offers Peter Chiarelli a chance to make moves after getting a lay of the land, and so far so good, with miles to go.
Chiarelli: "I know we have a hole on defence and probably two. I know that. And Oscar Klefbom is out, too. I can't panic. These are real significant things and, frankly, I'd like to use the rest of the year to evaluate the team and see how these guys respond. I'd just like a week or two to have the whole team in place." Source
Chiarelli sent away Justin Schultz yesterday, and that alone should be considered progress. A young man that previous management saw as a major part of the solution, Schultz hindered structure, coverage and outlets—and he was on the ice all the damned time. I will go to my grave wondering why in hell all those coaches played him 22 minutes a night, and if they were getting pressure from management, then those people in management should resign this very morning.
CENTERS, 2015-16

I added high-danger scoring chances FOR per 60 here, and McDavid is a freaker at the freaker's ball at this metric. He is averaging a tremendous performance every night—year one, 19, just settling in. The other youngster, Leon Draisaitl, has slowed in recent weeks. However, the line above is very strong and he is an extremely valuable piece. I was heartened by Chiarelli's words about Ryan Nugent-Hopkins (about and around him) and for the first time in months am back to believing that 'building up the middle' has a place in our town.
WINGERS, 2015-16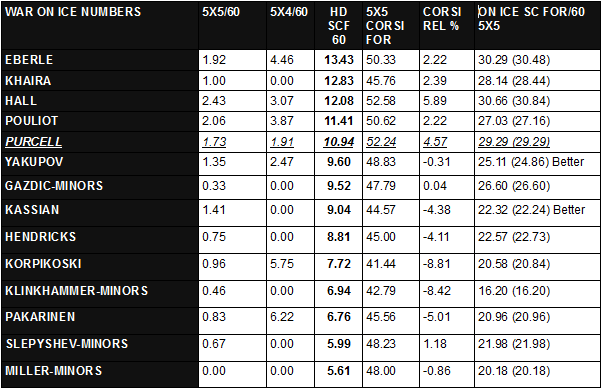 Jordan Eberle and Taylor Hall are the class of the group, little doubt the two men are sublime talents. I think Hall's late fade is obscuring a tremendous season, and we would do well to remember he has been playing with a very young center for the entire year. If this summer held an expansion draft, I would choose Benoit Pouliot as my third pullback, and after that would probably have gone with Teddy Purcell—that option no longer being available.
That leaves us to decide between Zack Kassian and Nail Yakupov. I like both players, and if the Oilers ever had a thought about three scoring lines (Chiarelli did talk at length about three centers) we could discuss it. This is not an easy decision, both men are likely to be value contracts next season for various reasons, and Edmonton is once again likely to have only one spot open (occupied this year by the departed Mr. Purcell). I think the problem in evaluating these two men is the fact they have been cast with Mark Letestu as their No. 1 center for most of the season:
Nail Yakupov's No. 1 center: Mark Letestu 178 minutes, 43 seconds (Yak is 1-0-1)
Zack Kassian's No. 1 center:  Mark Letestu 139 minutes, 38 seconds (Kassian is 1-1-2)
We are about to enter the final final for this season, with a spot open on the wings. Who will join Hall, Eberle and Pouliot? Kassian has the job in recent days, Yakupov is ready and available on the Letestu line.
Two well connected sources in Edmonton "One of the Core guys in serious play" i took that as one of those 1st rd guys could be shipped out

— Incarcerated Bob IBN (@incarceratedbob) February 28, 2016
It is rumor time, and you should beware of false ones. That said, if you see something along these lines (Incarcerated has been right in the past), then think Nail Yakupov as opposed to the Nuge and one suspects you will be on the right track. The summer moves will be the big ones, no one is dealing Travis Hamonic or Seth Jones today. I will post my trade deadline cheat sheet below, but Yakupov is the only top draft pick left on it for the deadline, and if he is going I would expect Montreal or Tampa Bay to be in the mix. Still, likely summer, but if I am reading the tea leaves and the player is not part of the grand plan, then dealing now as opposed to summer falls into the 'settling all family business' theme we are seeing this weekend.
Asking price for Brandon Pirri looks like a second round pick or mix of mid-rounders. NYR, EDM in the mix. Likely moved next 24-hours.

— Travis Yost (@travisyost) February 28, 2016
Pirri's name has been around for awhile (Elliotte Friedman had it in one the 30 Thoughts leading up to the deadline) and Edmonton has now been mentioned a few times. The Oilers added third round selections, but no second yesterday. Interest in adding a talented winger like Pirri lends credence to Yakupov heading out of town soon, in my opinion.
GOT STAMKOS?
Rob Soria has a story up this morning kicking around the idea of Edmonton signing Steven Stamkos this summer, in free agency. It makes complete sense from Edmonton's point of view—McDavid and Stamkos could make beautiful music together—and all it would cost is money and term. It would also allow the Oilers to cash Jordan Eberle (my apologies for always using him, but in this case the idea is position sensitive) for Travis Hamonic—but they would have to dump contracts like Mark Fayne, Lauri Korpikoski and possibly Matt Hendricks to make it happen.
Pouliot—McDavid—Stamkos
Hall—Nuge—Draisaitl
Is that any good? Holy crow.
TRADE DEADLINE UPDATE AND CHEAT SHEET
R Teddy Purcell—Traded for a third-round selection (I estimated a second).
D Justin Schultz—Traded for a third round pick (I estimated a third).
G Anders Nilsson—Traded for a low goalie prospect and a fifth-round selection in 2016.
D Phil Larsen—Traded  for a fifth-round pick in 2017.
R Nail Yakupov—Habs following the Oilers closely and it feels like something could happen (now or at the draft). Lars Eller has been mentioned as a possible return, that would allow Edmonton to enter next season with an experienced (if pricey) 3C. May also see a prospect or pick, if the Stamkos idea has legs.
F Matt Hendricks—I will say a second-round pick, could be high.
D Mark Fayne—No one is mentioning his name, suggesting to me that either the Oilers have no interest in dealing him, or the term is too dear for contending teams. Either way, he is the best defensemen the Oilers have who is potentially available, and I will guess second-round pick. If the Stamkos angle is right, they could offload his $3.625M for little return and consider it a win.
D Eric Gryba—If they trade him, he should fetch a fourth-round selection, about what he cost the Oilers.
L Lauri Korpikoski—There seems to be some rumbling about Korpikoski, showing that NHL GMs don't really pay close attention to performance and famous names rule the day. Fifth-round pick.
C Anton Lander—He has played quite a bit recently. Has to be a showcase. Sixth-round pick.
With a few contracts off the books, I wonder if the #Oilers pick up Brooks Laich today for a bit of a culture shake up?

— Caleb Sunderland (@farmercaleb) February 28, 2016
Man, you never know about waivers. That said, with the Nuge coming back soon, and with Laich having a $4 million contract and one year left, doubt Edmonton touches him.
LOOKING AHEAD
I don't think Peter Chiarelli is done, this doesn't have the look of completion. The GM did not say he would be calling up a replacement for Justin Schultz and Teddy Purcell, he said they would cast about and that he had things on his white board. Adding picks, bringing in big contracts with a year left for buyout (in exchange for considerations), and a guy like Pirri make some sense. I do wonder if there is a substantial market for Nail Yakupov and that will be fun to follow in the next 30 hours.
Stay tuned, I will update if anything breaks.