Peter Chiarelli's Oilers—like his Bruins—are going to be bigger, meaner and have fewer spots in the batting order devoted to skill. Beginning tonight, Edmonton could duplicate Pat Quinn's dream (a giant on every line) from fall 2009. Will it work? It looks like 2016 is going to be a lot about what to put next to Pouliot—McDavid, Hall—Draisaitl and Nuge—Eberle. Tonight's lineup? Where to begin.
SHARKNADO TWO: YEAR OVER YEAR
Oilers in October 2014: 4-5-1
Oilers in October 2015: 4-8-0
Oilers in November 2014: 2-9-3
Oilers in November 2015: 4-7-2
Oilers in December 2014: 2-8-4
Oilers in December 2015: 7-6-1

Oilers in January 2015: 5-7-1
Oilers in January 2016: 4-5-2
Oilers in February 2015: 5-6-1
Oilers in February 2016: 3-8-2
Oilers after 64 in 2014-15: 18-36-10, 46 points (-69 GD)
Oilers after 64 in 2015-16: 23-34-7, 53 points (-36 GD)
In G65 last season, the Oilers grabbed a point against the Chicago Blackhawks before losing 2-1 in the shootout. Ben Scrivens stopped 38 shots, Corey Crawford stopped 46. Tonight is a winnable game, and for this year's Oilers, the final 18 games should be about pushing the river. They could reach 70 points—that seems an aggressive total—but a win tonight should ensure the club eventually passes last season's total of 62 points. By the way, Todd Nelson's crew went 6-8-4 from here on in—if Todd McLellan's crew can match it, they will finish 29-42-11 and capture 69 points. Lots of comments one can make about that total, we will see how close this team can get to 70.
DEFENSE, 2015-16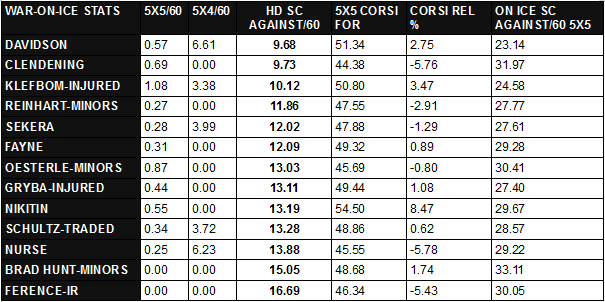 Brandon Davidson is coming alive offensively after looking after his own end of the net, I wonder if we see more power-play chances for him down the stretch. A homegrown rocket would be an enormous addition to this group—and he has scored twice (the first one a terrific shot) with the man advantage.
Oscar Klefbom will return sometime this month, we all missed the Swede in a big way. I think the Oilers will be spending the summer looking for a partner for him on the top pairing. I view Travis Hamonic as (probably) best available, your mileage may vary.
Andrej Sekera has performed admirably this season, hope we see him on a second-pairing next season with Mark Fayne or better. A puck mover like Sami Vatanen would be perfect.
Darnell Nurse was sent down and called up yesterday, he will play the rest of the season as an Oiler. I spent trade deadline talking to Matt Kassian, he suggested (as we have discussed) that time in the AHL—playing easier opposition—probably benefits this player. Edmonton will no doubt send him down for the playoffs, should Bakersfield make the second season.
CENTERS, 2015-16

Leon Draisaitl is 54, 16-28-44 in his first full NHL season, is over 2.50/60 at 5×5 and his possession numbers are excellent. I know Taylor Hall is on the L-line, but credit to this young man on a fantastic season.
Mark Letestu is 64, 7-9-16 in his first Oilers season and his lack of 5×5 offense is one of many reasons this team is once again among the lowest scoring teams in the league (2.01/60 at 5×5, ranking in a tie for No. 20 in the NHL). The Oilers have asked him to play higher in the order, but he has not delivered. Suspect he will be around next season in a 4C role and Letestu will need to be better.
Connor McDavid is 27, 10-19-29 and ranks No. 7 among Oilers scorers despite missing more than half the season (so far). His scoring line is ridiculous, his possession stats sublime, and this is just the beginning.
Ryan Nugent-Hopkins scores lowest in the new metric I am posting (high-danger scoring chances against per-60 minutes), but we have to remember he plays difficult opposition and that is a factor. Like Klefbom, RNH should be back this month.
WINGERS, 2015-16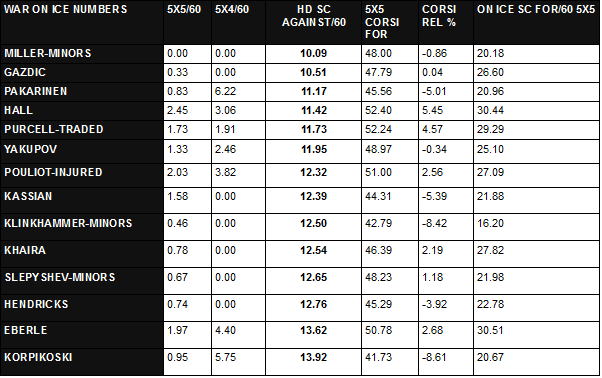 Taylor Hall is such a talented player, he is 64, 20-34-54 this season. A dry spell over a couple of weeks has him off the point-per-game pace, but a strong run before season's end could see him approach 1/1 again.
Nail Yakupov is 42, 5-10-15 this season, most of those totals came in October when 10 was playing with McDavid. The injury to Benoit Pouliot—a terrible turn—may give this youngster a chance to save his season. The numbers above are honestly not bad, and his contract is reasonable. Hell folks, I am not smart enough to know if he will ever be a good player without the puck and the good lord doesn't tell me the future. I do know Edmonton lost a substantial player on the weekend, and Todd McLellan has very few options for replacement. Could Yakupov find a slot on a line with a legit center? We wait.
Benoit Pouliot is 55, 14-22-36 this season. I think his season is over, damn shame because those boxcars could have rolled up toward 20-30-50 and that would have been an outstanding year. Anyway, he is rock solid, and if you don't agree, bike racks at 3:30.
Zack Kassian is 18, 3-3-6 and represents a part of Oilers-future. Big, skilled and furious, Kassian is effective when playing near the edge, and with Patrick Maroon added yesterday the roster becomes more populated with this player-type. Where do they play? My guess is 3line and 4line, we will see where these men slot in beginning tonight.
Jordan Eberle is the johnny cash, he is 51, 20-18-38 so far this season and occupies the coveted position as Connor McDavid's scoring winger. What a spot! Who plays with these two men tonight? Kassian? Maroon? Yakupov? Hall? The mind races for the answer, but Todd McLellan has the only vote that counts.
Patrick Maroon—from St. Louis, Missouri—is 56, 4-9-13 and may slot right into the lineup this evening (Pouliot's absence gives the roster an air of mystery). He will see a feature role I expect, if not tonight then soon. Has a 0.87/60 at 5×5 this year, but he was 1.79 a year ago.
CHIARELLI'S TRADES
Traded Picks No. 16 (C Mathew Barzal) and No. 33 (C Mitchell Stephens) for D Griffin Reinhart. Chiarelli did not win this trade.
Traded Picks No. 57 (D Jonas Siegenthaler), No. 79 (Sergey Zborovskiy) and No. 184 (G Adam Huska) for G Cam Talbot and No. 209 (Ziyat Paigin) overall. Talbot started fast, struggled for a time and then recovered. Signed to an extension, Chiarelli appears to have solved the goalie issue. A win.
Traded D Martin Marincin for Pick No. 107 (F Christian Wolanin) and Brad Ross; Traded Pick No. 107 and F Travis Ewanyk for D Eric Gryba. Martin Marincin remains an effective, if low-event, defender. Gryba is a role player, had a good year. I lean toward Marincin.
Traded C Boyd Gordon for F Lauri Korpikoski. A loss for Chiarelli.
Traded the rights to F Liam Coughlin for G Anders Nilsson. A win the moment the trade was made, Nilsson had a short but interesting Oilers career.
Traded Ben Scrivens for R Zack Kassian. A win, textbook trade.
Traded Phil Larsen to Vancouver for 2017 fifth-round selection. No winner really, but he did get some value from a lost item. A nod, a wink, but not a win.
Traded Justin Schultz to Pittsburgh for a third-round selection. A win, but an organizational failure. As a fan, it is tiresome to see so many kids get wrecked by the local team.
Traded Teddy Purcell to Florida for a third-round pick. If this trade happened Monday, would Edmonton have received more? I am not sure about the deal, to be honest. We will call it a draw for now, I may value the player too much.
Traded Anders Nilsson to St. Louis for Niklas Lundstrom and a fifth-round selection. A win, don't see a reason to wait on making the call.
Traded Martin Gernat and a fourth-round pick to Anaheim for L Patrick Maroon. Also an instant win, even the dollars are fine. Maroon has a good chance with this team. I always liked Gernat, hope he does well in a new organization. This was a lost season due to the injury, suspect he has more to give.
CHIARELLI'S RECORD
Positive (so far) Talbot, Nilsson, Kassian, Maroon, Schultz.
Negative (so far) Reinhart, Korpikoski, Gryba.
The rest are neutral, or too soon to know.
Important to note all of these are "so far" and are will be evaluated for some time. Interesting question: When should you make a call on a trade? I say two years, unless there is a draft pick involved, and then five. One thing I think we should establish: No matter how Justin Schultz tracks from here, the Oilers had to get out of that relationship. Sometimes a second opinion is required. I wish him well.
TONIGHT'S ROSTER
Goal: Cam Talbot, Laurent Brossoit
Defense: Andrej Sekera, Mark Fayne, Brandon Davidson, Darnell Nurse, Adam Clendening, Nikita Nikitin, Adam Pardy.
Center: Connor McDavid, Leon Draisaitl, Mark Letestu, Anton Lander
Left Wing: Taylor Hall, Patrick Maroon, Lauri Korpikoski, Luke Gazdic
Right Wing: Jordan Eberle, Nail Yakupov, Zack Kassian, Matt Hendricks, Iiro Pakarinen, Adam Cracknell
I believe that is the roster, kind of choked Jordan Oesterle and Jujhar Khaira are back in the minors but the Oilers have to be about development in another lost year. I think it is fair to suggest that sending down Darnell Nurse and keeping Oesterle would be more helpful to winning tonight, your mileage may vary. This is how I would handle the lineup card tonight:
Kassian—McDavid—Eberle
Hall—Leon—Yakupov
Maroon—Letestu—Hendricks
Korpikoski—Lander—Pakarinen
Sekera—Fayne
Davidson—Clendening
Nurse—Nikitin
Talbot
Things I considered: Putting Lander on LW with McDavid; moving Yakupov to LW with McDavid; running Hall—McDavid—Eberle and Kassian—Lander—Yakupov. I also think it at least possible that Todd McLelland uses 7D tonight.
2016-17 OILERS (A QUICK LOOK)
Goal: I think there is a very good chance Edmonton will run with Cam Talbot ($4.167 million cap next season) and Laurent Brossoit ($750,000). Chiarelli can always add an AHL starter who can push Brossoit for the backup job, while also accepting a demotion.

Cap: $4.917 million

.
Defense: Andrej Sekera ($5.5 million) will be back, not as certain on Mark Fayne ($3.625 million) but he is on the roster and they could not trade him yesterday. Darnell Nurse ($1.713 million) and Brandon Davidson ($1.425 million) will line up LH side behind Oscar Klefbom ($4.167 million). I don't know who the final two spots will go to, simply no way to even guess. Let's leave it at five, acknowledge that two additions are coming and move on to the forwards. Cap:

$16.43 million

, with two defensemen to add.
Center: Connor McDavid ($3.775 million—I am including bonus money), Leon Draisaitl ($3.4 million) and Ryan Nugent-Hopkins ($6.0 million) lead the way. Mark Letestu ($1.8 million) and Anton Lander ($988,000) are also on the books. I do believe Edmonton will make a move around this position, but am increasingly convinced it will be as 4C upgrade.

Cap: $15.963 million

.
Left Wing: Taylor Hall ($6 million), Benoit Pouliot ($4 million), Patrick Maroon ($1.5 million) and Lauri Korpikoski ($2.5 million) represent a fairly substantial group, both in cap hit and in potential production. I think we might see these exact four in fall.

Cap: $14 million

.
Right Wing: Jordan Eberle ($6 million), Nail Yakupov ($2.5 million), Zack Kassian ($2.5 million-estimate) and Matt Hendricks ($1.8 million) are the likely set at this point, but I expect we will see a major overhaul of this position. More in the coming days.

Cap: $12.8 million

.
That's 20 players (missing two substantial blue and a part-time winger) for $64,111,000. Cap for 2016-17 is not yet known, but last season it was $71.4 million. Assuming that is the case, and my numbers are correct (that is a moving target, if you notice a mistake please pass along), the Oilers have some options.
I believe Mark Fayne, Anton Lander, Lauri Korpikoski and Nail Yakupov are especially vulnerable on this roster.
LOWDOWN WITH LOWETIDE
The Lowdown is back after the trade deadline yesterday (enjoyed being part of the roundtable with Dave Jamieson, Dean Millard and Matt Kassian, plus a cast of hundreds). 10 this morning, TSN 1260, a lot to chat about:
Scott Burnside, ESPN. A manic trade deadline for many, can anyone catch Washington in the east and Chicago in the west?
Jonathan Willis, Cult of Hockey and Oilers Nation. Peter Chiarelli signed Brandon Davidson to a short-term deal and added big men at the deadline. How did he do?
Sunil Agnihotri, Copper and Blue and The SuperFan. Chiarelli is trying to add bigger wingers with skill on the cheap. Is Maroon as good a bet as Kassian? Plus the Davidson contract.
10-1260 text, @Lowetide on twitter. See you on the radio!