The Oilers seem to be gathering some structure and clarity since the Ottawa collapse, and find themselves in Philadelphia, where it is always sunny. How does this play out? Hopefully, 10 points for McDavid and Brandon Manning in Lehigh Valley. For me, two things are certain: The Oilers are a young team, and young teams don't develop in a straight line. Second: There is a chance here to pass some teams, and as ridiculous as it may sound, I think it is important. Turning north with a finish at No. 26 overall would represent some degree of progress. Besides, Edmonton might win the lottery no matter their final position.
RUM HAM, YEAR OVER YEAR
Oilers in October 2014: 4-5-1
Oilers in October 2015: 4-8-0
Oilers in November 2014: 2-9-3
Oilers in November 2015: 4-7-2

Oilers in December 2014: 2-8-4
Oilers in December 2015: 7-6-1

Oilers in January 2015: 5-7-1
Oilers in January 2016: 4-5-2

Oilers in February 2015: 5-6-1
Oilers in February 2016: 4-8-2

Oilers in March 2015: 5-6-3
Oilers in March 2016: 1-0-0
Oilers after 65 in 2014-15: 18-36-11, 47 points (-69 GD)
Oilers after 65 in 2015-16: 24-34-7, 55 points (-35 GD)
In G66 a year ago, the Oilers got hammered by the Carolina Hurricanes 7-4. Richard Bachman had a terrible game, but he would recover and play well several times before the end of the year. The current Oilers seem to have recovered a little defensively, and the goal differential—which had been wildly out of control in recent weeks—is somewhat under control. Knock, knock, knock. On wood.
DEFENSE, 2015-16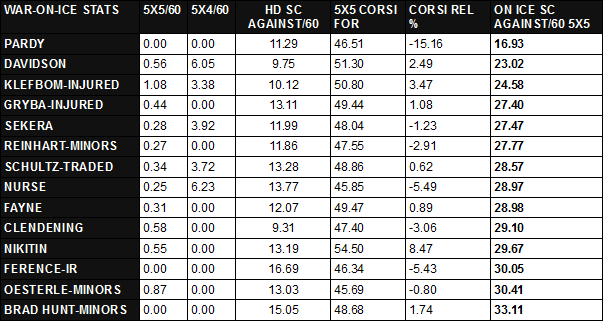 Brandon Davidson has a tremendous line, tough to find a negative. The best set of stats in regard to Davidson has to be his sublime WOWY run with defensive partners. If Todd McLellan puts your favorite defenseman (aside from Davidson) with 88, you are going to enjoy the evening.
Oscar Klefbom was having a very nice season, emerging as an offensive option (you can see it, especially in the 5×5) while also doing very well in the defensive spectrum. Among the damaging things that killed the year, the loss of OK ranks very high, probably No. 1.
Eric Gryba was having a nice season before his injury. I had a nice chat with Bruce McCurdy yesterday about the Marincin—Gryba deal, he made a terrific point about PC wanting a more physical player than Marincin. I think the Oilers will sign Gryba, but only if they can offload Mark Fayne, who is also a defensive defender (without being overly physical).
Andrej Sekera has his possession numbers going north after the Nurse experiment ended, he is at 50 percent for the season without Darnell. His even-strength offense is low, that is not a terribly big deal, but if the Oilers can get him on the second pairing next season—with someone like Sami Vatanen—he could spike.
If the Oilers opened 2016-17 with Klefbom—Hamonic; Sekera—Jason Demers; Nurse—Davidson, is that enough for you? Would you prefer Sekera RH side? If both are non-starters, you are probably looking at trading one of Darnell Nurse or Brandon Davidson, with Klefbom and Sekera on the top two pairs.
Darnell Nurse will be on this team next season, I am confident in saying it. His physical style, skating ability and natural talent make him impossible to trade until Edmonton knows exactly what it has in him. What does that mean? A lefty playing right side next season, that is my guess. At least until injuries hit. Don't discount Nurse playing some in Bakersfield next season, those games will matter enough to demote a young blue costing goals.
CENTERS, 2015-16

Connor McDavid scored two goals in the last game, seemed to be motivated by friends and family. If that inspired him, lord knows what he will do to a team that cost him half a season. Thunder of the Gods! A fabulous season, his line is close enough to perfect.
Leon Draisaitl gives this team a nice option in that he can play center or wing. Todd McLellan used that option to great effect (Joe Pavelski) in San Jose, I bet he does the same thing next season in Edmonton.
Ryan Nugent-Hopkins didn't make the World Hockey U24 team (North America) and Peter Chiarelli is the GM. The Nuge is overqualified for that team. I wrote about it last night, saying it is possible for Chiarelli to both have RNH is future plans and to have been part of a management group that left him off for now. Not every news story has the same importance, and frankly the players not on lists yesterday could win the whole damned tournament. I think PC will trade the player required to satisfy the ask that helps this team the most, don't think we know who it is. As I have suggested before, Nuge is probably on the list of players he is willing to sacrifice. If he is smart, keeping the center is a priority.
If Edmonton decides to keep all three, and I think they may, then six wingers who cost less than $100 million a year is vital. Who would you choose? If you started with Pouliot—McDavid, Hall—Leon and Nuge—Eberle, who would you fill in those lines with? If you went (by line) Yakupov, Kassian and Maroon, could you afford it? Is that any good?
LEFT WINGERS, 2015-16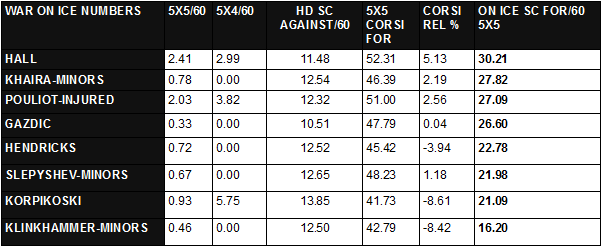 Taylor Hall hasn't posted a lot of offense in the last while (14, 2-4-6 in February) and I think most of us chalk it up to Leon's downturn. With RNH coming back soon, we may see the band back together.
Benoit Pouliot had a fantastic season going before the injury, the guy is a player. You can say he was lucky to play with 97 for much of the year, but my response is that he posted 2.94/60 at 5×5 with McDavid. It isn't bragging if you can do it, BP is bona fide.
The offense really stops after Hall and Pouliot among the LWs, the best scorer after that is Lauri Korpikoski, and he posted that 0.93/60 at 5×5 with Letestu and Lander—damned near impossible to score with Lander, and Letestu is worse! Bah, the bottom six.
I mentioned the other day on twitter that Milan Lucic at 6×6 is something I could get behind, received a few responses on the negative. I know he has a lot of miles for his age (I have watched him a lot over the years) but the first four years of that deal should be good. Edmonton can't afford this player as they are currently constructed, but we don't know the future—we could see any of these LWs heading out of town this summer.
RIGHT WINGERS, 2015-16

Jordan Eberle was taking some colossal hits in the comments section yesterday. He definitely blew a coverage and folks it isn't the first one. I would prefer Billy Guerin too, but he is 45. Let's keep some of these guys who can cash passes from the centers, agree?
Nail Yakupov got a nice push left side and played well enough, I thought the words from the coach ('big things!') might mean he would be stapled to Letestu by the third shift. Not so, and we will see how the lineup works in Philly with Patrick (what a) Maroon inserted in the lineup.
Zack Kassian is below the Mendoza line in terms of scoring chances/60, I think it has to do with all of those Letestu minutes. He has four points in less than an hour 5×5 on Leon's line—might be worth hanging Nuge with Hall and Kassian for awhile.
ODDS AND SODS
The Oilers beat the Flyers in the first meeting of the season, early November. At that time, we were still coming to grips with the loss of McDavid. Goddamns at minus five at that time.
Flyers are 3-0-0 on their current homestand, this won't be an easy game for Edmonton.
At home, the Oilers are 16-14-2, but their road record (8-20-5) is a killer.
ONE YEAR AGO
I will tell you now, one year ago was a very tough time for this Oilers fan. Why?
"I'm confident going forward with Oscar, Justin, Nikita, Andrew and Fayne." MacT on Oilers blueline. #Oilers

— Jason Gregor (@JasonGregor) March 2, 2015
Here is what I wrote that day:
The Edmonton Oilers are a bad hockey club and they make decisions based on things other than winning. Saying more would only cloud the issue. There is nothing about the actions of this team in recent months that offers us any hope for the future. I have reached this conclusion: The Edmonton Oilers organization has no idea what they're doing. Source
We can argue about Peter Chiarelli's trades and missteps, and there have been a few. We can fret about his tendency to add contracts with an extra year (this is now a trend) and I think we should be very concerned about how much he will get done this summer. That said, three of the five men mentioned by MacT are no longer in the picture (well, Nikita, but not really), and I expect they will flush Mark Fayne straightaway. We came through a trade deadline where a terrible move (dealing Yak for 10 cents on the dollar) did not occur and the Maroon pickup was a decent bet. Finally, and I do not want to be rude here, Chiarelli gave his coaching staff relief by moving out a defensive liability.
Justin Schultz is on the ice with his new #Pens teammates for today's skate. pic.twitter.com/9okxq6ICWO

— Pittsburgh Penguins (@penguins) March 3, 2016
CHIARELLI'S LIST AND SOLUTIONS, 2015 SUMMER
Draft McDavid and sign him (Done)

Find a quality goalie option (Cam Talbot)

Acquire a legit top pairing blue (Andrej Sekera)
Sign a two-way F (Lauri Korpikoski)
Ignore MacT re: Marincin (Or trade Marincin for real value) (Eric Gryba)

Veteran two-way center (Mark Letestu)
That was my list one year ago, iirc we liked the McDavid draft, the Talbot trade and the Sekera signing. We were not fans of the Korpikoski acquisition (added a year of salary and there was erosion in the resume); somewhat divided on the Marincin-Gryba trade and generally onside with the Letestu addition. Fair?
CHIARELLI'S LIST, 2016 SUMMER
Top-pairing D to partner with Klefbom (Travis Hamonic)
Second-pairing D to partner with Sekera (Sami Vatanen or Jason Demers)
Third-line C if they trade Nuge (Nuge)
Scoring winger if they trade Eberle (Laine)
Offload unwanted contracts (Fayne, Korpikoski)
Anything else? I think that is probably it, of course if Kassian and or Maroon don't work out the list could be longer. If we assume Eberle for Hamonic, and that Demers is signed, Laine is added and this all works under the cap, we might see:
Pouliot—McDavid—Yakupov
Hall—Draisaitl—Kassian
Maroon—Nuge—Laine
Korpikoski—Letestu—Hendricks
Klefbom—Hamonic
Sekera—Demers
Nurse—Davidson
Talbot—Brossoit
And then extra's based on cap room and specific needs (maybe 8D). Thoughts? You can move Hall or Nuge instead of Eberle, I always pick on Eberle because it seems to leave Edmonton strongest when everything is done. Keeping the two drivers—McDavid and Hall—sets up the top two lines in a grand fashion. Keeping all three centers means never having to say you're sorry.
LOWDOWN WITH LOWETIDE
A busy, fun show, and a guest or two still to come. Scheduled to appear, TSN 1260 beginning at 10:
Darcy McLeod, Because Oilers. A blue-sky visit, talking about procurement in summer, fixing the defense, and the importance of the final 15 games.
Jesse Spector, The Sporting News. Baseball spring training is underway! The warmth of the sun! Tobacco being spit more than one mile! The crack of the bat and terrible infield defense! Jesse is in San Fransisco, we will pull him away for a few minutes to chat about hope springing eternal around the majors.
Frank Seravalli, TSN. How high can the Oilers go in the standings? Are some of these teams going to dive like Buffalo and Arizona did one year ago?
10-1260 text, @Lowetide on twitter. Talk soon!