I don't know about you, but for me trade deadline day was mostly about waiting for the Nail Yakupov trade. Nail to Montreal for Eller or Beaulieau, Nail to Columbus for some tortured soul. Peter Chiarelli kept his powder dry, and at the very least we have a few more weeks to watch him, and Edmonton can see his value increase. Or, and here is a crazy idea, maybe they unlock him with the special Connor McDavid key.
SANTA MARIA, YEAR OVER YEAR
Oilers in October 2014: 4-5-1
Oilers in October 2015: 4-8-0
Oilers in November 2014: 2-9-3
Oilers in November 2015: 4-7-2

Oilers in December 2014: 2-8-4
Oilers in December 2015: 7-6-1

Oilers in January 2015: 5-7-1
Oilers in January 2016: 4-5-2

Oilers in February 2015: 5-6-1
Oilers in February 2016: 4-8-2

Oilers in March 2015: 5-6-3
Oilers in March 2016: 2-0-0
Oilers after 66 in 2014-15: 18-37-11, 47 points (-72 GD)
Oilers after 66 in 2015-16: 25-34-7, 57 points (-32 GD)
Oilers of a year ago lost 5-2 in G67 to Detroit. A nice recovery since that terrible Ottawa game at home (I was there, they were not. good.). Last night did give us more than one thing to celebrate, but this is probably my favorite:

Calgary has two games in hand, they could drive by Edmonton this weekend and never look back. That said, Edmonton does look to be better since the deadline. You can credit the new hires, you can credit Peter Chiarelli for dumping Justin Schultz, or you can credit Todd McLellan for not playing as many kids (Pardy and Cracknell are basically replacing Oesterle and Khaira—that is more experience). Either way, the Oilers have passed last year's win total and are closing in on the point total of 2014-15. Small victories are big steps, and north is a direction.
INDIVIDUAL HIGH-DANGER SCORING CHANCES
Three: Patrick Maroon
Two: Connor McDavid, Taylor Hall, Nail Yakupov
One: Jordan Eberle, Leon Draisaitl, Darnell Nurse, Matt Hendricks
DEFENSE, LAST NIGHT

Davidson—Pardy is a solid pairing, but the truth is that Davidson—Gryba, Davidson—Nurse and Davidson—Larry from accounting is a solid pairing. Pardy looks fine by my eye, but I think we need to see him in different situations before we discuss him as a part of the future. Davidson spent some time RH side last evening, I think Nurse—Davidson could be next year's third pairing. I also think Davidson may end up being one of the four best blue on the team in 2016-17, even if they bring in two good defenders. He is the modern Pisani.
Sekera—Fayne are good defenders, I like them together (doubt they will be a pairing next season). The possession numbers have some score effects attached, but this duo were in good position, standing up, swatting away pucks and making good decisions all night.
Nurse—Clendening is as loose as Crazy Horse on a Friday night in California, 1973. There were some good moments, but the record company is never going to buy it. Nurse was flying, but also getting caught a little, and that was with the lead. I don't think that is a good thing, especially for a young team. It's like one kid sees someone doing it, and pretty soon everyone is doing it. Darnell has terrific ability but is still having trouble picking his spots and playing calm. Frankly, he was better in his first few weeks than he is now, in my opinion. Clendening is a tweener, although we haven't seen him much yet, suspect that is the call on him this summer.
Cam Talbot continued his nice run, his save percentage is now .918—that ranks him No. 16 among goalies who have played 25 or more games. His even strength SP is .919, that puts him No. 28 among goalies who have played 25 or more games.
Dalton Prout on McDavid: "He never, ever, ever looks down at the puck."
Ryan Murray on McDavid: "He has unbelievable speed. He can just get the puck and he's gone. I don't think I've ever seen anyone take off like that. He can be 10 feet away from you in two strides." Source
CENTERS, LAST NIGHT

Leon Draisaitl and his line performed well, Hall's goal (I think LD earned an assist but he didn't get it) was a big part of the game. Tough to view the numbers through score effects, but I thought that line was rugged and effective against the Giroux trio.
Connor McDavid was flying early. The goal was splendid and the line had five individual high-danger scoring chances. He blocked shots, played over four minutes on the PK and generally played a strong game. I would not play him on the PK.
Anton Lander and his group were reliable, with one HD SC (Hendricks). Anton scored recently, I am not going to pressure him until April.
Mark Letestu had a terrific moment on the PK where he dumped the puck, chased it, won it, centered it, and hugged Lauri Korpikoski. If he could score 20 EV points a year he would be a useful guy. Maybe he will reward us with offense next season. That aside, he got drilled, often against the soft parade.
WINGERS, LAST NIGHT

Nail Yakupov scored a goal, had five shots, four hits, one takeaway and played (in total) 12:06. I liked his game would like to have seen him more.
Jordan Eberle had a quiet game to my eye, one IND HD SC and battled for the puck a few times but overall fairly quiet.
Zack Kassian was full asshat last night, he is absolutely impossible to ignore. Once you realize what a demon he is, not reacting is very difficult. He is a valuable piece for this team, because opponents don't expect this from the Oilers (who was the last Kassian here?). When this team gets good, and they are not there now, it is going to be one ugly caravan heading into the other 29 NHL cities. And in this case, ugly means good.
Patrick Maroon had a helluva debut. Scored a goal, three shots on goal, hits, pushes, banging heads together and on it went. He is a going concern already.
Adam Cracknell played a lot—11:25—for a McLellan fourth liner but he is reliable and steady, plus the game was getting physical and he doesn't shy away. He has been coached well and learned the lessons, it is all about pucks deep and the rest of the Ryan Smyth speech.
Taylor Hall scored a fantastic goal and ended up in a heap, but appeared to be fine afterward. Skated miles, two blocked shots, two takeaways, and of course the usual criticism online about how badly he is playing. Wonderful player.
Matt Hendricks is a throwback player, he could have played in 1975 easily. Hard worker, makes good decisions and the only real criticism is that he is not an offensive player. He never cheats, not ever. Matt Hendricks is the kind of guy the coach will always find room for, because the effort is there all the time.
Lauri Korpikoski scored a goal and skated a lot. His possession number is bottom five in the league whenever I look at it, and he will somehow score 10 goals with Mark Letestu and Anton Lander as his only centers. What an odd season.
POTENTIAL NEW BOGDAN
Photo by Mark Williams
Bogdan Yakimov is back! We just talked about this, but the Oilers really don't have much bubbling under so every prospect counts. Among forwards, I would suggest Jujhar Khaira, Anton Slepyshev and Yakimov are the only prospects currently in Bakersfield who might play as many as 100 NHL games. I am not suggesting one or all will do it, just that Edmonton doesn't have a player worth discussing in that light beyond those three. That is extremely poor. Yakimov's immediate future might involve a callup, as he may not be eligible for the playoffs in Bakersfield.
Unless there's some weird loophole, Yakimov wasn't on the Bako roster at the trade deadline, which should rule him ineligible. #Oilers #AHL

— Eric Rodgers (@ericrsports) March 4, 2016
I am not sure on this, but Rodgers has a good handle on these things. While I am at it, want to pass along a nifty item from Neal Livingston of Tend the Farm that pertains to Laurent Brossoit and Brandon Davidson. And since I think of those two in conjunction with Rob Ferguson (he has the photo in Neal's piece) and Patricia Teter, you can follow the ECHL race via her fabulous Artful Puck blog.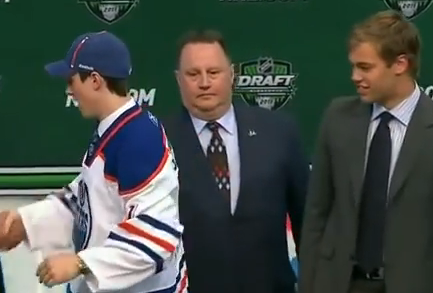 THE HEART OF THE ORDER
NHL teams, the successful ones, are built up the middle with strong two-way players. Edmonton had this during their prime in the 1980s and again in the 2006 spring window. How close are they now? Well, I think the club is going to be very strong at center (McDavid, Leon, Nuge) and am encouraged by recent words from Peter Chiarelli about 93. Although he wasn't named to the North American team for the World Cup of Hockey, one suspects he will be at some point.
Here's the deal with Nuge. If he was offered for Seth Jones and the trade was turned down (there was a lot of smoke) that suggests to me that a smart, veteran GM would pull Nuge back from trade talks. There is zero use in dealing RNH at 70 percent on the dollar. If at some point there is a substantial offer, and McDavid-Leon can handle the heavy lifting, it will be something to consider. We are not close to that day.
The rest of the group needs help and I do think we are going to see a big name traded for a defenseman this summer. It could be a draft pick (although the Oilers winning could dash those hopes—there is a chance they could climb to No. 22 overall), but more likely an actual NHL forward. If we are building a successful team, and understanding the template for success (one rock goalie, four actual two-way defensemen, three centers true, four wingers who can cash), Edmonton actually gathered some pieces this year:
Goal: Cam Talbot
Defense: Oscar Klefbom, Andrej Sekera, possibly Brandon Davidson (your mileage may vary, I am going to count him as a possible at this point).
Center: Connor McDavid, Leon Draisaitl, Ryan Nugent-Hopkins
Left Wing: Taylor Hall, Benoit Pouliot
Right Wing: Jordan Eberle, Nail Yakupov
Peter Chiarelli added two pieces (Talbot, Sekera), plus one each from the hockey Gods (McDavid), Brandon Davidson (Brandon Davidson) and possibly Todd McLellan (Nail Yakupov unlocked). So, by my count, that means Peter Chiarelli needs to add two defensemen this summer, and they could trade out a winger and add Patrik Laine at the draft (good lord willing and the creek don't rise). Is Peter Chiarelli improving the heart of the order? Are you comfortable with Talbot? Do you worry about Oscar? For me, I would like a better two-way player on RW to go with one of Eberle or Yakupov, and am curious about Davidson and how much competition he will provide for the Hamonic—Demers additions.
Talbot, Brossoit
Klefbom—Hamonic, Sekera—Demers, Nurse—Davidson, Gryba
McDavid, Draisaitl, Nugent-Hopkins, Letestu, Lander
Hall, Pouliot, Maroon, Korpikoski, Khaira
Eberle, Yakupov, Kassian, Hendricks
Thoughts? I figure the pick is part of the Hamonic deal, and Demers comes for just money. I also figure the Oilers won't have enough to buy out Korpikoski, but that Khaira might force him to the pressbox during the year.
LOWDOWN WITH LOWETIDE
At 10 this morning, TSN1260. Lots to talk about, scheduled to appear:
Steve Lansky, BigMouthSports. Oilers turning north, World Cup of Hockey, spring training.
Antony Bent, FC Edmonton. Eddies traveling and those blasted Spurs vex me!
Lee Versage, TSN1200 Ottawa. Tim Horton's Brier gets underway this weekend, plus some Senators talk.
Paul Almeida, SSE. Oilers on a roll, I think it important for the team to keep winning and show they are in fact turning north. Paul? God knows, but we will find out at 11:25.
10-1260 text, @Lowetide on twitter.