We are counting down to the end of an era. When looking back on the 2010-16 Oilers, it feels like a bizarre period of collecting gems. The team never reached balance, or structure, but sure did have some wonderful talent. Damn shame really, but one suspects there will be blood over the summer.
H.W. OKAY?, YEAR OVER YEAR
Oilers in October 2014: 4-5-1
Oilers in October 2015: 4-8-0
Oilers in November 2014: 2-9-3
Oilers in November 2015: 4-7-2

Oilers in December 2014: 2-8-4
Oilers in December 2015: 7-6-1

Oilers in January 2015: 5-7-1
Oilers in January 2016: 4-5-2

Oilers in February 2015: 5-6-1
Oilers in February 2016: 4-8-2

Oilers in March 2015: 5-6-3
Oilers in March 2016: 3-1-0
Oilers after 68 in 2014-15: 18-39-11, 47 points (-77 GD)
Oilers after 68 in 2015-16: 26-35-7, 59 points (-34 GD)
G69 a year ago saw the Oilers lose in the shootout to Columbus near the end of a miserable run. From tonight through the end of the season, last year's Oilers were 6-5-3. If the Oilers of this season match it? 32-40-10, 74 points.
OILERS SCORING (AND GOALING) LAST 10 GAMES
Connor McDavid 10, 4-5-9
Jordan Eberle 10, 2-5-7
Taylor Hall 10, 3-3-6
Leon Draisaitl 10, 2-3-5
Patrick Maroon 3, 2-2-4
Brandon Davidson 10, 1-3-4
Benoit Pouliot 6, 1-2-3
Andrej Sekera 10, 0-3-3
Zack Kassian 9, 1-1-2
Adam Pardy 4, 0-2-2
Nail Yakupov 10, 2-0-2
Lauri Korpikoski 10, 2-0-2
Teddy Purcell 3, 0-1-1
Jordan Oesterle 4, 0-1-1
Adam Clendening 7, 0-1-1
Anton Lander 8, 1-0-1
Mark Letestu 10, 0-1-1
Cam Talbot 9gp, 1.90 .942
Laurent Brossoit 1gp, 6.00 .778
Oilers need a scoring spike here soon, but their record has been decent over the last 10 (4-5-1) because of the goaltending. The newcomers—especially Maroon—have made a big difference.
DEFENSE, 2015-16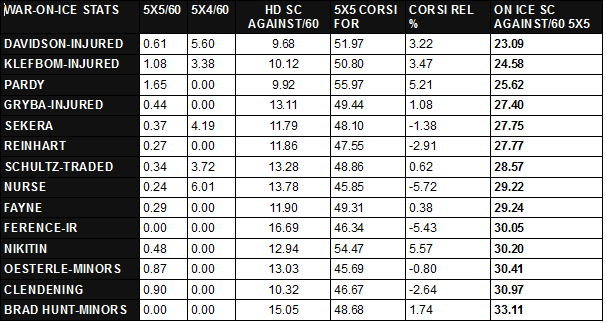 If we had our choice of the men on this list (Davidson, Klefbom, Sekera, Fayne, Nurse, Gryba is my list) it would remain no screaming hell. That said, tonight's six—Sekera, Fayne, Pardy, Clendening, Nurse, Reinhart (or maybe Nikitin)—are miles past the turnoff and beyond the last rural route on the map. Cool as a rule, but sometimes bad is bad.
Andrej Sekera has had a difficult year, but remained healthy and (I believe) got a lot more out of it than any free-agent addition in years. Your mileage may vary.
Griffin Reinhart has posted less than stellar numbers so far this NHL season. That said, they are superior (mostly) to Darnell Nurse as we stand here today. It is unfair to compare the two, Edmonton is not the same team as they were earlier, but it will be interesting to see if Reinhart slides in these last 15 games—or remains clear of Nurse.
Adam Clendening is a player who has played enough now where we might expect to see him show up in plays more often.
Nikita Nikitin can't get to plays. It must be very frustrating.
Mark Fayne might be the last of the Don Awrey's in Edmonton, I am going to miss them awful. You are probably going to hear a lot of Terry Harper stories on this blog in the next decade.
Adam Pardy is probably going to play a lot tonight. Big bruiser will be relied on against the bigger SJS forwards.
Would the Oilers consider dressing all seven blue? I would. Nikitin can't move but does have a reasonable shot for the power play.
CENTERS, 2015-16

One of the discussions we are having lately is about the 4C, but there is every chance Peter Chiarelli will hire someone new. Lander's contract is only $988,000 and I would keep him, but even if they send him down (risking waivers, again) it won't be a cap burden. Mark Letestu and his $1.8 million times two is going to be a bear, that is too much for a 13-14F and frankly his offense won't allow him to play on the top 9F next season. If the Oilers are going to keep all these killer centers, and I am not absolutely certain they will, then 'expensive pairs' will probably be created, and inexpensive wingers will rotate as needed. Since the inexpensive wingers will cost less, there should be more (and they will be easier to flush, as well).
Expensive Pairs: McDavid—Eberle; Hall—Draisaitl; Pouliot—Nuge.
Inexpensive Wingers: Yakupov, Maroon, Kassian, Slepyshev, et cetera.
LEFT WINGERS, 2015-16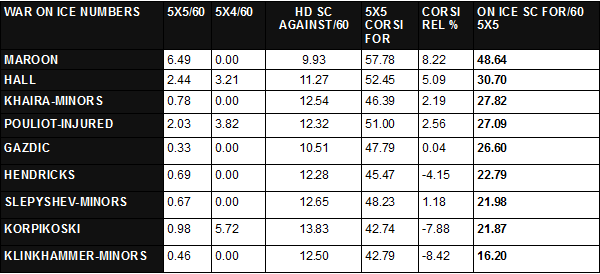 Patrick Maroon has had an enormous impact on the team. Of course, he could play 300 more games with the Oilers and not go 2-2-4 in a three-game span again, but it has been a great start. Taylor Hall is having a brilliant season, even with the slump (and even then, not awful in the last 10 games). I hope he has a strong finish. Benoit Pouliot's numbers are not a far trip from Hall's, and he could play with either McDavid or Nuge next year (Leon for that matter). Can those three men occupy a success top 9F on a playoff contending team? I think they might be exactly good enough.
RIGHT WINGERS, 2015-16

Jordan Eberle is the best offensive (and possession) RW on the club, and a veteran who has chemistry up and down the batting order. Nail Yakupov struggled offensively when playing on the Letestu line, but the possession numbers didn't falter. I think it is reasonable to suggest the lack of a center for the skill winger had a major impact, and it is reasonable to project him onto an offensive line next year. Zack Kassian is shy offensively, and his possession numbers have faltered of late, but as an option who can slide up and down the lineup he certainly qualifies in our look at next year (along with Maroon on portside).
LeBrun on possible Hamonic trade this summer: "Certainly Edmonton will be all over the Islanders. They've long-earmarked him."#Oilers #Isles

— Chris Nichols (@NicholsOnHockey) March 4, 2016
If that is the major move of the summer, would you be satisfied? He is signed through 2020 summer with a cap hit just pennies more than Mark Fayne. A real value contract, and I still wonder if the Islanders trade him at all.
BLUE BAYOU, VOLUME TWO

Today's trio features a lefty in Campbell and two young righties we have discussed in the past. A lot of talk about Nuge—for—Jones when he was in Nashville, but if Chiarelli is serious about that trade I suspect it could be re-visited this summer (the Jackets top center is Jed Clampett). Jacob Trouba is a good young player, just not sure he is going to be worth the coin he is apparently asking for in the coming seasons. He is not playing the tougher competition with the Jets—that would be his role in Edmonton, and the numbers above would likely sink. Seth Jones is playing the uber-soft parade in Columbus, but early days and that is to be expected. Then again, Brian Campbell is playing secondary opposition as well. Jason Demers is still the king, with Travis Hamonic also in photo. It is interesting that BTN shows the Stars blue (at the high end) all basically playing the same qual comp.
'BIG' IS FINE, BUT 'GOOD AND BIG' IS BETTER
Possibly the worst chapter title I have ever posted, but it gets the point across. Dan Barnes is the best writer covering the Oilers at this time, and it is wonderful to have him back on the sports beat. His latest article talks about unloading passive players like Teddy Purcell and Justin Schultz, and adding beef in the name of Patrick Maroon, Adam Cracknell and Adam Pardy. As much as I enjoy Barnes as a writer, and do agree the three new hires (especially Maroon) have made a difference, it is (once again) important to point out size alone gives n advantage to any team.
Maroon has clearly benefited from playing with skilled men in Anaheim. His goal in Winnipeg required him to slip coverage (he did) and display fast hands (ditto) and those things are important. Maroon not only scored those goals but has not been a tire fire in possession—nor was he in previous seasons. That is important, because the Oilers spent much of the last decade thinking J-F Jacques was Patrick Maroon and that is one big damned problem. Big is terrific, as long as it comes in a complete package. Peter Chiarelli is the first GM since Sather who seems to get it. Seriously.
I think the goal (for Edmonton) should be to find guys like Benoit Pouliot. Sure, he doesn't appeal to those who would like more crash, but this is a very effective NHL player in possession—who does use his size to curtail sorties. Maroon is somewhat similar, Kassian too, and my bet is we see a RW and maybe a center of similar talents in the fall. As long as they are closer to Pouliot than Jacques, I have no quarrel. If you read today about the Oilers being Bruinized, without also mentioning that Chiarelli's big Bruins were effective (Chara, Lucic, Horton), then someone is missing the point. And don't get caught up in fourth lines, Chiarelli's four-line in Boston got a lot of play but was not generally effective. Big doesn't mean jack doodly if you cannot play the game. Same as it ever was.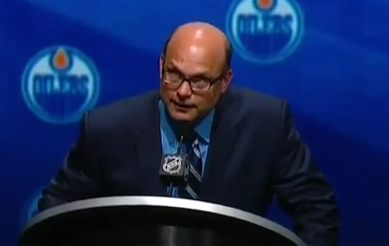 REVISITING FIVE THINGS
Last March, I posted five things that the Oilers could do in order to improve in 2015-16. Some of those things did occur (No. 1 goalie, drafted effectively in round one) and some are lost forever (I don't think Todd McLellan is an advanced stats fan). Here are five (and two bonus) for this coming summer:
Add two defensemen who are actual NHL players. We have discussed this at length, I will only say that at this point I am fairly convinced that Hamonic and Demers are the best available (if Hamonic is) options.

Balance. The most important missing link of the whole damned bunch. The Oilers have more holes than the French in World War 2, and it is same as it ever was. Peter Chiarelli can't solve all of the problems, but once he acquires Hamonic and Demers, and adds some strength up front at the 6s and 7s spot, perhaps there will be time to get someone who can win faceoffs, penalty kill, hammer rockets from the point, etc. Lots of work to do.
Keep the centers three. Why? It sets up everything, just everything. Look, Todd McLellan doesn't use his 4line at 5×5 too much, but a third line (featuring Nuge, and say, Pouliot) will give the opposition fits on the road, and give cover to the McDavid and Leon lines at home. It may not be possible to keep all three, but if they do trade Nuge, then replacing him with a more than capable veteran C is vital.
Find Fernando Pisani. Oilers GMs have been bringing the strangest bunch of two-way wingers to the team in the last decade. From the hilarity of 'exiting the system, goodbye' of Ryan Jones flying the D-zone without possession to the 'Liquid Drano' brilliance of Lennart Petrell, this team cannot find a two-way winger who can serve as mentor while also holding a checking line together. Lauri Korpikoski is not the answer.
Find Rem Murray. Edmonton keeps trying to make Anton Lander into a Swiss Army knife, and his skills are not a good fit. While being useful in the offensive zone (and I think he could help the PP. Seriously), the Oilers have been trying to make him a dogged forechecker at center and wing since Dallas Eakins arrived. He is not fast enough for the role. Rem Murray really helped with balance, this team needs that guy for next season.
Fix the Power Play. I think McLellan needs a Dan Boyle for the breakouts (they already have Connor McDavid for the entries) and they should be fine. I can't imagine the Oilers being this bad again next year, simply too much talent. Of course, I have said that before.
Re-stock the system. Using the draft, college free agents, graduating juniors that have gone undrafted, and frankly trading the excess of LH D for skill players. Must be done, the system lost an entire draft year (2014) after Leon was selected.
LOWDOWN WITH LOWETIDE
A busy and fluid show, stay tuned to see how this turns out! 10 this morning, TSN1260. Scheduled to appear:
Jonathan Willis, Cult of Hockey and Oilers Nation. Oilers this summer and what should Peter Chiarelli consider the vital things to do in June and July.
Scott Zerr, TSN1260 and Oilers Nation. Zerr is back, and we will talk about Griffin Reinhart's recall (was he best available?) and others who may push for NHL jobs in the fall.
Brett Hedican, Sharks Radio. We will discuss the Sharks season, life without Todd McLellan and what the team hopes to accomplish in the playoffs.
10-1260 text, @Lowetide on twitter. See you on the radio!