In a very real way, defense has always been a hurdle for the Edmonton Oilers. Their NHL roster in the moments after the draft included Wayne Gretzky, Bengt Gustafsson, Blair MacDonald, Stan Weir and other forwards destined to have NHL scoring success. Defense? It was a scramble, as Jim Matheson wrote on June 14, 1979: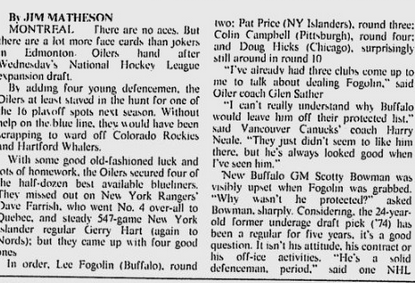 In a world gone mad with offense, the calm feet of Lee Fogolin made sense then, but does it make sense in today's game? Does Mark Fayne have a future with the Oilers? Eric Gryba? The value of pure defensemen has been greatly reduced, and we are seeing the defensive defenseman follow the enforcer into extinction. What will that mean? If we are talking about Oilers future, it is wise to look for solutions among blue who are reflected in this quote:
Darryl Sutter: "The big thing in today's game is you have to be able forecheck and backcheck, and you have to have the puck. You can't give the puck up.

We don't play in our zone, so there's not much defending

.  I've coached in three decades now and this stuff where they said Marian had to play in Jacques's system is a bunch of bull-crap. The game's changed. They think there's defending in today's game. Nah,

it's how much you have the puck

. Teams that play around in their own zone think they're defending but they're generally getting scored on or taking face-offs and they need a goalie to stand on his head if that's the way they play."
CHRONICLE, YEAR OVER YEAR
Oilers in October 2014: 4-5-1
Oilers in October 2015: 4-8-0
Oilers in November 2014: 2-9-3
Oilers in November 2015: 4-7-2

Oilers in December 2014: 2-8-4
Oilers in December 2015: 7-6-1

Oilers in January 2015: 5-7-1
Oilers in January 2016: 4-5-2

Oilers in February 2015: 5-6-1
Oilers in February 2016: 4-8-2

Oilers in March 2015: 5-6-3
Oilers in March 2016: 3-2-0
Oilers after 69 in 2014-15: 18-39-12, 48 points (-77 GD)
Oilers after 69 in 2015-16: 26-36-7, 59 points (-37 GD)
The Oilers won in G70 after a terrible run through late February and early March. Final score 4-1, and the team would be competitive through season's end. Edmonton has not been able to post a .500 month since December, and a loss tonight will push them down to .500 leading into a weekend contest against the Coyotes.
OILERS DEFENSE (CURRENT) OVER SEASON


I have taken out all of the injured and traded guys, because honestly it looks cluttered with 14 names and six aisles. It is impossible to cobble together a solid six from these guys, but I would suggest:
Sekera—Fayne
Oesterle—Pardy
Nurse—Clendening
If Nurse is suspended, or Pardy is injured, then Nikitin and Reinhart would draw in. The Wild are a tough team to watch anyway, but this Oilers defense may make tonight unwatchable—plan your evening accordingly.

I am cool with running Andrej Sekera and Darnell Nurse from the group above next season, and very comfortable with Oscar Klefbom and Brandon Davidson from the injured group for 2016-17. Are you prepared to go to war with those four men?
Oscar Klefbom—
Andrej Sekera—
Darnell Nurse—Brandon Davidson
Is there anyone else?
Adam Clendening (10, 0-2-2). His underlying defensive numbers are fine (Corsi, Rel, HDSCA/60) but he is not a grand skater. I don't think he will stay.
Adam Pardy (5, 0-2-2). I am sure the Oilers like his size and ability to compete in tough defensive areas, don't know that he offers enough range to be considered for a regular top 6D.
Eric Gryba (53, 1-5-6). A lot of what we can say about Pardy applies to Gryba, although I think Pardy may be a better skater.
Griffin Reinhart (16, 0-1-1). He would have to play very well to force his way onto next year's lineup, and that is without the lingering threat of that cap bonus. Likely confined to the minors again next season, save for cups of coffee.
Jordan Oesterle (4, 0-1-1). He is a lefty and an adventure defensively, but the speed, the speed, the speed. If you watch Oesterle tonight in full flight, imagine him as a more mature player and what he might do on a power play with the McDavids. There might be a player here.
THE OUTSIDERS
I have been looking around the NHL for players who might fit the Oilers needs. This is not a comprehensive list—I included Sami Vatanen because he might be available, excluded Hampus Lindholm because he is unlikely to be available, Zdeno Chara because he is almost as old as me, and Kevin Shattenkirk because I really wonder if he would sign with Edmonton—and here they are in order of my preference.
FORWARDS (TOP SIX)
These are the regulars (sans Purcell, who has a point in 2gp for the Panthers) sorted by High-Danger scoring chance for per 60 (via War on Ice). A fun group, suspect someone or two is heading out of town but this is the heart of the order for 2016-17. Basically two lines worth of 2.00/60 at 5×5 in a down year. If the power play could piss a drop? No telling. Those McDavid numbers are whatever is beyond 'top drawer' and I cannot wait for him to play 82 games next year.
FORWARDS (BOTTOM SIX)

Zack Kassian isn't far from top 6Fs and I expect he will play with skill next season. The rest of this group is in a bunch save Pakarinen who plays way too much if this is his actual number. Interesting the 5×5 numbers are all piss poor save Kassian (and his no screaming hell). I would guess the Oilers get less 5×5 offense out of their 3line than most NHL teams.
PART-TIMERS AND NEW HIRES

Patrick Maroon had a helluva start to his Oilers career, Khaira had a nice little run and we wonder about names like Cracknell and Slepyshev. Chances are we will see a new bunch in this group a year from now.
"Those bigger bodies can hold on to pucks & create time & space." Coach McLellan on Kassian with Hall/McDavid & Maroon with Drai/Ebs

— Edmonton Oilers (@EdmontonOilers) March 9, 2016
It is important to remember that Kassian (and Maroon) are complementary players, and that means inconsistency and back down the depth chart. Maroon or Kassian over Korpikoski is just good business, but if Hall, Pouliot, Eberle and Draisaitl are on the wing next season, the two big guys should be on the lesser lines. Where does this put Yakupov? Down, down in the coal mine.
McDavid and Hall have played 42 minutes together all year (very small sample size) but have a possession number around 60 and McDavid is 1-1-2. Interesting line for sure, maybe they hang for awhile with Nuge coming back. If they want to keep McDavid and Hall together, I might try:
Hall—McDavid—Eberle
Maroon—Nuge—Leon
I am still interested in seeing Nuge and Leon together for 10 games, they were fabulous earlier in the year. As for tonight, suspect it is wise to enter the game talking about defensemen for next year and old rock and roll, with the game on in the background as it was when I was a child playing Monopoly and listening to the adults laugh louder as the beer did its job. One day, in the future, a visit to Minnesota will mean a Wild night is calling. Not today, ladies and men. Not today.
Taylor Hall: "You have to read the game. You have to play hockey. You try to take advantage of everyone's skill set. With Connor, you want to use his speed. If you can get the puck to him in open ice then that's perfect. We can carry it in, but if you can't then you want to lay it in and let Zack go to work, let his big body protect pucks, get in on the forecheck and get pucks back for us. That's what happens when you play with different guys, you learn how to just play to their skill sets." Source
LOWDOWN WITH LOWETIDE
At 10 this morning, TSN1260. A very busy day, scheduled to appear:
Darcy McLeod, Because Oilers. Darnell Nurse, who on blue do you keep, are there two 'perfect fit' defensemen available this summer?
Andrew Bucholtz, 55-Yard Line. CFL combines this week and the big one this weekend. An interesting draft ahead, with some NFL-calibre talent at the top (which could mean danger).
Kirk Luedeke, Red Line Report. How is that Dougie Hamilton trade going? Plus, we will discuss prospects, specifically a fellow named Riley Tufte.
Frank Seravalli, TSN. The Flyers are an interesting team down the stretch and draft options for Canadian teams.
10-1260 text, @Lowetide on twitter.