The Edmonton Oilers welcome back Ryan Nugent-Hopkins tonight, and it offers us all kinds of opportunities to speculate. Possible lines, possible trades, possible destinations—some of these subjects are more palatable than others.
THAT COYOTE, THAT COYOTE, YEAR OVER YEAR
Oilers in October 2014: 4-5-1
Oilers in October 2015: 4-8-0
Oilers in November 2014: 2-9-3
Oilers in November 2015: 4-7-2

Oilers in December 2014: 2-8-4
Oilers in December 2015: 7-6-1

Oilers in January 2015: 5-7-1
Oilers in January 2016: 4-5-2

Oilers in February 2015: 5-6-1
Oilers in February 2016: 4-8-2

Oilers in March 2015: 5-6-3
Oilers in March 2016: 4-2-0
Oilers after 70 in 2014-15: 19-39-12, 50 points (-74 GD)
Oilers after 70 in 2015-16: 27-36-7, 61 points (-36 GD)
Oilers lost in a shootout to the Columbus Blue Jackets one year ago, and we were talking about a Nail spike and the 2015 draft.
DEFENSE 2015-16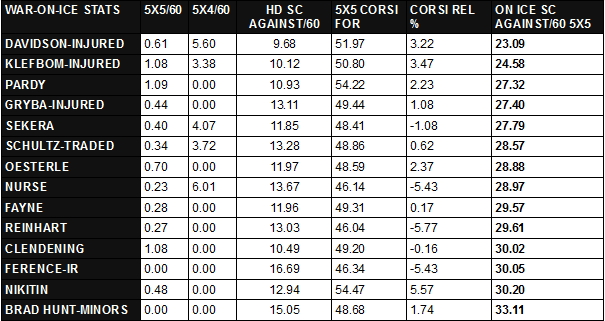 Brandon Davidson and Oscar Klefbom are injured, but both men are signed for next season and this graph suggests they could represent 33 percent of a quality top 6D—if they can stay healthy. When does a manager decide he can no longer count on a player to stay in the lineup? Oscar has collected a few maladies along the way, Davidson has been less prone to injury but has a story to tell in the health department. Great stories, with uneasy rising.
Adam Pardy has looked good to my eye, early days but you can tell he is a veteran and he does things with a veteran's confidence. Is he a better 7D than Eric Gryba? It may come down to that, I would probably go with the righty. Adam Clendening could give them a different look at 7D, if the Oilers choose to go that way.
Andrej Sekera and Mark Fayne would be two of the veterans I would bring back next season, maybe run with eight blue. The pairing might be an effective second pairing if the first duo is dynamic enough—but I wonder if the team wants to run with Fayne next year.
Darnell Nurse had a nice early run after callup this season, but should have been sent back down. Is it too late? After 10 games with Edmonton, Nurse was 1-4-5 with a possession number of 49.3 and a SCA/60 5×5 total of 23.89. Those are good numbers.  I think he can be a good NHL defenseman, but the Oilers should not devote too many spots to young blue next season. Perhaps Nurse is the only one who should make it.
Jordan Oesterle and Griffin Reinhart are auditioning for next season, and the college kid is winning the race to my eye. Of greater concern: Oesterle is not a high bar. That trade is beginning to look like 'the rights to David Rundblad have been traded to Ottawa' and one wonders if the other part of the trade ends up being an impact player. GR needs to do what Leon Draisaitl did last summer, and he may need another year in the AHL. I am all for waiting five years after a draft to see what the player really is: This is year four.
Dillon Simpson is 1-4-5 +6 in his last six games. I wrote about him over at ON recently, it is interesting to see a little spike in his game with others up in Edmonton. Small item, but worthy of a line or two.
Dellow: There's a lot to be said for doing work publicly, and having that work put through the grinder by smart people who read it. #SSAC16

— Scott Cullen (@tsnscottcullen) March 11, 2016
Every once in awhile, someone (like G Money recently) will post information here, and if it has value people will start drilling down and asking questions, making suggestions. That's exactly how it happened on blogs like IOF and mc79hockey, and should continue with Sunil, G, Darcy and the other men and women who post on the web. I agree with what Dellow said in the Cullen quote, that is the test. If you can convince the really smart people who frequent the various blogs and online communities (twitter is becoming a very strong option), then it probably has extreme value. I recommend starting your own blog and developing a community that way, and of course if you email me I promise to listen (have a meeting on Monday with someone who has some ideas). The general idea is to get good information out there, and over the years this blog has helped a little. So, if you have an idea or have produced something of note, please share with the class.
CENTERS, 2015-16

Connor McDavid is posting an outstanding season (33, 14-21-35) as a rookie, he should be even better in year two—and healthy. We are almost through the schedule and stats are wild with this guy. One item that is fascinating: one minute and 58 seconds at 5×5 with the Nuge.
Leon Draisaitl is a nice option for the non-McDavid line, now we just have to figure out if it is as a center or wing. I look at him (ideally) as a player who could (along with the Nuge) slide up and surprise (like a ukulele) opposition defenses with different looks during the game. 60, 17-29-46 in his real rookie season.
Ryan Nugent-Hopkins is back! I am thrilled, love this player. A tad worried about his future as an Oiler, we could be watching his final dozen games. 46, 8-22-30 this year, if they trade Dave Keon this summer get ready for a major sulk from this blog.
Anton Lander and Mark Letestu are both signed for next season. Let that sink in.
LEFT WINGERS, THIS SEASON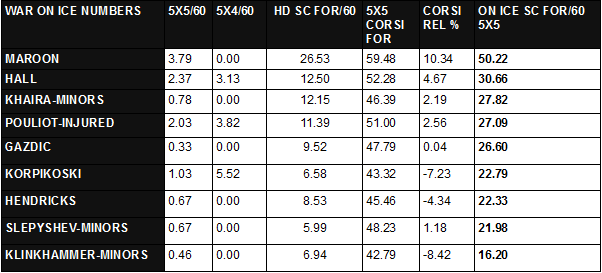 Patrick Maroon will cool down. Pretty sure.
Taylor Hall's rocket season, the one that could have seen him exceed 80 points, has been sputtering for some time. I hope he can hit 70. Still, enormous talent, fine year. 70, 22-35-57 so far this year.
Benoit Pouliot went 55, 14-22-36 before losing his season to injury. The numbers above tell us he had a very effective season.
Jujhar Khaira is 6-8-14 in his past 13 AHL games. He might make this team in the fall.
Lauri Korpikoski is 59, 9-9-18 but the numbers above tell us he is not helping. Somewhere between waiving Fayne and putting the Finn on a line with McDavid, I became convinced Todd McLellan is not following the analytics in some areas. Or he is not reading them correctly, but that seems unlikely. Suspect he values Korpikoski for his speed, veteran presence and secondary scoring. It isn't enough, so Peter Chiarelli must trade or buy out the Finn. Seriously.
Matt Hendricks has had an unusual year, I like him everywhere but center. 57, 3-6-9.
RIGHT WINGERS, THIS SEASON

Jordan Eberle (57, 20-20-40) has been averaging 27.77 goals per 82 NHL games, that has real value. Slow lately, think he will cash in bunches if they keep him with McDavid.
Nail Yakupov had some nice 5×5/60 totals not so long ago, his offense has cratered under the strain of intense Letestu. 48, 6-10-16 this year.
Zack Kassian (24, 3-4-7) would be a great No. 8 hitter, a replacement level No. 7 hitter and a poor No. 6 hitter. I think Maroon might eat his lunch on the skill line job for next season, at least at times.
Iiro Pakarinen (53, 4-4-8) hasn't posted much offense lately, one point since January 21. His Oilers career may not last longer than Korpikoski's. Todd McLellan is playing him too much, in my opinion.
Andrew Miller was loaned to the Charlotte Checkers, that can't be good for his Oilers future.
AHL SCORING, LAST FIVE GAMES
I am unsure the Condors make the playoffs, so this might be the home stretch for prospects to show well. With all of the trades and recalls, there is often a re-set this time of year. It is reflected in the numbers below: offense in the past five games (including last night).
Anton Slepyshev 5, 2-3-5
Jujhar Khaira 5, 2-2-4
Josh Winquist 5, 0-4-4
Brad Hunt 5, 1-3-4
Tyler Pitlick 5, 1-2-3
Matt Ford 5, 1-2-3
Dillon Simpson 5, 0-3-3
Ryan Hamilton 5, 2-0-2
Rob Klinkhammer 5, 1-1-2
Josh Currie 5, 0-2-2
Bogdan Yakimov 4, 0-2-2
Mitchell Moroz 4, 1-1-2
David Musil 5, 0-1-1
Jordan Oesterle 3, 1-0-1 (NHL)
Phil McRae 2, 1-0-1
Ben Betker 2, 0-1-1
Marco Roy 1, 1-0-1
Kyle Platzer 1, 0-1-1
Young and hopefully emerging prospects in italics, it is good to see Slepyshev, Khaira and Winquist at the top of recent scoring. The Oilers trading of Andrew Miller, combined with what looks like lesser roles for some of the veterans, is allowing the kids to perform—and they are posting offense. The playoffs seem far away, though.
INJURIES
Todd McLellan: "The magnitude has gone from role players who don't play very much to dominant players. It's affected us and I believe it's affected our record somewhat." Source
A solid article on the subject by Rob Tychkowski and definitely worth a read. I find the entire thing very frustrating, partly because there is at least a chance Peter Chiarelli will arrive in summer without seeing RNH in his best light. Something similar may have happened last summer, as I believe there was a non-zero chance Oilers brass blamed Taylor Hall (and his injury-riddled season) for the team's failure. Small sample sizes makes asses of all of us, in hockey or in life. I hope Chiarelli knows what he is doing in regard to the Nuge.
I'LL HAVE A SHOT, AND THEN ANOTHER
Shots for-per-60 2014-15 (all situations): 26.2 (No. 26 overall)
Shots for per game 2015-16 (all situations): 28.5 (No. 23 overall)
Shots against per game 2014-15 (all situations): 27.7 (No. 20 overall)
Shots against per game 2015-16 (all situations): 31.0 (No. 28 overall)
Last year's shot differential was -1.7, this year (so far) it is -2.5 and some of that is probably injury. Fair? I have zero idea how to quantify it, so will leave it here. McLellan's teams in San Jose seemed to have a lot of success in getting shots to the net, perhaps we will see a spike in hear two. While I am here, thought it might be an idea to look at 5×5:
Shots for-per-60 2014-15 (5×5): 27.2 (No. 26 overall)
Shots for per game 2015-16 (5×5): 28.4 (No. 18 overall)
Shots against per game 2014-15 (5×5): 29.6 (No. 21 overall)
Shots against per game 2015-16 (5×5): 30.2 (No. 25 overall)
At 5×5, the Oilers finished at -2.4/60 5×5 in shot differential, and this season that number is -1.8/60. Slight improvement, but I think we can all agree more was anticipated and should be delivered. How much of that is because of injury? The only way to measure these things is with the information available. I would suggest this team will be better next season even with better health, but it is also true the team itself will make improvements to help these numbers.
WHERE TO PLAY THE NUGE?
I have a few ideas about it, looking forward to seeing how Todd McLellan handles him this evening (if he plays). There are several options, including the Hall—Nuge—Eberle throwback look and Hall—Nuge—Draisaitl, an effective trio earlier in the year. If McLellan runs his top two lines exactly as he did in the Minnesota game, the top 9F tonight might look like this:
Hall—McDavid—Kassian
Maroon—Draisaitl—Eberle
Korpikoski—Nuge—Letestu
I strongly dislike that outcome, for two reasons. Edmonton doesn't have enough wingers for three centers, and, incredibly, this configuration gets Yakupov to the fourth line! I suspect we will see a lot of shuffling tonight and through the end of the season. Perhaps Nuge and McDavid will even see each other on a line before G82.