There are important things to observe even in a lost season. As fans, we can see that Laurent Brossoit is not ready, and it is important to separate his struggles from what was a solid game from the rest of the team.
"They shoot from anywhere and they shoot it awfully quick. He'll get better." Coach McLellan on LB facing elite shooters like Neal

— Edmonton Oilers (@EdmontonOilers) March 15, 2016
WELL, THAT HAPPENED! YEAR OVER YEAR
Oilers in October 2014: 4-5-1
Oilers in October 2015: 4-8-0
Oilers in November 2014: 2-9-3
Oilers in November 2015: 4-7-2

Oilers in December 2014: 2-8-4
Oilers in December 2015: 7-6-1

Oilers in January 2015: 5-7-1
Oilers in January 2016: 4-5-2

Oilers in February 2015: 5-6-1
Oilers in February 2016: 4-8-2

Oilers in March 2015: 5-6-3
Oilers in March 2016: 4-4-0
Oilers after 72 in 2014-15: 20-39-13, 53 points (-73 GD)
Oilers after 72 in 2015-16: 27-38-7, 61 points (-41 GD)
The Oilers had some good moments last night, and some encouraging performances. Important to remember that losses are not the same as progress, and that some of the youngsters in the lineup are showing the team something. That has to be front and center for Peter Chiarelli and Todd McLellan. If you are a fan, and do not wish to go crazy, these small victories should be important too.
DEFENSE, LAST NIGHT

Sekera—Fayne continue to perform well, although there was a lot of anger towards Sekera when he couldn't get the puck through at the end of the game. For me, that is a Hail Mary play and it is wise to look over the entire game. Fayne got an assist, but he also got caught flat-footed on the first Neal goal and was barely 'also in photo'. Sekera played over 25 minutes, including major time on both special teams.
Reinhart—Oesterle had a largely effective game, with some unusual moments thrown in. Reinhart showed his strength (drawing a penalty) and (correctly) dished the puck to Oesterle for transportation. I don't think a healthy Oilers team employs either man this or next season. Although both were -2, for me that was a lot about the goalie. Reinhart got blamed online for screening Brossoit on the second goal, but for heaven's sake that cannot go in.
Nikitin—Clendening had their difficulties because NN can't skate and Clendening could fall over in a windstorm—that is not a promising duo. If Nikitin could skate at all, he might have some years left, because he can do some things. Clendening had a golden chance in the offensive zone from a pass by Hall, but it went over his stick. I feel this is the story of Clendening.
D who were on the ice against Josi at 5×5: Sekera 7:46; Oesterle 6:51; Nikitin 6:44; Reinhart 6:26; Fayne 6:12; Clendening 5:46.
Laurent Brossoit has not looked strong in his two recent outings, and a suitable backup for the NHL team next season is no doubt on the list. No sin here, Edmonton has another year before risking waivers. LB passed his minor league audition, things have not gone well in a small sample size up top. No reason for panic, but a strong reason to add some cover.
CENTERS, LAST NIGHT

WINGERS, LAST NIGHT

Hall—Draisaitl—Pakarinen grabbed one of the two goals and six shots. Leon was 81 percent on the dot and overall I liked the line. All three men were involved in Pakarinen's goal, although Leon got the only assist. The man is a passing demon. HDSC: 3
Hendricks—Letestu—Kassian had six shots and 10 hits, and even though I am not a big believer in that stat, it does speak to their involvement. At least one goalmouth incident and a fabulous chance by Kassian (with follow from Hendricks) proved very dangerous. That was one of the most effective 5×5 lines Letestu has played on this season—he had four shots, was 45 percent on the dot. Letestu also had his passing sights tuned in last night. Saw him good. HDSC: 2
Maroon—McDavid—Eberle lost the possession battle (Josi-Weber faced this trio the most) but scored a spectacular goal on the first shot of the game to get things rolling. I would run this bunch for the rest of the year—five shots on goal, McDavid 50 percent faceoffs. Maroon looks like an effective player from here. HDSC: 3.
Korpikoski—Nuge—Yakupov had moments great and small. Five shots on goal, Nuge was 25 percent in the FO circle, and this was the only line that ended up in the ditch 5×5 (minus one). I thought all three men worked hard, LK had his legs going and got in the way (in a good way) of the opposition. Nuge was a forechecking menace (as always) and battled hard, and Yakupov had one of those Tikkanen nights going. He was also effective without the puck until he wasn't anymore. HDSC: 1.
INDIVIDUAL HIGH-DANGER SCORING CHANCES
Two: Jordan Eberle, Iiro Pakarinen
One: Taylor Hall, Zack Kassian, Mark Letestu, Patrick Maroon, Nail Yakupov
THINGS
Connor McDavid and Ryan Nugent-Hopkins on the PK together looks impressive, hopefully I will learn to watch it without insane fear running through me. That is a lot of injury risk to my eye.
UND's Troy Stecher is a college free agent this spring. A RH defender who can run a power play (his NHLE is 23 points), Stecher would be a nice fit for Edmonton despite lack of size (he is 5.10, 190). Stecher is from Richmond, BC—not that far from Burnaby, the hit factory that produced both the Nuge and Joey Laleggia. The big difference between Stecher and Justin Schultz: the kid from UND anticipates well, causes turnovers (the good ones) and has great creativity and passing ability.
With names like Ryan Nugent-Hopkins and Jordan Eberle likely in play this summer, the Oilers should be able to add substantial defensive help. If the club can save money on a deal (Eberle for Travis Hamonic would save over $2 million), that may allow them to sign a big name free agent to replace the outgoing forward.
Among players who might be available in free agency, the Oilers do have a story to tell. Steven Stamkos, Milan Lucic, Kyle Okposo, David Backes, Loui Eriksson, Brian Campbell, James Reimer, Frans Nielsen and James Reimer are interesting names available. Jason Demers remains a player of extreme interest, he is worth following leading up to free agency. Will he sign with the Stars before the free-agent window opens? Will the Oilers trade for his rights before that window opens? He appears to be a perfect fit for Edmonton.
Cam Cole of the Vancouver Sun has an article up on the NHL discussing a change in draft rules—another Oilers rule designed to block the team from getting another No. 1 overall selection. In one of the great moments in recent NHL history, the large foreheads of the game are going to legislate against a team that has already added myriad assets. When the NHL changed the lottery odds, they effectively made finishing No. 29 and No. 28 more valuable—and the new system further muddies the waters. Edmonton could finish No. 29 and win the lottery, or No. 28 and win it, or they could finish No. 30 and lose the thing. This fact remains: without a lottery, Edmonton's trips to the top of the table would have been far less damaging to the ulcers of hockey men. In the words of the great movie The Hunt for Red October: You idiot, you killed us!
As with most things in life, clarity and a good lawyer or agent probably saves the NHL from itself. Young Auston Matthews seems like a pretty bright fellow, and I am sure there are no flies on his agent. If I am the Matthews camp, the interview with the Oilers leading up to the draft would have a decidedly chilly tone. If I am Matthews, the idea of coming to Edmonton and losing for six years (as has Taylor Hall) has no appeal, and Connor McDavid's presence (although he has been injured for half the season) hasn't made enough of a difference. Why then, Mr. Oilers, would I want to be part of that? Draft me at your own peril. I would tell my son to do that, if he were in that position, because frankly the Oilers have ruined a lot of futures with their ridiculous decisions. Why would I wish that on Auston Matthews? That is the embarrassment for Daryl Katz and the Oilers: They turn what should be the greatest day of someone's life into a prison sentence. Congratulations, Steve! Now, it is off to Shawshank! It may not be Matthews this season, but sooner or later someone is going to stand up and say no sir, not my son, not that situation.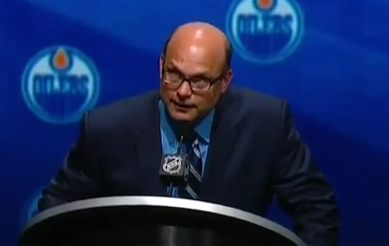 I have not met Peter Chiarelli, and won't during his time as the Oilers GM (The Oilers don't gift the Lowdown with interviews, as is their right). If I could talk to him, most of the verbal from my side of the table would be 'the call is coming from inside the house' and the advice would be for him to find people he trusts to fill the important hockey ops jobs. No matter what titles are given to men like Craig MacTavish and Scott Howson, and no matter how good they are as people, much of the mess that is the 2015-16 lands at their doorstep. Each day that passes without competent assistants advising the GM is a day lost to the competition. Peter Chiarelli owes it to himself, his family and to Oilers fans when it comes to turning around this franchise. I will tell you that it is my belief this summer is going to see major changes in this team. The Oilers are going to deal (I would guess) Jordan Eberle, the first-round selection (down, but not out of the first round), Nail Yakupov, Mark Fayne and Ryan Nugent-Hopkins could be gone (I would guess only one of Eberle and Nuge would be going this summer).
On the weekend, Edmonton signed a player who is a depth winger in the KHL. This in and of itself isn't a major deal, except that it does feel like another Lennart Petrell bet. I have to say that if Peter Chiarelli is thinking about trading Ryan Nugent-Hopkins, then it is a concern for me. I am concerned about who is advising him, about how much the GM is using a small sample size to make sweeping judgements, and about where this team is going. In spite of the terrible record, there is much that is good about this team. Changing out Jeff Petry for picks was a terrible decision, but dealing the Nuge or Eberle for smaller pieces (a one-for-three) could be a disaster. Are you shopping in Columbus, Mr. Chiarelli? The sphincter tightens.
LOWDOWN WITH LOWETIDE
At 10, on the Lowdown, TSN1260. Scheduled to appear:
Jonathan Willis, Cult of Hockey. Oilers lose last night, but the time to look at the bigger picture is now. We will talk about what the summer and who might be on the way out.
Mark Randall, Vimy Baseball Director. Baseball in Alberta (and Canada) is producing outstanding talent, we will talk about the game in our province and about development.
Russell Baxter, Bleacher Report. NFL free agency is into the period where the good contracts arrive, so teams like the Ravens and Patriots are about to spend money wisely.
10-1260 text, @Lowetide on twitter.