The Edmonton Oilers are less a hockey team at this point than 23 potential assets, and for fans that can be no fun at all. In season 10 of losing, it is hard to care about a lot—but we do, incredibly. Last night I wrote an item about the Nuge and received plenty of pushback. Basically, you said it might happen but we don't want to hurry tomorrow. So, we won't. We will talk about today.
BREAKING NEWS, YEAR OVER YEAR
Oilers in October 2014: 4-5-1
Oilers in October 2015: 4-8-0
Oilers in November 2014: 2-9-3
Oilers in November 2015: 4-7-2

Oilers in December 2014: 2-8-4
Oilers in December 2015: 7-6-1

Oilers in January 2015: 5-7-1
Oilers in January 2016: 4-5-2

Oilers in February 2015: 5-6-1
Oilers in February 2016: 4-8-2

Oilers in March 2015: 5-6-3
Oilers in March 2016: 4-3-0
Oilers after 71 in 2014-15: 19-39-13, 51 points (-74 GD)
Oilers after 71 in 2015-16: 27-37-7, 61 points (-40 GD)
In G72, the Winnipeg Jets won 4-1 and the Oilers lost their 40th game of the season—for the fifth (non-shortened) time in a row. Edmonton will make it six later this month. By the way, Edmonton's compressed schedule is very obvious when looking at G72 a year ago being played March 23—a full week later than this season. The NHL schedule for the Oilers was a killer this year, shame on the man or woman who signed off on it.
DEFENSE, 2015-16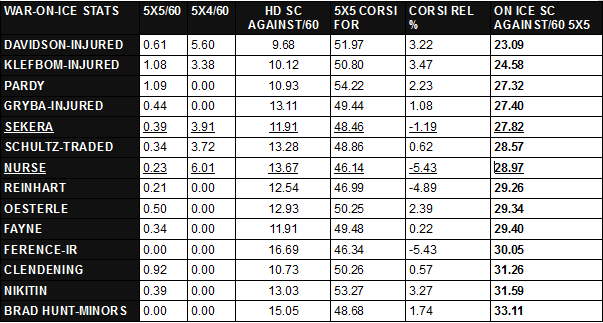 Andrej Sekera is 49.3 percent with Mark Fayne this season, both have taken hits in the comments section of this blog. I understand the idea of having wall-to-wall puck movers, but defending remains a big part of the game. Sekera is not a grand power play option, but his 5×4 pr 60 ranks No. 1 among the blue who did it a lot this year. He even did pretty well against the SC and HDSC compared to group. I think only Sekera returns.
Darnell Nurse seems a lock for the roster next year. His possession numbers and 5×5 offense are on par with Ladislav Smid in his rookie season. I believe Nurse is a more dynamic player offensively, but not giving him a season in the AHL at 20 may have long-term impact on this player. We wait.
Brandon Davidson and Oscar Klefbom are surely a big part of the solution for next year. Both men were over 50 percent in possession, and this is early in their careers. I know this is darkness, the season over and the Oilers destined for No. 30 overall, but this is your silver lining.
Jordan Oesterle has performed well in these early days and I wonder if he starts next season above Griffin Reinhart as first callup.
Man Games Lost had an enormous impact on this team. I will not argue it, but will leave it here.
CENTERS, 2015-16

Connor McDavid, Leon Draisaitl and Ryan Nugent-Hopkins could easily be one-third of a championship 9F before the end of this decade. Seriously.
WINGERS, 2015-16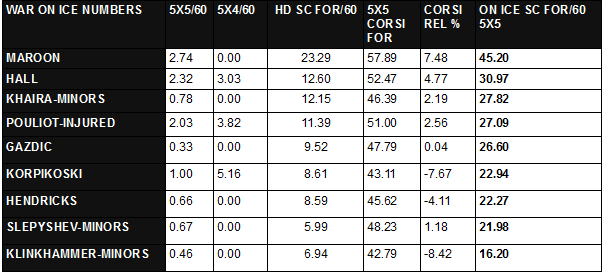 If you could protect only three wingers for an expansion draft, the choices are clear: Taylor Hall, Benoit Pouliot and Jordan Eberle.
If the rules allowed you to protect one other winger, who would it be? My choice would be Nail Yakupov. Patrick Maroon is making it interesting, but I go for potential until we know who the young Russian is, and we are in year four. Who is your fourth winger?
Zack Kassian has faded badly, to the point where bringing him back is no longer a sure thing. For me, I think his issue is the same one as has impacted Yakupov: The lack of a quality center for his line has made Kassian a loose cannon on a ship headed for the rocks. He is 0.67/60 at 5×5 with Mark Letestu, 3.10/60 at 5×5 with Leon Draisaitl. Evidence is here.
Nail Yakupov of course is the poster boy for this kind of split. With Mark Letestu? 0.28/60 at 5×5, but with Connor McDavid, he is 2.41/60 at 5×5. That evidence is here.
Jordan Eberle is the current RW for McDavid. Is he beating that Yakupov number? Eberle is 2.74/60 with McDavid, 2.25/60 with the Nuge. Evidence is here.
Why isn't Eberle with the Nuge, while Yakupov plays with McDavid? Don't know.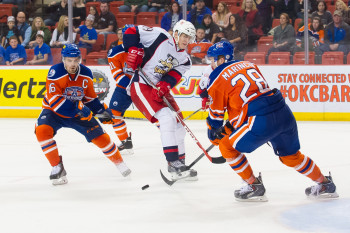 WAITING FIVE YEARS
Martin Marincin had a great evening in Toronto, those of us who value the advanced stats could have told you a year ago (and even before) about his ability. In fact, we were pretty convinced of this fellow by November 2010.
Here's something else this blog believes: Wait five years. The Oilers sent Marincin away last summer, five years after his draft. It was a mistake, we talked about it at the time. The 2010 draft has been slammed forever, but these years later Taylor Hall, Martin Marincin and Brandon Davidson appear to be on the way to productive careers of varying length. Wait five years. You may not like Anton Slepyshev today, but hold back your water until 2018 summer. Seriously.
HE SEES YOU WHEN YOU'RE SLEEPING
Todd McLellan:  "In talking to Pete (Chiarelli), the character assessment from now till whenever we're done will be huge. It will really come into play in some of the decisions we make moving forward." Source
I don't like these kinds of assessments, because body language varies and who knows when someone is looking. Would you rather have the guy who looks alert and ready at all times, or the guy who can bash in the brain of the opposition at 5×5? Martin Marincin not following the nutrition/workout plan got him to Toronto, God knows where Taylor Hall's resting face (he is sulking!) gets him. What a way to run a railroad.
A BRIEF CHAT ABOUT 30
Based on twitter last night and today, there is going to be a lot of shaming headed toward Oilers fans because of the Toronto win last night. I understand how people feel, it is a damned shame that Edmonton management has been unable to get it together for so long. That said, the rules are the same for all teams and until they create one that says the Oilers cannot draft first overall (and that may come today!) then all is fair in love and war.
I think, for everyone's mental health, it is important for us to separate the team's failure from that of the fan base. As fans, we cheer like hell for our team (Oilers fans have the faith of a child, that is one of our best features) and deal with the wreckage each spring. The team should be ashamed, the players should be frustrated by management's addled decisions, but the fans? Last I checked, no fan decided to pass on buying out Nikita Nikitin last summer, and someone inside the Thinking Room must have said he would have a better year in 2015-16.
So, take heart. You cannot control the Oilers, the standings, the lottery, the sunshine or the rain. You control your own behavior, and your own opinion of yourself. Walk tall, Oiler fan. You are the best thing about this team. Full stop.
Also the oilers rosters are so bad 2009-2014. Yet the results are still the same. I think a core piece needs to be moved to get a d

— Sean Solbak (@frozenpools) March 16, 2016

BREAKING US IN TWO
The times they are a-changin'. I mentioned yesterday morning that we are likely going to see some exits, and last night's article got a lot of reaction in a negative way. So, while I want to continue writing those articles, I will present them in a Hard Target Search format and we will talk about possible acquisitions as opposed to who is leaving. However, before we leave this area, I thought it might be an idea for all of us to post our list of assets we think will be heading out of town. Here is my list:
Jordan Eberle or Ryan Nugent-Hopkins (depending on the ask)
Nail Yakupov
Mark Fayne
Griffin Reinhart
First-round pick
CAP PROJECTION
Frank Seravalli reports that NHL teams will be looking for a range for next year's cap, and for Oilers fans that may be massive. If the cap is flat—or goes lower—we may see some very attractive deals shake loose for only money. Peter Chiarelli has some room here before free agency, and I think it could be a very active June. As difficult as it is to swallow this morning, Edmonton winning the draft lottery would be a beautiful noise. I am not asking you to actively cheer for a lottery win, but do request you think about the possibilities should it happen. Seravalli item.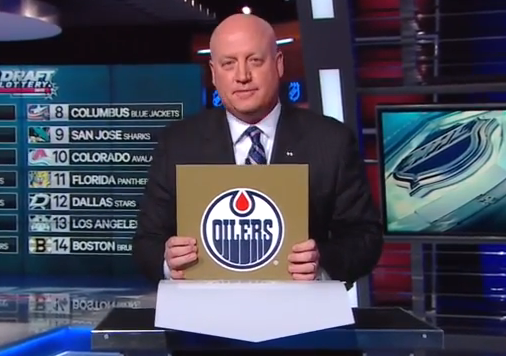 CHANGING DRAFT RULES
We may also hear about a new Oiler rule as it impacts the draft, but for Edmonton fans it is less about their team and more about the teams who follow. Closing the barn door after all of the horses are out may be the human reaction to a stampede, but in actual fact there is very little use in it. Connor McDavid is an Edmonton Oilers player, the rest is strictly B-side.
LOWDOWN WITH LOWETIDE
A fun show today, 10 this morning, TSN1260. Scheduled to appear:
Bruce McCurdy, Cult of Hockey. The Oilers have very few games left, is there anything they can get out of them that will aid next season?
Josh Martin, Bleacher Report. NCAA Tournament gets underway with play-in games tonight, go Michigan! Go Holy Cross? We will get it all sorted out with Mr. Martin.
Andrew Bucholtz, 55-Yard Line. The CFL Combine this past weekend uncovered some legit talent. Who are these guys?
I am also working on a St. Louis Blues guest, jiving times is a monster this morning. 10-1260 text, @Lowetide twitter. See you on the radio!