The Edmonton Oilers of Todd McLellan finally passed the 2014-15 Eakins-MacTavish-Nelson train, in G73. There is nothing to brag about, but it is a hurdle cleared. We can talk about injury, about disappointment, about wayward power plays, but the team has in fact improved season over season. The goal differential has been improved (halved), the Bettman games under .500 have gone from 20 to 10. The actual won-loss has improved from -33 to -17, season over season (with nine games to go). It isn't much, but it is something.
WHEN DOES THIS END? YEAR OVER YEAR
Oilers in October 2014: 4-5-1
Oilers in October 2015: 4-8-0
Oilers in November 2014: 2-9-3
Oilers in November 2015: 4-7-2

Oilers in December 2014: 2-8-4
Oilers in December 2015: 7-6-1

Oilers in January 2015: 5-7-1
Oilers in January 2016: 4-5-2

Oilers in February 2015: 5-6-1
Oilers in February 2016: 4-8-2

Oilers in March 2015: 5-6-3
Oilers in March 2016: 5-4-0
Oilers after 73 in 2014-15: 20-40-13, 53 points (-76 GD)
Oilers after 73 in 2015-16: 28-38-7, 63 points (-39 GD)
Edmonton posted 62 points a year ago, going 24-44-14. From here to the end of the season, Todd Nelson brought them in 4-4-1. If Todd McLellan can do the same—and that is a heavy task with all the injuries to the blue—the club would finish 32-42-8, 72 points. That would be the highest total since Tom Renney's final year. The Oilers are not tanking, as has been suggested online, as they are 6-4-0 in their last 10 games.
DEFENSE, LAST NIGHT

Sekera—Fayne continues their solid run, I honestly didn't notice Fayne that much and the TOI reflects it. Sekera had an assist, three shots on goal and was minus two. Fayne was minus one, had two blocks and I like him a ton without the puck on his stick. Fayne, probably due to his previous experience in New Jersey, does very little of the outlet passing. This pairing has found something that works, hope we see them together next year (we won't).
Oesterle—Reinhart had a solid evening, I paid special attention to them (like them both as a fan, no idea if they will have productive careers. Both have issues). Each man moved the puck well to my eye, although gaining possession in open-ice scrums was an adventure for both players. Reinhart was plus one with six hits, Oesterle had two assists, was plus two, played 23 minutes and battled extremely well. If they are the first callups next season, Edmonton should have nine or ten competent blue to start the year. Reinhart took a vicious slash in the third, and he played the kind of physical game the Oilers would no doubt like to see every night.
Nurse—Clendening were chaos incorporated. Absolutely fed at even strength (Nurse was 3-4 against Stastny, 1-6 against Backes), Nurse had the only high-danger scoring chance among defense, was minus one, had a block, a giveaway, takeaway and played a lot (18:07, No. 3 among blue) compared to Clendening (11:41). Clendening was not good in possession, but did have some success in moving the puck, and he damn near set up Hall in the third on a dandy jump into the play. Definitely the third pairing to my eye, I wonder if we see Nurse—Reinhart at some point.
Todd McLellan: "I think Griff has been pretty solid since he's been back. I think he's played well since he's been back here. We see him being more aggressive, more assertive, making good outlet passes. I also think he has a real good partner right now. That partner is helping him out a lot. They're a good pair." Source
CENTER, LAST NIGHT

Mark Letestu had what might have been his best game with the Oilers. 2-1-3, plus 2, 41 percent in the faceoff circle and he skated miles. On his first goal it took a minute to register. Righty scoring and it wasn't Eberle? Good for him, glad he had that night at home.
Ryan Nugent-Hopkins had a fantastic night to my eye, 47 percent possession with Korpikoski and Yakupov—while playing against Captain Backes and his flying elbows. What a tit that guy is, hope the Oilers sign him. Two goals, four shots, 50 percent faceoffs. Yes! I assume Chiarelli missed the entire thing while scouting a USHL game.
Leon Draisaitl had a tough night, taking two early penalties (one was a bad call, which was a theme on the evening). Scored a lovely goal, his 18th on the season, and was the only Oiler to go -3 on the evening.
Connor McDavid was astounding last night, this is a game I will remember a long time. Two assists, four shots, three takeaways and, despite being 27 percent on the dot, I thought he was brilliant. Man he can anticipate, steal pucks, wheel, just a stunning hockey player.
INDIVIDUAL HIGH-DANGER SCORING CHANCES
Two: Connor McDavid
One: Taylor Hall, Iiro Pakarinen, Jordan Eberle, Darnell Nurse
WINGERS, LAST NIGHT

Lauri Korpikoski and Nail Yakupov played with the Nuge, and although they didn't play a lot—this was the No. 3 line—the results were positive. Korpikoski didn't hit the scoresheet, but didn't bleed out either in possession. Yakupov had two assists—a major offensive this year for the Russian—and was a going concern all night. He is such an unusual player, drives opponents to distraction. He had one play (I believe against Pietrangelo) where he looked like a flying Wallenda, gained his balance awkwardly, and skated away while the defenseman tried not to kill himself when disconnecting from NY. It was a hilarious moment.
Taylor Hall and Iiro Pakarinen battled the Stastny line along with Leon, and it was an inconsistent evening. Hall had a goal, three shots and two giveaways—about perfect in terms of reflecting overall effectiveness. Had a giant chance when Clendening couldn't shovel the pass to him for an easy marker (or what would have been). Pakarinen is a game rooster, not enough skill to play this high but I bet you $100 McLellan loves him. Had an assist and now has 10 points on the year.
Matt Hendricks and Zack Kassian had interesting evenings. Hendricks got an assist in nine minutes work (EN goal, very unselfish) and about five minutes earlier almost got killed by a damned fool. Also made a ghastly giveaway that was not in character. Kassian made a dandy inside move in the waning moments of the game and almost cashed, it was a beauty. Real skill play. Other than that, he interrupted some plays and was a physical player all night.
Patrick Maroon and Jordan Eberle lost the possession battle with Connor McDavid but it was an exciting evening all the same. Maroon played well with the puck, and had a really strong assist on the Nuge's first goal (PP). Got another assist on 93's second goal of the night (also PP). Eberle had some nice moments but was kept off the scoresheet—incredible, looking back on the game. He drove into the offensive goal several times, made good decisions in the offensive zone and was overall effective. Unfair that he didn't get a point.
NAILING DOWN THE DEADLINE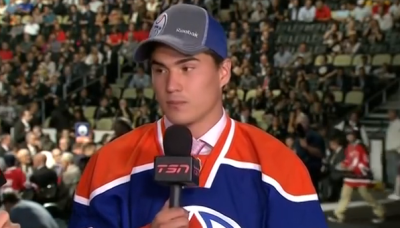 Elliotte Friedman: Sounds like a few other teams tried to test the Oilers' patience with Nail Yakupov at the deadline. They found Chiarelli has a price in mind and wasn't willing to go beneath it. There were rumours about the Montreal Canadiens' interest, but it doesn't appear as if the Canadiens were too interested. Source
Encouraging on some level, we knew he was somewhat in play and I do think the Oilers will deal him in summer. I think the better play is to have him come back for the final $2.5 million season and pump those numbers. If Edmonton is convinced he is not a long term answer, and I do believe we are here, then doing the Sam Pollock (pump value) is the right thing to do. There are teams in the NHL with very few signed forwards for next year, Edmonton's round peg will no doubt find a home and then find his way.
Elliotte Friedman: If the Los Angeles Kings can't sign Milan Lucic, we've all assumed the Vancouver Canucks will make a major run. Nick Kypreos threw out the Edmonton Oilers has a chaser, too. A lot of history between Lucic and Peter Chiarelli. Source
We have talked about Lucic to Edmonton a lot on this blog, because it makes perfect sense if you have read Peter Chiarelli's verbal from day one. It also makes sense if the Oilers plan to trade one of their $6 million dollar men for a less expensive defender (ala Eberle for Hamonic). If you send away Eberle and Nikita Nikitin, and add Lucic and Hamonic, well that is a pretty good day. We wait.
LOWDOWN WITH LOWETIDE
A fun show today, make sure to chime in with questions and comments. TSN1260, beginning at 10:
Darcy McLeod, Because Oilers. Darcy did fantastic work a year ago in sussing out goalies, has he done it again with RH blue? We will chat with him this morning.
Corey Graham, Oil Kings PBP. The OK had a tough weekend, but they are closer to getting into the playoffs as the season winds down. Corey will explain this morning.
Tom Lynn, Veritas Hockey. NHL players may have close to 50 new jobs with the next expansion, and that will impact decisions starting this summer. Are Euro players better off coming back to North America to showcase their skills for new clubs—even if it means AHL time?
Frank Seravalli, TSN. Expansion, draft lottery, the cap implications on rosters and possible trades—specifically in regard to the Oilers and their summer.
10-1260 text, @Lowetide on twitter. Talk soon!