The Edmonton Oilers won last night despite giving up 40 shots to a Vancouver Canucks team that could be kindly referred to as transitional. Edmonton has some roster issues of their own, so I think it is fair to credit the goalie, some of the defensemen, and a group of forwards who could have cashed many times, but managed to score enough to win.
GOODNIGHT MRS. CALABASH, YEAR OVER YEAR
Oilers in October 2014: 4-5-1
Oilers in October 2015: 4-8-0
Oilers in November 2014: 2-9-3
Oilers in November 2015: 4-7-2

Oilers in December 2014: 2-8-4
Oilers in December 2015: 7-6-1

Oilers in January 2015: 5-7-1
Oilers in January 2016: 4-5-2

Oilers in February 2015: 5-6-1
Oilers in February 2016: 4-8-2

Oilers in March 2015: 5-6-3
Oilers in March 2016: 6-4-0
Oilers after 74 in 2014-15: 21-40-13, 55 points (-75 GD)
Oilers after 74 in 2015-16: 29-38-7, 65 points (-37 GD)
Oilers have improved in many ways year over year, they have eight more wins, 10 more points and the Goddams are pretty damned good. Edmonton has a bunch of things to fix, and they need to keep what they have so acquiring new pieces should involve cash, picks and extra pieces from areas of depth (LH blue).
INDIVIDUAL HIGH-DANGER SCORING CHANCES
Four: Connor McDavid
Two: Taylor Hall, Jordan Eberle, Iiro Pakarinen
One: Leon Draisaitl, Andrej Sekera, Matt Hendricks, Nail Yakupov, Adam Clendening
#Oilers goalie Cam Talbot is 7-2-1 in his last 10 starts with a .948 save percentage and two shutouts

— Chris Wescott (@TheChrisWescott) March 19, 2016
DEFENSE, LAST NIGHT

Sekera—Fayne had a great night, playing against the best Vancouver could offer, and even past prime, on the road and playing with a new player (man, they must be pissed at Vrbata), the Sedins are a mittful. Fayne had 11 defensive zone starts (four offensive) and this duo had the puck heading in the right direction all night long. I know Fayne isn't popular among readers of Popular Mechanics, but I would love to see him back next year.
Nurse—Clendening were foaming in the gloaming to my eye. They had plenty of issues, this is not an NHL pairing at this time. They weren't playing a tough line, and were on the ice quite a bit with McDavid (Nurse was 10-6 at evens with McDavid), so you would like to see this pairing post a stronger number. The dangerous chances in the game that I recall came with this pairing on the ice, chasing the puck. Nurse had seven defensive zone starts (none in the offensive zone) and he badly needs another partner. I have mentioned it before, but I wonder if Todd McLellan will run Nurse-Reinhart at some point.
Oesterle—Reinhart had an unusual night. One the one hand, they played three inexperienced forwards, and got fed (Reinhart was 5-15 against Horvat, who is 45 percent in possession 5×5). On the other hand, I saw them good and the puck appeared to be heading in a good direction with this pairing on the ice. The coach likes them, I would be interested to see what the Oilers insider metrics say—make no mistake, the fancy stats have this duo getting their ass kicked. However, Reinhat had 10 defensive zone starts (three offensive) and my memory of the game runs counter trey to the math. Input welcome, ladies. Oesterle might be an NHL player. He had one insane sequence where he tried to give the blasted Sedins the puck multiple times, but I swear to God the game itself gave me a good impression of him.
Cam Talbot got the shutout, his .919SP has him in a tie for No. 16 in the NHL—among goalies with 25 or more games. He is not Bernie Parent, but Talbot is posting a strong run since Christmas. His even-strength SP is .922, ranking him No. 27 among those goalies who have played in 25 or more games.
CENTERS, LAST NIGHT

The Oilers had enough talent to roll over the Canucks, but that blue line above missed a lot of opportunities to get the puck out under control. I don't blame them, and credit to Vancouver, but if you add four capable blue to Sekera—Fayne next season and things should idle smoothly. G Money noticed that the mid-game move of Nuge up to the big line did not have the desired impact (graph via G):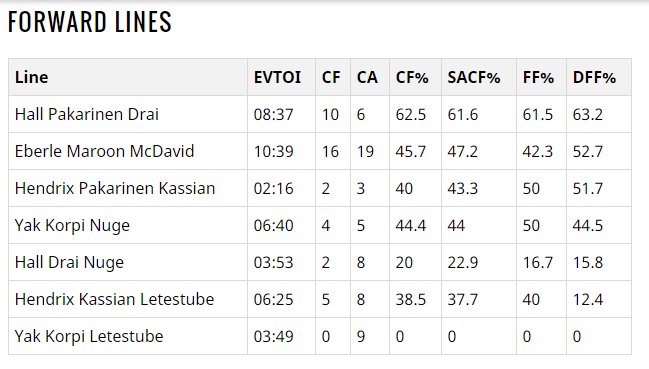 Quoting G in last night's comments section:
Not sure if it's causative or not i.e. did the pushback happen because the changeup was ineffective, or did the changeup happen because of the pushback? Not sure, but the shot metrics went off the rails when TMc went away from the unicorns and moved Nuge up with Drai and Hall. It went from Hall/Drai/Pak effective -> Hall/Drai/Nuge ineffective AND Yak/Nuge/Korpi OK -> Yak/Korpi/Testtube buried in the depths of hell.  So it seems that loading up the two lines actually took the Oilers from three effective lines to one effective line.
GMoney made a point of saying he wasn't sure, but it does explain the wobbly TOI for the lines and that graph above is a concern. To my eye, the math is saying the Sedins toughest situations came from Sekera—Fayne and Hall—Draisaitl—Pakarinen. Leon was 6-4 against the Sedins. That's some quality work on a night when Daniel and Henrik went 17-11 (13-5 away from the Leon line).
WINGERS, LAST NIGHT

Hall—Pakarinen (as above) had some success (Pakarinen posting an assist) and played against the Sedin line. The trio had five high-danger scoring chances, and Leon was 90 percent on the dot. This is my line of the night, as Leon in the faceoff circle, Hall with the puck on his stick and Pakarinen skating miles had a dizzying effect on the opposition.
Maroon—Eberle had a pretty impressive night despite the possession numbers. Eberle scored (from McDavid) and the high-danger scoring chances totaled six—four from 97. He is crazy good. You want McDavid playing with tremendous skill, and Eberle matches that definition. Maroon appears to be from the Benoit Pouliot family of skill players—better than most people think. Early days, but he makes deft plays. I think he might be smart.
Hendricks—Kassian had some good moments, with Matt Hendricks scoring his fourth goal of the year—he also made the tackle. Kassian took a silly penalty, but he was physical and had a lot of try. Timing seemed to be an issue.
Korpikoski—Yakupov lost the possession battle and the line had just one scoring chance. I like the fact the line is unpredictable—they can cause havoc in checking—but I think Nuge must be driven mad by the around-the-world feel of his wingers. This line will not stand, man. Korpikoski is jazz to my eye, lots of downbeat and things I don't normally see. Do Finns learn the game differently? Serious question. I think he might play angles to the puck or skater, like he is trying to cut off lanes. Give me one more year of watching him and I will figure it out. He is more substantial than Petrell, more responsible than Jones, but I will be damned if I am certain what the hell he is doing sometimes. If Korpikoski is jazz, Nail is Mingus. There are times I think Nail is going to shatter into six pieces in the neutral zone, only to appear whole on a breakaway. I still think his feet are trying to catch up to his brain, and have decided he will peak in his 30s. One of the issues for this line: eight defensive zone starts, two offensive. That is a tough assignment for this trio.
There's a legitimate argument to be made that Patrik Laine should go 1st OA – especially if a team is confident he can improve his skating.

— Zac Urback (@Zac_Urback) March 18, 2016
Zac is a bright guy, worth a follow. I have heard this idea from people that will talk to me and have read it here and there. If the Oilers win the lottery, one wonders if they might be willing to deal down for a consideration. Laine is scoring in the Sm-Liiga, and that is a pretty good league (although the NHL equivalencies I use have Auston Matthews Swiss League as being more substantial).
Mark Fayne has had a good first period by my eyes. A couple of very good defensive plays to break up rushes. #Oilers

— Martin Male (@EclecticBlogs) March 11, 2016
Mark Fayne is the Rodney Dangerfield of Oilers hockey, but I think he is a solid NHL player. In a perfect world, he would not be on the top pairing, but as has been the case with so many Oilers veterans (hello, Shawn Horcoff!), we often choose to blame the veteran for batting in the heart of the order, as opposed to blaming management for creating a flawed lineup. I would love to see him back here:
Oscar Klefbom—Jason Demers
Andrej Sekera—David Savard
Brandon Davidson—Mark Fayne
Darnell Nurse
"Collecting centremen isn't a problem from my perspective." -Todd McLellan #KeepNuge #oilers

— OilersNation (@OilersNation) March 18, 2016
McLellan ran some nights in San Jose with six guys who could play the middle, and he uses Matt Hendricks and (earlier, plus last night) Leon Draisaitl in that way. Having more than one center gives the coach all kinds of options, and is one of two things we isolated about the coach last summer (the other being a Melker Karlsson always in the mix. His Melker Karlsson this season? Iiro Pakarinen. Apparently it helps to have a wobbly name). What about this?
Pouliot—McDavid—Patrik Laine
Hall—Nuge—Draisaitl
Maroon—Frans Nielsen—Zack Kassian
DARNELL NURSE
When we get to the Darnell Nurse portion of the RE series, I am going to be looking at rookie comparables. It is not a pretty sight at this point, and while it is fair to point the finger at management (Nurse played with Andrej Sekera for a time on the top line—unwise), the season has been a struggle. I think it wise to suggest the Oilers would do well to make their plans for next season based on Nurse once again starting the year in Bakersfield. Perhaps that gives them enough room to keep Mark Fayne on the roster. Doubt it happens, but in my opinion that is the play here.