When was the last time Oilers fans knew normal? Is there a new normal? As I write this, it occurs to me that most of us are looking for a brand new day, a better place, but identifying that place, defining it, is a distant bell. What is the current normal? What should be the new normal?
"We may not be a playoff team, but we have playoff fans. At some point, we have to reward them." Coach McLellan on #OilCountry support

— Edmonton Oilers (@EdmontonOilers) March 21, 2016
IN-A-GADDA-DA-VIDA-UH-HUH, YEAR OVER YEAR
Oilers in October 2014: 4-5-1
Oilers in October 2015: 4-8-0
Oilers in November 2014: 2-9-3
Oilers in November 2015: 4-7-2

Oilers in December 2014: 2-8-4
Oilers in December 2015: 7-6-1

Oilers in January 2015: 5-7-1
Oilers in January 2016: 4-5-2

Oilers in February 2015: 5-6-1
Oilers in February 2016: 4-8-2

Oilers in March 2015: 5-6-3
Oilers in March 2016: 6-5-0
Oilers after 75 in 2014-15: 22-40-13, 57 points (-71 GD)
Oilers after 75 in 2015-16: 29-39-7, 65 points (-38 GD)
Edmonton is running out of track now, it would be nice to hit 30 wins and 70 points but this week they will be playing at Phoenix, at San Jose and at Los Angeles. This is going to be a tough seven days for the McLellan Oilers.
DEFENSE, LAST NIGHT

Reinhart—Oesterle did good things again last night, and this time the numbers supported them. GR made a dandy play on the first goal, paying back Colorado for the Landeskog thundering hit on the first goal against. Oesterle did a nice job moving the puck by pass or shanks' ponies. He is going to get into trouble in all physical battles, but his motor skills are NHL-calibre.
Nurse—Clendening had good moments too, Nurse had the wheels turning and could have cashed during the second period (think it hit Maroon) when he drove to the net in a timely fashion. We talked about him yesterday, and about his offensive future. I think he is far better than this season has shown, remain convinced he will hit 25-35 points as a mature NHL player. Clendening isn't big enough or strong enough, he reminds me of Phil Larsen, but he has some skill.
Sekera—Fayne had an off night to my eye, seemed to be slow in making decisions. Sekera was too much calm and too little urgency for me, Fayne struggled when handling the puck. The pairing was caught a lot, an example being Sekera behind the net on one play. I think he was think the Colorado forward would do a fly-by, but he lost possession and it could have been a difficult chance. As it was, Sekera followed the Avs forward to the blue and forced the play outside the blue line. This is the best pairing on the team, but they have been better most every night than they were on Sunday.
Laurent Brossoit was good not great, stopping 22 of 25. None that you will call him on, the difference was probably as Todd McLellan suggested (power play).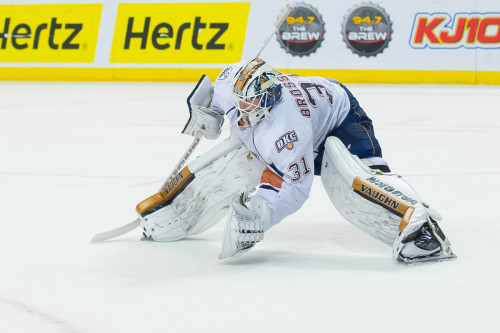 Todd McLellan on Brossoit: "He had some tough looks tonight. He fought through traffic to find rebounds and jams. I don't think we can sit here and talk about LB's lack of saves. He was much sharper than he was in games prior." Source
HIGH-DANGER SCORING CHANCES
Two: Taylor Hall, Connor McDavid, Patrick Maroon
One: Darnell Nurse, Matt Hendricks, Mark Letestu
CENTERS, LAST NIGHT

WINGERS, LAST NIGHT

Hall—Draisaitl—Pakarinen looked good to me, they won the possession battle handily and Hall posted two high-danger scoring chances. Leon looked plodding, and behind the play a little, one wonders if the long season has worn him down. Pakarinen is winning himself a contract, no way around it. I am not convinced he is or should be one of the 12 forwards starting opening night next season, but they don't give me a vote and McLellan loves him. I just don't see the offense, but do respect McLellan's ability to find it in unusual places. Four SOG, none from the center.
Maroon—McDavid—Eberle sawed off the opposition and the line had four high-danger scoring chances. I liked each member of the line for different reasons, and suspect Edmonton could have gotten a point if 97 could have found more clean air. Maroon impacted the game in the offensive zone (although the deflection of Nurse's shot was bad luck) and I am surprised by his good hands. Eberle moved the puck in a good direction and the line posted 5 SOG. I am prepared to suggest that Maroon behind Hall and Pouliot at LW is a dandy trio—meaning PC doesn't have to pursue Lucic, although I know he will.
Hendricks—Letestu—Kassian got the opening Oil goal, all three men figuring in the scoring. If they could do it in the first period, that would be nice. Letestu is much better with muckers, I would keep him on a rig like this one (although he is getting PP chances, even strength with skill doesn't seem to work for him). Hendricks is a fun player to have on your side, and Kassian deserved the assist for a night of hard work. The line had 4 SOG.
Korpikoski—Nuge—Yakupov were in my dog house for most of the night. Silly to waste a fantastic center like this, and McLellan correctly changed things up later in the game. Nuge had a goal, four shots on goal, three takeaways and a blocked shot. Nail had some looks but did not look dangerous, I saw the Finn bad again—it has been a running theme all year.
Nuge—McDavid spent 1:30 together, scoring a goal with a 1-0 5×5 Corsi. I wonder if we see this again soon. Hope so. Nugent-Hopkins could give exceptional cover to McDavid, who despite being touched by God is still a rookie, and RNH is a very creative and cerebral player. In these last games, I would like to see a heavy dose of these two men, 5×5 and the power play.
The Oilers trading of Nuge would hamper the rebuild in a big way, I think Peter Chiarelli and Todd McLellan see that from him. If we are talking two-way forwards, Nuge is at the front of the class, and that includes all of the first overalls (although McDavid's acumen across 200-feet is astounding and he may well pass 93). Peter Chiarelli employed David Krejci in Boston, and the similarities between Nuge and Krejci are obvious.
In a real way, the story of RNH this summer is the story of Peter Chiarelli as GM here. Mentioned by Bob Nicholson as being one of the group possibly available early in the season (on a TSN broadcast), passed over for the World Cup of Hockey by his own GM in the initial roster, and certainly in the mix for trade based on rumors from Mark Spector, Ryan Rishaug and others. A question for Peter Chiarelli via the great Bob Dylan: Senor, Senor, can you tell me where we're heading, Lincoln County Road or Armageddon?
ROOKIE SCORING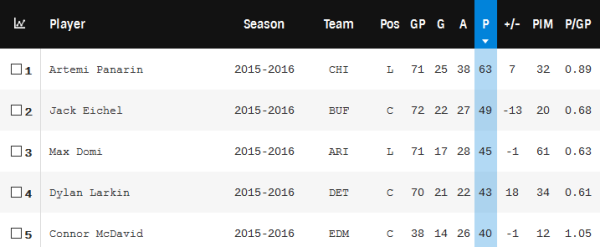 Connor McDavid, over 82 games, would be on pace for 86 points—as a rookie. The voters have not been kind to the Oilers in the last 25 years, but I would submit to you today that if McDavid was a Toronto Maple Leafs player this vote will be far closer than it is going to be in fact.
EGOR BABENKO
Among the curious prospects bubbling under for this year's draft is a man named Egor Babenko. He is a 1997 (turned 19 in February) and an undersized (5.09, 157) RW who shoots left. Hailing from Tyumen, Russia (the first Russian settlement in Siberia, 1586—Jagr was born one year later), he played damn well in the MHL (Russian junior league) but came over to Canada anyway. He went 67, 29-40-69 on a very good Lethbridge Hurricanes team this year and at least one member of our community likes what he sees:
Poster Cash Money: (Babenko) is fantastic, owns the puck in the o-zone, cuts hard to the net, fine hockey player.
These little guys can and do make the NHL, sounds like Babenko has altered his game to fit the North American style quickly—that speaks to intelligence. I don't know how deep my draft coverage will get this time, but if it reaches 120 names as it did a year ago, Babenko will be on it. His NHLE is 82, 10-13-23. I will post these from time to time during the spring as we get closer to draft day.
RED ROTTEN!
Todd McLellan on the power play:  "There's a lot of talk about having a quarterback and stuff like that – it had nothing to do with the quarterback on the power play. That had to do with the forwards – really high-end, talented skilled forwards you put out there that can win you game in that situation. And just turnover after turnover after turnover. Disappointing. This was a pretty group that was red rotten." Source
I understand the need for a righty (Letestu is getting chances, has all season) and would suggest that McDavid, Nuge and Hall are all fantastic lefties. Eberle is taking heat for dusting off the puck, but he surely is the best RH sniping option on the team. Nail received a pass from 14 last night just as he left the photo, incredibly bad timing some are placing on Eberle but I have to say 10 has to stand in there—where the hell was he going? Anyway, the power play has left lots of points on the table and has to be fixed.
The list of UFA RH forwards is pretty decent for the Oilers this year. Plenty of names & at least a couple should be value deals.

— Cameron Thomson (@ThomsonCam) March 21, 2016
If push comes to shove, Lee Stempniak is available and God knows Oilers fans are familiar with that guy. The list of availables is large (here), but it is important to remember that when adding righties the sheer number of lefthanded men may need to be culled. The top 9F could be housed by available LH men (Hall, Pouliot, Maroon, McDavid, Nuge, Leon, Eberle, Yakupov, Pakarinen or Kassian) at a 77 percent clip (7 of 9) as it stands. Someone has to leave the Leftorium.
LOWDOWN WITH LOWETIDE
A fun show to start the week, lots of Oilers and more. TSN1260 at 10, scheduled to appear:
Scott Burnside, ESPN. Sidney Crosby is back, even though he never went anywhere. Plus the Kings are romping again.
Corey Graham, TSN1260 Oil Kings PBP. They couldn't solve the riddle over an entire season, so it is on the road to Medicine Hat for the OK.
Sunil Agnihotri, Copper and Blue plus The SuperFan. We will discuss the Oilers, the blue and what can be accomplished in the season's coda.
10-1260 text, @Lowetide on twitter. See you on the radio!