The Edmonton Oilers can lose games all by their lonesome, thank you very much. Can someone let the refs know there is no need to help? Sweet lord above that second goal last night was a bitter pill. It is Easter Sunday morning, there will be no profanity by this blog's author on this day. I want you to know it required a great deal of restraint (and editing!) to make it so. Dear NHL: You are losing your public because your judgements are random, unfair and inexplicable. What a way to run a railroad.
"The difference in the game was our play in & around our paint." Coach McLellan on #Oilers inability to clear pucks out of harm's way

— Edmonton Oilers (@EdmontonOilers) March 27, 2016
GOOD GRIEF, YEAR OVER YEAR
Oilers in October 2014: 4-5-1
Oilers in October 2015: 4-8-0
Oilers in November 2014: 2-9-3
Oilers in November 2015: 4-7-2

Oilers in December 2014: 2-8-4
Oilers in December 2015: 7-6-1

Oilers in January 2015: 5-7-1
Oilers in January 2016: 4-5-2

Oilers in February 2015: 5-6-1
Oilers in February 2016: 4-8-2

Oilers in March 2015: 5-6-3
Oilers in March 2016: 7-7-0
Oilers after 78 in 2014-15: 23-42-13, 59 points (-78 GD)
Oilers after 78 in 2015-16: 30-41-7, 67 points (-39 GD)
It looked for a time like it was going to be 8-2 again, but the Oilers made it close at the end and gave a bit of a scare to the Kings. 1-2-0 in a week that we should have expected no more. The biggest reason for the loss? I would say it is just about what Todd McLellan said above, with a dose of rookie goalie thrown in. Sending LB against LAK was a clear indication (imo) that the organization is in fact looking at him for next year. Their answer so far is coming back 'he's not ready'.
"That line had 12 SOG & scored a couple… It's easily been our best line & it's not even close." Coach McLellan on 19-97-14

— Edmonton Oilers (@EdmontonOilers) March 27, 2016
INDIDVIDUAL HIGH-DANGER SCORING CHANCES
Two: Taylor Hall, Patrick Maroon, Matt Hendricks
One: Connor  McDavid, Jordan Eberle, Nail Yakupov, Zack Kassian
DEFENSE, LAST NIGHT

Sekera—Fayne had a tough night, even though the possession numbers are solid. Sekera had an also in photo evening, Fayne didn't make it to the photo in several situations. Got fed against the Carter line (Sekera was 4-13 against him) and ended up facing the lesser Lecavalier line a hair more (5:44 to 5:40) than the Carter line. If McLellan had to move his veteran pairing from the Carter to the VL line, that is not good my friends (I don't have the evidence to show it, but this pairing faced an unusual set of forwards overall). No other pairing had a minus number at the end of the night, Sekera was -4 and Fayne -3.
Nurse—Clendening did not win the possession battle but looked to have more structure and faced the Kopitar line 10:11 (going 5-14, those are the Nurse numbers). Nurse battled hard and successfully along the wall, Clendening—despite the speed issues—had some good moments and an assist on what became a pretty good California run with the boxcars.
Reinhart—Oesterle bent but did not break to my eye, seems they have enough chemistry to figure it out even when under fire. The Kings send giants in waves toward the corners next to Edmonton's net, Reinhart has the skills and size to win those battles, and Oesterle can move the puck (but he can also get pasted). I am thinking more and more than both may end up having NHL careers.
CENTERS, 2015-16

WINGERS, 2015-16
Maroon—McDavid—Eberle has to be one of the best lines in hockey right now. McDavid is 28, 10-23-33 since his return, and at this point, pressure should be brought to bear on those not voting him for the Calder.
Hall—Draisaitl—Yakupov looked good in spurts but could never get it together. Chemistry will get blamed, but big Leon looks a day late and a dollar short on every sortie these days. A sad ending to what has been a terrific season. Keep Nuge.
Cracknell—Hendricks—Kassian did well against the Toffoli line (Hendricks 3:28 and 3-2 against Toffoli) but were not a major factor against the other secondary moderns. Their possession numbers were not good, but I don't think there is a reason to be negative about the trio.
Korpikoski—Letestu—Pakarinen had a weird night. Korpikoski's possession numbers are impossible, and yet he played 11 minutes. I would very much like to know what the coaching staff is seeing. Mark Letestu didn't help to my eye, and he needs to in these games. Pakarinen did well enough when playing against 3 and 4line opps, not well when he was too high in the order.
The @cmcdavid97 point streak continues. #EDMvsLAKhttps://t.co/RgNL3XvmD5

— Edmonton Oilers (@EdmontonOilers) March 27, 2016
I want to talk a little about other fanbases this morning. Seems to me the lottery that won the Oilers Connor McDavid has legs, and that other teams fans are still not yet over it. I want you to remember that it is not your job to defend the NHL system, and no one's job to explain luck as it exists. I would also like to remind you that this kind of baiting is not limited to fans, there are also media who are now openly baiting Oilers fans because of the luck that got Connor McDavid here. I would encourage you to unfollow them, to avoid the programs they appear on and to enjoy your life without this kind of cheap activity. I am still somewhat new to twitter, but remain amazed at the number of responsible people who feel that it is open season on the Oilers and their fanbase. Your eyes and your money spend just as well as anyone's, remember you have the power to unfollow, block, and especially to ignore. Godspeed.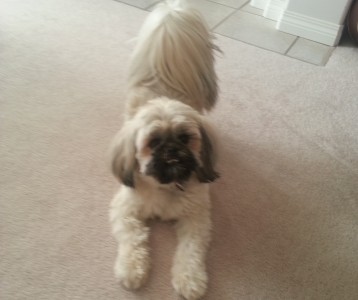 HAPPY EASTER
It is about 8:30 as I begin to write this, slept in last night and am feeling slow this morning. Ziggy has been up for about 40 minutes, she is already sleeping again (the Queen sleeps a lot). Jo is telling me the weather and telling the television 'I don't think you change your life if you change your bathroom, lady' to some random commercial.
We are so well. My son is flourishing in Computer Engineering and I think he may have found his career. He seems passionate too, based on how excitedly he talks about things I don't understand. My daughter has a job and money burning a hole in her pocket but she is getting good at spending it. I miss those days, glad she is enjoying herself. We have good kids, if you meet them I bet you would agree. I am very proud of the people they have become. If you do meet them, or work with them, remember they got their temper from their Mom. Seriously. I mean it. Lordy.
Jo is good, she keeps the madhouse from going insane. We have been married for 33 years in May and honestly I cannot really remember life without her. I don't know how many Stanley Cups the Oilers will win in the next 10 years, and I don't know if I will still be writing this blog or doing the radio show. I do know, lord willing and the creek don't rise, Jo and I will be sitting together on Easter morning and telling that bathroom lady she is way off. I have been blessed since I met her.
Happy Easter, or Happy Sunday. I am blessed to have you here and thank you for visiting. Please come again.