It's easy to forget that Peter Chiarelli had a helluva list of chores when he took over the Edmonton Oilers. Yesterday, we looked at the team's centers over the last 12 months. From the point he took over to today, Chiarelli flushed Boyd Gordon and Derek Roy, while bringing in Connor McDavid and Mark Letestu—and he got lucky with Leon Draisaitl's emergence. Today, we look at the goalies and defensemen.
EDMONTON'S GOALIES
On the day he took over, Peter Chiarelli inherited this goalie depth chart:
G Ben Scrivens
G Laurent Brossoit
G Tyler Bunz (RFA)
G Frans Tuohimaa (RFA)
After he took over, Chiarelli said goodbye to Bunz and Tuohimaa, may or may not have planned to buy out Ben Scrivens and added several new hires. At the draft, Cam Talbot was acquired, in mid-summer the team acquired Anders Nilsson for very little, and the team also signed Eetu Laurikainen to a deal in the spring. Here are my original estimates and the actual results this season:
Cam Talbot actual 53GP, 2.51 .918

Cam Talbot RE 50GP, 2.40 .920

I believe that is a direct hit in terms of projection. Talbot had real struggles early (as Oilers goalies have had over these years) but righted the ship and has been quality for several months. I think it makes sense to acquire a legit backup, but it looks to me as though PC can probably count on Talbot for 50-55 starts next year.
Anders Nilsson actual 26GP, 3.14 .901
Anders Nilsson RE 10GP, 2.80 .903
Save the GP total, I am content with this estimate. Nilsson ended up being a solid addition, and Chiarelli offloaded him for a fifth-rounder in the coming draft. Suspect the team may aim higher this summer in an effort to add a backup, but don't discount Laurent Brossoit winning the backup job—especially if the team adds Alex Lyon via free agency.
Laurent Brossoit actual 5GP, 3.61 .873
Laurent Brossoit RE 3GP, 2.70 .909
Brossoit has played very little this year in the NHL, and the results have not been terrific. I do believe the organization might be a little less convinced that he is an answer for early next season, but there isn't much doubt they like him as a long-term solution (as starter or backup).
Ben Scrivens actual 15GP, 3.07 .906 (with Montreal)

Ben Scrivens RE 19GP, 2.95 .902
I will count that as a match, somewhat surprised the Oilers didn't use him before he was dealt (the difference between Nilsson and Scrivens is very little). Recently sent to the AHL, there was some real venom in some of the verbal from the player after he beat Edmonton during the year. It doesn't take a weatherman to know which way the wind blows, suspect the parting was not sweet sorrow.
EDMONTON'S DEFENSE
On the day Peter Chiarelli took over the Oilers, his defensive depth chart looked like this:
D Nikita Nikitin
D Justin Schultz (RFA)
D Mark Fayne
D Andrew Ference
D Oscar Klefbom
D Martin Marincin (RFA)
D Keith Aulie (RFA)
D Brad Hunt (RFA)
D Jordan Oesterle
D Brandon Davidson (RFA)
D Dillon Simpson
D Martin Gernat
D David Musil
D Darnell Nurse
D Ben Betker
D Joey Laleggia
I think it is fair to say Chiarelli's 16 defensemen offered more problems than opportunities. Beginning at the bottom, there were three new pro's (Nurse, Betker, Laleggia) who I believe PC wanted to keep in the minors for all (or much) or the year. The AHL group had a trio working toward the NHL (Musil, Simpson, Gernat) although Gernat had a knee issue and wasn't a factor. Also in the AHL: Young speedster Jordan Oesterle and a bunch of RFA's. Chiarelli signed Brandon Davidson and Brad Hunt flushed Keith Aulie and Martin Marincin and took Justin Schultz to arbitration.
One move he didn't make? Exposing Brandon Davidson to waivers. It would have been a monster error and there was some pressure to do it (EDM kept 8D for a time) and some of us (me) suggested waiving him. Chiarelli kept him and was rewarded. He also signed Andrej Sekera in free agency, traded for Griffin Reinhart and Eric Gryba, and claimed Adam Clendening and Adam Pardy later in the year. It represented a tremendous amount of turnover, forced by the fact several of the highly paid men (Nikitin, Ference) were unable to play due to injury.
Andrej Sekera actual 78GP, 6-24-30 0.385 points-per-game
Andrej Sekera RE 70GP, 5-23-28 0.400 points-per-game
I think the RE estimated Sekera pretty well. A lot of people who comment on the Oilers have expressed disappointment in his performance, but for me Sekera is the best free-agent addition (among defenders) in many years. Absolutely aided the team and should be written in pen as part of the top 4D next year.
Oscar Klefbom actual 30GP, 4-8-12 0.400 points-per-game
Oscar Klefbom RE 70GP, 3-14-17 0.243 points-per-game
He outperformed his RE and if he is healthy next season the Oilers are going to be way better defensively. A strong year derailed, and I think one of the biggest factors in this lost year. Ten years into this mess, Edmonton's bad luck remains arrow sharp. He was having a tremendous year, folks.
Justin Schultz actual 58GP, 4-10-14 0.241 points-per-game
Justin Schultz RE 74GP, 10-25-35 0.473 points-per-game
Some of the actual is with Pittsburgh, but it all adds up to a very poor year. To my eye structure has been better since he left, but that could be bias and I wish him well.
Brandon Davidson actual 51GP, 4-7-11 0.216 points-per-game
Brandon Davidson RE 9GP, 0-1-1 0.111 points-per-game
The boxcars don't begin to explain his emergence and value to the year, but we will tackle it in the RE. The extreme value of a depth pick turning into a useful NHL player is here. Impressive young man.
Darnell Nurse actual 66GP, 2-7-9 0.136 points-per-game
Darnell Nurse RE 50GP, 2-8-10 0.200 points-per-game
The RE did a decent job of estimating him, suspect Nurse has more offense than he has shown this year. The surprise for me is GP, he played pretty much the entire year. I hope he spikes in year two, and the Oilers can find him a stable partner.
Mark Fayne actual 66GP, 2-4-6 0.091 points-per-game
Mark Fayne RE 64GP, 3-7-10 0.156 points-per-game
I am the last remaining member of the Mark Fayne fan club, but the good thing is no one talks back at the meetings. We will get into it during the RE series, but his possession numbers have value and he forms an effective duo with Andrej Sekera—and I will agree to trade him the moment Edmonton has six more capable NHL veterans on blue. I'll wait right here.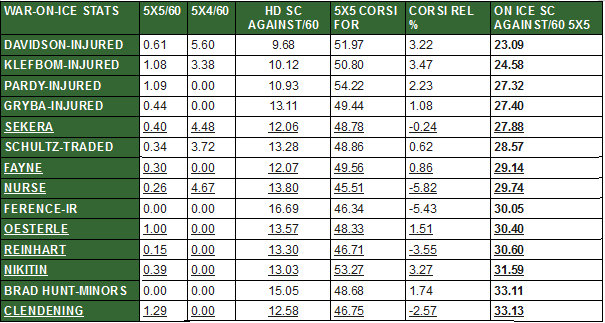 CHIARELLI SUMMER LIST
Top-pairing D to partner with Klefbom (Jason Demers)
Scoring winger from free agency (Lee Stempniak)
Offload unwanted contracts (Lauri Korpikoski)
Backup goalie (Jhonas Enroth, but may cost too much)
Re-stock the system partly through college and CHL signings (Benik, but also Winquist, et al)
Build up the system (especially forwards) via draft (Laine, Tyler Benson)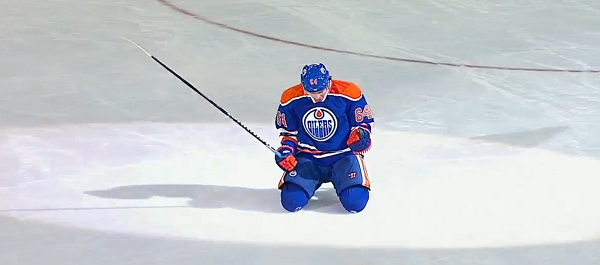 TRADING POST
Jim Matheson: The Oilers are crying for a puck-moving defenceman to get the attack going, which is why Oilers general manager Peter Chiarelli will definitely be making a big deal at the draft (giving up Hall or Eberle or Ryan Nugent-Hopkins) to get one. Kevin Shattenkirk would be my No. 1 target, but his contract is up July 1, 2017, and he'd have agree to a long-term deal before a trade. Sami Vatanen would look good with the Oilers, too. Source
I'll let you in on a little secret (that you already know). Jim Matheson, since the 1970s, has broken more stories—and flown more ideas—than dollars you own. You young folks may not be impressed by it, but you don't get that many scoops without wearing out a pair of shoes (or two). In the current construct (Peter Chiarelli is GM, and I don't think he talks to many people about the plan, man) I believe Mark Spector is the most connected man among the independent media in the city of Edmonton. The kicker? I am unsure his contacts are local. Make sense? Of course, Bob Stauffer remains the gold standard but even then it is uncertain how much Chiarelli says out loud (or writes on his whiteboard). Much of the breaking news surrounding the Oilers comes from the east, and I think that is a tell.
What does it all mean? Well, for you and me, sussing out the actual factual is one big bloody moving target. As I have mentioned to you many times, I have no direct connection to the Edmonton Oilers and the club prefers to use other shows to get their message out. Still, there have been times when you hear rumors or someone texts you something and you can track down some form of confirmation. The only time I have ever been unable to find any rumors in the city of Edmonton? Steve Tambellini as GM. Either he didn't talk to anyone, or there were no outgoing calls.
Which brings me to Matty's quote above. Now, I am not like many of you, who regard Matheson as so old school they are close to tearing the building down. Jim Matheson long ago earned my respect and that won't change. I will say that the quote above is less likely to be 'the goods' and more likely to be 'Matty speculating' than in the past. No shot at Matheson, I just think Peter Chiarelli doesn't show his cards to anyone. It is probably the wisest move, but for me it is a royal pain in the ass.
I have been spinning around (right round, like a record baby) over what might happen this spring, and have kind of decided that Chiarelli is going to make moves that are below the $6 million mark. I think I think the players heading out are going to be the less expensive men—like Benoit Pouliot, Mark Fayne, Nail Yakupov. I also think that means the returns will be lesser—Cam Fowler, Eric Gelinas, Damon Severson—and we are very likely to see the new defensemen fall well short of 'impact' for 2016-17. I think the top defender coming to town is going to be (one of) Jason Demers or Travis Hamonic—not both—and that the Oilers are going to have enough depth (because of the additions) to send both Darnell Nurse and Griffin Reinhart (plus Jordan Oesterle, David Musil, etc) to the minors.
LOWDOWN WITH LOWETIDE
On the show today, 10 this morning TSN1260:
Steve Lansky, BigMouthSports. Baseball in Montreal, next Canadian team to win Stanley.
Corey Graham, TSN1260 Oil Kings PBP. The horse is out of the barn.
Matt Iwanyk, TSN 1260. Point-Counter Point tackles the Chiarelli summer.
Paul Almeida, SSE. Man U. plunge down the table, Oilers at the draft.
10-1260 text, @Lowetide on twitter. 90 minutes!