The Edmonton Oilers are one of the teams mentioned as being a player in the Alex Lyon sweepstakes. The Yale goalie is a legit prospect and is being pursued by several NHL teams. For Edmonton, part of this summer has to be dedicated to signing pro players for the AHL team—either to NHL or AHL contracts. Last spring, I projected the Condors first club and suggested it could be a grand group—because Darnell Nurse and Leon Draisaitl projected to stay there most of the year. Alas, the Oilers had neither balance nor depth at the NHL level and the minor league team cratered under the pressure.
Here are the Condors who played in the NHL this season, and their Oilers numbers:
C Leon Draisaitl 70gp, 18-32-50
R Iiro Pakarinen 61gp, 5-6-11
D Darnell Nurse 67gp, 2-7-9
D Jordan Oesterle 15gp, 0-5-5
L Jujhar Khaira 15gp, 0-2-2
L Luke Gazdic 29gp, 1-0-1
D Griffin Reinhart 27gp, 0-1-1
R Rob Klinkhammer 14gp, 1-0-1
R Anton Slepyshev 11gp, 0-1-1
D Nikita Nikitin 11gp, 0-1-1
D Brad Hunt 7gp, 0-0-0
C Andrew Miller 6gp, 0-0-0
G Laurent Brossoit 5gp, 3.61 .873
From that group, several could be in the NHL to stay—I think Draisaitl, Pakarinen and Nurse are likely to be on the opening night roster. Callups next season (or winning a job outright) could be Laurent Brossoit, Griffin Reinhart, Jujhar Khaira and Anton Slepyshev (from this list). I also think the Oilers value Bogdan Yakimov and he could be in the picture beginning in the fall.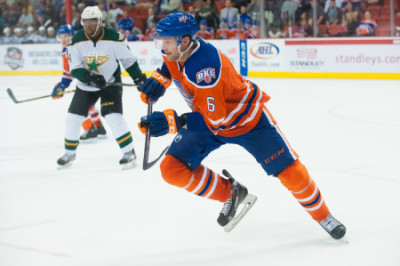 DAVID MUSIL
I have been trying to project David Musil onto next year's Oilers roster, and he could get there—in the same way Brandon Davidson got there in the fall of 2015. The defensive depth chart in Edmonton will be a fluid situation, and it is impossible to tell the future. That said, for our purposes today, I am going to assume Musil is either in the NHL as the No. 8 (or better) defender, or he has moved on to another NHL opportunity.
PROJECTING THE 2016-17 CONDORS
G Laurent Brossoit. Projects as NHL backup/AHL starter, signed a two-year deal.
G Eetu Laurikainen, AHL backup, he is signed for next year.
D Darnell Nurse, probably top 6D next season, ideally in Bakersfield.

D Griffin Reinhart, may spend another year in the minors. Could be dealt.
D Jordan Oesterle, AHL D, NHL time. RFA. Suspect he signs.
D Joey Laleggia, AHL D matriculating.
D Dillon Simpson, AHL D, matriculating.
D Ben Betker, AHL D, matriculating.
C Jujhar Khaira, Has a chance to be in the NHL next season.
C Bogdan Yakimov, Has NHL tools, speed concern.
C Kyle Platzer, AHL C matriculating.
L Jere Sallinen, you can never have too many Finns.
L Mitch Moroz, AHL winger/enforcer, matriculating.
L Braden Christoffer, rugged winger, matriculating.
R Anton Slepyshev, talented winger should push for NHL time.
R Greg Chase, minor league winger, matriculating.
This is a very poor AHL roster. The forwards (save Sallinen) have not delivered offensively and the defensemen are solid to good—if they remain in the AHL, and as we saw this past season there is no guarantee. Men like Tyler Pitlick and Kale Kessy are RFA, and could be added, but in some cases it might be time to see what is down the road.
Josh Winquist. Photo by Mark Williams
Edmonton has some interesting AHL contracts (including a recent one) and we might see the team add some of the following names to an NHL or AHL deal:
L Josh Winquist 33gp, 8-21-29. Two years on an AHL deal, he has earned the NHL edition.
C-R Josh Currie 47gp, 6-8-14. He won playing time over a lot of NHL contracts.
C Marco Roy 36gp, 6-5-11. Former-round pick came in handy at times.
C Alexis Loiseau 12gp, 1-2-3. I thought he would play more for the Condors.
F Kellen Jones 12gp, 1-2-3. He is a PK wizard, there has to be a twist.
D Nick Pageau 21gp, 0-3-3. One of the few RH defenders at the pro level.
L Joey Benik 1gp, 0-0-0. College man made pro debut on the weekend.
G Ty Rimmer 4gp, 4.35 .850. Oft-forgotten, he has been in pro hockey for three years.
GIVING AT-BATS TO OLD PEOPLE
The 2014 draft is going to give Peter Chiarelli nothing in terms of grads who can help the minor league team. This past season, the Oilers ran with several AHL veterans in feature roles:
R Matt Ford will lead the team in points.
L Ryan Hamilton is the only other player on the team (aside from Ford) with 20 goals.
D Brad Hunt is surely blocking men like Oesterle and Laleggia should he return.
C Andrew Miller is probably down the line (playing for Charlotte now).
C Phil McRae had some injury issues.
C Zach Boychuk came over in the Miller loan, anyone's guess where he is with the organization.
WHAT DOES IT ALL MEAN?
We will probably hear about Alex Lyon in the next 24 hours or so, but for me Peter Chiarelli has to be extremely active this spring and summer. Along with the NHL team, the minor league team is in bad repair. Part of that comes from drafting, but a lot of it—in my opinion—comes from too many at-bats loaned out to AHL veterans. The skilled Condors were mostly those vets, and for me that speaks to extremely poor development. Hey, maybe I am wrong about this, but when I look at the top of the division and the Texas Stars, there are a couple of older gents and several miles of prospects.
This is a massive deal, and the Oilers are losing ground daily. As other organizations sign their 2014 draft picks, Edmonton can only bid on CHL, college and Euro free agents and hope they land a few. After that? Back to the well that houses AHL veterans, and another winter of employing those men. It is a vicious cycle and contributes to the lack of development.