I am seeing more and more discussion about trading Darnell Nurse. I don't see it. Nurse at 20 certainly has value, but the kind of team Peter Chiarelli is going to build here is a perfect fit for the young defender's style. After a difficult rookie season, why are so many Oilers fans willing to give up on the youngster?
I think people are probably projecting his rookie season out into the future as a fair representation of the player. I suspect that is unwise.
I stated last summer that it would have been very difficult to keep Nurse on the farm all year. We knew the Oilers were badly outclassed on defense, and this season has been a lot about waiting for Peter Chiarelli (and Todd McLellan) to see what we have seen for a decade. I would argue that Nurse was a victim of that, as his early success caused McLellan to elevate the rookie to the Sekera pairing—where it all fell apart.
DARNELL NURSE SPLITS

We have talked about this previously, but I do think it bears repeating since there are verbal shots headed at Nurse every hour on the hour. Look, math doesn't care one way or another, and I am taking a knife to a gunfight when it comes to arguing these numbers (most if not all of you have better command of the numbers). That said, can we agree those 11 games at the beginning of his career look pretty good? Can we further agree that moving Nurse up the depth chart—and leaving him there—is not the fault of the player? I am often surprised by how quickly logic and reason flees the math set.
We can argue about who is best sent away, and maybe it is Darnell Nurse. I don't think that taking his rookie season as a reflection of his true (and eventual) ability is accurate or fair. I would like to see another season of Darnell, to see if he can get back to those first 11 games. I expect we will see him as an Oiler in 2016-17.
BREAKING THE WAND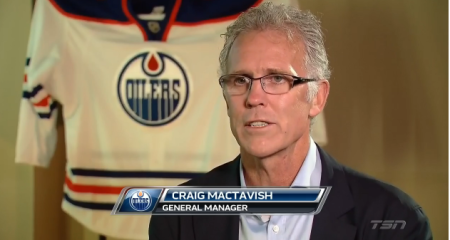 I didn't talk about it yesterday but the goodbye to Rexall (a fantastic event) not including Craig MacTavish and Kelly Buchberger is bizarre on the face of it. Now, I am in no way saying that the Oilers or Peter Chiarelli or Bob Nicholson sent away two members of Stanley teams as punishment. I am saying there is something about this story that implies fracture. There is no way for me to say this without sounding like I know more than I do, but there is something about this situation that doesn't fit the script.
THE LIST
McKenzie: "I've heard some people say, 'Oh, they should trade Taylor Hall.' I don't think they're trading Taylor Hall." #Oilers

— Chris Nichols (@NicholsOnHockey) April 7, 2016
People keep chasing this scenario, but I return to the things logic and reason give us if we sit down and think about it. I assume Peter Chiarelli has a list of defensemen—Erik Karlsson, PK Subban, Alex Pietrangelo, Sami Vatanen—and at some point the ask from the other side will be deemed acceptable. So, in that way, Taylor Hall is available but only if one of the truly spectacular defensemen in the league is available. Fair? I mean, if the Habs make Subban available, much of what we have talked about this spring is moot, right?
You think you're mad at MT and MB now. Just wait until it comes out what trade they're angling for this summer. The machine is churning.

— BrianWilde (@BWildeCTV) April 8, 2016
If Montreal does the unthinkable, I do not think Hall would be the target (Max Pacioretty is a reasonable comp for Hall as a player). I do believe one of the C's—Nuge, Leon—could be a target and you would think a massive deal would be required. I honestly do not see this happening, but it isn't like I was churning out 'Pronger is on his way to Edmonton' posts in 2005.
SORRY
In the comments section over the last year or so, the word 'sorry' has been appearing more and more. As someone who went to grade school in the 1960s, when I read the word it puts me in a certain frame of mind. "Sorry, I was mistaken in our previous conversation and my aggressiveness during that chat makes me feel a fool" is what my brain is preparing to read. I have come to realize that the modern meaning of sorry is "look stupid, get your head out of your ass and listen to my brilliance" although it has taken me time to reach this conclusion. For those who use the word in the modern sense: Sorry, it doesn't make your point of view any more relevant, and it suggests to me you may not actually be sorry (traditional sense) ever, since you have no use for the word as I use it. No real point to this paragraph. Sorry.
SORRY, NICK ELLIS
Even while sitting for 2 seasons, Nick Ellis never lost faith in himself. Wrote an Oct. column along those lines: https://t.co/y2p3NCEdwj

— Mark Divver (@MarkDivver) April 8, 2016
One of the things we all like is certainty. If something happens and we are unable to corral it, it makes us nervous or uncomfortable. Because of that part of human nature, we often slot people into places they don't really belong—all in the name of certainty and peace of mind.
Take Nick Ellis, the Oilers newest goalie. I have read online that he will be the Oilers backup this fall, and that he is doomed to spend his days in the ECHL. This can only be the conclusion of a person who simply cannot go to bed at night without having settled on an uncertainty.
I am a Dad, so spend a lot of time keeping options open for my kids. They don't know what they don't know, but some day they will know what they know and know what they don't know and I will be less worried about them. I have no idea who Nick Ellis is, but if he asked me this would be my advice: Come to camp focused and ready, work every minute of every practice like it is your last one, and no matter where they send you treat the assignment as temporary. Embrace uncertainty and beat the living hell out of every challenge that comes your way. And whatever you do, never listen to someone who has decided what you are within 20 minutes of hearing your name and reading your backstory.
Every kid deserves to make his own way. Every damn one of them.
LOWDOWN WITH LOWETIDE
Friday! At 10 this morning, TSN1260.
Steve Lansky, BigMouthSports. We will discuss the Oilers future, and I have some Harold Ballard questions from you, for him.
Dean Millard, TSN1260. Ernie Els made me feel so good about my golf game yesterday, we will talk Masters with the best golfer I know.
Matt Iwanyk, TSN1260. Report cards for Chiarelli/McLellan, plus the MacT story.
Chris Peters, CBS Sports. Frozen four and we will talk about this Ellis fellow.
10-1260 text, @Lowetide on twitter.