This season was not what we dreamed of, not what we hoped for, really not what we would have found acceptable. There has been progress, but it isn't close to enough. Looking for encouraging words? They are close to turning north, to becoming a real contender. Looking for troubling words? This is a very dangerous summer.
THE 1976 EXPOS, YEAR OVER YEAR
Oilers in October 2014: 4-5-1
Oilers in October 2015: 4-8-0
Oilers in November 2014: 2-9-3
Oilers in November 2015: 4-7-2

Oilers in December 2014: 2-8-4
Oilers in December 2015: 7-6-1

Oilers in January 2015: 5-7-1
Oilers in January 2016: 4-5-2

Oilers in February 2015: 5-6-1
Oilers in February 2016: 4-8-2

Oilers in March 2015: 5-6-3
Oilers in March 2016: 7-8-0
Oilers in April 2015: 1-3-1
Oilers in April 2016: 1-1-0
Oilers after 81 in 2014-15: 24-44-13, 61 points (-82 GD)
Oilers after 81 in 2015-16: 31-43-7, 69 points (-41 GD)
The Oilers lost 6-5 in OT to Vancouver in G82 a year ago, ending the Oilers career of Ben Scrivens, Keith Aulie, Martin Marincin, Matt Fraser and Derek Roy. If Edmonton wins tonight, they will hit the 70-point mark for the first time since 2011-12—the same year they last hit 30 wins.
The 1976 Montreal Expos lost 107 games. They had brilliant young position players like Gary Carter, Larry Parrish and Ellis Valentine but they could not win for losing. How did they turn it around? They added talent in two ways: Quality free agents like Tony Perez, Dave Cash, plus a tremendous rush of young talent from the system (Andre Dawson and more) got them to 75 wins. And when the young pitchers arrived, 90-win seasons followed.
The Oilers will need both free agents and graduating prospects again this summer, and to replace the talent they trade away to address weakness. Most important of all: The team badly needs value contracts to emerge as quality regulars. More Brandon Davidson's, stat!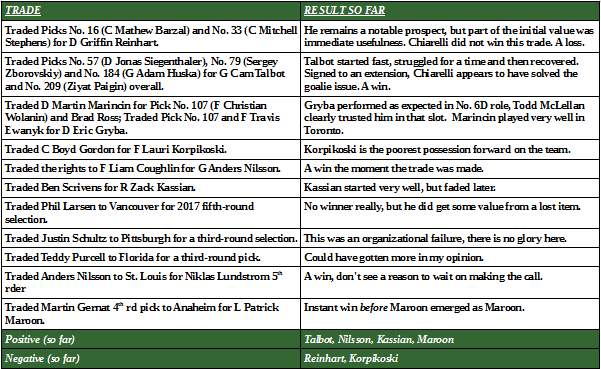 PREPARE THE CANNONS!
I understand the idea of torching the team again, but am hopeful Peter Chiarelli takes a more measured approach to the summer. In fact, my list of players on the 'available list' has been reduced from the last time (March 13). I have written about (mostly) staying the course in the recent past, and none of you are buying it. That's cool, after another season of frustration the logical reaction is to send away the underachievers and bring in new troops. For me, it simply doesn't make sense to trade players without having suitable replacements.
THE NO-TRADE LIST
C Connor McDavid. Clearly the top asset the Oilers have and the cornerstone for the future. I don't think there is a better player in the world to build a young team around at this time.
L Taylor Hall. Despite playing six seasons in the second division, the guy is a winner. A fabulous even-strength performer, he pushes the river and is a rare difference-maker.
C Leon Draisaitl. The big German has emerged as an important part of the team, easily part of the top six, whether a center or wing.
D Oscar Klefbom. He has reached a point (to my mind) where we can say he is a more complete player than the other young blue.
D Brandon Davidson. He is a terrific story, but beyond that a valuable and useful player.
G Cam Talbot. Edmonton appears to have found themselves a starter, zero sense in sending him away now. His big test will come in the fall.
D Andrej Sekera. Veteran free-agent pickup has been an effective player since about the third week of the season. Along with Klefbom and Davidson, offers Chiarelli a reasonable LH set for next season.
L Patrick Maroon. They love him, I wish we had another season to go on before they trade Benoit Pouliot. Looks exactly perfect on McDavid line, in exactly too small a sample size.
THE UNLIKELY TO GO LIST
R Jordan Eberle. There are several reasons why Eberle has both substantial value and remains tradeable. First, his contract runs out in 2019. Second, he is a winger, and a complementary one, although very talented. The one thing that keeps him on the unlikely list? No immediately available replacement. If the scouts love Patrik Laine to the max? Even then, it is a stretch. I think the chem he showed with 97 probably keeps him here.
C Ryan Nugent-Hopkins. A fine two-way C who is signed through 2021 summer. As is the case with Eberle, trading him requires immediate outside replacement—a tough thing to do.
D Darnell Nurse. I can't see the Oilers trading the big man, he could be a big part of the solution for this team in the future. He may need more time in the minors, and certainly needs to have his minutes cut back if he continues to develop at the NHL level.
THE SAIL ON LIST
First-round draft pick. If the Oilers win the draft lottery, there would likely be enormous value in dealing down to No. 2 or No. 3. I think the gap between Auston Matthews and Patrik Laine may be far less than the possible trade value in doing so—there is a little area there where real trade value might be found.
L Benoit Pouliot. Although he probably becomes trade bait if Milan Lucic signs with the Oilers, I don't believe that will happen—and Pouliot is an effective player. Underrated by most Edmonton fans.
R Nail Yakupov. Although Yak has struggled a great deal during his time in Edmonton, one suspects there is a team and coach out there convinced they can unlock him.
D Mark Fayne. He has settled in to deliver a good year on defense, and I think some team might take him over the summer. Edmonton may not ask much in return, preferring to use that money on signing a better fit—like Jason Demers.
L Lauri Korpikoski. A buy-out candidate.
CHIARELLI SUMMER LIST
Top-pairing RHD (Jason Demers via free agency, Hamonic via trade)
Third-pairing D to partner with Davidson (puck mover, big shot from the point)
Scoring winger  (via trade or free agency)
Offload unwanted contracts (Lauri Korpikoski via buyout)
Backup goalie (Jhonas Enroth, but may cost too much)
Re-stock the system partly through college and CHL signings (Benik, but also Winquist, et al)
Build up the system (especially forwards) via draft (Laine, Tyler Benson)
POSSIBLE SUMMER
Oilers sign Jason Demers
Oilers sign Jhonas Enroth
Oilers sign Lee Stempniak
Oilers sign Dan Boyle
Oilers draft Patrik Laine
POSSIBLE ROSTER
Maroon—McDavid—Eberle
Hall—Draisaitl—Lee Stempniak
Pouliot—RNH—Patrik Laine
Hendricks—Letestu—Pakarinen
Klefbom—Jason Demers
Sekera—Fayne
Davidson—Dan Boyle
Cam Talbot, Jhonas Enroth
I haven't run the numbers in terms of cap and you may feel Dan Boyle is done, and I know many of you believe Lee Stempniak is borderline useless (based on the comments I have seen when mentioning his name last time). This model has one rookie, keeps all of the current forwards who can help, and retains Mark Fayne. I know you hate it. I believe it is a far better way than dealing from weakness to address weakness, and that is what trading Jordan Eberle or Ryan Nugent-Hopkins does to this roster.
McKenzie said he'd be shocked if MTL management doesn't sit down & discuss options for all players, including PK before his NTC kicks in.

— Platinum Seat Ghosts (@3rdPeriodSuits) April 8, 2016
As mentioned yesterday, all bets are off if P.K. Subban is available. Edmonton has the assets to get Subban and there are some things the two things have in common. Talk about a perfect fit, this would be ridiculous luck.
Bakersfield Condors' Ben Betker takes out San Antonio's Andrew Agozzino during an AHL hockey game Saturday, March 2… pic.twitter.com/uRhdrlPdrF

— Spurs Selfie (@spursselfie) March 27, 2016
The Condors lost last night, they are extremely unlikely to make the playoffs. That means all those prospects who need at-bats won't have a second season to get them in this spring. Betker is a monster, as this photo shows. Impressive that Caleb Jones got into AHL action, pretty clear the Oilers value the young man.
NCAA free agent Troy Stecher 'dreamed about playing for Canucks': https://t.co/LYzIzl0UOo pic.twitter.com/RhdqYWyaY6

— Sportsnet (@Sportsnet) April 4, 2016
One suspects Edmonton will not land Stecher, but he would be a very good college signing for the team. There are still some names of interest available, as this Chris Dilks article (it has been a very good guide) shows. Other names to keep in mind for the Oilers: Drake Caggiula and Ahti Oksanen.