Now that we know where Edmonton is going to draft in each round, we can begin to figure out what kind of talent will be available when they pick in the 2016 draft.
OILERS DRAFT PICKS (PROJECTED) 2016
No. 2 overall
No. 32 overall
No. 62 overall
No. 85 overall (Florida pick)
No. 87 overall (Pittsburgh pick)
No. 122 overall
No. 148 overall (St. Louis pick)
No. 152 overall
No. 182 overall
CURRENT LOWETIDE TOP 30
(1) C Auston Matthews, Zurich Lions (Swiss-A): Complete offensive player. NHLE: 42
(2) W Patrik Laine, Tappara (Sm-Liiga): Power W, amazing playoff. NHLE: 17
(3) R Jesse Puljujarvi, Karpat (Sm-Liiga): Big W, two-way skills. NHLE: 14
(4)  L Matthew Tkachuk, London Knights (OHL): Big forward, playmaker. NHLE: 49
(7) C Pierre-Luc Dubois, Cape Breton Screaming Eagles (QMJHL): Rugged, quality PF.
(6) LD Mikhail Sergachev, Windsor Spitfires (OHL): Mobile defender with offensive acumen.
(5) LD Olli Juolevi, London Knights (OHL): Substantial offensive defenseman.
(9) C Clayton Keller, USNDTP (USHL): Kournianos: Similar to Mitch Marner. 
(8) LD Jacob Chychrun, Sarnia Sting (OHL): Fantastic skater, complete defender.
(11)R Alexander Nylander, Mississauga (OHL): Brilliant scorer, fast hands, great skater.
(10) RD Charlie McAvoy, Boston University (NCAA). Complete D, rising up the list.
(14) R Alex DeBrincat, Erie Otters (OHL): Small super sniper.
(12) C Michael McLeod, Mississauga Steelheads (OHL): Playmaking PF, great skater. Gritty.
(17) R Vitalii Abramov, Gatineau Olympiques (QMJHL). Explosive scorer. Dynamic.
(20) C-L Kieffer Bellows, USNDTP (USHL). Scoring forward.
(13) LD Jake Bean, Calgary Hitmen (WHL):Intelligent defender with across the board skills.
(15) RD Dante Fabbro, Penticton (BCJHL): ISS: "+offensive instincts & effortless stride."
(18) C Luke Kunin, Wisconsin (NCAA): Luedeke: has skating & shot of prolific scorer.
(19) C-R Nathan Bastian, Mississauga Steelheads (OHL): Big skill F with smarts.24
(22) C-R Pascal Laberge, Victoriaville Tigres (QMJHL). Has two-way skills, very aggressive.
(16) L Tyson Jost, Penticton Vees (BCJHL). Elite Prospects: Crafty goal-scorer, quick.

(23) C Tage Thompson, Connecticut Huskies (NCAA). Legit skill player.
(24) R Taylor Raddysh, Erie Otters (OHL). Power winger who can score.
(26) G Carter Hart, Everett Silvertips (WHL): Quality prospect, elite when healthy.
(31) C

Janne Kuokkanen

, Karpat (Fin Jr). Highly skilled C, good speed. Playmaker.
(27) C Logan Brown, Windsor Spitfires (OHL): Impressive offensive skills.
(28) C German Rubtsov, Team Russia (MHL). Fine two-way forward.
(29) LD Lucas Johansen, Kelowna Rockets (WHL). Emerging offense.
(25) R Julien Gauthier, Val D'Or Foreurs (QMJHL): Great hands, speed is an issue.
(36) L Adam Mascherin, Kitchener Rangers (OHL): Undersized scoring W. Bona fide.
I will post another top 60 next Sunday evening. With the rest of my time allotted to this post, I listened to the Peter Chiarelli media avail and have some observations.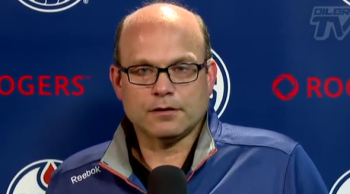 TRADES BEFORE JUNE
Peter Chiarelli measures his words. Never trust your boss when he is doing it while discussing your next career move, but for Oilers fans this is a good thing. No more 'if you have to ask the question' or 'if that's ever a concern' clips, but we also don't have a pissed off goalie this evening.
One thing that struck me as unusual? Chiarelli's response to (I believe) Gene Principe about trading near the draft. Chiarelli mentioned he is not restricted and could make a trade at any time. Why is that unusual? I refer you to paragraph one.
Back from Chiarelli year end. Bet on McDavid as captain next year and core player not named Ryan Nugent-Hopkins to be traded for denenceman.

— Terry Jones (@sunterryjones) April 10, 2016
I have to tell you I smiled one mile wide when Chiarelli talked about Nugent-Hopkins. It didn't make any sense to me—how could a man go from employing Patrice Bergeron and David Krejci not see what RNH could do? Well. Turns out I may be a worry wart. Anyhoo, great words from PC about our boy center, he described the young man perfectly. Music! As for McDavid as captain, I have never really known what to say about this stuff, it is so internal and vague to an outsider like me. Look, Alex Delvecchio was the captain and Gordie was the guy everyone looked to, so I don't know about all the fuss. Great? No idea.
"We have a surplus of forwards & a lack of defencemen… I would like to upgrade our defence." Chiarelli on #Oilers roster makeup

— Edmonton Oilers (@EdmontonOilers) April 10, 2016
It sounded like his next words were going to be 'we are moving out inventory fast!' so this is a reasonable starting point for our hard target search. Who needs forwards? Who has defensemen? Check that, who has defensemen Edmonton would want? Columbus, Anaheim, Minnesota, NY Islanders—sounds like a Chuck Berry song.
"I'm reasonably confident I will be able to address our defence in a meaningful way." Chiarelli. #Oilers

— Jason Gregor (@JasonGregor) April 10, 2016
I never doubted he would try, the problem comes in price. That is going to be the big issue here. When the deal comes down, I hope you drop by this blog and see a headline like 'Balance, Bitches!' and my gorgeous balance photo framed perfectly. I hope. I hope in the same way as Red  hoped the Pacific was as blue as it had been in his dreams.
"That job is wide open right now." Chiarelli on backup goalie for next year. #Oilers

— Jason Gregor (@JasonGregor) April 10, 2016
Expect competition.
Chiarelli's year-end done: a couple thoughts for U. IMO…Klefbom, Sekera, Davidson and Nurse will be in the Oilers top 6…

— Bob Stauffer (@Bob_Stauffer) April 10, 2016
Klefbom—Hamonic
Sekera—Vatanen
Nurse—Davidson
That seems to be the goal (names obviously in play, the two here have been mentioned before).
No question Oilers need to upgrade adding a right shot D who can run PP. Often RFA's end up in play. Tyson Barrie or Sami Vatanen make sense

— Bob Stauffer (@Bob_Stauffer) April 10, 2016
Tyson Barrie has some momentum in the comments section, he certainly would be a terrific add. Is Colorado crazy? Silly question. If the Oilers can deal Pouliot for Vatanen and Eberle for Hamonic, then Barrie doesn't come over. Maybe Barrie is a better plan than Vatanen? Interesting names and ideas, no doubt about it. Suspect trading down is in play as well, wonder if we see a three-way deal (depending on who gets what at the lottery, suspect CBJ will be pushing).
For those asking about Davidson. He did not require surgery on his knee. He is skating and will be ready next year. #Oilers

— Jason Gregor (@JasonGregor) April 10, 2016
GM Chiarelli says @Klefbom93 suffered "a perfect storm of two successive infections" resulting in his season ending prematurely.

— Edmonton Oilers (@EdmontonOilers) April 10, 2016
Jason asked about Klefbom and it sounds like all is well (no major muscle loss or bloodletting, as had been worried and discussed). Plenty more tomorrow, including 4,000 words on the Nuge. 🙂 On the downbeat? They are firing Nail into the sun.