Todd McLellan gets his chance with the media today (10am! It might even show up on the Lowdown!) and I imagine we will hear some encouraging words about the future. I have to say that Peter Chiarelli did a good job yesterday in terms of setting expectations—no overpromising, which can lead to under delivery. Before we move forward, let's step back a sec and review some of what the GM said in the media avail a few hours ago.
ON THE NUGE
Chiarelli: "Nuge is a good player. He's a very good two-way player. He had a tough year with injuries. I like a lot of what I saw of him. He has to improve in a number of areas but he's young and he's smart and he plays a good two-way game." Source
This is important, because it shows how much value the GM puts on the player. I have been told that Chiarelli has expressed these sentiments previously, but I had not seen, read or heard them. Heartening. Even if the Nuge is dealt, and it doesn't sound like it, PC made it clear there is a strong value on the player by this organization. Glad to see.
ON OSCAR
Chiarelli: "Timeline, I think if we were in the playoffs he would have been available. I basically just shut him down. I said, 'Klef, enough. You're probably trying too hard to come back," and it was aggravating it a little bit. He's going to get the proper equipment. We've been looking at getting the proper skate, customized, and the silver lining is he's in terrific shape. I would anticipate him back skating in a month's time." Source
Chiarelli confirmed there was no long-term issues, which means two things. First, all the people who told you about cutting muscle from his leg were either making it up or talking to people who were making it up. Second, the Oilers not telling people what is going on may lead to bloodletting stories, leeches stories, dragon stories, eraserhead stories. For God sakes, be careful out there!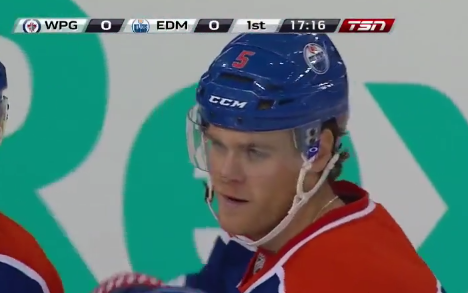 CORSI REL SINCE JANUARY 1
We talked last week about Darnell Nurse and how well he played for 11 games—before heading south as part of the 'let's play a bunch of people not named Mark Fayne with Reg' portion of the year. Here is another angle: Corsi (and Rel percentage) since January 1, 2016:
Sekera 51.7 (+3.5)
Gryba 51.5 (3.0)
Davidson 51.3 (+1.9)
Fayne 49.6 (-0.1)
Nikitin 48.8 (-11.4)
Pardy 48.1 (-3.5)
Oesterle 48.0 (1.3)
Nurse 47.1 (-3.3)
Clendening 46.7 (-2.6)
Reinhart 46.0 (-3.8)
Chiarelli's year-end done: a couple thoughts for U. IMO…Klefbom, Sekera, Davidson and Nurse will be in the Oilers top 6…

— Bob Stauffer (@Bob_Stauffer) April 10, 2016
Oscar Klefbom didn't play after January 1, but he was 50.8 (+3.5) and Sekera plus Davidson look good by the possession. Nurse? Seems to me that is an odd choice, and skipping over Mark Fayne to get there suggests Peter Chiarelli is willing to sacrifice possession for things like speed, size, aggressiveness and—if we are being fair—the possibility of a better tomorrow (should Nurse develop). Did Chiarelli make these kinds of decisions in Boston?
SIZE
Chiarelli: "I like size. Especially in our division. To get out of our division you're going to need some guys that can lean on the bigger players in L.A. and Anaheim."
We have had this argument since before I started this blog, back to the hfboards days. I remain convinced size is a good thing—as long as the guy can play! I like Darnell Nurse as a prospect, honest. If you have read these pages since he was drafted, suspect that is fairly clear. That said, part of the balance equation is keeping young, unready players in the minors until ready.
DARNELL NURSE DID HAVE A GOOD RUN. HONEST.

How can the Oilers get Darnell Nurse back to those numbers? Put him on the third pairing with Brandon Davidson, and that is my guess for 2016-17. How many defensemen can a team protect and still make the postseason? Don't know.
BRUINS 2014-15 DEFENSE (CORSI AND REL %)
Dougie Hamilton 54.91 (+4.72)
Zdeno Chara 54.21 (+3.71)
Torey Krug 53.12 (+2.54)
Matt Bartkowski 49.83 (-2.47)
Kevan Millar 49.81 (-3.01)
Adam McQuaid 49.51 (-3.01)
Dennis Seidenberg 48.13 (-5.74)
Hmm. Bartkowski, Miller and McQuaid are in that range (Rel %) and of course the young Oiler is just 20 and a rookie. I like Nurse, hope he has a terrific future, and I know there is exactly one person reading this (once I read it) who believes Mark Fayne  can help. That said, on the day we begin to explore the possibilities for this team (and that is today), I would like to point out that my pal Corsi and I are not happy. Not happy, at all.
Thank You Ed Snider for MY 1st Championship Parade on Broad Street. @FOX29philly @NHLFlyers pic.twitter.com/2M6NPULltC

— Bob Kelly (@BobKellyFOX29) April 11, 2016
I love expansion drafts. Don't ask me why, it is such an obscure and ridiculous slice of the sports pie it is to laugh. And yet, I know things about expansion drafts (Montreal Expos took future manager Jimy Williams in their draft) no one should consider worthwhile because it is a passion.
Ed Snider's expansion draft (along with his purchase of the Quebec Aces and previous hiring of men like Bud Poile and Keith Allen) stocked the shelves immediately and Philadelphia has enjoyed a contender pretty much since that day. Seriously. I have no connection to Ed Snider or the Flyers beyond a real and genuine respect for the accomplishments made by man and organization. Hell, the only reason Philadelphia got an NHL team was Snider's curiosity. In a world where winning is the only thing, Ed Snider was an exceptional owner from day one. RIP.
STUPID STUPID STUPID
Very well, PK Subban can play for my hockey team. What's that? I don't have a hockey team. Give me Subban and I will.

— Jesse Spector (@jessespector) April 9, 2016
Jack Todd, Montreal Gazette: Look, I've defended Subban at every turn throughout his career. But if he can't be persuaded to work within the structure of the team and the organization, maybe it's time he and his brand were shipped to a market large enough to accommodate Planet P.K. Like Edmonton, for instance. Source
I guess P.K. Subban has some issues, based on the Jack Todd article and many other things we read out of Montreal. Folks, this is a giant opportunity. The Habs are making a big mistake here, and someone is going to get a helluva defenseman. Is Subban flawed? I guess he has some outside issues, but not everyone can be Chris Pronger!
P.K. Subban would be a perfect fit for these Edmonton Oilers. They would have to give up a mountain of assets and they would have to adjust their cap (Subban is a $9 million cap hit through 2022) to make room. That said, you make that room in a heartbeat.
Klefbom—Subban (!!!!)
Sekera—Hamonic
Davidson—Nurse
Music!
CHIARELLI'S SUMMER (CRAZY VERSION)
Top-pairing D to partner with Klefbom (PK Subban)
Scoring winger from free agency (Troy Brouwer, Kyle Okposo)
Offload unwanted contracts (Lauri Korpikoski)
Backup goalie (Jhonas Enroth, but may cost too much)
Re-stock the system partly through college and CHL signings (Benik, but also Winquist, et al)
Build up the system (especially forwards) via draft (Laine, Tyler Benson)
I have included two RWs because one assumes Subban's price will include an Eberle or a Nuge, a Nurse or a Davidson, a pick or a pick. Seriously no idea where you start in a trade with Subban, save for the fact someone making $6 million would be heading out of town. Crazy crazy. We'll sell you the whole seat for summer, but you will only need the edge.
LOWDOWN WITH LOWETIDE
A very fluid show today, 10 this morning TSN 1260. Scheduled to appear:
Todd McLellan's media avail will be carried live. Scheduled for 10, these things can and do change starting times. Stay tuned.
Scott Burnside, ESPN. Change everywhere, including Arizona this morning. Murray out in Ottawa, rumblings in Boston, hold on to your hat!
Sunil Agnihotri, Copper and Blue plus The SuperFan. Who is heading out of Edmonton this summer? Who is coming in? Will we need a new program this fall? Sunil will also describe his lunch, suspect it will be rabbit foot but we will see.
10-1260 text, @Lowetide on twitter. Talk soon!