Leon Draisaitl is Paul Bunyan, with a stick the size of a tree and hands by Charmin. He arrived in training camp without a job certain, and despite working hard and showing well, was demoted to the AHL. I have thought about what LD might have been going through at that time—you know, sometimes young people react badly to that kind of thing—but he went down to the farm. He did not perform expertly in Bakersfield, but the hockey Gods offered up the gift of injury. Leon scored twice just after his plane landed, and he drove from there. Leon Draisaitl is a substantial young NHL player. (Trust Yourself)
LEON DRAISAITL 2014-15
5×5 points per 60: 1.05 (10th among regular forwards)
5×4 points per 60: 1.76 (12th among regular forwards)
Corsi for 5×5 %: 52.1
Qual Comp: 11th toughest competition among regulars (fourth line)
Qual Team: 11th best competition among regulars (fourth line)
Corsi for 5×5 % REL: 6.0
Zone Start: 79.2%
Shots on goal/percentage: 49 shots/4.1%
Boxcars: 37, 2-7-9
LEON DRAISAITL 2015-16
5×5 points per 60: 2.20 (3rd among regular forwards)
5×4 points per 60: 3.09 (9th among regular forwards)
Corsi for 5×5 %: 51.8 (first among regular forwards)
Qual Comp: 5th toughest competition among regulars (2line)
Qual Team: best competition among regulars (1line)
Corsi for 5×5 % REL: 12.0 (3rd among regular forwards)
Shots on goal/percentage: 133 shots/14.3%
Boxcars: 72, 19-32-51
(All numbers via Stats.HockeyAnalysis.com and BehindtheNet.ca)
WAR-ON-ICE PLAYER CHART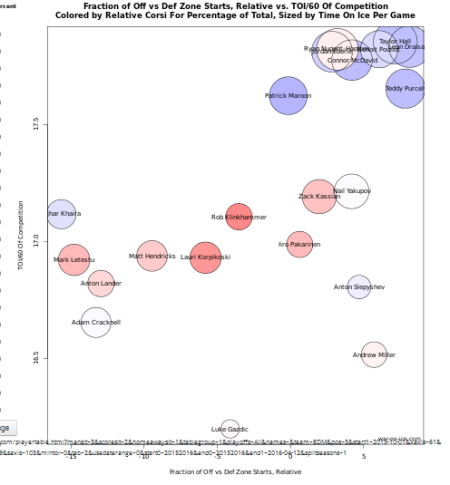 Draisaitl got the push and the linemates, but he also delivered. As well, this is a player with size. We can talk about wing or center (48.4 percent on the dot, that isn't bad) but it is important to acknowledge this as a terrific year by a young, emerging player.
RE 15-16: 41GP, 8-12-20 .487
ACTUAL 15-16: 72GP, 19-32-51 .708
That is a good season. Very nice. He performed well from the first night, where he, Hall and Nuge carved the Habs a new one. One of the highlights of the season.
Too bad he couldn't keep it going. Leon had a strong run before the AS break (40, 12-25-37) but the post AS break (32, 7-7-14) was not good at all.
What the hell happened? Part of it comes from his shooting percentage correcting. From October through the end of November, he scored eight goals in 31 shots. That's over 25 percent shooting, no way he could have kept it up.
What else? I think he faded, lost a step even. Leon came into the year with all kinds of momentum, looked like a different player. He ended it looking weathered. Injury, losing his stride, exhaustion, all three? Don't know.
Surely there is something more. McDavid's injury would have allowed opponents to key on his line, and of course LD was moved to the middle and Nuge moved off his line. Hall—Nuge—Leon was very successful.
I don't see a lot of passion in his game. You're an idiot. Elliotte Friedman: Apparently, Draisaitl had somewhat of an epic meeting when told he was going to AHL Bakersfield at the start of the season. He let the Oilers know how upset he was, but wouldn't specifically go into what was said. "I was really disappointed…being the last guy cut was hard for me to take," he admitted. "It took about a week to get over that and it showed in the way I played. Then you think, 'This might be good for me, working on weaknesses.' My mind changed." Source
Who did he perform well with? All the skill guys. Nuge (4.2), Purcell (2.71), Hall (2.42), all but Eberle and they played together when 14 came back iirc. Played well with Maroon and Kassian, not so with Nail but they only played 79 minutes together. This is 5×5. Eberle was the drummer from the Dave Clark Five when he got back, wooden and predictable.
Who

was

the drummer for the Dave Clark Five? Dave Clark.
What were some of the cool fancies for Leon? War on ice has a bunch of excellent stuff. For instance, his penalty differential (+10) left him behind only Eberle (13) and Lander (12!). The big surprise there, Hall was only +1. Daft refs. (5×5 numbers)
What else? His high-danger scoring chance per 60 was 13.36. Now, that was No. 3 among regular forwards on the Oil, No. 24 in the NHL. Oilers had three of the top 24 in the NHL—all of this is 5×5 by the way.
Who is his recent comparable? Using first two seasons and a tightened age range, the most comparables are Nathan Horton, David Pastrnak, Jakub Voracek, Brendan Gallagher and Michael Frolik. (Source)


Blocks?

18, Matt Hendricks led all forwards with 68. Hall had 50.

Could he be the one to get traded? No chance. Leon is right in the age range for McDavid's cluster (LD is over 400 days older than CMD) and Edmonton might be able to sign him to a long-term deal for (somewhat) reasonable money this summer. He is a keeper, gives Edmonton a different look on the skill lines.
Did management's opinion of him change over the year? Todd McLellan, early September (via Bob Stauffer): "I look at Leon Draisiatl, and in my opinion Nugent-Hopkins and Connor McDavid are going to be #1 and #2 centremen in our organization for a long, long time, they're that talented and that good. Not that Leon isn't… But career-wise, he might love to be on one of their wings and playing in the top six rather than maybe being that third-line centre. I think it's really unfair to peg him there, but we have to look at it from that perspective. [The defensive] responsibilities as a winger are somewhat less, his boardwork is quite good, and one of the things that impressed me the most about Leon is his ability to play on his backhand. Joe Thornton has incredible eyes and makes incredible passes on his backhand. For a young man like Leon, he did the exact same thing at our summer development camp, which is something I wasn't aware of." Source
So what does that mean? Well, things change. We have reached the end of a season where Draisaitl took over 1,000 faceoffs, played against the biggest, toughest forwards and defense in the conference from that position. I believe they liked him there, maybe more than they thought they would.
So he is a center? Yes, I believe that is going to be his position, possibly as soon as this fall. We will see how the summer goes.
He needs to be right handed. Oilers could really use a righty C no doubt, but the kind of player required for that role is quite rare these days. You should look for that player, but have the position covered no matter the shooter's handedness.
What is the most impressive thing about his year? Leon finished—despite the struggles—at 2.20 points-per-60 at 5×5. He ranked No. 20 among NHL forwards—just ahead of Jamie Benn.
Big whoop. Sam Gagner did the same thing in 2007-08. Gagner was 1.99 points-per-60 at 5×5 that year, ranking him No.78 overall. You bring up an excellent comparison though, because Leon offered the Oilers better offense (Gagner did have an excellent rookie year offensively) and a wider range of skills.
Gagner was playing with Nilsson and Cogliano! No doubt, but the two players are not close in terms of skill range. Leon, at 20, showed more range than Gagner has to this day—and I like Gagner with the puck on his stick.
What kind of player will he be? Leon is going to be a load, on offense (so very skilled, insane passes) and physically (he already wins battles and has some strength to add as he matures), plus he is a determined back checker. Absolutely thrilled with his growth as a player this season.
Many people are talking like he was disappointing. Leon finished tired, that's no sin when you are 20 and playing your first season. The young man has so much to offer, and is 20. I consider him to be a lock for Edmonton's future, absolute inner circle Oiler for the next decade. If you saw this team at center over the last decade, it is a mystery to me how you can come to a different conclusion.
Why this song? I like the idea of Trust Yourself for Leon, the big man can wheel and pass like Weight, but sometimes gets a little shy on his creativity. There is also some raunch to the guitars and keyboards on this version (from Letterman) and that fits our man Leon.
Bull in a china shop? Get the hell out of the way.