I will tell you that loss never gets easy, but it does become familiar as time goes on. There is a strange emotion that recalls all the moments of loss that came before. The feeling usually arrives when new routine begins again. As weird as it sounds, there is some comfort there, a rush of memories great and small. Damndest thing. (Hasn't Hit Me Yet)
JORDAN EBERLE 10-11
5×5 points per 60: 1.82 (4th among regular forwards)
5×4 points per 60: 3.94 (3rd among regular forwards)
Qual Comp: 3rd toughest among regular forwards
Qual Team: 8th best teammates among regular forwards
Corsi Rel: 8.7 (2nd best among regular forwards)
Zone Start: 49.3% (8th most difficult among regular forwards)
Zone Finish: 51.6% (6th best among regular forwards)
Shots on goal/percentage: 158/11.4% (5th among F's>100 shots)
Boxcars: 68gp, 18-25-43 (led the team in points as a rookie)
JORDAN EBERLE 11-12
5×5 points per 60: 3.08 (1st among regular F's, 2nd in NHL)
5×4 points per 60: 4.77 (4th among regular F's)
Qual Comp: 5th toughest among regular forwards
Qual Team: 3rd best teammates among regular forwards
Corsi Rel: 5.7 (5th best among regular forwards)
Zone Start: 60.7 % (2nd easiest among regular forwards)
Zone Finish: 54.5% (best among regular forwards)
Shots on goal/percentage: 180/18.9% (1st among F's>100 shots)
Boxcars: 78, 34-42-76 (led the team in points for 2nd year in a row)
JORDAN EBERLE 12-13
5×5 points per 60: 2.31 (2nd among regular forwards)
5×4 points per 60: 3.46 (7th among regular forwards)
Qual Comp: 3rd toughest among regular forwards (top line opp)
Qual Team: best teammates among regular forwards
Corsi Rel: 21.9 (best among regular forwards)
Zone Start: 51.1% (5th most difficult among regular forwards)
Zone Finish: 50.0% (8th best among regular forwards)
Shots on goal/percentage: 133/12.03% (3rd among F's>70 shots)
Boxcars: 48, 16-21-37
JORDAN EBERLE 13-14
5×5 points per 60: 2.03 (2nd among regular forwards)
5×4 points per 60: 4.72 (3rd among regular forwards)
Qual Comp: 5th toughest among regular forwards (2nd line opp)
Qual Team: 3rd best teammates among regular forwards (top linemates)
Corsi Rel: 7.3 (2nd best among regular forwards)
Corsi for % 5×5: 46.3

Corsi for % Rel 5×5: +2.9

Zone Start: 55.8% (4th easiest among regular forwards)
Zone Finish: 47.2% (5th best among regular forwards)
Shots on goal/percentage: 200/14% (1st among F's>100 shots)
Boxcars: 80, 28-37-65
JORDAN EBERLE 14-15
5×5 points per 60: 1.97 (4th among regular forwards)
5×4 points per 60: 5.85 (1st among regular forwards)
Corsi for % 5×5: 50.4
Qual Comp: toughest among regular forwards (1st line opp)
Qual Team: 2nd best teammates among regular forwards (top linemates)
Corsi Rel: 7.7
Zone Start: 63.7
Zone Finish: 56.2
Shots on goal/percentage: 183/13.1%
Boxcars: 81, 24-39-63
JORDAN EBERLE 15-16
5×5 points per 60: 1.85 (5th among regular forwards)
5×4 points per 60: 4.17 (4th among regular forwards)
Corsi for % 5×5: 50.9
Qual Comp: 3rd toughest among regular forwards (1st line opp)
Qual Team: 3rd best teammates among regular forwards (top linemates)
Corsi Rel: 7.4
Shots on goal/percentage: 173/14.5
Boxcars: 69, 25-22-47
WAR ON ICE PLAYER CHART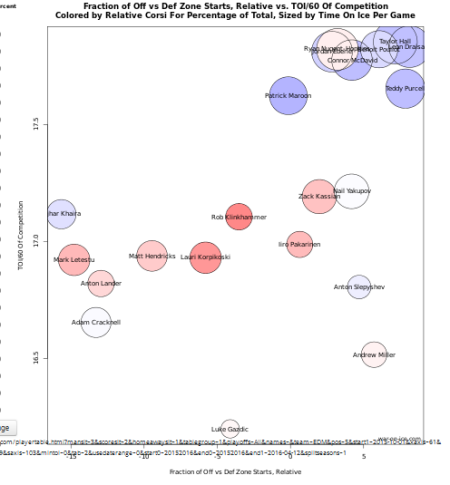 RE 15-16 PREDICTION: 80GP, 28-38-66 .825
RE 15-16 ACTUAL: 69GP, 25-22-47 .681
Sounds like the end of something. I think so, yes. Peter Chiarelli will need to give in order to get and a winger is easier to replace than a center.
Why did it get this way? For some reason, the Oilers' brass decided about 2010 to collect draft picks, sign over-the-hill free agents and stay in a holding pattern. When the time came to add real free agents, they had to overpay and those vets could not push the results. And if anyone was any damned good, they would trade them for picks. Penner to Petry, cradle to grave.
And? Well, I think they had something with Renney, but Steve Tambellini decided to go fishing with Ralph and his big brain. After that, it was a mess and that's for sure.
What kind of season did Eberle have? The usual, fine goal-scorer—he is No. 12 all-time on the Oilers list after six seasons—and he settled in after a slow start.
How slow? He was 12gp, 3-0-3 in November and then 57GP, 22-22-44 the rest of the way. He is a consistent scorer, those guys have value.
Aside from the goals, what else does he bring? Shoots right.
Good grief. Seriously, on this team that is an advantage. Oilers need more righties, not fewer.
Anything else? Sublime passer, they all are and it is an underrated skill. Once they get the puck heading north, these cats can move the puck. Take a pass, make a pass, grow a brain. That should be the first lesson of hockey.
Did he post any career highs, or did the injury derail everything? His 14.5 shooting percentage was his highest since 2011-12, but only slightly above career average. He can shoot the damned biscuit.
Blocks? 23, lowest total in years.
What about the injury? It was a nothing play, I was at the game. A push, happens all the time. What a stupid year.
Anything else unusual about the stats? Well, he posted a good 5×4/60 but his power-play assists were way down. Eberle is a finisher, but like Hall, he can send those lovely passes too. I do not have an answer for why his assist total went from 15 to 4.
He spent hours dusting off the damned puck! He did seem to have the yips late in the year, that's for sure. I doubt it is going to be his signature move, things happen. Brain cramp or some such.
How many good years does he have left? Oh hell, a ton. The man is 25.
And yet you want to trade him. Sad, really. Eberle is the guy who was supposed to stay for the duration, I pegged him as the Johnny Bucyk of this Oilers teams miles ago. May not work that way, depending on how things roll this summer.
Didn't Bucyk start in Detroit, then Boston? Sure, but Bruce is the only guy who knows that, and he won't tell on me.

What's the best thing you could tell a stranger about Eberle

. He's a consistent offensive player and can be productive on a line that doesn't house his team's best player (proved that in 2014-15).
Why doesn't he get more attention? Oilers lose a lot, that craters all values, it just does. Plus, he's played a lot of his career with No. 1 overall picks, those guys get a lot of attention.
Who did he play well with last season? Well, let me tell you. He was over 50 percent with pretty much everyone, and here are his 5×5/60s: McDavid 2.64; Nuge 2.23; Maroon 2.07; Pouliot 2.04. Silly good. Only played with Hall-Leon when he arrived back (iirc) and they were not good together, but would be if all the pistons are firing.
Where could he thrive? Anywhere they have a center who can dish. Honestly, he would probably fit most of the eastern seaboard really well, Ottawa, Montreal, Florida. Jordan Eberle is a very good scorer.
Who are his comparables. Six years in, the list of comps includes Ales Hemsky, Mike Richards, Bobby Ryan, Matt Duchene. They are all good hockey players.
How many more years on this contract for Eberle? Three.
He is the most obvious $6 million to trade, isn't he? Yes, although it creates a big hole the moment he is dealt.
So why do it? I expect Edmonton would like to win the lottery and use that pick, or maybe No. 2 overall. I don't think the preference is to trade any of the $6 million men.
Any other preferred trades? Maybe Pouliot, they could deal him and run Hall—Maroon—Korpikoski—Hendricks but that is awful.
Why Eberle? Well, it is easier to replace Eberle and sign Eriksson or Okposo or Brouwer or Vanek. You can trade Hall if you know Lucic is coming (I would not do that, bet Chiarelli would love to bring Lucic here), and you could trade Nuge if you knew David Krejci was on the way. I think a lot of what we are doing is pissing in the wind, because PC will know who he has a good chance to land and we do not.
So, then why talk about Eberle being traded? I am playing the odds, which is reasonable. These are reasonable expectations after all.
So, in your estimation, Eberle is the most likely to go? Yes. Chiarelli would know that Hall pushes the river and that along with McDavid can give Edmonton superior forwards for over half the game. That is either two scoring lines or one stunning, hopped up line. Hall and Leon looked good much of last season, but Hall and Leon and Nuge looked fantastic. So, if that is the case, then it is a matter of finding wingers for McDavid. Maroon is one, with Pouliot as a solid LW option. Getting the RW, should they choose to deal Eberle, is the lesser of all other evils.
Is there any way to keep all of the $6M men? Sure. Sign Jason Demers, keep Mark Fayne and put Brandon Davidson on the third pairing with Darnell Nurse. Klefbom—Demers, Sekera—Fayne, Nurse—Davidson. You still need a hammer from the point, though, and I stand alone on this blog in defense of Mark Fayne so we all know where that conversation will go in the comments section. I imagine that is why we heard the name Dennis Wideman last week. Chiarelli is exploring all avenues. This thing isn't over yet.
It is the one year anniversary of the McDavid lottery. It changed everything. Since the McDavid lottery win, Edmonton has a new GM, new coach and have added up the middle with Cam Talbot, Andrej Sekera, Eric Gryba, Griffin Reinhart, Mark Letestu and of course McDavid.
Where were you? Right here, in this chair. It was Saturday late afternoon, I had a glass of wine in my hand. I had just written a mock draft but had to throw a post up and re-do the mock. The comments in both threads are a blast.
Why this song? The great thing about Blue Rodeo is that most of their songs are about endings, so this could have been any number of selections. I chose this one because it has that feel of inevitability, the die is cast. And as much as I love Jim Cuddy's voice, there is a resignation in Greg Keelor's vocal that is a perfect fit here. There are some great lines, but the song itself has that melancholy feel that I believe will surround Eberle (should he be dealt this summer). It should have worked out, he is a helluva player. You say that you're leaving, that comes as no surprise.