The Edmonton Oilers have traded away a lot of their last two drafts and the prospect cupboard is decidedly bare.
TRADED PICKS
2014
No. 33 (Ivan Barbashev) to the St. Louis Blues in the David Perron trade.
No. 63 (Dominec Turgeon) to the Los Angeles Kings in the Ben Scrivens trade.
No. 93 (Nick Magyar) to the Toronto Maple Leafs in the Mike Brown trade.
No. 123 (Matthew Berkovitz) to the Anaheim Ducks in the Viktor Fasth trade.
No. 137 (Tyler Bird) to the Columbus Blue Jackets in the Nikita Nikitin trade.
2015
No. 16 (Mathew Barzal) to the NY Islanders in the Griffin Reinhart trade.
No. 33 (Mitchell Stephens) to the NY Islanders in the Griffin Reinhart trade.
No. 57 (Jonas Siegenthaler) to the NY Rangers in the Cam Talbot trade.
No. 64 (Dennis Yan) to the Anaheim Ducks in the Viktor Fasth trade.
No. 79 (Sergey Zborovskiy) to the NY Rangers in the Cam Talbot trade.
No. 86 (Mike Robinson) to the San Jose Sharks as compensation for Todd McLellan.
No. 94 (Adam Musil) to the St. Louis Blues in the Magnus Paajarvi trade.
No. 107 (Christian Wolanin) traded to the Ottawa Senators in the Eric Gryba trade.
No. 184 (Adam Huska) to the NY Rangers in the Cam Talbot trade.
This list becomes a bit misleading, as Edmonton did acquire some picks who can help in the future. From the listed trades above, Edmonton procured picks and players (the No. 15 pick that became Mathew Barzal was part of the David Perron and Griffin Reinhart deal). I would list Zack Kassian, Zack Nagelvoort, Griffin Reinhart, Cam Talbot, Caleb Jones, Ziyat Paigin and other picks as part of the return from the names above.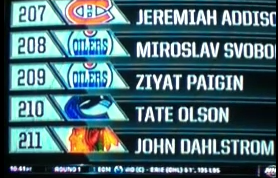 One of the avenues available to Peter Chiarelli this summer is dealing more draft picks for immediate help. I don't think that is a good idea, unless good young players are available who are still in their entry-level deals (and under control). The top 20 prospects are updated on this blog at Christmas and on the day after draft weekend, but I have decided to make an exception to show just how shallow the talent pool really is for Edmonton.
Players over 50 games graduate (a long list, including Leon Draisaitl, Darnell Nurse, Brandon Davidson, others).
Players who have been traded no longer appear (Anders Nilsson).
List is based on potential and gives zero weight to being close to NHL-ready.
Previous ranking in brackets (previous ranking is from Winter 2015)
This list likes offense.
The Oilers system right now has about five tiers (imo):
Connor McDavid
Wild card in Ziyat Paigin
The contenders for NHL complementary roles (Khaira-Slepyshev-Reinhart-Brossoit)
A promising group with some flaws (Bear-Jones, etc) who will try (or are trying) to become contenders for NHL complementary roles
The rest
Folks, it is not nearly enough. Not close. We can't expect the 2010 list (Hall, Eberle, Paajarvi, Dubnyk, Petry, Davidson etc) but the current group is going to need a lot of help this summer at the draft.
LOWETIDE TOP 20 OILERS PROSPECTS, APRIL 2016
(1) C Connor McDavid, Edmonton Oilers (45, 16-32-48). Fantastic talent gave Oilers fans a glimpse of what is to come, but the gales of November came early. Generational talent.
(15) D Ziyat Paigin, Kazan Ak Bars and Sochi HC (45, 9-19-28). Paigin's progress this season has been incredible, to the point where he is a lock to be near the top of the prospect list even after the draft. Big (6.06, 210) and effective. NHL equivalency is 41 points Big man, big talent?
(12) C Jujhar Khaira, Edmonton Oilers (15, 0-2-2) and Bakersfield Condors (49, 10-17-27). A very encouraging season from the big forward (he is 6.03, 214), very impressive in both cities. Khaira has good speed, meaning he is somewhat unique on this list (among big forwards). Rugged C with some skill.

(4) W Anton Slepyshev, Edmonton Oilers (11, 0-1-1) and Bakersfield Condors (49, 13-8-21). He had a nice run in training camp and early in the regular season, but struggled and then was injured in his AHL time. Recovered later in the minor league season (finished up 18, 6-5-11) should be able to establish himself as a scorer at this level next year. Skill winger with size, not a lock to become an NHL top 6F.
(6) G Laurent Brossoit, Edmonton Oilers (5, 3.61 .873) and Bakersfield Condors (31, 2.66 .920). Had another strong AHL season and his first NHL game was outstanding. Faded afterward in his audition, may require another AHL season. They like him. Emerging goaltender.
(5) D Griffin Reinhart, Edmonton Oilers (29, 0-1-1) and Bakersfield Condors (30, 2-8-10). He continued his development in both pro leagues, and may do the same thing next season. Big man who has defensive ability, needs to mature. Developing defenseman.
(9) RD Ethan Bear, Seattle Thunderbirds (69, 19-46-65). Delivered a terrific season offensively, reports have him improving defensively. Long road to go, but he does seem to have some imagination with the puck (and a great shot). Promising defensive prospect.

(11) C Bogdan Yakimov, Bakersfield Condors (36, 5-10-15) and Nizhnekamsk Neftekhimik (11, 3-1-4). A giant (6.05, 232) center, he would seem to be a useful player when he develops, but the offense didn't spike in year two and speed is a concern (both items separating him from the other Russian prospect). Big  C should fit new Oilers template well. 
(13) D Caleb Jones, Portland Winterhawks (72, 10-45-55). Speed and size are his calling card, and if this offense is real Jones could be an absolute steal. Better skater than Bear, less creativity with the puck and less defensive acumen. Still a long road for both but this was an encouraging season on many levels. Appears to have a complete skill set.
(23) LD Jordan Oesterle, Edmonton Oilers (17, 0-5-5) and Bakersfield Condors (44, 4-21-25). He impressed the hell out of me with his speed in year one, and with his speed and progress in year two. I think he might make it. Wheels 
(29) L Josh Winquist, Bakersfield Condors (35, 8-22-30). He isn't really an Oilers prospect, but the truth is his numbers shine brighter than a lot of the drafted kids who play in Bakersfield. Sign the man.

(18) D Dillon Simpson, Bakersfield Condors (57, 4-16-20) Ended the season with a decent offensive run—18, 2-6-8. Simpson is a quiet prospect, you have to pay close attention to get much information. He is progressing as a defenseman. Very difficult player to assess, as was Brandon Davidson. Slow progress for steady defenseman.

(14) C Kyle Platzer, Bakersfield Condors (48, 6-11-17). I think it is difficult to peg him after this season. He has shown well in many ways, but the boxcars are shy and there isn't any buzz at all about him. For a franchise desperate for forwards with motor skills, you would think he would be getting a push. Two-way center under the radar.

(16) D William Lagesson, UMass-Amherst (27, 2-5-7). Mobile defender impressed Oilers fans at the world juniors, and looks like his defensive skills are the greatest part of his game. Promising defensive defenseman.
(17) D Joey Laleggia, Bakersfield Condors (63, 8-19-27). Posted the best offensive numbers among Condors rookies this season. Laleggia can move the puck and has creativity, the defensive game is going to be his issue. He can scoot. Offensive defenseman with rover rising.
(19) R Greg Chase, Bakersfield Condors (19, 1-6-7) and Norfolk Admirals (43, 18-19-37). He saw more ECHL than AHL, we will see if it was to his benefit in the next 12 months. He has a unique skill set, should get a full shot in 2016-17. Agitating winger with offense.
(20) RD John Marino, Tri-City Storm (56, 5-25-30) A smooth skater with a range of skills, we are miles away from knowing him as a player. All of the indicators look good, plenty of good arrows. Puck-moving defenseman with wheels.
(25) R Tyler Pitlick. I will be the last to give up on him, this young man has a terrible time staying healthy long enough to be counted on. Still, he has talent. Rugged checker.

(40) C Marco Roy, Bakersfield Condors (42, 8-12-20). A strong half-season of two-way play may have revived his status as a prospect. I don't think he did enough to get an NHL contract, could be surprised. Two-way C.

(21) D David Musil, Bakersfield Condors (67, 3-11-14). Big man is an impressive shutdown defender at the AHL level. Stay-at-home defender.

All is not lost. Edmonton has some incredible talent at the NHL level and the group under 26 rivals any team in the game:
Age 18 (2015-16 age) Connor McDavid
Age 19 (2015-16 age) Leon Draisaitl
Age 20 (2015-16 age) Darnell Nurse
Age 21 (2015-16 age) Nail Yakupov, Griffin Reinhart, Jujhar Khaira, Anton Slepyshev
Age 22 (2015-16 age) Ryan Nugent-Hopkins, Oscar Klefbom, Laurent Brossoit, Adam Clendening
Age 23 (2015-16 age) Taylor Hall, Jordan Oesterle
Age 24 (2015-16 age) Brandon Davidson, Zack Kassian, Iiro Pakarinen, Anton Lander
Age 25 (2015-16 age) Jordan Eberle
This is all good. However, as you can see no one is with Eberle, only Oesterle is with Hall and no single year has more than the Nuge-Klefbom combination. Edmonton needs a lot of the kids in the 21-25 cluster to cash and the odds do not favor that result. The McDavid draft year looks good despite all the traded picks, and the year behind him needs to be grand. I don't think it wise to deal a bunch of picks this year—especially for players making real money with only a few years left to free agency.
Whenever we discuss these prospects, the conversation inevitably heads towards scouting and drafting. Definitely a part of it, but I think development is a major issue and needs to be examined. The AHL Prospects site offers us some encouragement—these prospects played more this season and the veterans played less. Let me give you a couple of examples:
Ryan Hamilton's TOI estimate fell year over year from 21:10 to 17:47
Josh Winquist's TOI estimate rose from 12:29 to 16:53
Brad Hunt's TOI estimate fell year over year from 25:50 to 21:24
Jordan Oesterle's TOI estimate rose from 17:47 to 21:15
Encouraging signs, even if they are not the exact numbers the trend appears to be in a good direction. Peter Chiarelli needs to make sure these kids are playing—if they fail, that's one thing, but not giving prospects playing time is as dumb as dirt.
LOWDOWN WITH LOWETIDE
A busy, fun show today with a variety of guests. Fluid show for lots of reasons but tune in 10 on TSN 1260 and join the fun! Scheduled to appear:
Former NHL player Darcy Tucker. NHL playoffs and what is he doing now?
Jonathan Willis from the Cult of Hockey and Oilers Nation. Defense and how to get it.
Marcel Eden from The Summit Sports Collectibles Show. Always a big event, this year's special guests will be of great interest to Oilers fans.
Guy Flaming, Pipeline Show. WHL and U18s update.
Brad Gagnon, Bleacher Report. NFL draft and what are my Eagles going to do?
10-1260 text, @Lowetide on twitter.