Peter Chiarelli recovered from the Jeff Petry trade by signing Andrej Sekera in free agency. Due to the ongoing tendency to shoot themselves in the foot, Oilers free-agent signings often get marginalized by the fan base. Andrej Sekera is not a player one wisely disregards. He is bona fide. (Try)
ANDREJ SEKERA 14-15
5×5 points per 60: 0.65
5×4 points per 60: 2.73
Qual Comp: 3rd toughest faced among regular D (2nd pairing)
Qual Team: 5th best available teammates among regular D (third pairing)
Corsi for 5×5 %: 54.5
Corsi for 5×5 % REL: 7.7
Shots on goal/percentage: 100/3.0%
Boxcars: 73, 3-20-23
ANDREJ SEKERA 15-16
5×5 points per 60: 0.40 (No. 4 among regular defenders)
5×4 points per 60: 4.24 (No. 1 among regular defenders)
Corsi for 5×5 %: 48.8 (No. 5 among regular defenders)
Qual Comp: 2nd toughest faced among regular D (top pairing)
Qual Team: 2nd best available teammates among regular D (top pairing)
Corsi for 5×5 % REL: -1.9
Shots on goal/percentage: 155/3.9%
Boxcars: 81, 6-24-30
WAR ON ICE PLAYER CHARTS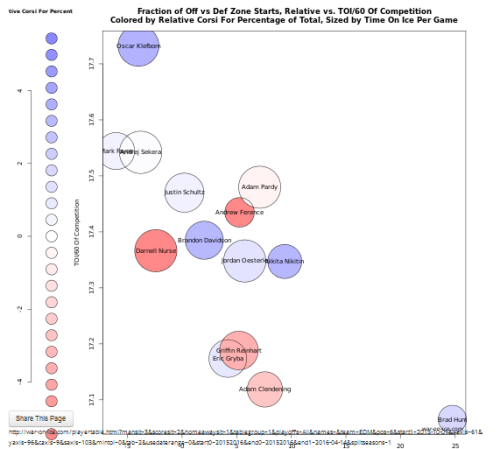 This is our first look at the sledgehammer since the end of the season, so a few overall remarks are in order. First, if you look at this table, and know that top left is the severe zone, there should be no arguments over who gets 'Diamond Mine' this spring. Second, very few bubbles are crimson and none are red. Finally, Sekera—Fayne. Music!
RE 15-16: 70GP, 5-24-29 .414
ACTUAL 15-16: 81GP, 6-24-30 .370
Did he deliver as expected? Yes. A fine free-agent signing, one of the best of the last 10 years in my opinion. Quality veteran who can move the puck. More please!
Who did he play well with? Mark Fayne was an excellent partner, the two men played tough opposition and sawed them off at 50 percent. He was good with Klefbom, but more effective LH side, which is a trend.
And not well with Nurse? Too much to ask of young Nurse, but Sekera was 50 percent without on a struggling team—and I do think that is reflective of a solid year from the veteran.
What exactly is he? A fine veteran defenseman who is effective moving the puck, by pass or carry. He's a good defender without the puck, solid positioning and mobile. He's very good. Has some issues with bigger forwards, but welcome to the club.
Would he benefit from playing with a faster partner who is a better passer? Sure. You could say that about every defender in the NHL. Put it this way: In Edmonton's projected starting six for opening night this fall, there are three blue I am not worried about at all. Sekera is one of them.
He isn't big enough. Well, that is a crazy way to look at defense.
Big! Fight! Hmmm. I'll take 'two things that don't contribute to winning, Alex!' Look, I have always said size and toughness are fine, but you have to be able to play the game. Sekera does battle and he does win pucks, but at at 6.0, 198 he is going to lose some, too. That doesn't change my opinion of him.
Its because you like to lose! Sure. Fun! Here's the number you should keep in mind with Sekera: He is 29 years old and has plenty of track left to go. He can pass the puck and help with possession. The Oilers need more Sekera's and will get them.
Did he set any career highs? His 81 GP are a career high, his 12 power-play assists are also a career best from this player. New personal best in shots on goal and shot attempts, massive spike in blocks (156). He had a fine season by his own standards.
Where should he play on a playoff depth chart? If you look at the graph above, I think it is reasonable to suggest Oscar Klefbom will eventually be No. 1 LHD on this team—I would put him there now. Sekera is No. 2 LHD, moving up when required and also No. 2PP defender. Brandon Davidson would be my choice for No. 3 LHD on the club this fall.
Why in hell does Sekera get 'Try'? We talk about the song at the end.
Rubbish call. Should have gone to Nuge. You suck!  Is there something on your mind, or are we done?
Sekera hits a lot of shin pads! He sucks too! Shinpad Assassin! He posted 30 points, second highest total of his career. Sekera is not the problem. Your rage should be directed at the previous free-agent signings like Andrew Ference and Nikita Nikitin.
What could make Sekera better? Well, the Oilers have a massive shortage of defensemen and more good ones would help.
No, no. I mean, would it help if he got fewer power-play minutes? Interesting question. Let's look at his entire deployment from last season. He spent 21:50 a night on the ice, and that was broken down like this: EV 17:53; PP 2:19; PK 1:36. If we compare that to his total work a year ago, he was deployed last season thusly: Los Angeles: Total: 19:12; EV 16:15; PP: 2:08; PK 0:48. Carolina: Total: 22:46; EV 19:02; PP 1:45; PK 1:57.
What does it all mean? Well, he played much less in Los Angeles, a team that enjoyed better depth at the time, and in Carolina he played more than in Edmonton. Not terribly instructive beyond the fact it proves Todd McLellan had fewer options than the Kings.
Is there another way to approach the power-play issue? Well, Sekera was No. 28 among NHL defensemen so there are better options around the league. That said, he was the best option available.
What about Justin Schultz? He went 3.65 on the power play (5×5) and that put him No. 41 league-wide for the season. So we can argue there are better options available, but it is not at all clear that Justin Schultz is one of those better options.
Who is he similar to? Hockey-reference says he is most similar for his career to Braydon Coburn, but for me Jeff Petry is a better fit in terms of style and feel. I am sure others have opinions on this comparable situation.
Will they trade him? No. I think the Oilers will acquire two RH defenders and will probably give up a forward—and maybe a defenseman too in that deal. However, it won't be a veteran like Sekera, the other team will want a young blue under control.
Did you hear about the Subban deal being discussed today? No. I have been working.
Sweet deal. Subban to Edmonton for Taylor Hall. I think there are two points here. I do believe there is something here in terms of a Subban deal, we talked about it on this very blog on the weekend. This Hall-for-Subban idea is a non-starter in my mind unless they also plan on dealing Max Pacioretty for a center. Hall has enough value to move that trade forward, but why invest in two impact LWs with such a difficult situation at center—and on defense, once Subban is traded. Either way, interesting stuff.
Who would play with Subban? I would run him with Klefbom, but Sekera would also be a solid option. Hell, Brandon Davidson would be a great option with Subban.
Who ran with Chris Pronger? Jason Smith, Jaro Spacek, he played (well) with pretty much anyone but those two especially (this is my memory).
Could this happen? Sure. It takes only one team to decide, and remember Edmonton has a lot of available talent to make this kind of move. I think we will be hearing many rumors of this type over the next while. If St. Louis loses tonight, expect multiple Pietrangelo articles tomorrow. Nature of the beast, until something arrives we can actually talk about in real terms.
Why this song? A big hit for the band, and I do think getting Sekera was a big hit for Edmonton's build. It is also a song about attraction, I think the player came here to be part of something special and the GM (correctly) identified the right place to Try in free agency.