The great thing about the Oilers is there is danger at ever turn. You simply cannot be absolutely certain of a good outcome, because there is no track record of quality decisions followed immediately by quality decisions. Please understand, I am onside with Peter Chiarelli as Oilers GM, but his first twelve months included good (Talbot, Sekera) and bad (Korpikoski) and questionable (Reinhart). So, when we discuss the summer and possible blue line additions, it is all well and good to talk about the great options available, but we also have to be cognizant of less inspired outcomes.
With Chicago out of the playoffs, you are likely to get overwhelmed today and tomorrow (I am writing this at 10:30 Monday night) with trade ideas involving the Oilers and Chicago. I can think of great trades (Shaw) and poor ones (Seabrook's new deal will kill careers) and you can decide which are more likely. Let's look at the Chicago defense.
He is locked and loaded in Chicago for the next several years unless Seabrook decides it has been too long at the fair. The War on Ice player chart above has lots of blue bubbles, but Seabrook doesn't have a lot of them. If you look at his WOWY comps, Seabrook comes out on the bad end with basically every partner-they all dive with him. Incredible. Only Rob Scuderi comes out worse.
Good Chicago targets: Andrew Shaw, Tuesday Thursday, Erik Gustafsson (don't even), Ville Pokka, Mark McNeill
OILERS CURRENT ROSTER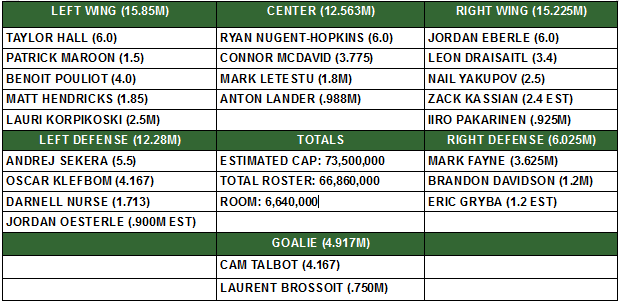 That is what I have remaining from today's posts, apologies. I am having major issues with WordPress and hope to have a fix in the next few days. To be honest, I have been thinking about researching some of the alternatives to WordPress for some time now. My website is in desperate need of a makeover, and there are a few changes I want to make to the design. I have even been reading some of the useful resources on websites like makeawebsitehub for some web design inspiration. If you have any web design tips that you would like to share with me for my new look website then I would love to hear all about them. For now though, if you see a twirling circle instead of the feature photo, that is the issue and WordPress is working on a fix. Hang in there, please.