If you cast around the internet—Twitter, Toronto—the quiet desperation of being a giant underdog is coming into view. When you are the Edmonton Oilers, any daylight—a sliver of air—is enough to ensure a lottery victory. There is greatness, there is courage and then there is manifest destiny. Ladies and gentlemen, your Edmonton Oilers: justifed, and inevitable. Out of the way, fools.
Ethan Bear gives the Thunderbirds a 2-1 lead a minute into the 3rd. #KELvsSEA pic.twitter.com/ToXkvzIH6G

— The WHL (@TheWHL) April 27, 2016
Miles and miles and miles to go, no one should be going crazy yet. That said, he had a very nice regular season and is enjoying a strong WHL playoff run. I hope Ethan Bear gets a contract this spring. I ranked him No. 7 on the spring list, he will probably be top 10 even after the draft. Miles to go.
OILERS CURRENT ROSTER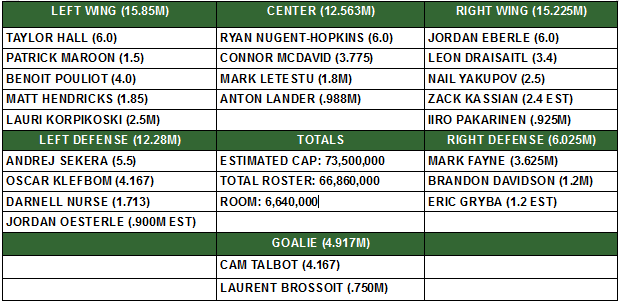 I included Nail Yakupov today, but one suspects he will not be back. I think there are four players listed who are likely to be gone this summer: Lauri Korpikoski, Anton Lander, Nail Yakupov, Mark Fayne. It is also likely Laurent Brossoit and Jordan Oesterle will start the season in Bakersfield.
The fixes as I see them: Jhonas Enroth, Jason Demers, Tyson Barrie, Thomas Vanek—will cost some of the establishment but not as much as many folks are thinking. Sure, Peter Chiarelli could blow this thing to smithereens (underused and effective word) but it is not necessary to do so at this time.
Player announcement tomorrow… Might as well get a head start for next year! 📝 #Condorstown 🔷🔶

— Bakersfield Condors (@Condors) April 26, 2016
If this is signing poor Josh Winquist to ANOTHER AHL contract I will lose it. Might be Marco Roy, Josh Currie, Zach Boychuk. Maybe someone like Tyler Vesel or Aidan Muir. Anyway, it will be cool to have something to discuss. My preference? Tyson Baillie, Alex Forsberg, Luke Philp.
BRINGING THE CRAZY
We talked about it yesterday, the crazy trade ideas are going to be coming strong now—and from some legit outlets. I always like to go back to base on things, to ask some fairly basic questions.
Does this sound too good to be true?
Is this as dumb as it sounds?
Does this person have a credible past in terms of rumor?
Is it possible—possible—there could be something in the air.
My answers in the McDonagh for Hall example are no, God yes, haven't read the story but sounds like he was speculating, no. In the Subban case (Hall and Klefbom, I believe), my answers are no, no, maybe, and yes. This week will be especially bad (based on Monday and Tuesday), so hold on to your hat.
Attention Canada, as well as CBJ, ARI, BUF, COL, NJD, CAR, BOS, check TSN.ca tomorrow for TSN Top 15 rankings, the Draft Lottery Edition.

— Bob McKenzie (@TSNBobMcKenzie) April 27, 2016
Yes! Woot! as the kids all say (I have no idea what the kids say). Fun, fun, fun till daddy takes the lottery away (fun fun fun till daddy takes the lottery away). McKenzie's list is the Bible of rankings, to the point where (imo) all scouts should have to give written reason (on foolscap) why they have a player higher or lower than The McKenzie (flourish here). For fun, here is my Top 15:
C Auston Matthews, Zurich Lions (Swiss-A): Complete offensive player. I have heard scouts say he is equal in talent with Jack Eichel.
W Patrik Laine, Tappara (Sm-Liiga): Power W, pushing for No. 1 spot and has reached it on at least one scouting list.
R Jesse Puljujarvi, Karpat (Sm-Liiga): Played very well in U18s and displays a nice range of skills. Perhaps shy of the top two offensively, he is a fast man with size and skill.
C Pierre-Luc Dubois, Cape Breton Screaming Eagles (QMJHL): Rugged, quality PF. If you asked me to identify a Peter Chiarelli player, this is him.
L Matthew Tkachuk, London Knights (OHL): Big forward, playmaker. Seems to be fading as we get closer to draft day, the math adores him but the TOI is not available to us.
LD Mikhail Sergachev, Windsor Spitfires (OHL): Mobile defender with offensive acumen. I think he is the top D in the draft, but it could be any of six men (all listed inside the top 15 on this list).
LD Olli Juolevi, London Knights (OHL): Substantial offensive defenseman. I think Edmonton would value him highly, to the point where he might be No. 1 D on their list (I prefer Sergachev).
C Clayton Keller, USNDTP (USHL): He could be a special player. The most impressive player (for me) at the U18s. Lordy.
LD Jacob Chychrun, Sarnia Sting (OHL): Fantastic skater, complete defender. Seems to be slipping in the rankings, suspect it has to do with his being very good at everything and without having one overwhelming skill. Offensively, he is in this group and not better than this group, and that might cost him draft position (teams may feel he is being passed by others).
RD Dante Fabbro, Penticton (BCJHL): Extremely effective with the puck on his stick, tremendous player against his own age group. Very impressive U18s.
R Alex DeBrincat, Erie Otters (OHL): Small super sniper. He scored 51 goals two seasons in a row—before his draft day! Come on. That is impressive. And in the OHL? Outstanding.
RD Charlie McAvoy, Boston University (NCAA). Complete D, rising up the list. These NCAA kids (the young ones) post numbers that look pedestrian (37gp, 3-22-25) but are actually fantastic (Noah Hanifin went 37gp, 5-18-23 and the two men are about the same age in terms of their draft year). I don't think McAvoy has the range of Hanifin, but he is a bona fide RH puck mover.
LD Jake Bean, Calgary Hitmen (WHL):Intelligent D, recently injured. I will be fascinated to see where he ranks this evening. Red Line has him top 10, others have him lower than my ranking. For me, there are two things: Red Line loves him, and he does seem to have a wide range of skills—including enough offense to compete with any defender at the top of this year's list. I have him ranked as the No. 6 defender on my list—and he might be the first one off the board. It is a crazy year for defensemen who all look the same based on math.
R Alexander Nylander, Mississauga (OHL): Brilliant scorer, fast hands, great skater. I have him much lower than McKenzie's list will place him, and much lower than he will go. Why? I like the other prospects more, and the players above him have more dimension to their game—or have shown themselves to be superior scorers.
L Tyson Jost, Penticton Vees (BCJHL). Outstanding at U18s is going to have him spiking on rankings across the board. There are three very good BCJHL kids this year, I have two of them in the top 15 overall. This young forward is outstanding.
LOWDOWN WITH LOWETIDE
It shall be a busy day, it shall start at 10 this morning. TSN1260. It shall be fluid, too, you never know which way the wind blows.
Jonathan Willis, Cult of Hockey. The draft lottery, what to do with the pick, and worry at least a little about Leon and how the Oilers handle him.
Jeff Krushell, Krush Performance. Off-season training for hockey players (throw the damned ball around once in awhile!) and MLB starting to get interesting.
Scott Cullen, TSN. A Game 7 tonight and a series lid lifter too. Le hockey! Plus draft lottery and The McKenzie.
I have another guest or two lined up, they just don't know it yet. 10-1260 text, @Lowetide on twitter. See you on the radio!