The Edmonton Oilers have a significant shopping list this summer and we have spent most of the first month postseason making a wish list. My list is here. Now that we know the lottery slotting, we can begin to talk about how to pay for the incoming.
OILERS CURRENT NHL ROSTER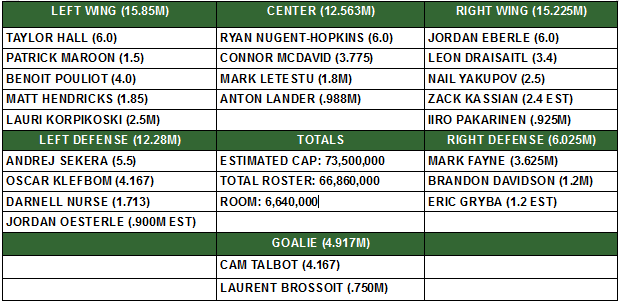 My estimates have Edmonton with over $6 million in cap room and I am assuming some signings and all of the bonus money being won by McDavid, Draisaitl and Nurse. Please let me know of any changes.
CHIARELLI SUMMER LIST
Top-pairing D to partner with Klefbom (think Travis Hamonic/Jason Demers)
Second-pairing RHD to partner with Sekera (think Tyson Barrie/Sami Vatanen)
Acquire RHC with some skill (Small group available. Tommy Wingels? Tyler Bozak?)
Offload unwanted contract (Lauri Korpikoski)
Backup goalie (Jhonas Enroth)
Find value contracts (Davidson, Maroon but also possibly Khaira, Oesterle)
Re-stock the system partly through college and CHL signings (big summer)
Build up the system (especially forwards) via draft (big summer)
I usually get about five emails and several comments about Klefbom as top pairing here, but this is how things set up for me. If it makes you feel better to put Sekera as top pair, giddyup. For me, I want the Swede with the veteran two-way guy and then Sekera can cover for the chaos.
CHIARELLI ASSET LIST
No. 4 overall selection
Jordan Eberle
2017 1st round selection
Young LHD (Darnell Nurse, Brandon Davidson, Griffin Reinhart)
Benoit Pouliot
Nail Yakupov
Cap space (Edmonton might be able to get a player like Bozak on the cheap because of it)
GOOD SCOUTING
The Oilers are going to spend a lot of their gold this summer, and coming off a year in which Connor McDavid, Griffin Reinhart, Andrej Sekera, Lauri Korpikoski, Cam Talbot, Mark Letestu, Zack Kassian and Patrick Maroon were the key NHL additions, 65 percent isn't going to get it done.
I don't think it is reasonable to expect a GM to run the table in any summer, but getting this right summer 2016 is vital for Peter Chiarelli. He pulled off some very astute deals for Boston and needs one (and to sign Jason Demers) this summer. Is it Vatanen? Increasingly, I think the RHD difference maker may be a more established player.