If we can agree this is Connor McDavid's team—and it is—then the first order of business in regard to the No. 4 overall selection is simple. Is there a player available who might be a match for 97? Or could that selection be dealt for someone who could/had chem with CMD?
Part of me wonders if it matters, McDavid appears to be the kind of player who can make an Ernest Borgnine-winger look good. Jordan Eberle had 1.32 goals per 60 minutes with McDavid, Maroon scored 1.79 goals per 60 minutes with 97. Everyone played well with McDavid, to be honest. Yakupov posted 3.51/points-per-60 with McDavid.
Then again, if the Oilers use No. 4 on a winger for CMD, and it turns out well, this could be a key moment in franchise history (musical flourish here). And of course, the club could be sending a veteran winger away this summer.
MCDAVID IN JUNIORS
When he was playing with the Erie Otters (this info via Brock Otten, who will be a guest today), CMD played with:
Alex DeBrincat the entire 2014-15 season. He scored 51 goals with McDavid, a real shooter (269 shots this past season). He is small—5.07, 160—and I don't know when he will be drafted but I have him at No. 11 overall.
Nick Betz most of the 2014-15 season. He is 6.05, 226 and 54 points in his McDavid season, 46 this year. Otten called him a hulking power winger and wrote in January his points are coming on the 2line away from Strome or DeBrincat. He is a free agent, Edmonton might want to give him a call.
Remi Elie (Dallas Stars prospect) is a grinder with skill, aggressive and good at puck retrieval. More here.
Small sniper, power winger with some skill, grinder. Edmonton will be looking at three names on draft day, two from the OHL and one from the QMJHL. If they stay at No. 4—and don't draft a defender—who will they take?
SLOW WALKING WALTER
Scott Wheeler:  Stylistically, he plays with both power and finesse despite not being an elite skater. He handles the puck well in tight and in stride and can score as well as he pass. His strength as one of the best defensive wingers in the OHL as well as his physicality make him an even more dynamic option at left wing. Defensively, he's relentless on loose pucks and does an excellent job lifting them off defenders to create turnovers. His maturity, and strength in both ends as a powerful offensive threat both lend well to transferring into an NHL-ready game sooner rather than later. Source
@Hut_trader16 Joe Pavelski for Nylander & a cross of Landeskog & Hartnell for Tkachuk.

— Craig Button (@CraigJButton) February 16, 2016
For me, Tkachuk is an unusual player. He has size and skill, and has many elements of a power forward, but has Hemsky-like assist totals at this level. He is not a shooter (191 shots ranks No. 3 on his own line!) but has ridiculous passing skills (77 assists).
Tkachuk overall: 57gp, 30-77-107
Tkachuk even strength: 57gp, 20-43-63
Tkachuk power play: 57gp, 9-33-42
Tkachuk penalty kill: 57gp, 1-1-2
He is  6.01, 195 and should be able to physically handle himself in the tough parts of the NHL game as a mature player. With the Finns and Matthews behind the lottery curtain and unavailable, Tkachuk is an interesting option. I will look at Pierre-Luc Dubois tomorrow morning. I think there is a very real chance the Oilers select Tkachuk if they think he could develop into McDavid's key winger. The defensive aspect of his scouting report is an interesting wrinkle.
TRADES!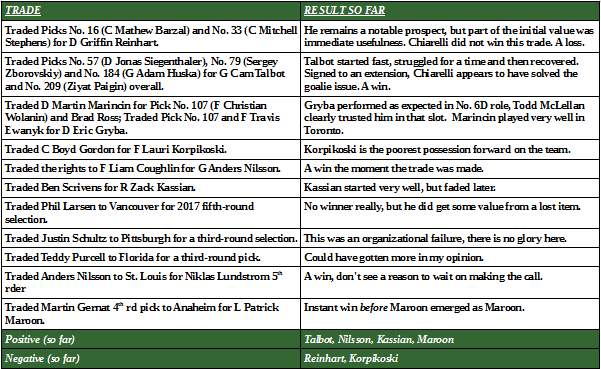 Eric Engels: The Edmonton Oilers, who will select fourth overall in Buffalo, might present an opportunity. General manager Peter Chiarelli is eager to get help on the blue line and is admittedly willing to part with core players, former first overall selections Taylor Hall and Ryan Nugent-Hopkins among them, to do it.  Source
Hall makes no sense—Max Pacioretty is a close match in terms of style and productivity—but the Nuge (sadly) would be a perfect fit for Montreal. Yesterday I wrote if Subban is in fact available, Nuge, the No. 4 overall, Darnell Nurse and Benoit Pouliot for Subban, No. 9 overall and Lars Eller might make sense. In the comments section Rosco wrote would swapping out Pouliot for Yakupov make the money work a little better? Would the risk (unlocking Yak) be too great?
Oilers trade RNH, No. 4, Darnell Nurse, Nail Yakupov ($9,363,333 in cap next year)
Habs trade Subban, No. 9, Lars Eller ($12,500,000 in cap next year)
With the understanding that Montreal would be insane to make this trade, there is substantial value going their way. Edmonton would have a massive gap at center, but the defense would have its impact player (and $3 million more on the cap). The defense (without adding anyone else):
Klefbom—Subban
Sekera—Fayne
Davidson—Gryba
Center? Oilers would need to go get one for sure, a veteran who could offer shelter to the McDavid-Draisaitl 1-2. Maybe Andrew Shaw in Chicago. It is probably too much of a roster upset to consider, but if that is the conversation Chiarelli is having with Montreal, then he should pursue it further.
I expect Juolevi to be selected by the Oilers, and despite him needing to add some weight I also wouldn't be shocked if he made the club.

— Grant McCagg (@grantmccagg) May 2, 2016
SCOUTS MEETINGS
The Oilers amateur scouts get together this morning to finalize the list. I can't tell you why, but for me this has always been the most interesting part of hockey (or any sport). You get the draft right, and things are going to be better for you and that's for sure. Projecting these kids is damned difficult and being wrong is part of the business. I think Mr. McCagg has correctly identified the Oilers target on defense, here is what I think their big board will look like once the top 10 are ranked today:
C Auston Matthews, Zurich Lions (Swiss-A).
W Patrik Laine, Tappara (Sm-Liiga).
R Jesse Puljujarvi, Karpat (Sm-Liiga).
C Pierre-Luc Dubois, Cape Breton (QMJHL).
L Matthew Tkachuk, London Knights (OHL).
C Logan Brown, Windsor Spitfires (OHL).
LD Olli Juolevi, London Knights (OHL).
LD Mikhail Sergachev, Windsor Spitfires (OHL).
LD Jacob Chychrun, Sarnia Sting (OHL).
C Michael McLeod, Mississauga Steelheads (OHL).
@coreypronman Ethan Bear, 1st in #WHLPlayoffs scoring for Defense men. Good chance at Canadian world jrs?

— Tom Bowes (@tronsshmedium) April 28, 2016
Ya he'd be on my team if making it tomorrow. https://t.co/TPcTA2pPqy

— Corey Pronman (@coreypronman) May 2, 2016
Years ago, I wrote a post called Trust Your Board. It should have been 'Trust Your Board and Quit on the Spot when the upper management doesn't Take Your Advice' but WordPress doesn't like long titles. I wonder how much management was involved in all of the picks, from Musil to Yak to Moroz and on down the line. No matter now, the shiv arrived and everyone has moved on.
A youngster like Ethan Bear proves the point to my eye. Teams should trust their boards, the people they send out.  Bear clearly had some issues that took him to No. 124 overall and I am certain those issues are being worked on and ironed out. He might not make it, but there are good things about him and if he works hard, rewards (like WJCs) may come his way.
Scouting, analytics, research, and I imagine these teams get a reasonable medical file by the time the combine is reached. Edmonton has wasted a lot of picks over the years, and from the outside it appears to me some of that came from management and scouting not being on the same page.
Take No. 4 overall. If Peter Chiarelli trades it, or trades down, then the scouts (and fans) have to assume the value is there and time will be the judge. But, if the scouts recommend Tkachuk or Dubois or Juolevi at No. 4 and Chiarelli selects Clayton Keller (he is my pick for late spike, not Logan Brown) instead, then why do the Oilers employ the scouts? Trust your board, and if the GM doesn't like the board he needs to find scouts he prefers. If the President or owner is in the room with the scouts, then the GM has to ask them to leave. Seriously. Get out. Screw off. Go pay the bill.
By the way: I bet the top questions at the scouting meetings today will be this: What is the gap, if any, between Dubois and Tkachuk? Are either of them centers? Can Juolevi be Ivan Provorov? Is the player Montreal is getting just as good as the Oilers pick at No. 4? I don't know the answers to those questions, but a professional organization needs to have people with the courage of their convictions who are ready to make a call on a player—even if the GM is sending a death stare down the table. This isn't senior citizens trivia, this is damned important stuff. Trust your board.
Former #stlblues Scout & Asst GM Cliff Fletcher named to Hockey Hall of Fame Jun 9 2004; Blues 1970-71 media guide pic.twitter.com/DRePFpj1V6

— STL Blues History (@STLBlueshistory) June 9, 2015
LOWDOWN WITH LOWETIDE
A busy, fun show today. I will be on the roundtable at 9, so you are getting the post a few minutes early. Scheduled to appear at 10, TSN1260:
Scott Burnside, ESPN. The draft lottery and four terrific playoff series.
Jeff Hauser, Radio Hauser. Who won the NFL draft? Was it Cleveland?
Sunil Agnihotri, Copper & Blue, The SuperFan. We will talk of summer and the things Peter Chiarelli should do.
Brock Otten, OHL Prospects. Now that we know the OHL kids are going to be in the mix, we will discuss Chychrun, Tkachuk, Sergachev, Juolevi, Brown, McLeod and others.
10-1260 text, @Lowetide on twitter. See you on the radio!