There are two kinds of coaches. The first kind try to get a better glove in the lineup in the middle spots on the defensive spectrum—C, 2B, 3B, CF—that could get exposed. The second kind try to get a better bat in the lineup in the spots on the defensive spectrum that could get exposed. Both coaching types are doomed when confronted with a double secret-agent man like Lauri Korpikoski. Like the SNL skit about Pat, it is difficult for even the wisest to know exactly what we are seeing in Lauri Korpikoski as an NHL player. Damndest thing. (Till I Can Gain Control Again).
LAURI KORPIKOSKI 14-15
5×5 points per 60: 0.84 (10th among regular forwards)
5×4 points per 60: 7.36 (1st among regular forwards)
Qual Comp: 9th toughest competition among regulars (third line)
Qual Team: 6th best teammates among regulars (second line)
Corsi for 5×5 %: 44.0%
Corsi for 5×5 % REL: -13.3
Zone Start: 45.6%
Shots on goal/percentage: 82 shots/7.3%
Boxcars: 69GP, 6-15-21
LAURI KORPIKOSKI 15-16
5×5 points per 60: 1.02 (12th among regular forwards)
5×4 points per 60: 5.26 (2nd among forwards)
Corsi for 5×5 %: 43.0%
Qual Comp: 13th toughest competition among regulars (fourth line)
Qual Team: 10th best teammates among regulars (fourth line)
Corsi for 5×5 % REL: -16.8
Shots on goal/percentage: 88 shots/11.4%
Boxcars: 71GP, 10-12-22
WAR ON ICE PLAYER CHARTS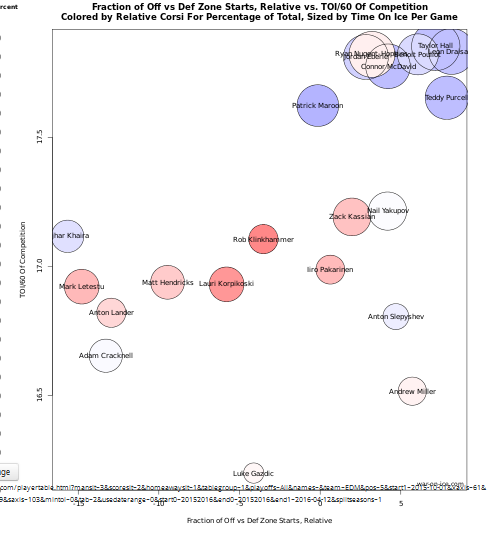 Korpikoski is in a spot—third-line opposition, no real pressure on him—where a productive veteran would have thrived. Korpikoski did not deliver enough at even strength (71, 7-8-15, one of those and ENG) to overcome his possession issues, or warrant another season. In my opinion.
RE 15-16: 67GP, 8-8-16 .239
ACTUAL 15-16: 71GP, 10-12-22 .310
So, he wasn't Fernando Pisani? He wasn't even Ryan Jones.
You had such high hopes. Nah. We knew who he was. Cat Silverman put this story to bed miles ago: "In terms of scoring chances for and Corsi for, Korpikoski's numbers are literally identical to Nail Yakupov's (this is not a joke. I literally plugged them both into war-on-ice and they're like these unlucky mid-line twins). Defensively, Korpikoski's got a slightly better game than Yak, but not by much – but once again, hard to tell if that's usage-based or a true indicator that he's better in theory than he is on the ice. The best stat Korpikoski provides is his ability to generate scoring chances for his teammates – he's a big play generator, as far as second or third liners go." Source
What were they thinking? Sometimes in life you have a goal and the solution to that goal gets you in a tough spot. The goal was to replace Boyd Gordon with a faster veteran, because (my guess is) they wanted Mark Letestu in the Gordon slot.
So they cast about looking for a Gordon landing spot? Yes, and to get the least horrible return. It appears Korpikoski was the answer.
Chiarelli said he had time for him. Sure. He got rid of a very slow center in Gordon and Korpikoski still has NHL speed.
But he can't play a role? I think he can help on the PP and if he was in an extreme offense role we could see 15 goals, maybe more. Edmonton has better options, they needed Korpikoski to help in third-line scoring and do a good job checking.
He can't check? His possession numbers are very poor.
Was he ever a good checker? Arc of a diver, last three seasons. Korpikoski received small Selke consideration at age 24 and 25 but he hasn't been the same player for the last several years.
How bad was possession with him? 43 percent is very bad. Iiro Pakarinen is a better player and he has been in the league five minutes. All of the players on the Oilers showed better without Korpikoski than with him. Incredible.
McLellan kept playing him. Yes, although his TOI has been going down for years. His 13:56 last season with Edmonton is his lowest total since he was 23—that was seven years ago.
What is going on? He is eroding as a player. It happens you know.
He isn't even 30! Ryan Jones last season came at age 29. Korpikoski is 29.
He has another year left, though. Oilers will buy him out.
Seriously? Oh yeah. Maybe McLellan argues for him and they bring him back, but Edmonton's forwards are pretty damned good. Korpikoski wouldn't keep his job even if they brought him back for another year.
I thought you liked Finns? I love Finns! This hurts me. I really hate what has happened here, and will probably overcompensate when it comes to Pakarinen.
Did they use him the same way all year? No. During a period in mid-season (Jan-Feb) he played less and less often. The results were fascinating, Sunil Agnihotri looked into it.
What did he find? Sunil Agnihotri: it's hard to ignore the drop in his ice time over that 25 game stretch and how much better the Oilers were when it came to possession and their share of shots and goals. Source
Does Sunil also hate Finnish people? Sunil and I do not hate Finnish people.
Why this song? It is about endings, painful ones that come after a long period of good times and closeness. The most painful endings are those.
It isn't about endings at all.  That's what great about country music. Devastating lyrics, heartbreak right down to the author being the last one to know. It is a perfect song.
It is a nice tune. It's beautiful. Rodney Crowell. I wish I could have written just one song this good, that cat wrote a hundred. Bastard.