If Jordan Eberle had a dollar for every time he was mentioned by fans in a trade idea, he might have enough money to buy the team from Daryl Katz. In trading Eberle, the Oilers could see a handsome return, and the Leftorium would finally have the team all to itself. That, my friends, is the problem.
SILVER WINGS
R Steve Stamkos, Tampa Bay Lightning. The injury probably gives one pause, but the talent is so strong I still think someone blows their brains out on a long-term deal. Will it be Edmonton?
R Loui Eriksson, Boston Bruins. Solid veteran who can help offensively, he has a two-way reputation as well. Plays the off wing, I think there's a chance the Oilers land him.
R Kyle Okposo, NY Islanders. He would be a terrific fit but I don't see him as an Oiler. Has all kinds of offensive ability. Built like a brick outhouse.
L Milan Lucic, Los Angeles Kings. I have always maintained Peter Chiarelli would be aggressive. Hall, Maroon and Pouliot are a solid LW group, but Edmonton could trade out one of them to make room.
L David Perron, Anaheim Ducks. I liked him as an Oiler, would love to see him back. A very smart player with skill, he did not have a grand season so might come at a discount. Then again, he may not have fond memories of Edmonton.
R Ryan Strome, New York Islanders. I include him because the Islanders seem to be souring on the young forward (who might end up as a RW). He is talented, and if available, Chiarelli would be wise to swoop in. Ranked here because of his age. RFA
R Troy Brouwer, St. Louis Blues. Rugged winger with talent, he is a veteran (31 this fall) but seems to have some tread left. Probably a guy Chiarelli would value.
R Kris Versteeg, Los Angeles Kings. Chiarelli traded him once, but maybe he signs him in free agency this summer. Turns 30 next week, one of the younger grizzled veterans on the list.
L Jamie McGinn, Anaheim Ducks. Rugged winger with skill, Oilers have three LWs so adding him only makes sense in the case of a trade.
R Mikkel Boedker, Colorado Avalanche. I always liked him, seems to have fallen off last season. Beware Coyotes wingers on the downturn but he is an interesting option.
R Teddy Purcell, Florida Panthers. He was effective with this Oilers team and is just 30 now. Speed a concern, certainly worthy of consideration.
R Lee Stempniak, Boston Bruins. After all these years, why not? I thought he must be 90 by now but he just turned 33.
R PA Parenteau, Toronto Maple Leafs. Scored 20 and at 33 might have a couple of years left. Most attractive thing about him could be price.
As I mentioned yesterday, seems to me there is an opportunity for Edmonton to add one or two wingers and set up the roster with better balance for the fall.

CHIARELLI TRADE TARGETS
RD Travis Hamonic, NY Islanders. This is a solid player and a great option for Edmonton.
RD Tyson Barrie, Colorado Avalanche. He is close to a perfect fit for the puck-moving portion of this Oilers team, and might be available.
RD Sami Vatanen, Anaheim Ducks. I like his puck-moving ability but as with all young blue there is not a clearly established level of ability. What we see is very good offensively.
RD Justin Faulk, Carolina Hurricanes. The gap between Faulk and (say) Barrie is not large in my mind. He cooled off as the season wore on but he would be a nice option.
RHC Andrew Shaw, Chicago Blackhawks. Not a C this past season (314 FO, 46.5 percent) he is nonetheless an attractive possible addition for the Oilers. He had 26 EV points this year, Letestu had 10. Shaw would be a nice player to slot in on that third line.
R Ryan Strome, New York Islanders.
CHIARELLI FREE-AGENT TARGETS
D Jason Demers, Dallas Stars.
C David Backes, St. Louis Blues.
R Loui Eriksson, Boston Bruins.
R Kyle Okposo, NY Islanders.
L Milan Lucic, Los Angeles Kings.
L David Perron, Anaheim Ducks.
R Ryan Strome, New York Islanders.
R Troy Brouwer, St. Louis Blues.
R Kris Versteeg, Los Angeles Kings.
L Jamie McGinn, Anaheim Ducks.
R Mikkel Boedker, Colorado Avalanche.
R Teddy Purcell, Florida Panthers.
R Lee Stempniak, Boston Bruins.
R PA Parenteau, Toronto Maple Leafs.
C Riley Nash, Carolina Hurricanes.
D Eric Gryba, Edmonton Oilers.
D Matt Irwin, Boston Bruins.
#Oilers: Nail Yakupov not included in Russia's World Championship roster due to an ankle injury. https://t.co/aMhlD3Ifyn

— Patrick C (@ChunkletsHockey) May 5, 2016
It is going to be strange seeing Nail in a different NHL uniform. I have narrowed it down to New Jersey and Montreal, which means he is a lock to play in Arizona. It would have been cool to see him at these WHCs, but the ankle injury put it all to rest. One doubts it impacts any trade leading up to the draft.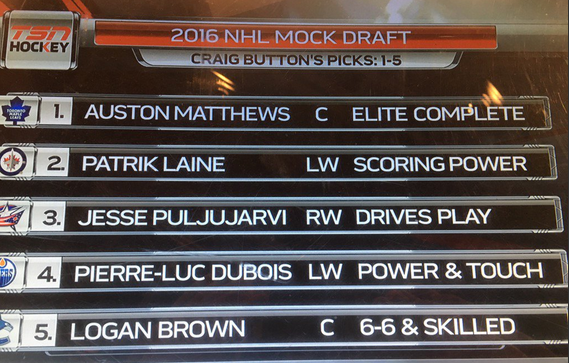 TRADE DOWN, NOTHING OILERS NEED AT NO. 4
Lots of talk about trading down (good and bad), I think dealing the pick could work but is not necessary (there are other options). One argument I have gotten this week: Oilers might as well trade the pick, the best picks at No. 4 merely duplicate skills already on the roster. Two problems:
It isn't true
Even if it was, the best available player should be the top consideration.
(1) C Auston Matthews, Zurich Lions (Swiss-A): Complete offensive player
(2) W Patrik Laine, Tappara (Sm-Liiga): Might be better than Matthews.
(3) R Jesse Puljujarvi, Karpat (Sm-Liiga): Fast man with size and skill.
(4) C Pierre-Luc Dubois, Cape Breton (QMJHL): Rugged, quality power forward.
(5)  L Matthew Tkachuk, London Knights (OHL): Big forward, playmaker.
(6) LD Mikhail Sergachev, Windsor Spitfires (OHL): Mobile defender with offensive acumen.
(8) C Clayton Keller, USNDTP (USHL): He could be a special player.
(7) LD Olli Juolevi, London Knights (OHL): Substantial offensive defenseman.
(9) LD Jacob Chychrun, Sarnia Sting (OHL): Fantastic skater, complete defender.
(10) RD Dante Fabbro, Penticton (BCJHL): Fast, fluid, wicked smart.
I have Dubois No. 4 overall, and he is unique to anything Edmonton has on its roster or in the system. He is likely to play the wing as an NHL player, and with his size and speed plus rugged style fits Peter Chiarelli's stated template for his Oilers. Mark Edwards from HockeyProspect.com is on the Lowdown today and last summer—in the 2015 Black Blook—he wrote about Dubois:
Edwards: Dubois was one of the best rookies in the league and led all 16 years old with 45 points. His game took a big step this year and showed he deserved to be selected in the top 5 of last year midget draft. The Rimouski native is a up and coming power forward with good speed and loves to take the puck to the net. He can control the puck at high speed and has good vision and makes player around him better with nice passes. He has an excellent wrist shot with a quick release, this year we saw him more as a playmaker with the Screaming Eagles where he showed his ability to slow down the game but makes no question about it Dubois is a capable sniper. He's a smart player on the ice, can play different type of game whether it's a finesse or physical game. 
That's a helluva scouting report on a 16-year old, plenty more in the Black Book on him (Dubois is a rink rat, Dad has coached for years, and he does all the little things coaches love). Red Line Report echoed the sentiments with their more recent verbal:
Red Line: His move to centre this season has taken his game to new heights. He's got the size, hands, hockey sense, and creativity to become a true #1 centre in the NHL. Add in his dedication to getting better, mental make-up, and willingness to compete hard on every shift in all three zones, and he's a fairly wart-proof prospect. The only minor pitfall is that he lacks first step explosion and a separation gear at the top end in his stride right now – but he is working on it diligently. At Red Line, we would agree Dubois doesn't catch your eye with a blazing stride, but he is above average in a straight line and stops and starts effectively for a teenager who hasn't yet filled out his bottom half. Source
I highly recommend both publications by the way. Both are exceptional resources if you are a dedicated follower of the draft. Things can change, but for me Dubois is the No. 4 prospect in this draft and if the Oilers do use the pick he should be their man.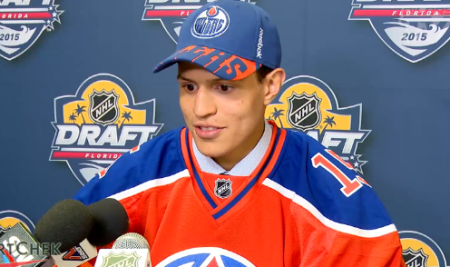 CURRENT 50-MAN LIST
G Cam Talbot. No. 1 next season.
G Laurent Brossoit. Projects as NHL backup/AHL starter, signed a two-year deal.
G Nick Ellis: Newly signed college free agent.
G Eetu Laurikainen, AHL backup, he is signed for next year.
D Oscar Klefbom, likely top pairing, needs to stay healthy.
D Andrej Sekera, top 4D, important part of the team.
D Brandon Davidson, top 6D, maybe even top 4D if he continues on current track.
D Mark Fayne, I question Oilers ability to find three better RH this summer.
D Darnell Nurse, probably top 6D next season, ideally in Bakersfield.

D Griffin Reinhart, may spend another year in the minors. Could be dealt.
D Andrew Ference, they will buy him out (if able). LTIR is my guess.
D Joey Laleggia, AHL D matriculating.
D Dillon Simpson, AHL D, matriculating.
D Ben Betker, AHL D, matriculating.

D Caleb Jones, WHL D. Newly signed, definite slide rule.

C Connor McDavid, Giant.
C Ryan Nugent-Hopkins, quality NHL center.
C Leon Draisaitl, emerging NHL talent.
C Mark Letestu, checking NHL C.
C Anton Lander, they may find a buyer.
C Jujhar Khaira, he is a good bet to make the roster in the fall.
C Bogdan Yakimov, a chance he comes back. Has NHL tools, speed concern.
C Kyle Platzer, AHL C matriculating.
L Taylor Hall, impact NHL player. Many fans want him gone.

L Benoit Pouliot, underrated by many. Trade rumors.
L Patrick Maroon, big winger has been exceptional since arrival.
L Lauri Korpikoski, Oilers should try to offload him this summer.

L Matt Hendricks, checking NHL W.

L Jere Sallinen, Newly signed, you can never have too many Finns.

L Mitch Moroz, AHL winger/enforcer, matriculating.
L Braden Christoffer, rugged winger, matriculating.
R Jordan Eberle, scoring winger could be in play.

R Nail Yakupov, gone baby, gone.
R Anton Slepyshev, talented winger should push for NHL time.
R Greg Chase, minor league winger, matriculating.
DECISIONS, DECISIONS
R Iiro Pakarinen, suspect he will push for a spot next fall. RFA
R Zack Kassian, probably part of the future in a top 9F role. RFA.
D Jordan Oesterle. Suspect he signs. RFA.
D Adam Clendening. Foot speed will cost him. RFA.
D David Musil. Three straight solid seasons in the AHL. RFA.
R Adam Cracknell. I have no idea if he will be back. UFA.
R Rob Klinkhammer. No feeling either way. UFA.
D Adam Pardy. He played well, doubt there is room. UFA.
D Eric Gryba, UFA. A chance he signs. UFA.
D Nikita Nikitin, UFA. Ufa alright.
D Brad Hunt. Skills are duplicated elsewhere. UFA.
L Josh Winquist. Best offensive prospect in the AHL currently—but does not have an NHL deal.
R Josh Currie At 23, he forced his way into the lineup and played very well. Can also play center.
C Marco Roy. Began slowly, but fought his way up the depth chart and emerged as a solid option.
R Tyler Pitlick. Young veteran is RFA again. If he could only stay healthy.
G Niklas Lundstrom. Signed with Bjorkloven for next year.
L Kale Kessy. Rugged winger, skills duplicated on roster. RFA.
R Andrew Miller. He may have traded himself. No chance he returns imo. UFA.
L Ryan Hamilton. May receive another deal from the Oilers.
I wrote about this here.
These pictures were sent in and show the fire in progress and the smoky remains of an entire neighborhood. #ymmfire pic.twitter.com/g7UxNWULFv

— CTV Edmonton (@ctvedmonton) May 5, 2016
LOWDOWN WITH LOWETIDE
At 10 this morning, we will have updates on the fires and how you can help—plus,  as we did yesterday—talk about some of the amazing people helping when others are in need. Also scheduled to appear, TSN1260:
Darcy McLeod, Because Oilers. Darcy's terrific piece on Jason Demers, plus what to do with that No. 4 overall selection.
Scott Mitchell, Calgary Sun. We are less than a week away from the CFL draft, and things are finally coming into view. Who goes No. 1? What is available later in the first round?
Mark Edwards, HockeyProspect.com. We will talk about best available at No. 4 and discuss the top defensemen.
Frank Seravalli, TSN. The four playoff series are compelling, but not as awesome as Grace.
10-1260 text, @Lowetide on twitter. Stay tuned!