I think we (mostly) have the problems sussed out for the Oilers, the trick is to address all of those problems without ripping up the foundation—and there are some outstanding pieces in place. This is my list for Peter Chiarelli this spring and summer (previously published here):
CHIARELLI SUMMER LIST
Top-pairing D to partner with Klefbom (think Travis Hamonic/Jason Demers)
Second-pairing RHD to partner with Sekera (think Tyson Barrie/Sami Vatanen)
Acquire RHC with some skill (Small group available. Tommy Wingels? Tyler Bozak?)
Offload unwanted contract (Lauri Korpikoski)
Backup goalie (Jhonas Enroth)
Find value contracts (Davidson, Maroon but also possibly Khaira, Oesterle)
Re-stock the system partly through college and CHL signings (big summer)
Build up the system (especially forwards) via draft (big summer)
In the days that have followed, we have identified a possible trade and free agent list (with the goalies still to come). Scott Cullen of TSN goes through all 30 NHL teams and reviews their season, projects their future, and finds solutions to each team's problems. I can only imagine the size of his war room (maybe he has dozens of those civil war models on a table, depicting famous battles), but appreciate his effort every year. Here are (as far as I can tell) Scott's solutions to the Oilers problems (hat tip to Fifth Cartel):
RNH for Hamonic and Kulemin (50% retained)
Chris Kelly and Troy Brouwer signings
Garret Wilson (signing/trade?)
Korpikoski buyout
Let's apply Scott's solution to my original list:
Top-pairing D to partner with Klefbom (

Travis Hamonic

)
Second-pairing RHD to partner with Sekera (none)
Acquire RHC with some skill (Troy Brouwer)
Offload unwanted contract (Lauri Korpikoski)
Backup goalie (none)
Find value contracts (

Garrett Wilson, Chris Kelly

)
Scott also added Nikolai Kulemin to make the Nuge trade work
Cullen does not find a RHC, but does give Todd McLellan another right (Brouwer) to help with the radio up front. I enjoy these looks because they are not a biased view. Scott does a lot of the things we have discussed here, but his solutions are original and interesting. Here is what I assume would be the 23-man roster: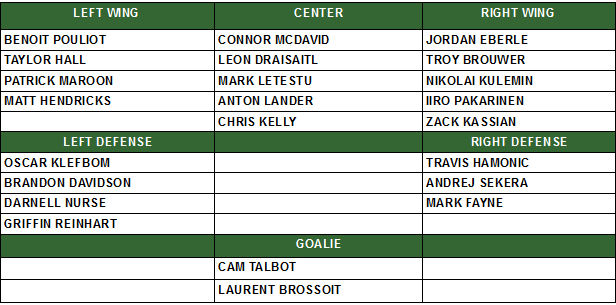 One of the main features here is that Cullen has added substantial veteran presence to the forward group—especially the right side. He deals Nuge (to get a top-pairing defender) and replaces him with a veteran in Kulemin. He also spends some of the free-agent money on another veteran (Troy Brouwer) who lands in a very good spot.
We are going to argue over the handedness, but I like his defensive group (I would add one more piece, but Cullen may be correct in adding just one—the market often dictates how much can be done in one summer).
I like Nurse on the third pair with a veteran. A solid choice.
You may not like the Nuge for Hamonic and Kulemin deal, but we know the value of RNH this summer is less than it would have been a year ago. As painful as it might be to acknowledge it, and as you know I am not in favor of dealing him, this could be the path chosen by Peter Chiarelli.
One thing Cullen's look at the Oilers shows: My list of eight items might be a little aggressive. We all have our opinions of course, but his look at Edmonton is well worth the read and I hope you do in the future.
@Lowetide What would it take to get Hamonic and Strome I wonder? Draisaitl+? Nurse and the 4OV?

— Cameron Thomson (@ThomsonCam) May 5, 2016
Cam and I chatted on twitter yesterday, he brought up the idea of Hamonic and Strome coming over from Brooklyn. What would it take? He also mentions Leon, WG (heretofore known as fellow) and I talked about the possibility of Draisaitl being the ask on a trade like this. I do not want to deal the German, but McDavid-Nuge works as a 1-2 and if the Oilers can solve the blue then you have to consider it. I don't have him on my Chiarelli asset list, but I bet there are conversations about him.
CHIARELLI ASSET LIST
No. 4 overall selection
Jordan Eberle
2017 1st round selection
Young LHD (Darnell Nurse, Brandon Davidson, Griffin Reinhart)
Benoit Pouliot
Nail Yakupov
Cap space (Edmonton might be able to get a player like Bozak on the cheap because of it)
Undrafted NCAA seniors left to sign: Drake Caggiula, Ahti Oksanen, Travis St. Denis. Guys going the FA route: Jimmy Vesey, Quentin Shore.

— Jake Baskin (@baskincase) May 5, 2016
Elliotte Friedman has Caggiula deciding soon on his destination and these other cats are interesting as well. Peter Chiarelli needs to re-stock the system, so if they plan on trading more picks then let's see action.
Chris Dilks about Caggiula: Caggiula is a smaller forward, but plays with tremendous effort and grit. He makes life miserable for the opposition on the forecheck and plays a strong two-way game. He's having a sensational senior season as a linemate of first round NHL picks Brock Boeser and Nick Schmaltz. It's unlikely he is the same type of scorer at the next level, but would make an outstanding bottom six energy player. Source
DJ Powers on Oksanen: Oksanen is versatile in that he can play both forward and defense almost equally well. His style has often been described as that of a rover. Oksanen possesses good size (6'3", 209 lbs.) and utilizes his strong frame at both ends of the ice. This has been especially evident in his drives to the net and in his ability to protect the puck. He is a strong yet fluid skater with very good foot speed. One of Oksanen's attributes that scouts have taken particular notice of is his shot; he possesses a hard, lethal shot and can get pucks to the net. Source
Travis St. Denis is a very small forward but delivered insane numbers in the NCAA with Quinnipiac. He improved every year, I bet he plays pro hockey for a long time (if he chooses). The question is how high can he fly? He was part of that terrific 2011-12 Penticton Vees team that included Mike Reilly and recent Condors signing Joey Benik.
On Caggiula: Some teams think decision might come tomorrow, others not so sure.

— Elliotte Friedman (@FriedgeHNIC) May 6, 2016
From @TSNBobMcKenzie this morning…the Oilers have a punchers chance on North Dakota forward Drake Caggiula. Oil in final 2-3 teams

— Dustin Nielson (@nielsonTSN1260) May 6, 2016
Corey Perry on Connor McDavid: "Oh my god. In person, he's even better to watch." #TeamCanada #NHLDucks #Oilers https://t.co/QjwGJ3U35y

— Chris Nichols (@NicholsOnHockey) May 5, 2016
That's how I felt the first time I saw McDavid, and every time since. He is so fast it is shocking. I missed watching him—could not wait to tune in this morning. cannot wait until training camp.
WHERE WILL I RANK LOGAN BROWN?
I got an email on Tuesday asking me how far Logan Brown will move up in my Sunday night rankings. This is as a result of Craig Button's mock draft on Saturday after the lottery, where Brown landed inside the top five overall. How much will Brown move up on my list? He won't move up at all. Why? My list rewards offense heavily, adores two-way ability and (since the Hedman draft) shies away from pushing defensemen up the list. Being 6.06, in and of itself, holds no extra value. Let me show you why Brown is ranked No. 17 on my list. Here is the NHLE for CHL forwards in the top 20 overall:
(4) C Pierre-Luc Dubois, Cape Breton (QMJHL): NHLE: 34 points.
(5)  L Matthew Tkachuk, London Knights (OHL): NHLE: 49 points.
(11) R Alex DeBrincat, Erie Otters (OHL): NHLE: 44 points.
(15) R Alexander Nylander, Mississauga (OHL): NHLE: 35 points.
(16) R Vitalii Abramov, Gatineau Olympiques (QMJHL). NHLE: 31 points.
(17) C Logan Brown, Windsor Spitfires (OHL): NHLE: 33 points.
(19) C Michael McLeod, Mississauga Steelheads (OHL): NHLE: 28 points.
From what I have read, a lot of Brown's value is offensive and that his size is a curio, but not a big part of his game.
Steve Kournianos, The Draft Analyst: Logan is a physical specimen indeed, using a massive wingspan and strength to win his puck battles and transition quickly to offense. He can be a joy to watch, using above-average speed but a powerful long stride and reach to protect the puck off the rush. He's an excellent passer, blessed with a sixth sense to anticipate and dissect the defensive scheme presented to him. Brown owns a very heavy shot — one of the draft's best among forwards — which he can fire with accuracy off the pass via a quick release.  And while Brown plays the finesse game at a high level, he has no problem crashing the net for a loose puck, or positioning himself in the trenches for a deflection. You'd love to see him play with fire on a consistent basis, and we get a sense that he should be far more dominant than his numbers indicate. Nevertheless, he has top-line center upside and isn't too far from making his NHL debut. Source
LOWDOWN WITH LOWETIDE
This morning, we hit the air a little early (right after the Canada-USA WHC game). Scheduled to appear, TSN 1260:
Steve Lansky, Big Mouth Sports. Fort MacMurray, Canada-USA, Draft lottery, lots.
Yukon Jack, 100.3 The Bear. Yukon is heading back to the library, and you might want to join him.
Matt Iwanyk, TSN1260. What to do with that No. 4 overall pick (a brilliant idea I had that Iwanyk is trying to claim credit for).