The last time Edmonton made a trade involving a first-round selection, Mathew Barzal was heading to the Islanders. It looks like trading down (or out) may be the call again this summer, based on what we are hearing. I think we can guess a lot of what is going on in Peter Chiarelli's office these days based on what he said yesterday.
Chiarelli on trading out at No. 4: "Yeah. I look at us like we're in the top of the next group. I've had four or five teams call me already, and I've made it know that we'll look to trade down if the right deal is there in the context of just a pure trade-down, or a trade down with kind of giving up the value on the draft numbers, the draft rankings, in getting a draft pick and an NHL player. We went through a lot of scenarios at the amateur meetings. That's when you're most creative. Now, executing these things is often hard, but there's some real stuff that could come across our desk in the next few weeks. So looking at a lot of stuff. But again, 4 to 9 – pretty good players." Source (Original interview with Bob Stauffer)
Let's start by listing the Bob McKenzie No. 4 to No. 9:
No. 4: L Matthew Tkachuk, London Knights (OHL)
No. 5: L Pierre-Luc Dubois, Cape Breton Screaming Eagles (QMJHL)
No. 6: R Alex Nylander, Mississauga Steelheads (OHL)
No. 7: LD Olli Juolevi, London Knights (OHL)
No. 8: LD Mikhail Sergachev, Windsor Spitfires (OHL)
No. 9: LD Jacob Chychrun, Sarnia Sting (OHL)
I have suggested that the Oilers would not have a high degree of interest in Nylander (your mileage may vary), but the others listed here are basically in Edmonton's wheelhouse. I believe both forwards will be wingers, and all three defenders are LDs so PC will need to fix the handedness by other means.
POSSIBLE TRADE OPTIONS BASED ON DRAFT NUMBER
No. 5 Vancouver Canucks. I doubt there is much point in dealing up for one player, and their GM has already named Tkachuk and Dubois as his options. I think we should consider the Canucks at this spot a lock.
No. 6 Calgary Flames. It isn't as crazy as you think, but the Flames have a player who could offer Edmonton some shelter (Dougie Hamilton) but Calgary is (I assume) looking for a goalie and fairly satisfied with their young blue.
No. 7 Arizona Coyotes. Chiarelli mentioned dealing down for picks, Phoenix has this pick and No. 22 overall. Would you deal Dubois or Tkachuk for Juolevi and Nathan Bastian? The value probably works, we have no way to know what the boy King is thinking in the desert.
No. 8 overall Buffalo Sabres. Edmonton could grab this pick and No. 38, and maybe Tim Murray likes someone enough to make the move. Mark Pysyk is also interesting but one wonders if that would close the gap for Peter Chiarelli.
No. 9 overall Montreal Canadiens. The final spot for the Oilers, my guess is that (if Nylander is not on their top 9 list) it is giant center Logan Brown. Would Montreal give up No. 9 and No. 39?
No. 14 Boston Bruins. Boston has selections at No. 14, No. 20, No. 51 and they also have that silly Chiarelli pick. Perhaps the Oilers and Bruins can make a deal, although trading down to No. 14 means taking (possibly) RD Charlie McAvoy and (at No. 20) Alex DeBrincat.
I think the Oilers got rather unlucky with trade options when the lottery balls stopped moving. If Edmonton was slotted No. 3 and Columbus No. 5 (as an example), that would give the team some leverage. Now? Not an option, although I think David Savard might still be a target.
McDavid looking at Laine and Matthews like 😒😒😒….#Oilers #NHL #Worlds2016 https://t.co/5znVux4asC

— Sonny Sachdeva (@SachdevaSonny) May 10, 2016
MCDAVID'S WINGMAN
Peter Chiarelli on Tkachuk: "I've seen Tkachuk play maybe 10 or 11 times. He's just a cerebral player and a gritty heavy player. He's so smart and he's always around the net. He would be a really good fit." Source
Peter Chiarelli on Dubois: "Pierre same thing, big and strong. He's your prototypical power forward that can play centre and wing. He can really shoot the puck." Source
In listening to Peter (and Bob) I think Chiarelli likes Tkachuk a lot—but does he like him enough to draft him at No. 4 overall? If he does, Tkachuk could be that impact winger who will play a decade or more with Connor McDavid. It has to be tempting on some level.
IF YOU LOVE ME, YOU LOVE ME WITH MONEY
https://twitter.com/generalfanager/status/729102592559726592
https://twitter.com/generalfanager/status/729824354557558784
The numbers are not that far apart, to be honest. Caggiula got most of the Anton Slepyshev deal (AS has $600,000 in bonus opportunities to the $425,000 listed for Caggiula). Russell's deal is the Dillon Simpson contract. If we wanted to put it simply, Caggiula got third-round money, Russell fourth-round dollars. Not bad, not bad, hope they do well.
GRIFFIN VERSUS THE VOLCANO
I read an item by Kris Hansen right at the end of the season, he took at look at GR after year one of the trade. Every once in awhile this trade will come up, I will express my views, and the comments proceed to beat me about the head because of it. No matter that I don't aggressively post these views, don't mock the player, don't in any way attempt to sway other views. In this way, Griffin Reinhart has taken the lightning rod honors among current Oilers. One imagines his reign will be longer than Rob Schremp's and shorter than Shawn Horcoff's but the future is not known to us.
Hansen: The price was a dear one to pay for a defenceman who is not fully developed. I know I am not alone in wanting an established defenceman for a first round draft pick. What's done is done. Reinhart will be linked (unfairly I think) to Mathew Barzal. There's still lots of time for Reinhart: he is only 22 but there are concerns especially when compared to his other draft class members such as Hampus Lindholm, Morgan Rielly, Jacob Trouba, Mathew Dumba and Olli Maata who have all been NHL regulars at some point now. Source
Kris puts things in perspective nicely, and it is difficult to argue that Reinhart—even if we exclude his bonus money for next season—is an obvious choice for the NHL roster for 2016-17. It's also true that his trade value is such that using him as a key portion of any trade is impossible. What can Peter Chiarelli do with his very expensive bauble? I think the answer is this: The same as last year. Reinhart spent 30 games in the AHL, 29 in the NHL and burned off a bunch of his cap bonus money.
In that article, Kris quotes our own WheatnOil in regard to something positive about GR:
WheatnOil: Fayne and Reinhart have not been in Sekera territory in the small sample of games I've measured, but they do show their strength in preventing zone entries. When combined with the Zone Exit data, Reinhart looks like a fairly balanced defenceman… preventing zone entries at Fayne levels but with the ability to move the puck. Source
We are probably looking at a third-pairing lefty here, beginning in 2017-18. He will cost about $1.2 million and all of Oscar Klefbom, Darnell Nurse and Brandon Davidson look like they can bat higher in the lineup—and that has to be a tough pill for PC to swallow.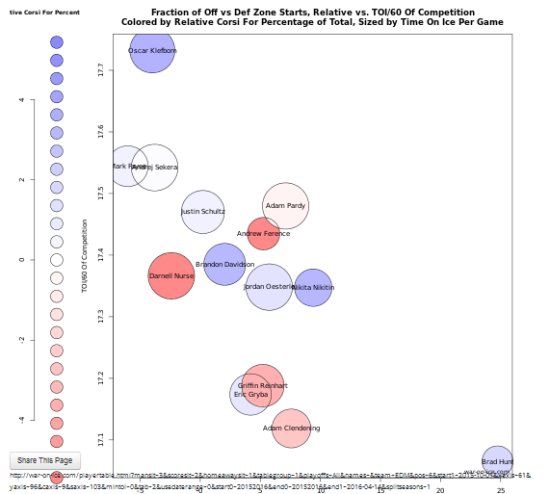 That said, he is durable, can play defense, and the item from WeatnOil dovetails with what we saw out of him in junior. If he is a trade piece, suspect it will be at another time, as his value cannot be high after what was a developmental season. As an aside, I generally felt Nurse and Reinhart were about the same on the defensive spectrum this season—but the graph suggests Nurse faced tougher opposition and more severe zone starts in the sorties that began from a full stop.
Reinhart has value, but probably more value for Edmonton than he would in trade. For me, that means another lefty (among Sekera, Klefbom, Davidson and Nurse) could be in play—depending on injury situations for Klefbom and Davidson.
NHL COMBINE LIST
Once the NHL releases their list of combine invites, we have a general idea about where their member teams are fishing. As an example, here is the Oilers draft list since 2010 funneled through the combine for each year:
2008 Oilers draft
Jordan Eberle selected #22 overall, ranked #29 (attended combine)
Johan Motin selected #103 overall, unranked (attended combine)
2009 Oilers draft
Magnus Paajarvi selected #10 overall, ranked #10 (attended combine)
Anton Lander selected #40 overall, ranked HM (attended combine)
Toni Rajala selected #101 overall, ranked #50 (attended combine)
Olivier Roy selected #133 overall, ranked HM (attended combine)
2010 Oilers draft
Taylor Hall selected #1, ranked #1 (attended combine)
Tyler Pitlick selected #31, ranked #25 (attended combine)
Martin Marincin selected #46, ranked #71 (attended combine)
Curtis Hamilton selected #48, ranked 57 (attended combine)
Ryan Martindale selected #61, ranked 58 (attended combine)
Tyler Bunz selected #121, not ranked (attended combine)
Brandon Davidson selected #162, not ranked (attended combine)
2011 Oilers draft
Ryan Nugent Hopkins selected #1, ranked #1 (attended combine)
Oscar Klefbom selected #19, ranked #21 (attended combine)
David Musil selected #31, ranked #41 (attended combine)
Samu Perhonen selected #62, ranked #51 (attended combine)
Travis Ewanyk selected #74, ranked HM (attended combine)
Tobias Rieder selected #114, unranked (attended combine)
2012 Oilers draft
Nail Yakupov selected #1, ranked #1 (attended combine)
Mitchell Moroz selected #32, ranked #56 (attended combine)
Jujhar Khaira selected #63, not ranked (attended combine)
Daniil Zharkov selected #91, ranked #47 (attended combine)
2013 Oilers draft
Darnell Nurse selected #7, ranked #9 (attended combine)
Marco Roy selected #56, ranked #59 (attended combine)
Bogdan Yakimov selected #83 not ranked (attended combine)
Jackson Houck, selected #94 not ranked (attended combine)
2014 Oilers draft
Leon Draisaitl selected #3, ranked #4 (attended combine)
2015 Oilers draft
Connor McDavid selected #1, ranked #1 (attended combine)
Caleb Jones selected #117, ranked #130 ISS (attended combine)
Ethan Bear selected #124, ranked #78 ISS (attended combine)
John Marino selected #154, ranked #95 ISS (attended combine)
As you can see, with the exception of 2014 (what in HELL were they thinking?) we have a trend. It is also interesting to see a name like Caleb Jones, who would have been invited by one or more NHL clubs (the NHL invites the top 100 or so, and teams submit a list of extras they would like to see). I looked at some curios last June and found Jones stood out.
THIS SEASON'S CURIOS
R William Knierim, Dubuque Fightings Saints (USHL). A huge winger (6.03, 198) who scored a little (54, 14-13-27, NHLE is just 11) and is ranked No. 149 CS NA. Someone likes him, might be the Oilers.
LD Josh Mahura, Red Deer Rebels (WHL). Young man was not on the Central rankings, he missed 70 games during the regular season due to injury.
C Brett Murray, Carleton Place Canadians (CCHL). He is inside the top 100 for CS NA, but if I don't mention him here it will not happen before the draft. A tall drink of water playing in a somewhat obscure league, on his way to Penn State next year.
R Eetu Tuulola, HPK (Sm-Liiga). I ranked him in my look at Finland, but he isn't among the top 100 based on rank (No. 19 Euro). Someone likes him, he is 6.03, 225. Could be a target for the Oilers.
List is here.
LOWDOWN WITH LOWETIDE
Today on the show, 10 this morning on TSN1260:
Jonathan Willis, Cult of Hockey and Oilers Nation. We will discuss recent moves by the Oilers, including the two new college hires and Peter Chiarelli's verbal surrounding No. 4 overall.
Tyler Karwandy, Rider Prophet. It is CFL draft day, Tyler runs the best team blog in the league and his mock has the Roughriders going for an Olineman. We will chat about it.
Brian King, NonStopSportsPicks. The Eskimos are pretty well covered in roster Canadians, so I wonder what they will do at the draft? Brian has the answers.
10-1260 text, @Lowetide on twitter.