Every team in the NHL could use Oscar Klefbom, but no team in the league needs him more than the Edmonton Oilers. So, when he was unable to play 65 percent of the schedule, it mattered. A lot. Even more concerning, we cannot be absolutely sure of him for next season—and beyond.  (Diamond Mine).
OSCAR KLEFBOM 13-14
5×5 points per 60: 0.74 (4th among D)
5×4 points per 60: nil
Qual Comp: 4th toughest among D
Qual Team: worst available among D
Corsi for 5×5 %: 44.3
Corsi for 5×5 % REL: +1.0
Zone Start: 35.1% (toughest among D)
Zone Finish: 43.7% (2nd best among D)
Shots on goal/percentage: 14 shots/7.1% (3rd among D>10 shots)
Boxcars: 17, 1-2-3
OSCAR KLEFBOM 14-15
5×5 points per 60: 0.90 (1st among regular D)
5×4 points per 60: 4.71 (1st among regular D)
Qual Comp: 5th toughest among D
Qual Team: best available among D
Corsi for 5×5 %: 49.9
Corsi for 5×5 % REL: 9.4
Zone Start: 58.0%
Zone Finish: 52.6%
Shots on goal/percentage: 98 shots/2.0%
Boxcars: 60, 2-18-20
OSCAR KLEFBOM 15-16
5×5 points per 60: 1.09 (1st among regular D)
5×4 points per 60: 3.27 (2nd among regular D)
Corsi for 5×5 %: 50.5
Qual Comp: 2nd toughest among D (first pairing)
Qual Team: 4th best available among D (second pairing)
Corsi for 5×5 % REL: 6.8
Shots on goal/percentage: 48 shots/8.3%
Boxcars: 30gp, 4-8-12 .400
WAR-ON-ICE PLAYER CHART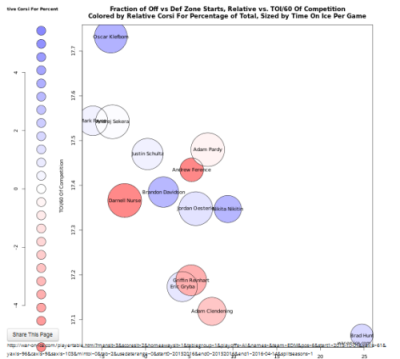 The War-On-Ice graph shows Klefbom as a shining beacon, a beautiful blue bubble on a hill. BTN suggests Mark Fayne faced tougher opposition. Both men appear to have been on the ice against very good opposition.
RE 15-16: 70GP, 3-14-17 .243
ACTUAL 15-16: 30GP, 4-8-12 .400
What do we have here? A wonderful player, if he can stay healthy.
Could he be a top-pairing defender? Yes, I think so. This past season was very strong, and you would like to see 100 games at that level before being certain, but the arrows are strong.
What is the top concern? Injury.
What injuries this season? He had a finger injury on December 12, day-to-day. After that, it was various descriptions (lace bite, staph infection) but sounds like two very serious infections for the young man.
When was the last time you were this concerned about an Oilers player? Probably Fernando Pisani. I heard some very concerning rumors around him, and in fact both cases appeared to be quite serious.
Oilers were not forthcoming. And that is fine, always side with the privacy of the individual. As it turned out, this was serious enough to cost 52 games (all in).
And maybe next season? It sounds like we will see him in the fall. Peter Chiarelli sounded positive. He called it "a perfect storm of two successive infections" and that cost the season, but there was no bloodletting or muscle loss (beyond inactivity).
They didn't compromise the foot? Klefbom: "I think it'll be 100 per cent. I just want to put this behind me." Source
How important is Klefbom to the build? Massive. You could see it after he went down in December. The team was addled the rest of the way. If he can't join this group for the next decade, it will fall upon the next group to replace—not reinforce—the defense. A major distinction and a possible derailment of this rebuild. It is a big damned deal.
Who did he play well with? His three partners were Justin Schultz (54 percent 5×5 Corsi for percentage), Mark Fayne (50.1) and Brandon Davidson (49.0). Source
What player-type is he? There is substantial evidence now that he is a complete defenseman. Mobile, wide range of skills, 6.03, 210, sturdy, rugged—and now that he is away from the Swedish assist police, we know he has an offensive game.
How good is his offense? He is 6-25-31 in his last 82 NHL games.
How much at evens? All but three assists. He certainly has the ability to play inside the top 4D and I think he is the most qualified defender on the roster for the top pairing.
Does the lack of NHL experience concern you? Sure, but what is the alternative? Andrej Sekera is the other option, but Klefbom's combination of wheels and ruggedness make him a better fit. He is pretty damn close to having the complete skill set.
Why didn't we see it? Partly because of the Swedish assist crisis and partly because he didn't post much in the AHL at age 20. When you watch him, mobile, good passer, good shot—it is reasonable to suggest he can post 30 points in an NHL season.
That isn't exactly Bobby Orr country. There were 49 defensemen who scored more than 30 points a year ago, so you could argue 30 points is top-pairing production. Andrej Sekera, offensively (30 points) delivered top-pairing offense a year ago.
Can he play a shutdown role? I think he may eventually be able to handle it and he may already be the best option. I felt, a year ago, Martin Marincin was the best available.
What is the best thing you can say about him? The Oilers are miles better with Klefbom on the roster and if he is healthy next season we should see a more balanced defensive group.
Could he handle Sami Vatanen as a partner? I think that would be a very interesting pairing and yes, it could work well.
Does Chiarelli consider trading him? No, not for me. I think he and Sekera would be the two defenders who are off limits. I would also keep Brandon Davidson and Mark Fayne.
Lame. If you add Jason Demers and Sami Vatanen, things look better.
What would the pairings look like? Klefbom—Demers, Sekera—Vatanen, Davidson—Fayne and your mileage may vary. I like the youth with experience marbling of these pairings.
Marbling? Like cheese? Well, pick another word then.
What would you like to see next season? 82 games, another step forward, and if I may, a few playoff games.
Shut your whore mouth! You asked me what I would like to see.
Why this song? Klefbom is a gem from the diamond mine, even more rare and valuable because the Oilers have been so poor at finding them. If Alex Plante had worked out, this entire process would have been far easier. Or, if they had been more patient with Marincin. Klefbom is a diamond and maybe he can mentor another outstanding young player into becoming a truly useful player before his 23rd birthday. Maybe he can save the next Marincin with his own play.