There are good stories all around these days for Oilers fans. The Flames are apparently about to interview Mike 'friend to all' Yeo, a couple of reasonable college bets signed with the town team, and the Oilers in Russia are fueling some fun storylines. Mostly good.
Drake Caggiula UND MVP R-E-S-P-E-C-T.
Leon Draisaitl is not happy with his WHC performance. I think he was out of gas/injured for quite some time during the NHL season. Likely on fumes now, but the big man should be ready by fall with a new understanding about the rigors of a long schedule.
YAKETY YAK
Yakupov involved in public war if words with Russian coach. Says stated reason for dropping him from worlds (injury) is bogus. #Oilers

— Slava Malamud (@SlavaMalamud) May 11, 2016
Russian coach says Yakupov had multiple injuries. Adds that Yak "is probably saying this to sign a contract." Probably means trade. #Oilers

— Slava Malamud (@SlavaMalamud) May 11, 2016
Nail Yakupov clearly a suspect player. But his agent, Igor Larionov, has done an awful job handling this client. Been a PR mess since Day 1

— Mark Spector (@SportsnetSpec) May 12, 2016
Someday, I will list all of the truly dumb things I did before turning 30. As with many males of the species, the list is long and varied. I think we have a maturity issue with Nail Yakupov, a fiery agent, and a coach who simply doesn't give a дерьмо. Some are speculating about this latest incident reducing Yak's trade value, but a team acquiring him already knew he had some bumps—and this is a young man who wants to play, not the other way around.

One suspects a draft day deal for Nail, he could go to any number of teams. I wonder what an analytics team like Toronto would think of him. Although he is an adventure, Nail is not an expensive player—and a strong year in an offensive role might give him more value. I mean, just because the Oilers never figured out the Sam Pollock pump and dump (hellooooo Chuck Arnason!) doesn't mean the Maple Leafs can't do it. Then again, Mike Babcock might strangle him. Either way, if Toronto wants to send Tyler Bozak over, that may work for Peter Chiarelli.
WHAT A FRIEND WE HAVE IN LEON
I don't know if it is politically correct to call a German center a Swiss Army knife, but Leon Draisaitl can play center or wing—and that should allow Peter Chiarelli to wheel this summer. If Leon can play 2C and 2R, that means Peter Chiarelli has more options. We have talked about Benoit Pouliot being in play, and if (as has been discussed) that gets you Sami Vatanen then the top two lines might be:
Maroon—McDavid—Eberle
Hall—Nuge—Draisaitl
Or you can put LD at center while finding a suitable RW (it won't be Nail, and trading Pouliot means the 3LW will be an outside name). Of all the players inside the top six (above), Leon is the guy who gives them the Pavelski options. I liked him on draft day, like Leon more today.
Note: I do not endorse the trading of Benoit Pouliot. The sample size on Patrick Maroon is extremely small and BP is a more proven option who has chem with McDavid. A dangerous move, in my opinion.
Nice @Woodguy55 Giving shout outs to @OilersNerdAlert and @WheatNOil on 630 Ched with @ReidWilkins go @Lowetide readers!

— SuperNova (@SuperNovs1) May 12, 2016
It does my heart good to see the airwaves fill with good information and wise verbal. If you get a chance to do a radio show, or podcast, please do it. There is a lot we don't know about measuring these things, so it is vital to get smart people in front of microphones—especially since so many voices have been silenced because of their new employment by NHL teams. Preach!
CHIARELLI AND HIS PLANS
I have been reading texts and tweets this week that suggest Peter Chiarelli should be fired as Oilers general manager if he cannot fix the defense this summer. For me, that threshold is miles from being met—even with the stumbles of his first year on the job. Chiarelli is the first GM with experience to be hired as Oilers manager since Larry Gordon, and has plenty of work to do across the organization. It seems (to me) reasonable to suggest a five year window for PC, and he has completed just one of those seasons. Progress has to be made, certainly another 29th place finish would be unacceptable. I don't see that as being the outcome of the next 12 months—partly because injuries should be less of a factor for this team. If Connor McDavid plays most of the season, and Oscar Klefbom, Brandon Davidson and Ryan Nugent-Hopkins return to form and are healthy, this should bring a better result all by its lonesome.
I don't expect you to remember, or even believe me, but this blog did call the Kevin Lowe exit from the GM's office back in the day. If you believe PC is hanging by a thread, suspect this could be a frustrating 12 months ahead.
Even if he is unable to patch the defense entirely this summer, Chiarelli hasn't exhausted the clock given to modern managers. If you want Chiarelli fired in the next 12 months, I believe your choices would be in-house options—no self respecting GM candidate is going to come to what is clearly an unstable situation.
Would you feel more comfortable with Kevin Lowe as Oilers GM? Scott Howson? Craig MacTavish? I cannot see a strong and viable GM candidate from outside the organization hitching his wagon to such a confounding organization.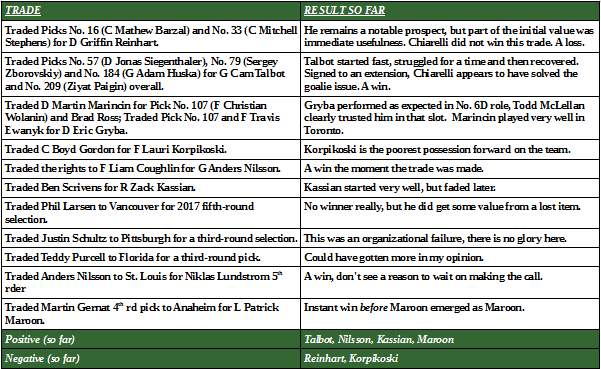 Peter Chiarelli was hired to bring stability to the Edmonton Oilers, and made progress in some areas while also making some missteps. I would count Cam Talbot and Andrej Sekera as success stories (I am finding out that lots of observers are not convinced of Talbot, however), and the Korpikoski and Reinhart deals were not successful (GR deal only made sense if the player helped in the two seasons after the draft—so far, that has not happened).
That said, a mountain of injuries hurt the Oilers—and these injuries were to key players—and surely we can agree that is a factor. I have been seeing a lot of criticisms of Chiarelli's Boston moves, including his (unwise) signings of third-line forwards after the Stanley win. It is important to understand the team building PC did on the front end of the Stanley run. I thought it might be an idea to list the players PC brought in to help win Stanley. Note the years of experience on these men when they arrived:
Nathan Horton: He had six years of NHL experience when Boston acquired him for Dennis Wideman and picks.
Dennis Seidenberg: He had seven years of NHL experience when Boston acquired him for Bitz and pieces.
Gregory Campbell: He had five years of NHL experience when Boston acquired him for Dennis Wideman and picks.
Andrew Ference: He had seven years of NHL experience when Boston acquired him for Wayne Primeau and Brad Stuart.
Chris Kelly: He had six years of NHL experience when Boston acquired him for a pick.
Daniel Paille: He had three years of NHL experience when Boston acquired him for a pick.
Mark Recchi: He had 20 years of NHL experience when Boston acquired him for Matt Lashoff.
Rich Peverley: He had four years NHL experience when Boston acquired him for Blake Wheeler.
Tomas Kaberle: He was in his twelfth NHL season when Boston acquired him for Joe Colborne and a first and second-round pick.
Shane Hnidy: He had seven years of NHL experience when Boston acquired him for Brandon Bochenski.
Shawn Thornton: He had three years of NHL experience when Boston signed him as a UFA.
Michael Ryder: He had four years of NHL experience when Boston signed him as a UFA.
Tyler Seguin: No. 2 overall selection.
Jordan Caron: No. 25 overall selection.
Johnny Boychuk: He had just four games of NHL experience (but was an experienced minor league player) when Boston acquired him for Matt Hendricks.
Adam McQuaid: He was in his final junior season when Boston acquired him for a pick.
Lots of experience. I think that is probably the template for this summer (and in that way we can say more Korpikoski's are on the way). I think we might see names like Jason Demers, or Justin Faulk on defense. And forwards like Tyler Bozak, Loui Eriksson,Troy Brouwer and Kris Versteeg. Chiarelli added some good pieces in Boston, suspect he will here, too. I very much doubt we will like all of the additions this summer.

IMPORTANT DATES THIS SPRING AND SUMMER
May 30

—NHL combine in Buffalo. Invite list is here.


June 1

—Last day to sign 2014 draft picks from the CHL. Keven Bouchard qualifies under this rule and will be a free agent on June 2.

June 15

—The buyout period begins. The CBA states the buyout period begins the later of June 15 or 48 hours after the Stanley Cup Final ends. It concludes on June 30 at 5 pm EST. Source

June 24

—NHL Draft Weekend. Edmonton appears poised to make some major moves, and if they quietly draft their list we can expect major free-agent news the following week.

June 26

—Last Day to qualify restricted free agents. Edmonton has a rather long list, including Iiro Pakarinen, Zack Kassian, Luke Gazdic, Adam Clendening, David Musil, Kale Kessy, Jordan Oesterle and Tyler Pitlick.

July 1

—Free Agency window opens. Jason Demers signs!

July 5

—Player deadline for salary arbitration. The entire process makes my brain hurt, you can read about it here or ask speeds.

August 15

—Final day to sign NCAA draft picks before they reach free agency. Edmonton has no graduating seniors and no one turning pro. They will eventually have to decide on William Lagesson, Zach Nagelvoort, Tyler Vesel, Evan Campbell and Aidan Muir, but not this summer. John Marino also heads to college this fall, so his clock (four year clock) starts.
I think that is it, let me know of any omissions or changes.
#Oilers prospect Ethan Bear in action now in WHL Final. Here's a feature on his season: https://t.co/q1knjhGoca

— Chris Wescott (@TheChrisWescott) May 7, 2016
LOWDOWN WITH LOWETIDE
A quick show, TSN1260 has the Canada-Germany game beginning at 11:15 this morning. Scheduled to appear, beginning at 10:
Jeff Krushell, Krush Performance. The Nats received a fabulous pitching performance yesterday and the Jays bullpen has Tums moments daily.
Frank Seravalli, TSN. The final four is almost set and the Western Conference will offer fans new candidates for the Stanley.
I will preview the Canada vs. Germany game and talk about the Oilers who are doing so well at the Worlds this year.
10-1260 text, @Lowetide on twitter. Talk soon!