One year after arriving in Edmonton, Peter Chiarelli and Todd McLellan have certainly spent some of their reputations on an Oiler team that remains in the basement. I think many observers of the Oilers (based on my interactions with them) were not impressed with McLellan in year one, but his reputation in the hockey industry remains strong. In a recent interview, newly-signed Drake Caggiula talked about why Edmonton was a great fit for him. Among the more interesting quotes:
Caggiula: "They have a core group of players who are talented and highly skilled. I hope to step up and grow with that core. My talk with Todd McLellan (Oilers' head coach) went great. I like his style of player and it suits me well and my coaches at North Dakota also know Todd and they said he was good." Source
One doubts McLellan requires a boost in reputation among the masses (recall the major applause McLellan received at the final Rexall game), but it is an interesting insight into the decision-making process for the young man.
Don't be surprised if Oilers 2015 5th round pick Ethan Bear, who led WHL defenceman with 22 points in 18 playoff games gets signed shortly

— Bob Stauffer (@Bob_Stauffer) May 14, 2016
Nice to see another youngster from that 2015 Entry Draft get signed (Connor McDavid and Caleb Jones are already under contract). I suspect he will play another year in Seattle with the Thunderbirds before turning pro. I have talked to hockey people, sounds like he has in fact developed in important areas. Passing and his shot are strengths, he will want to improve his speed over the next couple of seasons. Righthanded, that gives him extra value on the Oilers 50-man list (when he signs).
Combines quickness and accelaration with agility and balance. A 50-goal scorer with Moose Jaw of the WHL. 
One of the things I believe the Oilers will be looking for this year at the draft is a gritty forward with skill. Ryan Smyth represents the type of player Peter Chiarelli and Oilers fans have in common—and I wonder if that player is available in this year's draft.
Corey Pronman on Pierre-Luc Dubois: He's a very physically developed player, who is strong, competitive on the ice, drives to the dirty areas, and is committed to his fitness off the ice. Whenever Dubois gets into a 1-on-1 battle, he tends to come out with the puck. He's not the fastest skater but he doesn't slug around the ice, either. He projects as an NHL forward who can be slotted into a variety of roles, and has a low-risk factor on his projection. Source
Red Line Report on Matt Tkachuk: The prototype of a modern power winger. Has great size and strength, and wins every puck battle around walls and corners. Makes power moves to the net. Has outstanding vision and playmaking skills. Has a real mean streak if you get him riled up, but would prefer to beat you with perfectly timed and placed passes or a wicked snap shot. Dominant force can take over games. Will hit, fight, score, and is one of the most competitive bastards you'll ever find. Source
Dennis MacInnis, Director of Scouting for International Scouting Services on Logan Brown: "Man, this kid's got tremendous upside. He's 6-5 now, a smooth skater. He was in tough against Kitchener (in the playoffs) because he was up against the No. 1 line. But Brown handled himself well. At that size down the middle, when you can skate and handle the puck like he can, he could go anywhere from seven on down." Source
I have no idea—honestly—what Edmonton's draft board looks like for defense (will guess Juolevi, Sergachev, Chyhcrun), but I bet you money these three forwards are on the board. Would they take Tkachuk at No. 4? I think he might be their guy. Would they take Dubois? He appears to be a perfect fit for the Chiarelli Oilers. Logan Brown? Yes! I believe we could see Edmonton trade down and take him—and I would not be shocked to see PC choose Brown at No. 4 overall. Seriously.
Back from Chiarelli year end. Bet on McDavid as captain next year and core player not named Ryan Nugent-Hopkins to be traded for denenceman.

— Terry Jones (@sunterryjones) April 10, 2016
CHIARELLI SUMMER LIST
Top-pairing D to partner with Klefbom (Jason Demers, Justin Faulk)
Second-pairing RHD to partner with Sekera (Tyson Barrie/Sami Vatanen)
Acquire RHC with some skill (Small group available. Andrew Shaw? Tommy Wingels? Tyler Bozak?)
Offload unwanted contract (Lauri Korpikoski)
Backup goalie (Jhonas Enroth, James Reimer)
Find value contracts (Davidson, Maroon, possibly Caggiula)
Re-stock the Condors, partly through Euro, college and CHL signings (Caggiula and Russell, but also Ellis and Sallinen)
Build up the system (especially forwards) via draft (big summer)
In terms of a top-pairing option, Demers is my preference and I believe Peter Chiarelli probably has him as an option. The problem of course is this: You cannot count on grabbing the one available RHD FA who can fill the role. Edmonton did win Andrej Sekera in free agency last summer, but remember there were several options for teams around the NHL.This brings us to Justin Faulk, who has now replaced Travis Hamonic as the popular option on blogs and twitter. If we go back to Chiarelli's media avail where he was so positive about RNH, it is difficult to marry the two things (Nuge staying, Faulk arriving) unless Jordan Eberle is enough. Is that a fair reflection of the conversation?
Jim Matheson: If the Canes and Oilers are talking about right-shooting D-man Justin Faulk, Carolina's assistant GM Ricky Olczyyk used to do the same job here, so he would presumably be 'Canes' GM Ron Francis's sounding board on centre Ryan Nugent-Hopkins or right winger Jordan Eberle. Source
This is important, because unicorns (unicorns!) require three centers, and Edmonton has a dandy trio in Connor McDavid, Ryan Nugent-Hopkins and Leon Draisaitl. I am leaving my asset list as is, because I do believe PC would prefer not to trade a center. That said, we may have to revisit this as the days go down.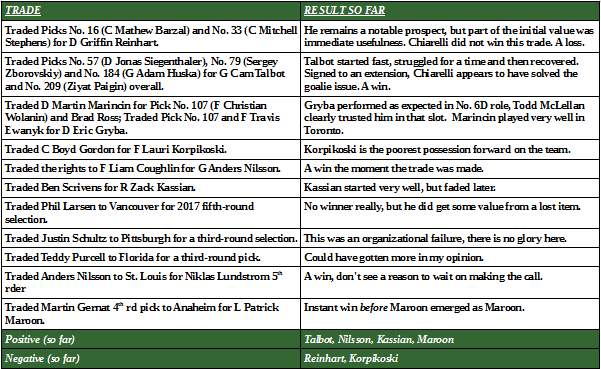 CHIARELLI ASSET LIST
No. 4 overall selection (trading down—not out—sounds like the current plan)
Benoit Pouliot (Anaheim for Vatanen?)
Jordan Eberle (Faulk? I think CAR may want a center)
2017 1st round selection (certainly in play)
Young LHD (Darnell Nurse, Brandon Davidson) (this list may depend on the health of both Klefbom and Davidson. If one or both are not expected to be full speed by TC, this may not be an avenue)
Nail Yakupov (if they get a reasonable offer, he is exiting the system)
Cap space (Edmonton might be able to get a player like Bozak on the cheap because of it)