I always look for the players who can make and take a pass. If you watch a game from 1975, and compare it to today, there are more players now who are not expert passers than 40 years ago. Why? Well, teams ran three lines and two pairings (mostly) back then and the pace of the game was slower. Longer shifts meant a more leisurely pace. You know I am not one to wax poetic about the olden days, but the biggest issue facing NHL teams—and sweet Jesus the Oilers are the poster team—is the tape-to-tape outlet pass on the fly while keeping momentum. Making an outlet pass in 1975 was a walk in the park, making one in 2016 is threading the needle. It is a major component for the modern defender.
ETHAN BEAR
The Oilers took him No. 124 overall. Craig Button had him No. 77. "There is a lot of ability in his game to impact in a positive way. He gets where he needs to be, he never gets himself in trouble. He's a body-on-body one-on-one competitor. If you want to play against him in the defensive zone, you'll have to earn everything you get. He can get the puck out of the zone well, he knows what his options are, doesn't get himself into trouble. Smart player."
This blog first mentioned Ethan Bear in February 2015, a few months before he was drafted by the Oilers. Craig MacTavish was on a scouting trip and we got tipped off about it. I was so familiar with him at the time, called him Nathan Bear.
He's 5.11, 204 and he kind of sounds like an Oilers pick (their smaller blue are usually offensive types like Hunt and Laleggia) and the skating and transition game are interesting. Fifth round pick? Seems like a reasonable bet.
By draft day I had him No. 38 overall, and he was a flat out bargain when the Oilers took him at No. 124 overall—in the fifth round. Sounds like he will sign soon, and I am happy for him, will cheer like hell. The thing is, this is just the beginning. If Ethan Bear signs that deal and works very hard, he might make the Oilers in the fall of 2019. It is a terribly long way. He has ripped up the blacktop available to him, now Bear needs to work even harder. The early returns are very good.
Cam Talbot's been in fine form for Canada at the #WorldHockeyChampionships. Can he carry it into elimination rounds? pic.twitter.com/zdFMBrDhCP

— StatsCentre (@StatsCentre) May 15, 2016
Cam Talbot is doing well for Canada at the WHCs, good to see him have success. I have been wondering about hiring James Reimer as the No. 2 G for next season—doubt he would accept the role, but it is worth discussing. My place holder name is Jhonas Enroth, we will have to visit this before free agency.
I was looking at goalies for the draft before going to bed last night (look, I am a real jet-setter!) and may have been staring at the names for too long. I dreamed that Peter Chiarelli drafted goalie Steve Desroschers from Innisfail of a league whose name I did not catch at No. 4 overall. It was not a good dream. There is no goalie with that name available in the draft this year, but I plan on checking all of the CHL later today.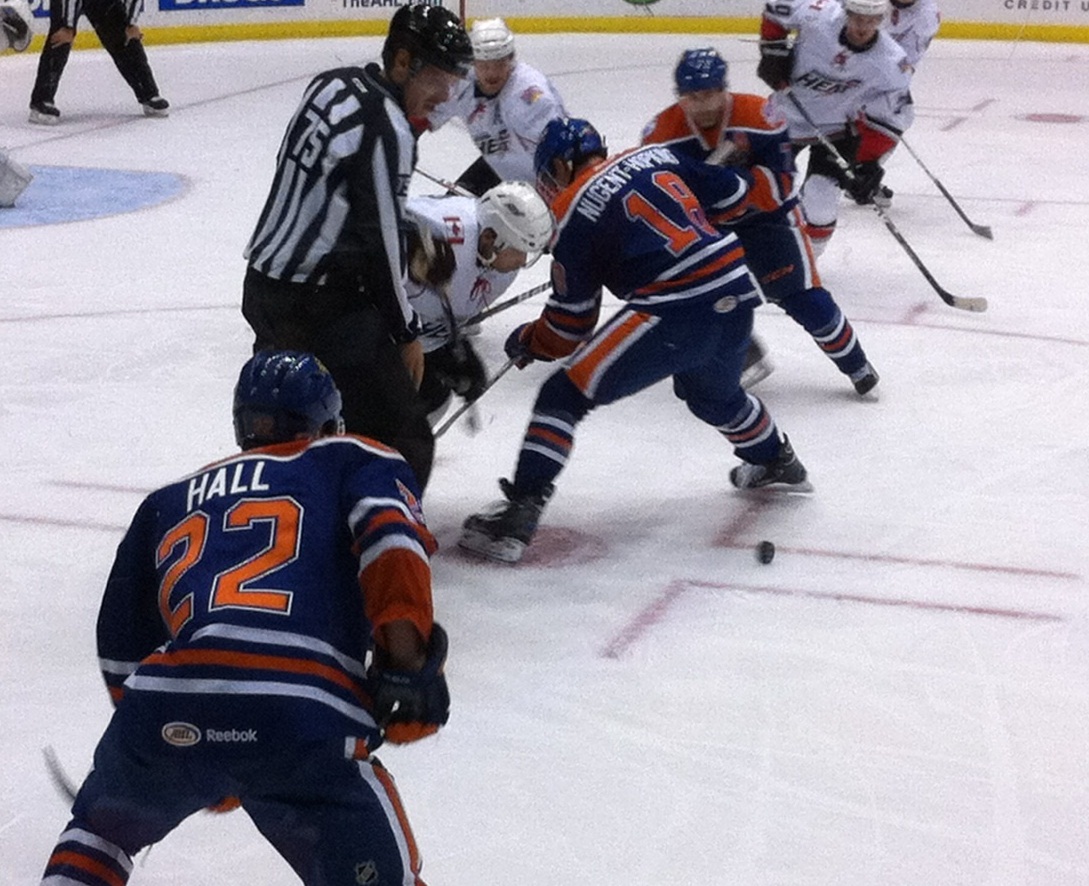 Fluto Shinzawa, Boston Globe: Ryan Nugent-Hopkins might be a player of interest for Boudreau and Wild GM Chuck Fletcher. In turn, with Connor McDavid and Leon Draisaitl in place, Edmonton is in a position of strength at center. This may be the time for the Oilers to deploy Nugent-Hopkins as trade collateral to improve their defense. Source
Before we discuss this, want to point out that expecting McDavid and Draisaitl to cut through the Western Conference's best opposition at this point (they are both too young) is folly. Hell, Nuge took on too much too soon and that may have impacted his development—why would the Oilers do it with their current duo?
That said, and I am in no way saying RNH is heading out of town, if you are going to deal him then bringing in a veteran C who can handle those minutes is vital. In my opinion. That understood, there are some very nice candidates in Minnesota in terms of defensive help.
WAR ON ICE PLAYER CHART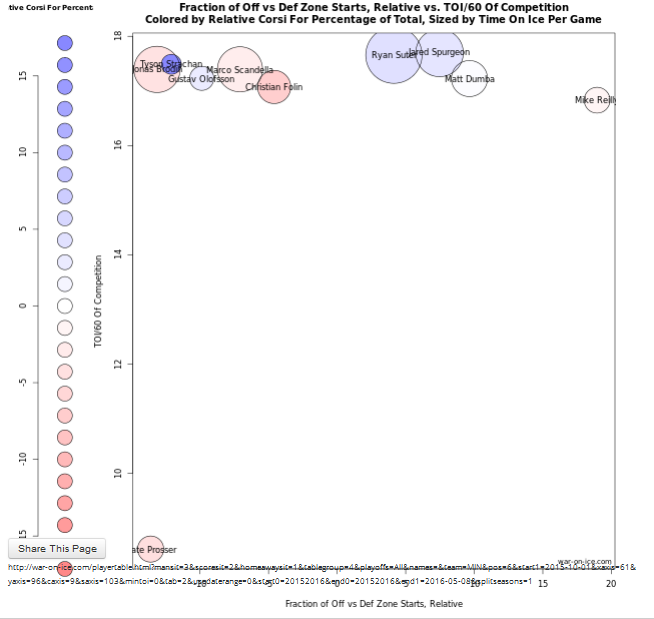 The Wild did not have a great year in possession and their player chart is kind of strange (they all played the same quality of competition according to this, except Nate Prosser who was banished from the kingdom). I like Jared Spurgeon a lot, but doubt he is available. Matt Dumba is also a player I like a lot (he could help the power play) but he has some chaos to his game.
Jonas Brodin is often mentioned—he and Klefbom have played together before—but Brodin has not progressed as a player.

He entered the NHL at 19—and had his best NHL season. Since then, Brodin has been going the wrong way. I call this the Bob Hess syndrome, and even through the metrics are more advanced today, rookie defenders who fade slowly in years two through five have been around the league forever. I would not trade for Jonas Brodin, let alone trade Nuge for him.
Why? As I write this, Leon Draisaitl missed his man and McCabe the American loped down from the point for the first marker for Team USA today at the WHCs. It should have been an easy mark—although it was 4×4—and it shows to go there are lessons ahead for Leon Draisaitl. He is not ready. Nice hair, though.
Se o Oilers está querendo o Justin Faulk pelo RNH, pode esquecer, eu não trocaria o Faulk de maneira alguma

— Andrei Henrique (@andreykranze) May 15, 2016
Andrei brings up a great point—why would the Hurricanes trade Faulk? First, they badly need a top center. Nuge is a little shy physically in the Western Conference, but he can wheel and is wicked smart and they are buying him on the downbeat.
Plus, and this is damned important, the Hurricanes are dealing from strength. They are drunk with fantastic American defensemen, led by Noah Hanifin, Jaccob Slavin and Brett Pesce. A kid from Carlyle SK, Haydn Fleury, is a fine prospect too.
I would not trade Nuge for Faulk—unless there is a same day trade for a substantial center who can offer cover for McDavid and Draisaitl. Is Andrew Shaw coming over?
I can't wait for Ryan Nugent-Hopkins' post-hockey career as an owner of Kentucky Derby winners.

— Hannah Stuart (@HockeywthHannah) May 7, 2016
THE BLUE ROOM (wish list)
Erik Karlsson, Ottawa Senators. Franchise player. He won't move.
P.K. Subban, Montreal Canadiens. Franchise player. He won't move. Right?
Jason Demers, Dallas Stars. Effective defenseman, he costs only money. With Hamonic gone, I have moved him up—and remember he costs only money.
Tyson Barrie, Colorado Avalanche. He is close to a perfect fit for the puck-moving portion of this Oilers team, and might be available.
Justin Faulk, Carolina Hurricanes. The gap between Faulk and (say) Barrie is not large in my mind. He cooled off as the season wore on but he would be a nice option.
Travis Hamonic, NY Islanders. This is a solid player and a great option for Edmonton.
Sami Vatanen, Anaheim Ducks. I like his puck-moving ability but as with all young blue there is not a clearly established level of ability. What we see is very good offensively.
Radko Gudas, Philadelphia Flyers. Strong, effective defender who keeps showing up in good places in possession.
Michael Stone, Arizona Coyotes. Two-way D spiked offensively this year, you would like to have a little more track with those kind of boxcars.
David Savard, Columbus Blue Jackets. Interesting player, has a range of skills and could be among the more available names near the top of this list.
Jacob Trouba, Winnipeg Jets. Strange year for a talented young player. Could be a buy low situation or a waste of assets.
Mark Pysyk, Buffalo Sabres. He has had several false starts in Buffalo, but the numbers imply there is a player here. Might shake loose and could help.
Ryan Pulock, New York Islanders. Big shot from the point has high value, he is a very young target for a team looking for bona fide help.
Damon Severson, New Jersey Devils. Under the radar name, he did pretty well in 2015-16. I have no idea if he is available but this is a player who is young enough to grow with the group in Edmonton.
Ryan Murphy, Carolina Hurricanes. Some chaos, but good speed and puck-moving ability. Hurricanes have a lot of options among blue and need forward help.
Jordan Schmaultz, St. Louis Blues. One thing we haven't looked at a lot is the substantial offensive defensemen in the AHL. Schmaultz is such a player and we could see the Oilers acquire a player like Schmaultz. He is a very good prospect.
Anthony DeAngelo, Tampa Bay Lightning. Another player with a puck-moving element to his game but not yet estsblished as an NHL player. We have talked about him quite a bit, most recently here.
Brandon Montour, Anaheim Ducks. This could be a special player. He is not far from a point-per-game as a rookie defensemen in the AHL. No idea if he is available but worth the ask.
Colin Miller, Boston Bruins. He never gets mentioned, but if you look at the numbers this guy keeps showing up in interesting places. No idea if he has a future, but his now is interesting.
Cody Franson, Buffalo Sabres. I am probably the only one who still likes him enough to list him, but that hammer from the point would come in handy and he fits a real need.
Eric Gryba, Edmonton Oilers. I doubt Mark Fayne returns, and Gryba could slide in as an inexpensive option in the stay-at-home department.
Ville Pokka, Chicago Blackhawks. Young defender in the Chicago system just posted a solid year in the AHL. Suspect they will keep him, but you never know.
Frank Corrado, Toronto Maple Leafs. Very little evidence but he showed up in some good places.
Ryan Sproul, Detroit Red Wings. Puck-moving defender in the AHL, he might be ready for an NHL role this fall.
Dennis Wideman, Calgary Flames. A year removed from a fantastic offensive season, he would probably be available for less than zero. Wildly unpopular idea, it might work.
Taylor Aronson, Nashville Predators. Minor-league defender with some interesting numbers and he shouldn't be expensive.
Matt Irwin, Boston Bruins. He was buried in the minors this season and at 28 that could be it for his NHL career. That said, he did some good things as a San Jose Sharks blue and maybe there is a connection.
The 2016 draft top 120 will be up at 5pm, some changes based on chats I have had with folks about speed and a college man I didn't even notice. Enjoy your day, if you see me walking Ziggy make sure to say hello—and yes, I can keep up with the dog, she just likes to go too fast.