There is a wide gap of opinion about Darnell Nurse and his future with the Edmonton Oilers. Some are encouraged by his rookie season, others believe it was an uneven freshman campaign, while others believe there should be real doubt about his ability to play a top 4D role in the NHL—ever. What is the answer? Can we even tell from here? (It Could Happen To You)
DARNELL NURSE 2014-15
5×5 points per 60: nil
5×4 points per 60: nil
Qual Comp: 11th toughest among D
Qual Team: 10th best available among D
Corsi for 5×5 %: 56.4%
Corsi for 5×5 % REL: 9.3
Zone Start: 78.6%
Zone Finish: 55.6%
Shots on goal/percentage: 2 shots
Boxcars: 2GP, 0-0-0
DARNELL NURSE 2015-16
5×5 points per 60: 0.31 (No. 6 among regular defensemen)
5×4 points per 60: 4.29 (one point in 14 minutes)
Corsi for 5×5 %: 45.5
Qual Comp: No. 5 among regular defensemen (third pairing)
Qual Team: No. 3 among regular defensemen (second pairing)
Corsi for 5×5 % REL: -11.7
Shots on goal/percentage: 120/2.5
Boxcars: 69GP, 3-7-10 .145
WAR-ON-ICE PLAYER CHART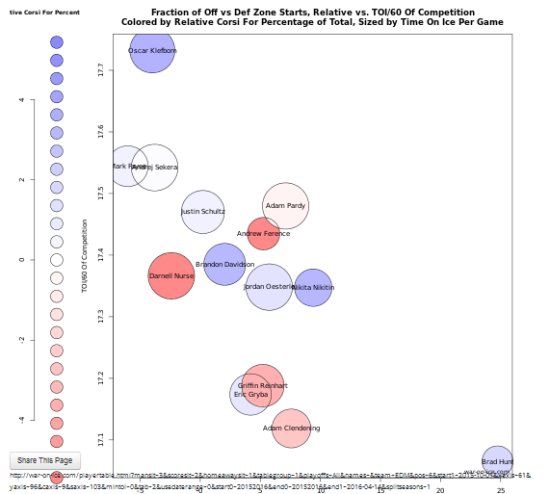 RE 15-16: 50GP, 2-8-10 .200
ACTUAL 15-16: 69GP, 3-7-10 .145

What a terrible year. He was challenged for sure.
Is there any good news? Not a lot. The graph above shows his first 11 games—he looked good for a rookie.
Should have sent him out after that run. Yes, as it turned out the club went ultimate opposite George—elevated him to the top pairing. Not a good developmental move.
Why did they do it? He was playing well, they had an enormous need (as always) and may have felt they could have him learn on the fly. If you like what you see, and believe the player has the capacity, then a fast track may be the thing to do.
Trial by fire? Yes, I think so.
Didn't work. True. Nurse did not recover really, although the performances toward the end of the season corrected some. He was over 50 percent Corsi for 5×5 in his final four games, CorsiRel was 2.0 and that is a number I value. Still, that is a very small sample size.
Was there a specific partner he had success with? Nurse was 48.5 Corsi for 5×5 percentage with Eric Gryba, that was in 95 minutes. Brandon Davidson? 50 percent in 45 minutes, he played well with Pardy too.
Third pairing guys? Yes. Nurse struggled with Andrej Sekera (44.1) in 393 minutes; He was 47.2 in 245 minutes with Justin Schultz—both were first or second pairing partners.
Could he play third pair with a veteran like Fayne? I think he could, although Brandon Davidson is a much better 3LHD option at this time.
Do you see Nurse starting the year in Edmonton? Probably. I don't believe that is the right call, but we have to factor in injuries and that coach McLellan likes what he brings.
His offense was terrible. Nurse as a rookie was 0.31/60 5×5. Jeff Petry was 0.21/60 5×5 in 2010-11. The graph above shows Nurse flourishing early, and then his offense died after those first 11 games.
So, now Nurse is better than Petry? No, but rookie seasons are a snapshot. Nurse's NHLEs had him around 20 points in junior (final season projected to 82gp, 7-17-24) so 10 points this past season should not represent his outer marker.
His possession number is awful! It was not good. Oilers have had worse (Ladislav Smid in his early seasons was very poor, Taylor Chorney had a 38.4 Corsi for 5×5 percentage in 2009-10, Justin Schultz 42.7 in 2011-12—these are different seasons mind—impossible to compare to each other beyond acknowledging none of them is close to good enough) but Nurse is a former top 10 overall selection and the hope is that he can be a big part of the future.
Where do the Oilers go from here? At points in the year, Edmonton could have pulled him back—third pairing or Bakersfield—and chose not to do it. Ideally, PC sends Nurse to Bakersfield in the early part of the season and when he is recalled it is for third pairing and with a veteran partner. You know, you can go back in the Oilers past and find a lot of rookies grappling with entry into the league without a suitable partner.
Should the Oilers trade him? I don't think they will.
Should the Oilers trade him? Not sure the question applies.
Should the Oilers trade him? Edmonton has very few areas of strength. One of them is young LHD, a list that includes Oscar Klefbom, Brandon Davidson, Darnell Nurse, Griffin Reinhart and others. I think the first option—along with draft picks—should be players from that list. I am unsure trading Klefbom or Davidson helps the cause, but if a deal can be made using any of those four that improves the team, so be it.
Will he have a career? God, yes. Nurse struggled, and people are worried the pick will be a waste, but at least some of what happened this year is on the organization. If he had been handled better, Nurse's numbers would not look this way.
What do you mean? On November 23, he was 12gp, 1-2-3 48.6 Corsi for 5×5/60. Had the Oilers sent him down around that time—he had a taste of the NHL—perhaps a later recall would have gone better. NHL teams do this all the time, by the way. Give a rookie some idea about what he is facing, send him down to re-set and get  his bearings. Bring him up later. It is a developmental tool.
They kept him. How did it go? Between November 24 and December 31, he was 18gp, 1-0-1 43.1 Corsi for 5×5 percentage. A lot of that time, he was playing with Sekera.
Again, why? I honestly think they felt Nurse might be able to handle it.
He could not. Yes. But that isn't on the player, and I do think it is foolish to assume he can't eventually fulfill that role.
A lot of evidence that a top 10 pick who can't play at par as a rookie won't make it as a quality NHL defender. Did these players get moved to the top pairing after 11 games? And is this a strict rule, as in once the die is cast all bets are off? Because that seems to be a grand case of issue framing from here, although I stand to be corrected.
A lot of smart people are saying he is already in trouble as a prospect. For me, the five year rule applies, and there are times when even that isn't long enough. Let's see how things look after five years—summer 2018, to be exact. I think the Oilers actions confused the issue with this player—he should be pushing for playing time, and if we were talking about 25 games and the rest in Bakersfield, this would be a different conversation.
He was a top 10 pick! He was welcomed into the Oilers defense and then (after 11 games) asked to play on the top pairing. Before that night, Darnell Nurse looked to be on track.
He is Ladislav Smid and you know it. Or he is Eric Brewer or maybe better. We don't know, and honestly I think a lot of the bets being made now have more to do with the Edmonton Oilers than Darnell Nurse. Damn shame to put that on the young man. Damn shame.
Why this song? Its about touching things and not leaving them better. I have watched the Oilers do this dozens of times over many years, and each time—incredibly—it is somehow the young player at fault. 'Same old useless, worn out thinking' indeed. These kids come to town with piss, vinegar and promise, and are soon directed to the heavy lifting and the work reserved for veterans in winning towns. It could happen to you.