In a perfect world, the Edmonton Oilers could improve their team at a giant shopping center where the items and prices are clearly marked. Aisle one, goalies, aisle two, defensemen—Oilers would be there for some time—but it doesn't work that way.
This morning, Nielson and Fraser invited me on to the TSN1260 morning show and tasked me with the following: Improve the Oilers with five moves. I cheated a little, came up short anyway, but had a lot of fun. The results are below. (Note: I was going to post Dusty and Wil's list, but forgot to photo them. Will add later, and I thank them for the opportunity—and listeners for the input!).
LOWETIDE SUMMER (YOU HATE IT. BELIEVE ME)
Trade Nail Yakupov to the NJD for D Damon Severson. Lots of pushback on this deal, and if a slight sweetener is required we can talk. That said, Yakupov has value and I would think PC could make something work here. Severson had his issues, but I do believe this is the last summer to get him.
Sign Jason Demers to a Sekera-style deal, five times $5.0M. I think that could get him, but if more is required then sign me up. There are two things that make me believe Demers is the best bet: He is a bona fide top 4D who can play tough minutes—and he costs only money. Dangerous thing to throw around, but the Oilers need actual NHL players without giving anyone up. Having Demers and keeping the Nuge while doing it makes this move necessary.
Sign Jhonas Enroth to a two-year deal, $1.75M. Cam Talbot is the No. 1 goalie, but we also have to be mindful of slow starts that have blown away seasons in the past several Edmonton falls. A player like Enroth offers cover, and if Laurent Brossoit emerges bona fide, should be relatively easy to deal at the deadline.
Trade Mark Fayne to Toronto for Tyler Bozak. My least favorite deal, and many have let me know the Leafs would never make this trade. Looking at their depth chart, where C should be better and RHD is not strong, I wonder. Perhaps a sweetener is required, but I would gladly keep Fayne on the roster (as you know, this blog is pro-Fayne. Heh). I make the trade because Bozak is important, he allows movement around the roster and can help in the dot and in all three game states.
Buyout Lauri Korpiski, costs $500,000 in 2016-17, more in 2017-18 via GeneralFanager. Feels so good.
Sign RW Teddy Purcell to a one-year $3M deal. I can be talked out of Purcell (Parenteau, Stempniak) but really like the idea of having an actual plug-and-play option. He is skilled, a veteran and may accept a one-year deal. He would fit right in. Again.
The signings are all for one or two years save Demers, and the trades save some dollars overall and do not sacrifice term.
LOWETIDE SUMMER—ROSTER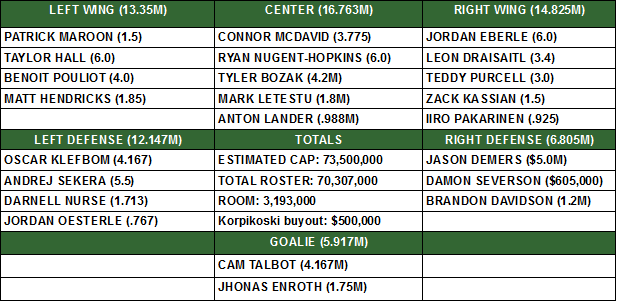 I didn't get it all done, and question some of the moves (could have gone with a less expensive RW than Purcell, allowing for an onloading of a Leddy-Boychuk blue late in the offseason) but there is a lot of balance and depth here. I accomplished:
Depth in goal—real depth, I think. If Talbot is struggling in October, no one can question Enroth's qualifications.
Upgrade on RHD—done without disturbing the forwards or the draft. Demers and Severson are good bets for this season, and could be productive NHL players five years from now. I understand the appeal of getting a stud RHD, but the cost is too extreme.
Improved the forwards—and they are already good. There are all kinds of possibilities. If you don't like Leon on RW, move him to C and he can play with veterans like Benoit Pouliot, Tyler Bozak, Teddy Purcell and Zack Kassian. Injuries? This roster has enough depth to overcome some injuries. Seriously.
The center depth is retained and possibly improved, although your mileage may vary. Before you tell me Draisaitl on RW won't work, take a boo at what happened when Hall, RNH and Leon took the stage together. Fire.
This is not a group of sexy adds—you are not getting a stud defenseman with a monster point shot—but there is balance and there is depth. Best of all? Nuge, Hall, Eberle, Pouliot, No. 4 overall. All still here.
"For them to give me another opportunity to show that I've changed my life around… I'm beyond happy." @zkassian9 on signing #Oilers contract

— Edmonton Oilers (@EdmontonOilers) May 19, 2016
We all love redemption stories and this is a player who performed well early—then faded—but he could help. I like him in a 4line role, moving up to 3line with slumps and injuries. Your mileage may vary, but if we look at 2015-16 5×5 points-per-60 for the group on RW I have on my team:
Leon Draisaitl 2.20
Jordan Eberle 1.85
Teddy Purcell 1.73
Iiro Pakarinen 1.16
Zack Kassian 1.13
GRIT, DAMMIT!
By far the most feedback I received today revolved around grit. Apparently the expectation is that Peter Chiarelli is going to add King Kong this summer. If you look at my roster above, there is:
Plenty of size and rugged play up front. Patrick Maroon is beloved in this city because of it, Benoit Pouliot is an effective big body, Matt Hendricks is a tough hombre.
Zack Kassian, signed today, gives Edmonton a true agitator and Iiro Pakarinen also helps the cause.
Darnell Nurse is the personification of rugged play and a game rooster in the fighting department.
There is grit in free agency, I could have used the Purcell money on a tougher winger. I chose not to, because—and this is sincere—it is my belief that Purcell will do more to help the Oilers win than another J-F Jacques in the lineup. Get good players, keep good players. The roster above has a bunch of them.