We are counting down (Casey Kasem style) to the NHL draft, and for the Edmonton Oilers this month is crucial. Balancing assets, cap and draft picks and cobbling together a truly useful summer will be a challenge for Peter Chiarelli. Let's start with what he has done in procurement so far this spring.
G Nick Ellis: Newly signed college free agent.
D Caleb Jones, WHL D. Newly signed, definite slide rule.
L Drake Caggiula. A nice addition, let's not go crazy on projecting him.
L Jere Sallinen, Newly signed, you can never have too many Finns.
R Zack Kassian, gigantic one year opportunity to become a legit part of the team.
Smaller additions (AHL types) also took place during the spring season. Jones was going to get signed sooner or later (and I expect we will see Ethan Bear's announcement too) and at some level the Zack Kassian deal was anticipated. Caggiula and Sallinen are a bit of a tell in that those transactions inform us about areas of weakness (inexpensive scoring wingers) and the template for the future (inexpensive scoring wingers).
CHIARELLI'S FIRST SEASON (TRADES)
Traded No. 16 and No. 33 to NY Islanders for Griffin Reinhart. I understand the deal, but part of the appeal had to be from immediate impact. The trade makes sense if the return helps immediately. Also galling was GR is a LHD, a particular area of strength for the team.

A loss.

Traded No. 57, No. 79 and No. 184 to NY Rangers for G Cam Talbot and No. 209 overall. I am actually surprised by the amount of push back on this trade (one reason I am listing the deals again). For me, I think it was a reasonable bet, Talbot struggled early and then recovered. I do think it wise to have a veteran backup.

A win

.
Traded D Martin Marincin for Pick No. 107 (F Christian Wolanin) and Brad Ross; Traded Pick No. 107 and F Travis Ewanyk for D Eric Gryba. Every time I write this, a few folks post about my undying love for Marincin. Folks, he is a good defenseman and has a growing track record of effectiveness in terms of possession. I love that for sure. Marincin remains in Toronto, Gryba is a free agent after one season.

A loss

.
Traded C Boyd Gordon for to Arizona Coyotes for Lauri Korpikoski.

A loss

.
Traded the rights to Liam Coughlin to the Chicago Blackhawks for G Anders Nilsson. A nifty little trade when it happened and it worked at least as well as we thought it might. Of course, we could be surprised.

A win

.
Traded G Ben Scrivens to Montreal Canadiens for R Zack Kassian. The winger started well and then faded, but I remain impressed PC made the deal.

A win

.
Traded D Phil Larsen to the Vancouver Canucks for a 2017 fifth-round selection. I am tempted to write this as a win, but honestly it is too soon to know. Neutral.
Traded D Justin Schultz to the Pittsburgh Penguins for a third-round selection. Based on what is likely to be a short career with the Pens (they will not renew), Edmonton made out well (doubt that contract was staying on the books here, either). I am warming to the idea of JS winning a Stanley Cup, serving as reminder about what happens when you have insane forwards and a hot goalie.

A win

.
Traded R Teddy Purcell to the Florida Panthers for a third-round selection. I still think they should have gotten more, TP had a good year. Neutral.
Traded G Anders Nilsson to St. Louis Blues for a fifth-round selection. Neutral.
Traded D Martin Gernat and fourth-round pick to Anaheim Ducks for L Patrick Maroon. I don't think it will always look this good, but little doubt Chiarelli did well here.

A win

.
Positives (imo): Talbot, Kassian, Nilsson and Maroon (plus the third for Schultz)
Negatives (imo): Reinhart, Gryba and Korpikoski
Chiarelli's negative trades came during the summer, he may have figured out a direction as the season wore along. Pretty flimsy argument, I am sure you agree. What was his best trade? Worst?
https://twitter.com/ShawnReis/status/732596340375617537
I have Tyson Barrie at No. 4 on my procurement list for defensemen. He would be higher, but I fear the acquisition cost on this player. If this was a matter of dealing No. 4 and a young defender to Colorado for No. 10 and Tyson Barrie, I could live with the deal. I believe the cost would be far more dear.
OILERS CURRENT PROJECTED ROSTER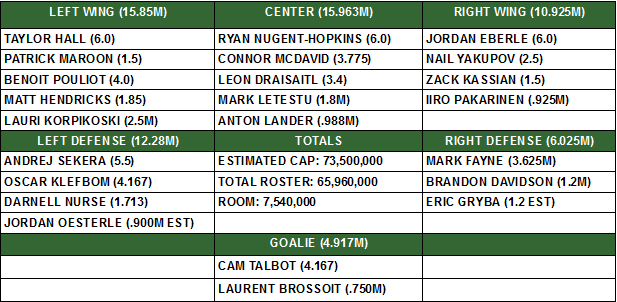 There are some fine things here, LW is fabulous and I do like the centers (would love a RHC added, though). If Leon is a pivot then the Oilers have to replace Teddy Purcell or commit fully to Nail Yakupov on RW (this will not happen).
The main issue is defense, and it is clear the RH side is the major item. Back in the olden days, Edmonton was effective in reaching out and adding a Jason Smith or Steve Staios. I am uncertain as to how it happened, but for some reason the Oilers lost that magic along the way. The evaluation of defensemen in this city has been extremely poor since Ladislav Smid arrived and was forced into the lineup miles too early. This is the challenge for Peter Chiarelli, who was effective in procuring established NHL defenders in his last job. Let's see if he can do it again.
One of the things I learned from doing the roster exercise with Dusty and Wil yesterday on TSN 1260 was about roster priority. You (and listeners) feel a puck-moving defenseman (I did not get one in my six moves) is a very high priority. I would rather seek balance—two pairings coach McLellan can count on, plus Davidson as insurance—but the PP and improving it is higher on your list.
SOMETHING FROM 1984
ALTERNATIVES TO BARRIE AND FAULK
The last time Edmonton had a real hammer, this fellow was not familiar with Chocolate City. The Oilers need a hammer, and Tyson Barrie/Justin Faulk are going to cost the moon. How can Peter Chiarelli address the need without ripping apart the forwards? One way to accomplish it may come by acquiring an under the radar talent. On my list of blue sky blue, I posted several names:
Ryan Pulock, New York Islanders. Big shot from the point has high value, he is a very young target for a team looking for bona fide help.
Ryan Murphy, Carolina Hurricanes. Some chaos, but good speed and puck-moving ability. Hurricanes have a lot of options among blue and need forward help.
Jordan Schmaultz, St. Louis Blues. One thing we haven't looked at a lot is the substantial offensive defensemen in the AHL. Schmaultz is such a player and we could see the Oilers acquire a player like Schmaultz. He is a very good prospect.
Anthony DeAngelo, Tampa Bay Lightning. Another player with a puck-moving element to his game but not yet estsblished as an NHL player. We have talked about him quite a bit, most recently here.
Brandon Montour, Anaheim Ducks. This could be a special player. He is not far from a point-per-game as a rookie defensemen in the AHL. No idea if he is available but worth the ask.
Colin Miller, Boston Bruins. He never gets mentioned, but if you look at the numbers this guy keeps showing up in interesting places. No idea if he has a future, but his now is interesting.
Ville Pokka, Chicago Blackhawks. Young defender in the Chicago system just posted a solid year in the AHL. Suspect they will keep him, but you never know.
Ryan Sproul, Detroit Red Wings. Puck-moving defender in the AHL, he might be ready for an NHL role this fall.
Dennis Wideman, Calgary Flames. A year removed from a fantastic offensive season, he would probably be available for less than zero. Wildly unpopular idea, it might work.
If deals for Barrie and Faulk don't come to fruition—and we have to believe Peter Chiarelli is at least shopping in that part of the market—then one of these names may end up being the attempted fix this summer. It is not sexy, but could be effective and will be far less expensive.
From @frank_seravalli: A look at the Top 30 unrestricted free agents https://t.co/uKOQNyAWtA #TSNHockey pic.twitter.com/jjBCt6pKal

— TSN Hockey (@TSNHockey) May 20, 2016
I think Peter Chiarelli will be potentially interested in Loui Eriksson, Milan Lucic, David Backes, Keith Yandle, Jason Demers, Frans Nielsen, Radim Vrbata, Teddy Purcell, Kris Versteeg and P.A. Parenteau. Many of these names depend on who gets sent away, of course.
STEVE KOURNIANOS, MOCK DRAFT
Steve Kournianos has been a frequent guest over the last months as we matriculate towards the 2016 draft. His May mock is running now, here is what he has for Edmonton in the first three rounds:
No. 4 overall: D Jakob Chychrun, Sarnia Sting (OHL) (Round 1)
No. 32 overall: L Givani Smith, Guelph Storm (OHL) (Round 2)
No. 62 overall: R Joey Anderson, US National Team (USHL) (Round 3)
No. 89 overall: C Tanner Kaspick, Brandon Wheat Kings (WHL)
Steve does not have Edmonton making a pick with the Florida selection in Round 3. You can click on each link above and read about the players and reasoning behind the picks.
BROCK OTTEN, OHL PROSPECTS
I always look forward to Brock Otten's final list, gives me a really good idea about the world's best junior league. His list comes out in several posts, 1-10 is here. You can see all of the names here.
RE TODD MCLELLAN
We are over halfway through the RE series, I will post the Todd McLellan RE at 5pm this afternoon Edmonton time (unless something breaks).
LOWDOWN WITH LOWETIDE
A fun show to rap up the week, TSN1260 beginning at 10. Scheduled to appear:
Steve Lansky, BigMouthSports. Is Toronto an association city?
Matt Iwanyk, TSN1260. Point Counter Point, we discuss Zack Kassian.
Scott Cullen, TSN. NHL playoffs, WHC and Raptors.
Friday, May long, snow in beautiful Alberta. The world is turning as it should. @Lowetide, 10-1260 via text.