Today we are going to talk about player types who do not belong in the top 50 picks. I write this post every year leading up to the draft, and since we are about one month out, now this is probably a good time to do it.
When people talk about Edmonton's poor drafting over the last several seasons, they often point to pre-draft rankings and imply the picks were wildly out of step with consensus. This is (mostly) not the case—the selections in the first two rounds usually align with Bob McKenzie or Red Line.
The issue is with player type. The wise team drafts players with a range of skills, giving their players more than one chance to make the grade. The wise team gets a prospect with substantial offensive potential, giving themselves a chance to fill one of the key roster spots with an internal addition.
Edmonton has been drafting so high in Round 1 since 2010 getting a great prospect has been (mostly) easy. After that? One-dimensional talents have been the norm and that means limited roster options—even if the player works out.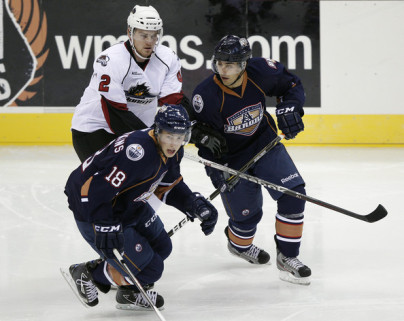 OILERS 2011 DRAFT
Ryan Nugent-Hopkins at No. 1—Bob McKenzie No. 1
Oscar Klefbom at No. 19—Bob McKenzie No. 21
David Musil at No. 31—Bob McKenzie No. 41
Musil is 10 picks behind—not an especially big gap for the second round—but the selection didn't look good draft +1 and has gone downhill since. I don't blame the player, but the decision to select the player-type so early (choosing a defensive defender with a lot of offensive talent still available) was (and maybe still is) flawed.
This year's David Musil is a young man named Logan Stanley, who is no doubt high on lists compiled by teams like the New York Rangers and—maybe—the Edmonton Oilers. Sportsnet ranks Stanley No. 14, Brock Otten of OHL Prospect has him No. 15 among draft eligibles in this draft and I do not have him on my top 120 (No. 46 among OHL players). My list (I admit) punishes this player type and he is a wonderful skater, but if a team takes him No. 15 overall, they are selecting a defenseman who scored 18 OHL points in 71 games this season. (Bob McKenzie has him first round, Craig Button second round). If you don't believe me, believe Brock Otten. He has it right.
OILERS 2012 DRAFT
Nail Yakupov at No. 1—Bob McKenzie No. 1
Mitchell Moroz at No. 32—Bob McKenzie No. 56
This was absolutely a weird draft. You cannot run a company this way. The ironic thing is the early pick (imo) was the correct one—but the Moroz selection ignored offense (again) and math. If Edmonton liked Moroz that much, choosing him at No. 63 would have been the better play. Or trading down in the second round.
OILERS 2013 DRAFT
Darnell Nurse at No. 7—Bob McKenzie No. 9
Marc-Olivier Roy at No. 56—Bob McKenzie No. 59
There isn't much to complain about based on rankings, the two early picks were within range of BMs rankings. I had Rasmus Ristolainen ahead of Darnell Nurse, but Edmonton's choice did show a range of skills and enough offense to suggest he would be able to play a regular role. Roy did not develop offensively as hoped, but on draft day he had a nice range of skills.
OILERS 2014 DRAFT
Leon Draisaitl at No. 3—Bob McKenzie No. 4
Oilers delivered in a big way with Leon, he looks like a plug and play for the next decade. The lack of a second-round pick (along with previous selections in that round) left a hole in the asset cupboard.
OILERS 2015 DRAFT
Connor McDavid at No. 1—Bob McKenzie No. 1
The Oilers drafted McDavid. They won the draft before Bettman heard the booing.
STRONG DRAFT STRATEGY
Value skill above all other things.
Value players with a range of skills, who have more than one way to make it.
Draft offensive talent and let math do the work.
Don't take goalies early (Oilers have learned this).
Don't take defensemen early unless they bring offense.
Speed matters, even more than size.
Don't walkabout in the top 100.
Stop mining areas currently frequented that have produced nothing. I'm looking at you BCJHL.
Print off the Bob McKenzie list and compare it to your own list.
STOP chasing Coke Machines.
This list first appeared here.
I think Connor McDavid is struggling in this game because he is still disappointed about the lottery. You can see it in his face.

— Lowetide (@Lowetide) May 21, 2016
I had a few people DM me over this, want to be clear on the tweet. Connor McDavid is a ridiculous talent and as such when pucks are not going in there will be questions. He is already a lightning rod player. The young man is playing well (eight assists tied the previous Crosby record of points by a teenager and 97 has a game left) and struggled along with his team today.
I do tire of silly shots about him and that was the reason for this tweet. Remember the day of the lottery? Remember when people were reading his body language? I must have read 100 tweets about how disappointed he was that night.
My tweet reflected that night and placed it onto today. The suggestion being that people are going to say dumb stuff for the next decade, so we might as well get used to it. But the joke only works if we all agree that the situation is ridiculous.
So. Let me state this now so you will know (if reading) how I feel about Connor McDavid.
In my lifetime as a hockey fan, my chosen teams have been blessed (as have I) with Bobby Orr, Ray Bourque, Wayne Gretzky, Mark Messier, Jarri Kurri, Paul Coffey, Grant Fuhr and others. I have been paid in full as a fan. Whatever this is, the McDavid time, is more than any fan should expect let alone take for granted.
Connor McDavid is going to be one of those special names and I am so pleased to be a witness to it. Seriously. It is a pure pleasure, cannot imagine anyone would feel differently. Blessed. Again.
@TheSnipeshow The whole team is struggling, but people are targeting McDavid. Get used to it, only 25 years left!

— Lowetide (@Lowetide) May 21, 2016