The Edmonton Oilers are poised to collect yet another ridiculous offensive talent in the 2016 draft. A run that began in 2010 with Taylor Hall—and before if you include Jordan Eberle—continues unabated barring a trade down or out of the first round's lottery spot (this time No. 4).
Over the years, Edmonton has drafted some of the finest CHL prospects of the century. A good way to measure players is by even-strength scoring, and although we don't have things like TOI, the points-per-game totals are informative.
EV SCORING CHL OILERS SINCE 2006-7
2014-15 Connor McDavid 47, 33-42-75 (1.60)
2013-14 Leon Draisaitl 64, 25-37-62 (.969)
2009-10 Taylor Hall 57, 22-33-55 (.965)
2011-12 Nail Yakupov 42, 18-22-40 (.952)
2006-07 Sam Gagner 53, 14-33-47 (.887)
2010-11 Ryan Nugent-Hopkins 69, 20-27-47 (.681)
2009-10 Ryan Martindale 61, 13-28-41 (.672)
2012-13 Marco Roy 65, 16-25-41 (.631)
2007-08 Jordan Eberle 70, 25-19-44 (.629)
2009-10 Curtis Hamilton 26, 7-8-15 (.577)
2012-13 Jackson Houck 69, 15-24-39 (.565)
2012-13 Greg Chase 69, 13-23-36 (.522)
2010-11 Tobias Rieder 65, 17-14-31 (.477)
2011-12 Daniil Zharkov 50, 14-8-22 (.440)
2012-13 Kyle Platzer 65, 4-17-21 (.323)
2010-11 Travis Ewanyk 72, 12-10-22 (.306)
2011-12 Mitchell Moroz 66, 11-8-19 (.288)
We can't really compare across years and leagues, but the numbers above indicate who had substantial talent (No. 1 through No. 9 were incredible to good) and who did not (Tobias Rieder was an excellent draft pick but his offense was not the sum of his resume).
2016 Draft Picks around No. 4 (EV/GM)
2015-16 Matt Tkachuk 57, 20-43-63 (1.11)
2015-16 Pierre-Luc Dubois 62, 29-36-65 (1.05)
You will read many things about Matt Tkachuk in the coming days, and he really is a great young forward. However, if we can agree that even-strength scoring is the purest gauge—and that Tkachuk plays a lot of the game—then it is very difficult to argue the London Knights winger has any clearance at all on Pierre-Luc Dubois in terms of offense. I would also challenge you to read up on Dubois, whose style is a very good fit for Edmonton. That said, it is absolutely possible Matt Tkachuk is the name Edmonton calls (I have Dubois No. 4 and Tkachuk No. 5, but the gap is small).
@ThomsonCam 83P points for Dubois in 62gp, 66P points for Tkachuk in 57gp. https://t.co/55XIG6xhmI

— Lowetide (@Lowetide) May 21, 2016
2016 Defense Draft Picks around No. 4 (EV/GM)
2015-16 Mikhail Sergachev 67, 9-16-25 (0.373)
2015-16 Jakob Chyrchrun 62, 3-18-21 (0.339)
2015-16 Olli Juolevi 57, 5-12-17 (0.298)
Darnell Nurse (68, 10-17-27 0.397) in his draft year is a little beyond these three, and Aaron Ekblad in his (58, 6-15-21 0.362) is also in the range. The numbers confirm what we have known for a long time: It is close to impossible for any defenseman to stand out offensively without substantial power-play time.
LeBrun: "I think the month of June is going to be a complete gong show for the amount of news that's going to be generated" from trades.

— Chris Nichols (@NicholsOnHockey) April 4, 2016
Ordinarily I disregard this kind of verbal, because every year it seems we hear about activity and then nothing rhymes. I do not think we will see 40 trades around the draft, but would not be surprised to see Edmonton involved in three deals.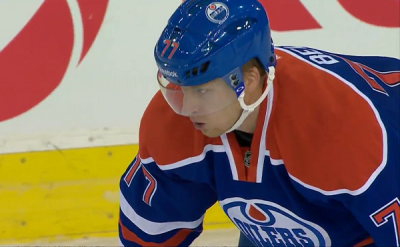 WHCs
Elliotte Friedman: One GM had a good line about Vadim Shipachyov, who leads all scorers with 13 points in seven games after the preliminary round. Asked if he was having any luck signing him, the exec replied, "I'm trying like everyone else." So it's pretty intense. Czech defender Michal Kempny has some outstanding possession numbers. Source
NHLE's for Friedman's Names
I used Christian Roatis NHL Equivalency tool (it is a grand item) but the KHL conversion appears to be liberal here. That said, Artemi Panarin's NHLE in 2014-15 suggested 75 NHL points in 82 games—and he scored 77 NHL points in 80 games. A quick final note: Jere Sallinen, who played in the KHL last season, has an NHLE of 25 points. I will track back and discuss him in the coming days. Dustin Nelson had a good look at Euro free agents back in March. Some of the names have been signed but that remains a solid read.
CURRENT OILERS ROSTER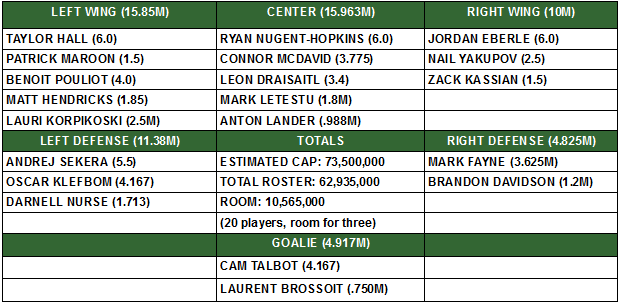 Miles to go, but this does give us an idea about how much cap room there is this summer. Jon Willis has been working hard on finding good fits with that cap room and it is an area to explore as we reach the draft and free agency. Andrew Ference is not factored in, still assuming LTIR.
CURRENT 50-MAN LIST (38)
G Cam Talbot. No. 1 next season.
G Laurent Brossoit. Projects as NHL backup/AHL starter, signed a two-year deal.
G Nick Ellis: Newly signed college free agent.
G Eetu Laurikainen, AHL backup, he is signed for next year.
D Oscar Klefbom, likely top pairing, needs to stay healthy.
D Andrej Sekera, top 4D, important part of the team.
D Brandon Davidson, top 6D, needs better health.

D Mark Fayne, I question Oilers ability to find three better RH this summer.
D Darnell Nurse, probably top 6D next season, ideally in Bakersfield.

D Griffin Reinhart, may spend another year in the minors. Could be dealt.
D Andrew Ference, they will buy him out (if able). LTIR is my guess.
D Joey Laleggia, AHL D matriculating.
D Dillon Simpson, AHL D, matriculating.
D Ben Betker, AHL D, matriculating.

D Caleb Jones, WHL D. Newly signed, definite slide rule.

C Connor McDavid, Giant.
C Ryan Nugent-Hopkins, quality NHL center.
C Leon Draisaitl, emerging NHL talent.
C Mark Letestu, checking NHL C.
C Anton Lander, they may find a buyer.
C Jujhar Khaira, he is a good bet to make the roster in the fall.
C Bogdan Yakimov, a chance he comes back. Has NHL tools, speed concern.
C Kyle Platzer, AHL C matriculating.
L Taylor Hall, impact NHL player, expert river pusher.

L Benoit Pouliot, underrated by many. Trade rumors.
L Patrick Maroon, big winger has been exceptional since arrival.
L Lauri Korpikoski, Oilers should try to offload him this summer.

L Matt Hendricks, checking NHL W.

L Drake Caggiula. A nice addition, let's not go crazy on projecting him. 

L Jere Sallinen, Newly signed, going to wheel back and have another look.

L Mitch Moroz, AHL winger/enforcer, matriculating.
L Braden Christoffer, rugged winger, matriculating.
R Jordan Eberle, scoring winger could be in play.

R Nail Yakupov, gone baby, gone.
R Zack Kassian, third and four line winger. Showed flashes. Newly signed.

R Anton Slepyshev, talented winger should push for NHL time.

R Patrick Russell, power forward potential. New signing.

R Greg Chase, minor league winger, matriculating.
WAITING
R Iiro Pakarinen, suspect he will push for a spot next fall. RFA
D Jordan Oesterle. Suspect he signs. RFA.
D Adam Clendening. Foot speed will cost him. RFA.
D David Musil. Three straight solid seasons in the AHL. RFA.
L Luke Gazdic. He is in tough at this points. RFA
R Adam Cracknell. I have no idea if he will be back. UFA.
R Rob Klinkhammer. No feeling either way. UFA.
D Adam Pardy. He played well, doubt there is room. UFA.
D Eric Gryba, UFA. A chance he signs. UFA.
D Nikita Nikitin, UFA. Ufa alright.
D Brad Hunt. Skills are duplicated elsewhere. UFA.
L Josh Winquist. Best offensive prospect in the AHL currently—but does not have an NHL deal.
R Josh Currie At 23, he forced his way into the lineup and played very well. Can also play center.
C Marco Roy. Began slowly, but fought his way up the depth chart and emerged as a solid option.
R Tyler Pitlick. Young veteran is RFA again. If he could only stay healthy.
G Niklas Lundstrom. Signed with Bjorkloven for next year.
L Kale Kessy. Rugged winger, skills duplicated on roster. RFA.
R Andrew Miller. He may have traded himself. No chance he returns imo. UFA.
L Ryan Hamilton. May receive another deal from the Oilers.