The Edmonton Oilers simply have to get something out of their farm system, and that right soon. Leon Draisaitl spent six games in the AHL before embarking on his breakout season, but that isn't really a victory for the development system. Many believe it is about drafting, but there is some evidence (Tobias Rieder, Erik Gustafsson, possibly Ethan Bear) the procurement department may not be the main issue. Are these kids making progress? If not, why not?
Eric Rodgers (as I mentioned last night) has done the heavy work to estimate time on ice and points per 60 for the Condors in 2015-16—just as he did for Oklahoma City the previous season. Let's start with last season:
BARONS FORWARDS 2014-15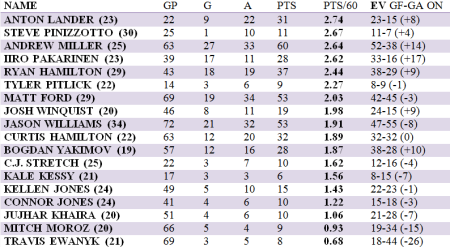 The two young forwards from 2014-15 who scored enough to get themselves into the conversation were Anton Lander and Iiro Pakarinen (Tyler Pitlick might have, but was hurt again). No forward one year ago 22 or under showed enough offense to be considered a bona fide NHL prospect (Curtis Hamilton was at 1.89, leading the group). I felt—a year ago—Bogdan Yakimov was the most promising entry-level forward in this group.
CONDORS 2015-16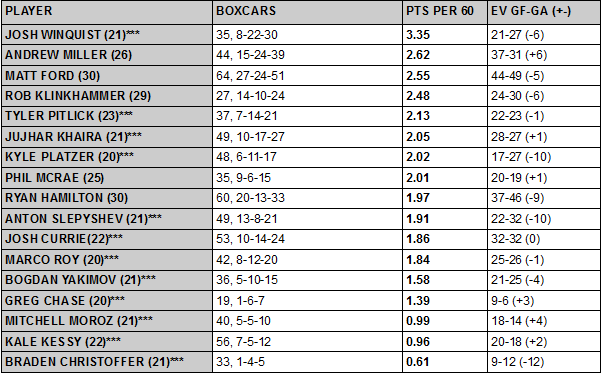 We have to talk. I was reading a lot of 'Winquist is slow and he isn't a center' verbal in the comments section of this blog last night. If we were arguing about Yakimov versus Slepyshev, then playing center versus foot speed is a conversation we can have. However….
Every fall, we watch young (signed) prospects get sent out and pray to the Wichita Wind they deliver reasonable offense. Winquist did that in year one and then took a big step forward in year two and I will wager he has a better chance at an NHL career than pretty much every guy on this list (the Russians and Khaira have already had NHL time, so I count them as being ahead).
FACTS
The Edmonton Oilers have a distinct lack of prospects in the system who can provide offense.
Josh Winquist can provide offense.
The Edmonton Oilers have not signed Josh Winquist.
 OBSERVATIONS
Aside from Winquist, I would list Jujhar Khaira, Kyle Platzer and Anton Slepyshev as players of interest.
Bogdan Yakimov struggled this season, would like to see him play a more prominent role next year in the AHL. This blog is not a massive fan of keeping players around just because they have size, but the big man is 6.05, a center and has shown some impressive things in TC. Do those things go away in the minor leagues? Why?
That's it from here. I don't think you can frame any other prospect as being especially promising.
Tyler Pitlick posted good numbers, but I am not certain he will return. If the club signs him, it would be interesting to see him compete against Zack Kassian and Iiro Pakarinen for what looks like two available roles in 2016-17.
BARONS DEFENSE 2014-15

Oscar Klefbom trumpeted his arrival as an NHL-ready player in a nine game audition. The other stat that stands out from a year ago? Brandon Davidson was on for 42 GF and 32 GA at evens. Shines like a diamond, along with Klefbom. I think Oesterle and Simpson have interesting numbers, Marincin looks pedestrian here.
CONDORS DEFENSE 2015-16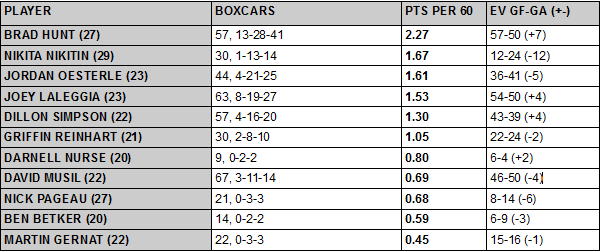 Jordan Oesterle and Joey Laleggia show some promise (these are not ideal measures for blue, but the GF-GA suggests they are both playing in the big parts of the game). Scott Zerr told us time and again on the Lowdown that Griffin Reinhart was not the most effective defender in Bakersfield, although coach Gerry Fleming was more complimentary. Dillon Simpson, as he has every year, showed solid growth. I don't see a Klefbom or a Davidson here, but would suggest Oesterle, Laleggia and Simpson are showing good arrows. I would also suggest—as is the case with Yakimov among the forwards—we should hope to see big minutes for Reinhart in California this coming season.
PLAYERS FOR THE BAKERSFIELD-TO-EDMONTON SHUTTLE NEXT SEASON
G Laurent Brossoit
D Griffin Reinhart
F Jujhar Khaira
L Drake Caggiula
D Jordan Oesterle
R Anton Slepysev
C Bogdan Yakimov
D David Musil
D Joey Laleggia
D Dillon Simpson
L Jere Sallinen
R Patrick Russell
Josh Winquist? He is no more Oilers property than any free agent. Peter Chiarelli is overlooking a talented young player who has found success in the AHL. This player is young enough to be considered a legit prospect, and this prospect is outperforming several miles of draft picks. Peter Chiarelli chose to sign Braden Christoffer—who was overwhelmed in his AHL time—over Josh Winquist. The bias that has plagued Edmonton's procurement and assessment model continues unabated under the new regime. These things we know to be true.
CURRENT OILERS ROSTER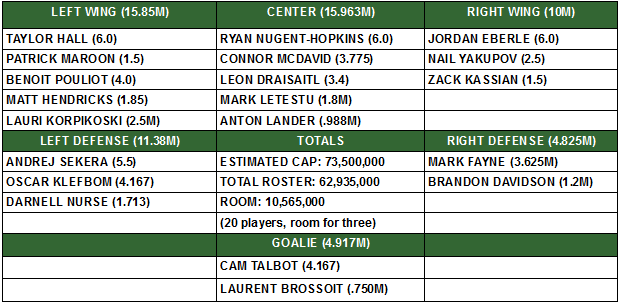 Edmonton has several holes, but PC has $10 million to play with and if the team can add Jason Demers and another bona fide RHD, then sign a free-agent RW and a quality backup, this team—if healthy—should be able to compete for a playoff spot. Seriously.
@Steve_Dangle the Oilers could totally trade down and draft Olli Juolevi. I think Calgary'd love to jump up and take Tkachuk

— Charlie Clarke (@LWOScharlieocc) May 25, 2016
I think that could happen, depending on what is made available to Edmonton. Picture if you will (sorry, I have been watching Twilight Zone recently), a draft list that has Tkachuk No. 4, Dubois No. 5 and Sergachev No. 6, but all agree the gap is very small and the defenseman might be the best choice. Trading down to add another pick or an actual player has to have some appeal, no?
No. 5 Vancouver Canucks: They have No. 33 and I believe No. 63.
No. 6 Calgary Flames: They have No. 35 and No. 53. Also, Dennis Wideman has been connected to Edmonton.
No. 7 Arizona Coyotes: They have No. 20, No. 37 and No. 67. Also, defenders Michael Stone and Connor Murphy would be of interest—availability has not been confirmed.
No. 8 Buffalo Sabres: They have No. 8, No. 38 and No. 68. They also have a plethora of RHD, including Zack Bogosian, Cody Franson and Mark Pysyk. Oil Kings haters will howl, but I would take young Pysyk over the other two.
No. 9 Montreal Canadiens: They have No. 9, No. 39 and No. 69. They also have P.K. Subban, but there are no insanity hearings scheduled in Montreal this summer.
No. 10 Colorado Avalanche: They have No. 10, No. 40 (I think) and No. 70. Fussy britches tweeted out something about a blockbuster between Colorado and Montreal. Could Nuge and No. 4 get you No. 10 and Tyson Barrie? Would you do that deal?
I would not, and have been very clear on the reasons why. That said, Tyson Barrie would be a great addition to this team and the value lost in going from No. 4 to No. 10 is not ridiculous. I wonder if Chiarelli regrets not naming Nuge to the WC roster? Might have sewered his value.
LOWDOWN WITH LOWETIDE
1984-85 Edmonton Oilers NHL All-Star Team… https://t.co/412KkRY8lL #Canada #NHLTEAMS | https://t.co/x4ab1ZVUDQ pic.twitter.com/QdQze17mAZ

— Tickets & Arena info (@all_nhl_teams) May 25, 2016
Today on the Lowdown, TSN1260 at 10. Scheduled to appear:
Bruce McCurdy, Cult of Hockey. Bruce's sexy verbal about Matt Tkachuk has angried up the blood among Oilers fans. We will discuss.
Gerry Moddejonge, Edmonton Sun and Edmonton Journal. Eskimos!
Kirk Luedeke, Red Line Report. We will talk Memorial Cup and 2016 draft.
Text 10-1260 @Lowetide on twitter. See you on the radio!