The past informs the future. Peter Chiarelli doesn't tell the truth and the whole truth, but he does pass along clues. Two examples from one year ago:
ON FREE AGENCY
Chiraelli: "You have to be prepared to overspend a little bit, and over-term, so to speak, these guys if you're going into free agency. You have to plan out a little bit more. It's a market that we'll look at. It's a pool of players and we want to improve our team… There may be players on teams who need to get rid of that will be available because of cap constraints. So we'll look at that market. There will be players to look at and distressed trades and normal trades and the free agency market, so we'll look at all of them." Source

Chiarelli's big free-agent addition was Andrej Sekera, his 'distressed trade' was Lauri Korpikoski and his normal trades were Cam Talbot, Eric Gryba and Griffin Reinhart.
ON TRADING PICKS IN 2015 DRAFT
Chiarelli: "I certainly would look at moving any of those picks for something that would – immediate help, yeah – something that would help us right now, but also that could grow with our organization. So you should talk about, relatively speaking, a younger player. But I'm not ruling out anything. That's a lot of picks and it's good to have a lot of picks to develop players, but we also want to hit the ground running too with some more game-ready players."
Chiarelli was all over this last year, adding Cam Talbot, Griffin Reinhart and Eric Gryba on draft weekend. The kicker? Edmonton had a pretty damned good draft despite offloading 100 picks.
THIS YEAR'S MODEL
Peter Chiarelli on the top of the draft: "We've been paying particularly close attention higher up in the first round this year, I think it's pretty deep. We've heard of dividing lines after three, after 12, I think it's pretty deep. We got the 32nd pick I think we're going to get a pretty good player at 32 also. I think there's a line after [pick No.] 3, but after that I think it's pretty deep still." Source
It sounds to me as though the Oilers feel they could come out of this year's draft with some outstanding talent in the first two selections—say, Matt Tkachuk and Cam Dineen—but the first pick appears to be in play, at least a little.
I think the plan might be to: Trade No. 4 plus something (GR? Speeds mentioned that yesterday) for No. 10 and Tyson Barrie—and then signing Jason Demers. Darnell Nurse might also be a piece in play in this scenario—Nurse fans should be prepared for that outcome. Incredibly, based on Colorado verbal, Barrie might qualify in the distressed trade category.
Oilers GM Peter Chiarelli says calls already coming for fourth-overall pick https://t.co/pPfnurqQFy pic.twitter.com/atk2225koi

— The Hockey News (@TheHockeyNews) May 10, 2016
Peter Chiarelli on the summer plan: "I'm looking at all options. We've got to improve now but there's some pretty good future players out here and elsewhere. There's a lot of chatter going on right now and we've got a month and a half to go, so we'll see what happens, but I have to listen to everything. The Oilers have drafted in the top three in five of the last six years. The team will be moving into a new building for 2016-17 — Rogers Place — and with a promising young core already in place, the possibility is there for Edmonton to trade their first round pick this year for more immediate help. Would I look to move it? We want to win. I took the job in Edmonton to win, so as I said earlier, we'll look at all options. There's some pretty good players that are going to be available at four but we may look to move down and still use a pick to get an asset as part of a larger deal. We owe it to the fans to get better in a relatively short period of time and we're going to look at all options to allow us to do that." Source
Clear as mud, right? I think there is a path provided by PC here, and what he needs is a partner. A partner at No. 6-10, and that team may in fact make itself known between now and draft day. Good guesses are Arizona, Buffalo, Montreal and Colorado (Elliotte Friedman has identified all four iirc). Trade down, for picks, or (better yet) picks and players.
CONDORS BLUE TOI
I have been reading Eric Rodgers fine work on the Bakersfield Condors, and have reached his TOI estimates for defensemen. It is also true that AHL Prospects Stats does TOI estimates—and this gives us a chance to cross reference. Now, the idea isn't to expose errors or discount this work, but rather to see 'the range' we are dealing with in estimates. I will post Rodgers (AHLP) for each defender.
Jordan Oesterle 21:09 (21:15)
Griffin Reinhart 19:03 (18:06)
Brad Hunt 19:01 (21:24)
David Musil 18:09 (17:19)
Joey Laleggia 16:51  (18:50)
Dillon Simpson 16:09 (17:38)
Darnell Nurse 16:05 (15:05)
Ben Betker 14:43 (13:37)
All of the estimates are within two minutes. That seems pretty good to me, what are your thoughts? Brad Hunt's totals seem low in both estimates, and I will admit to being surprised by the Nurse total—but other than that, seems reasonable. I find it very interesting that Jordan Oesterle posted those kinds of minutes—the coach clearly relied on him in his second season of pro hockey.
IMPACT OF PRE-SEASON PERFORMANCE ON ROOKIES
I want to post this here (for something that will come later), basically rookie forwards scoring in pre-season the last two years, fall 2014 and fall 2015.
Fall 2014
Vladimir Tkachev 3, 0-3-3
Bogdan Yakimov 5, 1-1-2
Leon Draisaitl 6, 0-2-2
Marco Roy 1, 1-0-1
Fall 2015
Connor McDavid 5, 0-5-5
Anton Slepyshev 7, 2-2-4
PC'S IMPROVEMENTS
This gives us an idea about Peter Chiarelli's vision and how the rubber hit the road from the day he took over (additions in black bold).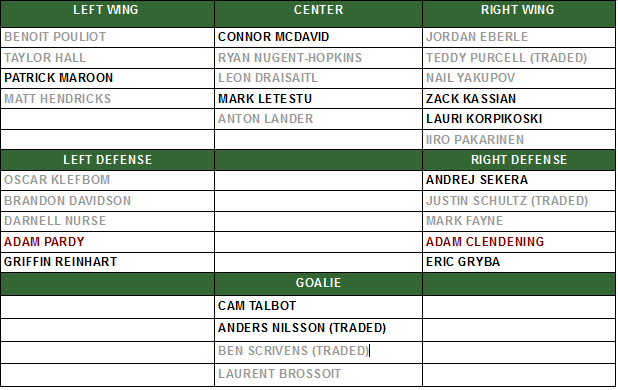 The men brought in to play forward positions are a decent lot, in-season additions (Maroon, Kassian) are both more Chiarelli in style and were more effective in fact. I count Mark Letestu as being effective (he was forced into a more prominent position that was advisable), leaving only Korpikoski as an overall negative. I think we can agree McDavid helped a little.
Defense was a bigger mess and we can agree not all of the solutions rhymed. I will count Andre Sekera as a positive, Eric Gryba served as a third pairing option and a guy like Adam Pardy showed reasonably well in small sample sizes. I believe Chiarelli improved the goaltending—not to Hasek levels—and gave the team a better chance to win than recent options in that area.
Is Peter Chiarelli a poor manager, or a manager who had a gigantic job that needed more than one summer to turn around? The next month is going to be very interesting. Adding Jason Demers is my No. 1 move for this team. What is yours?