Don't tell Adam Clendening, but we have seen him before. If you are of a certain vintage, then the Adam Clendening's have really piled up over the years. These players—the fringe types—are a big part of why I am a fan of sports. Oh sure, I love the brilliants and the supernovas, but the everyman who must work harder, pray harder, sweat more—bleed more—well, that is where the real human moments happen on an NHL team. (Pulling Me Through)
ADAM CLENDENING 15-16
5×5 points per 60: 1.07 (2nd among regular D)
5×4 points per 60: nil (in 21 minutes)
Corsi for 5×5 %: 47.9
Corsi for 5×5 % REL: -6.1
Qual Comp: third pairing
Qual Team: third pairing
Shots on goal/percentage: 32 shots/3.1%
Boxcars: 20GP, 1-5-6 .3
WAR-ON-ICE PLAYER CHARTS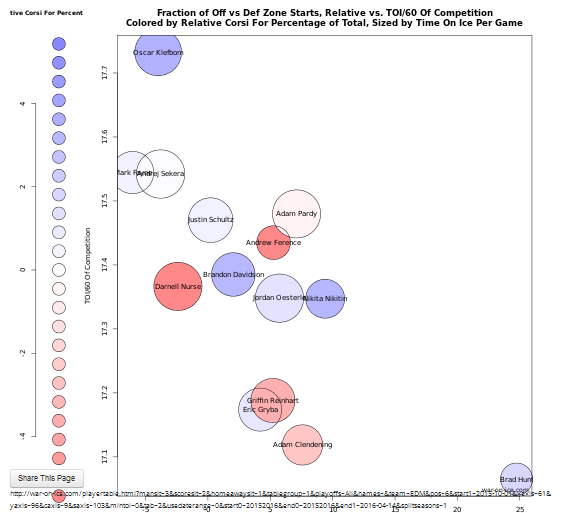 Clendening appears in the area we might call the Soft Parade, although not quite as soft as the still pond Brad Hunt lived in. He scored well at 5×5 in his games, but the possession numbers were a concern.
What are his best assets? Clendening is a skilled puck mover at the minor league level. In the AHL, Clendening averages 51 points per 82 games. In his first 50 NHL games, he has 11 points (under 800 minutes), one of his two goals on the power play.
Does that compare to Brad Hunt? He is a little below Hunt (56 points per 82 AHL games), but to my eye, Clendening has a wider range of skills.
Can he help offensively? In his 684 5×5 NHL minutes, he is 0.70points per 60. That implies he could fill a role if offense is the only criteria. The power play numbers are less impressive, but no team has given him the job for an extended period.
How is he with the man advantage? He has three power-play points, in 67 minutes, over four teams in two seasons. That's 2.68 per 60. But small sample and four teams. Lordy.
Can he play defense? I think so, yes—at least the soft parade. In his two seasons (with FOUR teams) in the NHL, Clendening has a 48.7 Corsi for percentage at 5×5. If a team asked him to that job at 24 (his age next year) he could probably fill the role adequately.
Could he play higher? Well, that brings us to the elephant in the room. In an era where skating is vital, Clendening is not a fast train.
Is it enough to keep him from a long career? We don't have the answer, beyond the fact his numbers in the first 50 games do not DQ him from having a career. Push comes to shove, I will say he won't have a long career.
How old is he? Clendening is 23, turns 24 in November. He is eight months older than Jordan Oesterle.
He is righty? Does that help? It may. The evidence suggests a six percent possession swing (if L-R is followed) and that's an enormous total—Edmonton could be a contender sooner if they can recover even half of that number.
How many players are ahead of him? Tough question. Very few righthanded blue, and those men (Mark Fayne, Eric Gryba) don't have the same skill set.
He is solo? Once the team dealt Justin Schultz, yes.
The Oilers will procure a better skater? Yes, and someone who can play bigger minutes, a more established player.
What would be an ideal solution? Dan Boyle as a younger man.
Seriously. Yes! Seriously. In San Jose, McLellan ran specific breakouts (described via Fear the Fin here) that we discussed here. It worked like a charm, if a charm was a sling shot.
Clendening works as a No.8/first callup? I think he is worth considering on a two-way deal, yes. That is different than saying he should make the club, and Edmonton must aim higher for their NHL roster. That said, how many RHD can you add in one summer? Clendening in the top 4D in Bakersfield as a callup option is worth a chat.
If you had to bet money, how much would you put on Clendening have a 250+ NHL career? Not a lot, suspect Chiarelli will find someone more dynamic—and Clendening has used up four of his nine lives. PC would have seen him in college, remembered him, and made the claim. He was also a pretty high pick (Round 2) so is famous that way.
Are there similar players who have made it? Every year fringe NHL players grab a job and hang around for a season or more. Patrick Maroon played over 350 AHL games before catching on, but he has played 205 NHL games since the lockout. These players need to keep working, make progress, and they need a little luck.
Clendening getting grabbed by Edmonton was good luck? Could be, yes. I don't think the 20 games he played with the Oilers was enough to make the call either way, and I don't know that he will get a chance here. That said, he is more famous as a player than one year ago (part of a pretty big trade) and you never know.
Why this song? It's about finding a partner, so this was always going to a defenseman. It would fit better with a long-time pairing but the Oilers don't have any. I like the stanza about hope, kind of how I feel about all these gents when they get sent away, from Bill Speer through Adam Clendening.