So far this spring, we have concentrated on RH defensemen in procurement for the Edmonton Oilers. Today, I take the RH list and throw a bunch of lefties in—with the idea that acquiring one of them allows trading a current Oilers LHD for the difficult to fill righty slot. Clear? Great.
DEFENSE: AN EXERCISE IN FUTILITY
Jason Demers, Dallas Stars. The book end for Andrej Sekera?
Tyson Barrie, Colorado Avalanche. Quality option for puck mover.
Travis Hamonic, NY Islanders. Perfect fit if available.
LD Alex Goligoski, Dallas Stars. He would be an outstanding option.
Justin Faulk, Carolina Hurricanes. Would be higher, question availability.
Sami Vatanen, Anaheim Ducks. Solid offense, not completely proven.
Radko Gudas, Philadelphia Flyers. Strong, effective defender.
Jacob Trouba, Winnipeg Jets. Strange year for a talented young player.
LD Keith Yandle, NY Rangers. Offensive defenseman.
Michael Stone, Arizona Coyotes. Major knee surgery.
LD Brian Campbell, Florida Panthers. He is effective.
David Savard, Columbus Blue Jackets. Range of skills.
Damon Severson, New Jersey Devils. A nice underlying option.
Mark Pysyk, Buffalo Sabres. The numbers imply there is a player here.
Ryan Pulock, New York Islanders. Big shot from the point has high value. Very young.
Ryan Murphy, Carolina Hurricanes. Some chaos, but good speed and puck-moving ability.
Brandon Montour, Anaheim Ducks. This could be a special player.
Cody Franson, Buffalo Sabres. That hammer from the point would come in handy and he fits a real need.
Jordan Schmaultz, St. Louis Blues. Puck-moving prospect.
Anthony DeAngelo, Tampa Bay Lightning. Another player with a puck-moving element to his game.
Colin Miller, Boston Bruins. With the other Miller signing, maybe he is available.
LD David Schlemko, New Jersey Devils. Depth D, has some nice things.
Eric Gryba, Edmonton Oilers. I think management likes him.
Ville Pokka, Chicago Blackhawks. Young defender in the Chicago system.
Frank Corrado, Toronto Maple Leafs. Very little evidence but he showed up in some good places.
Ryan Sproul, Detroit Red Wings. Puck-moving defender in the AHL.
Dennis Wideman, Calgary Flames. A year removed from a fantastic offensive season.
Taylor Aronson, Nashville Predators. Minor-league defender.
LD Matt Irwin, Boston Bruins. Depth defender.
ETHAN RIFLES, ETHAN RIFLES!
The Oilers need a pipeline of players, and the club badly needs to string some grand drafts together in order to help feed the McDavid era (trades, replacements, actual NHL players). How many players, on average, come from a single draft?
Let's take 2005. That draft has delivered 111 NHL players (3.7 per team) and those players have averaged 229 NHL games. So, an equal share for the 2005 draft would be (229 x 3.7) is 847 games. Edmonton? 1,083 games, courtesy Andrew Cogliano (704), Chris VandeVelde (197), Taylor Chorney (123) and Danny Syvret (59).
The pipeline is important—every player—and drafting Ethan Bear is only one piece of the puzzle. Edmonton needs to sign him too—something that didn't get done with Tobias Rieder and Erik Gustafsson—and then he has to get coached up in the AHL. The Oilers badly need Bear, Caleb Jones, John Marino and Ziyat Paigin to turn out. History tells us one of them is going to emerge and (likely) the other three will not, but signing all four and getting them into the system is damned important.
ONE OF THESE THINGS, IS NOT LIKE THE OTHERS…
IMO only untouchables are McDavid, Hall, Nurse and Draisaitl, everyone else can be moved. 93 and 14 among them if return is right.

— Ryan Rishaug (@TSNRyanRishaug) December 1, 2015
No doubt IMO that PC is willing to move either of them. Surely he won't rush or deal from weakness, but if proper deal comes, it gets done.

— Ryan Rishaug (@TSNRyanRishaug) December 1, 2015
https://twitter.com/SportsnetSpec/status/688132178912227329
https://twitter.com/sunterryjones/status/719275753070665728
Fluto Shinzawa, Boston Globe: The Wild have depth on defense. The Oilers do not. Ryan Nugent-Hopkins might be a player of interest for Boudreau and Wild GM Chuck Fletcher. In turn, with Connor McDavid and Leon Draisaitl in place, Edmonton is in a position of strength at center. This may be the time for the Oilers to deploy Nugent-Hopkins as trade collateral to improve their defense. Source
I want to make a couple of points here, one about the idea of RNH being dealt for a defenseman and another about the media.
Every once in awhile I will get an email about the media, usually suggesting things get made up just to grab attention. I don't know any of the people mentioned above really well, but have worked with three of the four and can tell you that if they say it, write it, or broadcast it, there is something sourced driving that decision. Media is a funny thing (I know radio backwards, television and newspaper less so) in that all you really have is your reputation. Lose that, and it doesn't take long before you are covering late night city hall meetings and reading up on quorums, publication bans and cost overruns. Once a media member gains substantial access, they guard it closely and make sure not to screw it up. Seriously. Information is the life blood of the hockey reporting business, and access is the key to getting it.
The reports above (from different points in the season/offseason) appear to be conflicting, but in fact all could be true. Rishaug's line 'no doubt in my mind' tips me that he has a really good source, somewhere on planet earth, who told him something that led him to that conclusion. Why would he make it up? Mark Spector has an actual trade item (not completed) six weeks later—this is pretty substantial stuff, folks—and at that point (imo) there was a real possibility of a deal involving a veteran forward.
End of season, Terry Jones tweet above reflected a very positive media avail in which Peter Chiarelli was very complimentary about his young veteran center. We could assume that—this is April—the club may have been thinking about the value of the lottery pick, possible trades involving Benoit Pouliot and other (lesser) assets.
The Globe item comes in May, and be indicate the value on some of the movable assets is not as strong as hoped, and of course the lottery pick is No. 4, not No. 2.
If you add all of this up, pretty clear to me a case can be made that Nuge was in play during January, off the market in April (plans may have involved other assets out) and may be in play again as we head to draft day. Nuge is a wonderful player, hope like hell they don't deal him, but parsing those tweets and stories it seems at least plausible that RNH is being discussed in trade.
DRAFT RE-ENTRY DAY
It is draft re-entry day, we covered the names here. I remember being mad as hell about the Oilers passing on Oil Kings later in the draft (I had seen Aaron Irving especially well), looks like the scouts may have gotten it right. There are some good players on there, names to keep in mind. Edmonton need to be procurement demons to make up for trading picks, not signing good players (if they don't sign Ethan Bear the club will need to replace him) and draft misses. Hurricanes signed Wesley, just announced.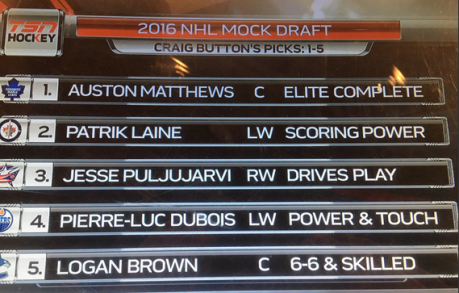 FINAL LISTS!
This is always a fun time for draft geeks, as the final final lists come out (mostly this week and next). ISS is a fun list and their descriptions are thoughtful, insightful and substantial. The 2016 final list is here. It really points out how quickly things meander after about No. 20 overall—Riley Tufte is going to go higher than many people believe—and it is a fun list for sure.
HAMONIC
I received a dm this morning from someone who asked about Travis Hamonic's availability. Idea being just because he has rescinded the trade request doesn't mean Garth Snow will keep him. The next logical question is what is the ask? If we borrow the 'trade a lefty for a righty' idea from above, could the Oilers:
Sign Alex Goligoski
Trade a LHD for Travis Hamonic
I think it is an idea at least worth considering. Could you trade Sekera plus something to make the money work, for Hamonic and something else? Perhaps Snow is interested in Nurse? Injury worries to Klefbom and Brandon Davidson probably make those conversations a non-starter, but the idea has value in my opinion.
JUSTIN SCHULTZ
A lot of angst among Oilers Nation about Justin Schultz possibly winning a Stanley Cup. Folks, this is kind of crazy if you don't mind me saying. If you date a girl, and it doesn't work out, and you find yourself irrationally jealous that her next relationship is a winner, that says something about you—not the girl.
Also, and this is important, Justin Schultz was not a good player for the Oilers. That is a fact. We know this, have visual and math evidence plus, you know, they traded him. Schultz did not arrive in Pittsburgh as a top pairing savior and a small sample size in the Stanley Cup Final remains a small sample size full stop.
If you believe Justin Schultz has turned around the Penguins, you need to apologize immediately to Sidney Crosby. And Hockey. And life. Plus your Mom.